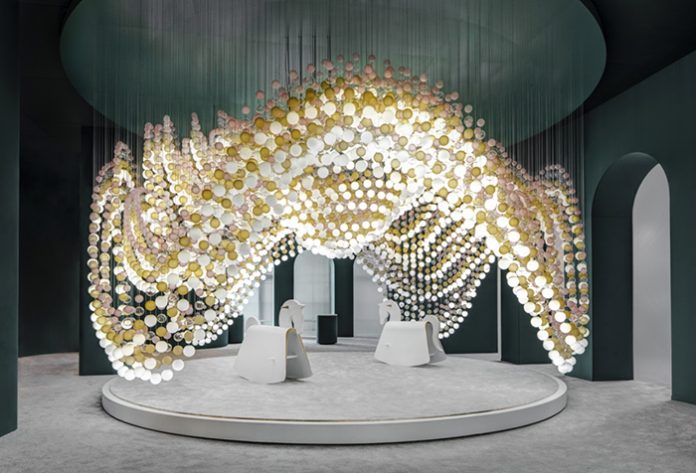 A playful immersion into light, Preciosa's Carousel of Light guided visitors through a sensory design journey during Euroluce 2019. Comprising nearly 8000 spheres in opal, amber, clear and pink frosted hues – stretching eight metres in diameter – the installation invited guests to wander through the strings of pearls, with the lights above illuminating and fading away as they moved through. The carousel's platform slowly rotated too, creating a shared experience for visitors, who could choose to walk through on their own or allow the carousel to move them through the lights.
"We are incredibly honoured to receive tremendous positive feedback on our recent installations," says Michael Vasku, Creative Director for Preciosa Lighting. "What we keep hearing from people over and over is that the images and videos don't do the real installation justice. The feelings and emotions the actual experience creates cannot be transported via media. This may be disappointing for some people, but not me. It is the joy of life to experience such moments and there is no digital substitution.
"Our latest installation, Carousel of Light, is based on our signature design, Pearl Curtain. This design is inspired by the gentle movements and folds of a rich, luxurious fabric, such as the draping or layering of curtains. It suggests something is behind – an object of curiosity perhaps – creating a sense of wonder and anticipation. The design presents an opulent geometrical impression, whilst maintaining a resolutely contemporary style that is truly interactive."
In addition to Carousel of Light, Preciosa showcased two more interactive installations – Breath of Light and Pearl Wave, presenting its signature designs and highlighting a selection from the contemporary collections portfolio.