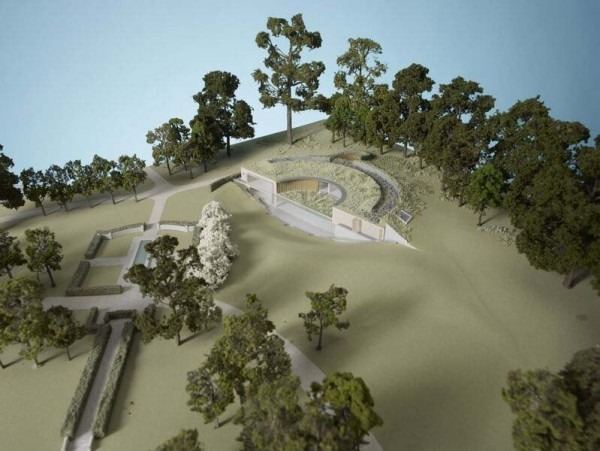 The new spa, which will boast an exciting range of ecology features, is set in the green belt and will be developed from the existing Coworth Park Country House Hotel.  As an exemplar of new sustainable buildings being pioneered by Purcell Miller Tritton, the Spa has been designed to blend in with the natural landscape and emerges to the north of the site under a living roof of camomile, lavender and thyme.
Guests will be greeted with facilities such as a spa pool, gymnasium and three thermal treatment rooms on the lower level, as well as ten treatment rooms offering organic treatments including manicures, pedicures and beauty therapies, on the upper ground floor level.
Engineering Consultants, Wallace Whittle have designed the engineering systems for the scheme which will utilise renewable technology from a bespoke Energy Centre.  This will make a contribution of approximately 50% of the total energy demand through the use of both Bio-mass boiler technology and a closed loop ground water heat transfer system linked to heat pumps to provide heating and cooling.
The overall C02 emissions will be approximately 35% below the Target Emission Rate (TER) from the 2006 Building Standard Regulations.  Further initiatives such as carbon negative lime hemp walling and a timber glulam monocoque frame demonstrate how this exemplary building will blend innovative Architecture with forward thinking engineering
Commenting on the scheme, Jeremy Blake, the partner responsible for Sustainable Hotel projects at Purcell Miller Tritton said "I am delighted that our area of expertise in the area of sustainability is being recognised by the prestigious Dorchester Collection. This exceptional design will deliver a green and sustainable building emerging from its landscape in an environmentally responsive way, providing a luxury eco spa with low energy requirements for an outstanding hotel".
Project Team
Quantity Surveyor: Boyden Group
Interior Design: Fox Linton
Project Manager: Buro 4
Structural Engineers for the glulam monocoque frame: Heyne Tillett Steel