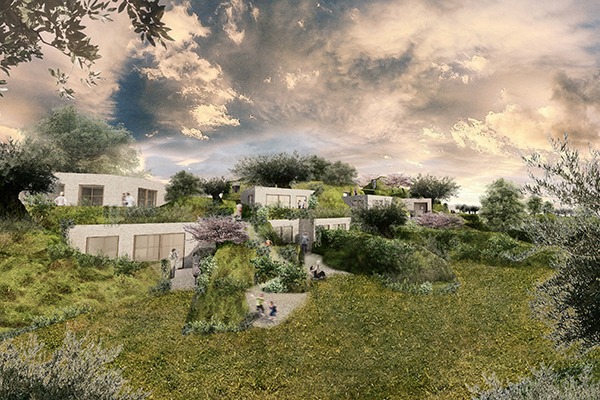 Radical Innovation, the design competition seeking the concepts that will define the future of hospitality, has announced its 2018 finalists.
For more than a decade, Radical Innovation has challenged designers, hoteliers, and students alike to envision pioneering ideas in travel and hospitality. After receiving entries from over 20 countries, a jury of hospitality industry experts have selected this year's finalists: Aquaponic Experience Hotel by Varinot & Varinot Architectes, Paris; Autonomous Travel Suite by Aprilli Design Studio, Los Angeles; and Le Colline Incantate by Network of Architecture, Bolzano, Italy. These three firms will present their concepts and compete for a $10,000 grand prize at the New Museum in New York City on October 3rd.
"These finalists stood out from nearly 50 entries due to their ability to leverage emerging technologies and social conscientious, sustainable global trends within a unique hospitality experience," explains John Hardy, CEO of The John Hardy Group and Founder of Radical Innovation.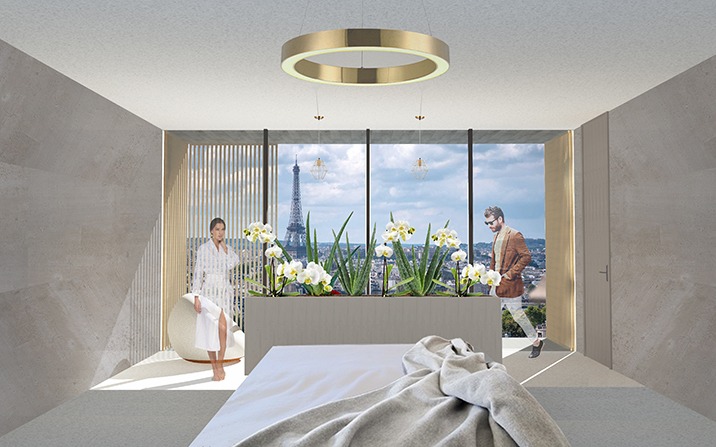 Inspired by aquaponics, Varinot & Varinot Architectes created Aquaponic Experience Hotel (above) to mirror a closed, vertical system where rainwater is continuously recycled throughout the hotel. Not only does the ecosystem reduce water consumption, but also produces water in efficient quantities for a fully self-sufficient experience.
Aprilli Design Studio combines transportation and hospitality in its Autonmous Travel Suite (below) through a driverless, mobile unit operated by the Autonomous Hotel Chain. Once scheduled online via mobile app, a customised suite is delivered to the traveller's door and taken to a local docking facility at the their destination, where the unit extends into a larger parent suite.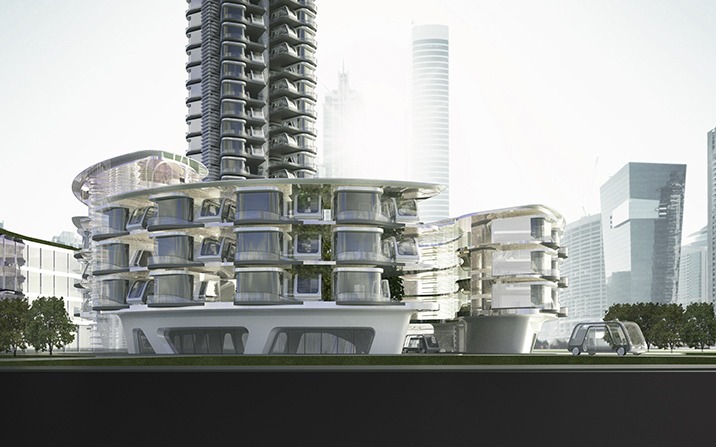 Intended to create a place of security and tranquillity, Network of Architecture's Le Colline Incantate (top) is a therapeutic retreat for single parents and their children facing a new family situation. Designed within the hills of Northern Italy, the entire structure is covered with plants alongside waterways for distinct cross-ventilation that establishes a sustainable, consistent and comfortable temperature without the need of thermal insulation.
In addition to the three professional finalists, Daniel Czyszczoń and Michał Witalis of Cracow University of Technology were chosen as student winners for their concept, Room Extension Solution (RES) (below). In addition to a $1,500 cash prize, both will receive the opportunity to pursue a graduate assistantship in the Masters of Architecture program at the University of Nevada, Las Vegas. The jury also selected Dinh Tam of University of Architecture Ho Chi Minh City in Vietnam to receive an honourable mention for his ecological concept, The Floating Hotel.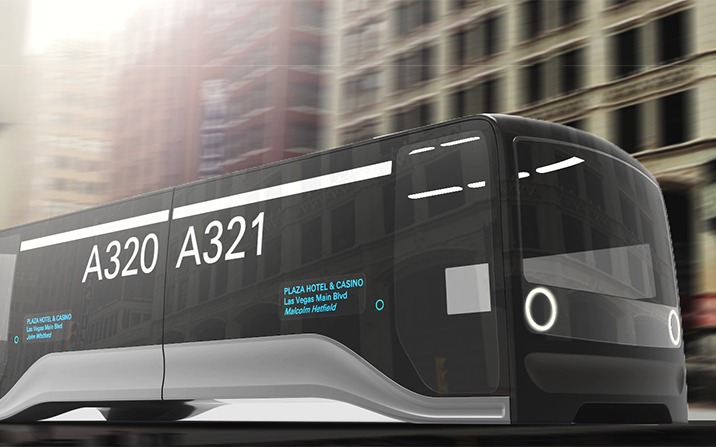 Czyszczoń and Witalis also utilised autonomous vehicle technology to create RES, a new concept that acts as a hotel room's extension focused on optimising travel time, efficiency, safety and comfort. RES will retrieve travellers from the airport and transport them to its hotel docking station, where the vehicle will become part of the overall room.
In order to encourage ecotourism, Tam designed Floating Hotel to integrate local fishing culture and tourism within an eco-hotel. In a shared, sustainable, floating village, tourists and locals are brought together to help develop services along river communities.
"Not only have our selected finalists created concepts that are foreseeable in the not-so-distant future, but each holds the power to impact the future of travel in a creative and sustainable way," says Hardy. "We look forward to welcoming these innovators to the Radical community."