Nobis Hospitality Group remasters an industrial warehouse for a social hotel at the heart of Stockholm's creative scene.
Occupying a 1930s industrial warehouse artistically reinvented in Stockholm's gallery district, Blique by Nobis is homegrown operator Nobis Hospitality Group's creative interpretation of the Swedish capital. Set at the heart of the city's art scene, it features 249 luxurious guestrooms and suites, an airy communal courtyard, innovative restaurants and bars and arguably one of the best rooftop terraces in Stockholm.
Spanning almost a block, the building was originally designed by famed Malmö Opera House architect Sigurd Lewerentz; now, nearly 50 years after his death, it has been totally reborn. The mastermind behind this divine transformation is Swedish architect Gert Wingårdh, who has skilfully preserved the building's heritage and legacy while providing a sensationally refreshing, contemporary-industrial look. Creating a dreamy concrete jungle in sophisticated neutral hues of light grey, brown and black, stone and steel design elements are mixed with wood and leather, providing a beautiful, functional playground for creatives.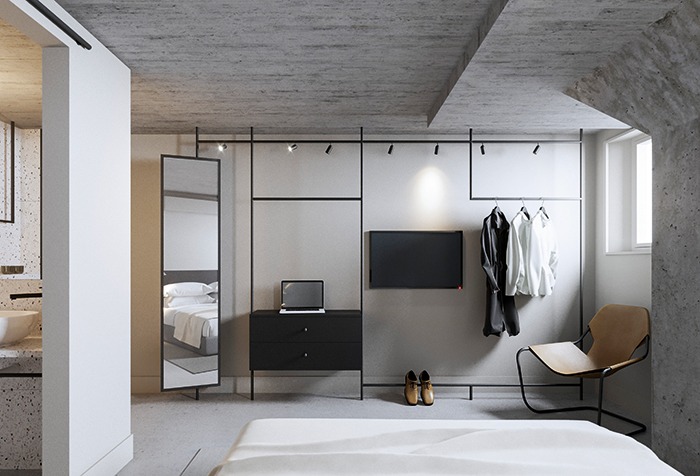 "The concrete structure and the no-nonsense consistency of Sigurd Lewerentz's beautiful building – with its squareness, solid concrete pillars and repetitive façade – set the tone and concept for the whole project," says Helena Toresson, Senior Lead Architect at Wingårdhs. "The colour scheme and an honest approach to change made it quite easy to both adapt to the building and dare to challenge it at the same time"
As such, the original structure has been reworked with integrity and vision, playing on industrial aspects like steel, concrete and exposed metal pipework and fusing these with warm oak and leather and decadent velvet textures – making for a proudly urban atmosphere, yet snug and inviting. Italian influences have been deployed in the communal areas, such as couches and chairs by De Padova, but there is a solid current of Nordic design pulsing through the hotel, seen in the Fogia Tiki sofas and timeless CH47 dinner chairs created by Danish design royalty Hans Wegner.
"Among the most important design elements is the monochrome colour scheme based on the original board-formed concrete," Toresson explains. "To that we have added black oxidised steel, as well as lavish technical lighting. The terrazzo, which shows up in hotel bathrooms, on restaurant tables and the lobby stage, adds an important elegance and materiality to the concrete, while the soft contrast between dark brown and black is a major recurring theme."
Design and social interaction both form important parts of the concept at Blique. On entrance, there's a sunny, plant-fringed courtyard perfect for lingering, a lobby that's artfully constructed with a mix of industrial and high-end design elements including a transient exhibition wall. Origo Bar, the spacious lobby venue, hosts emerging DJs and is a cosy hang out for work or play, whilst Boketto – the sassy, dark-hued, ground floor restaurant – dishes out a jovial vibe and Scandi-Asian fare. Guests can choose to dine on the ground floor or al fresco in summer months.
The top floor meanwhile, is home to Arc: a handsome rooftop restaurant serving a fusion of Scandinavian seafood and Korean cuisine, with an impressive sake bar, a menu of pre-prandial cocktails and a terrace overlooking the city.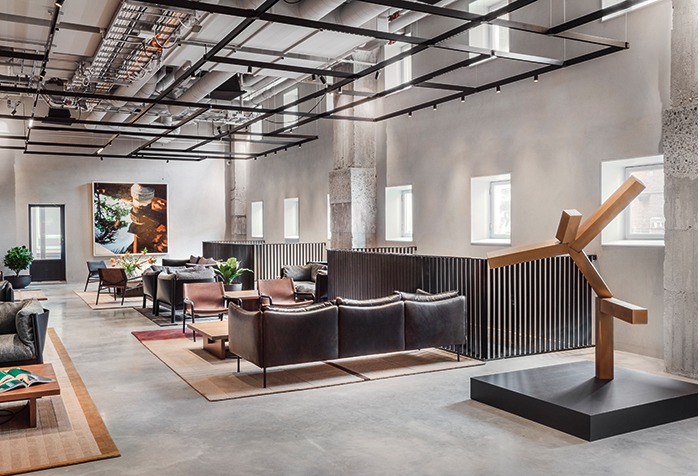 There's also a courtyard food truck available to hire for private events and a 20-seat cinema for regular movie nights, which can be booked for launches and screenings. Community spirit is abundant here, and the hotel aims to develop long-lasting partnerships with local museums, galleries and independent shops. Part of this will be a monthly gallery open night, whilst plans to co-host exhibitions among other events are also in the works. "It's definitely a new hub for meetings, food, art and music," Toresson confirms.
The use of raw materials and textures, and a blend of concrete and contrasting metal and steel, creates an innovative look for a luxe hotel. Interiors are tasteful and modern: neutrals with an industrial feel and splashes of colour, soft leather, earthy wood, beautiful textiles and vivid artwork. The hotel is warm and inviting yet has managed to keep its cutting-edge design sensibilities, and is a prime example of how visual contrasts can function within hotels. It's exactly the type of place that creatives gather to spark ideas, which drives the youthful energy coursing throughout. In essence, it's an ideal city stay for any artist, creator or maker.
The 249 guestrooms and suites include two windowless rooms – perfect for bright Swedish nights or the jetlagged, while standard options range from 10-66m2. The luxurious beds from Bed Factory are a treat, as are the custom open storage units rendered from steel tubing. The gentle tones of grey continue in the room scheme, mixed with industrial features, notes of earthy wood and thick wool carpets to create a homely yet style-led space. The decadent bathroom design is a sheer joy; kitted out in white and amber-flecked terrazzo, with Byredo lotions and potions waiting for guests. The beauty of the studio suites is that they come with a petite kitchenette and lounge area with a table – very handy for a coffee-and-cake break, or fika as they say in these parts. The studio executive suite, however, is the absolute crown jewel; around 66m2 of pure heaven with a sleek dining room overlooking the city.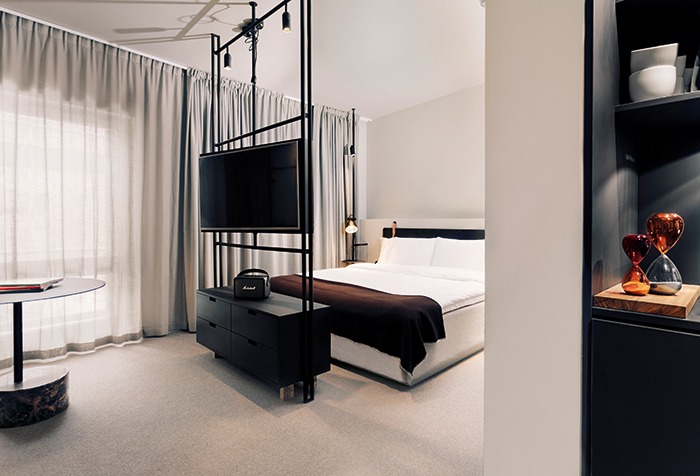 The Nobis Hospitality Group is known for its progressive vision and local insider knowledge, and Blique by Nobis fits into the portfolio well. Led by founder and CEO Alessandro Catenacci – with his Roman roots, and a sharp sense of Scandi luxury – the group's expansion has been organic and opportunistic. In addition to the flagship Nobis Hotel in the heart of the city, the group owns Miss Clara, a 92-key boutique hotel housed in one of Stockholm's finest Art Nouveau buildings, and Hotel Skeppsholmen, designed by Claesson Koivisto Rune.
In Stockholm's gallery district, which cusps Vasastaden and up-and-coming Hagastaden – a creative part of the city brimming with art galleries, boutiques and stellar restaurants including Galerie Nordenhake and Berg Gallery – the remastered hotel is well-placed to serve as a hub for Stockholm's creative community, and also for independent travellers looking for design-savvy accommodation in a vibrant neighbourhood.
Words: Rachel Everett
Images: Courtesy of Nobis Hospitality Group
This review originally ran in Sleeper 85.