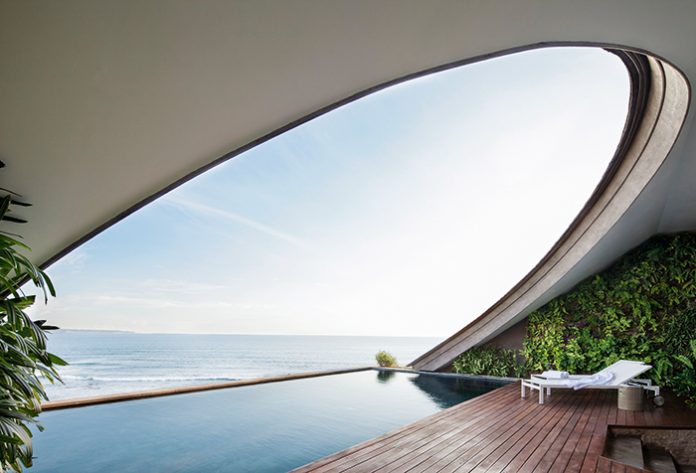 Como's third property in Bali combines the elegant home-from-home philosophy of its Uma brand with the laidback vibe of a surfside location
Tucked away behind the bars, restaurants and cafés of one of Canggu's busiest streets, the only clue to the existence of Como Uma Canggu – Como's third property in Bali – is an unassuming entrance sign, simply adorned with local greenery.
There's certainly no evidence of the sprawling site complete with 115-metre lagoon pool and more than 100 rooms, suites, residences and penthouses that lies beyond, extending eventually – via the Paola Navone-designed Como Beach Club – to meet the black sands and crashing waves that have been instrumental in making a name for Canggu as Bali's hippest surfside town.
The simple, unfussy vibe continues beyond the threshold. "We wanted the hotel to feel like an understated, elegant beach home that was true to the Como Hotels & Resorts design ethos but also reflected the local area and the surfer heritage of Canggu," says Japanese interior architect Koichiro Ikebuchi, one third of the design team behind the project. It's a vision that he – together with Italian-born Navone and Bali-based landscape architect Trevor Hillier, all long-time Como collaborators – have brought to life with flair.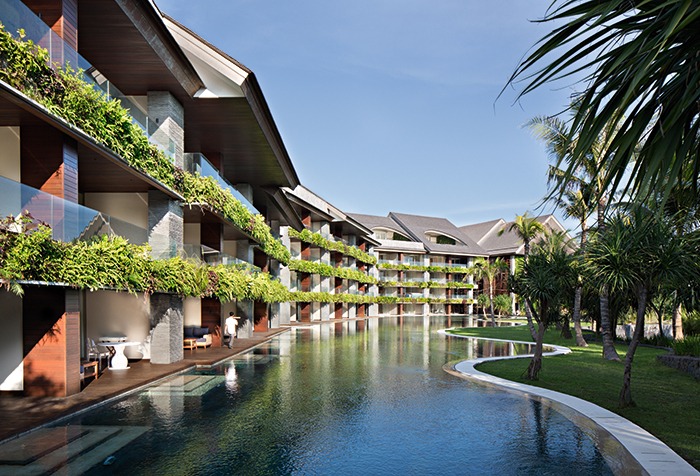 There's nothing ostentatious about the sleek, low-lying buildings that surround the property's more-than-double Olympic pool-length lagoon, but there are subtle design flourishes and local influences in everything from the tropical foliage that sprouts from balconies to the slanted dark stone roofs of the 12 penthouses with their distinctive half-moon openings, which frame the best Indian Ocean views for miles around.
Each two-level penthouse also features a private deck with a 10-metre infinity pool and vertical garden walls as well as a spacious kitchenette, three bright, airy bedrooms in white, beige and shades of light brown and dark blue, and an elegant living room where boldly patterned cushions and rugs complement simple, comfy sofas and you can't help but feel immediately at 'uma' – or at home.
The property's 52 guestrooms and 55 one- and two-bedroom residences are all decked out in a similarly bright, airy, home-from-home style, with some residences featuring vast wraparound balconies and others offering direct lagoon access.
For Ikebuchi, it's important that guests feel connected to where they are through every touchpoint, which is why he sought much of his inspiration from the hotel's natural surroundings and used local materials and cultural techniques throughout. "We were inspired by the sea, sand, rocks, sea foam and coral, which we contrasted with white and can be seen throughout the design elements of Como Uma Canggu," he says. Take the ceramic stone handles in the spa, the white painted volcano stone pillars designed to resemble Asian ink paintings and the ceramic coral circle, which, enhanced by light and shadow, plays on the reception wall giving the appearance of Baroque details.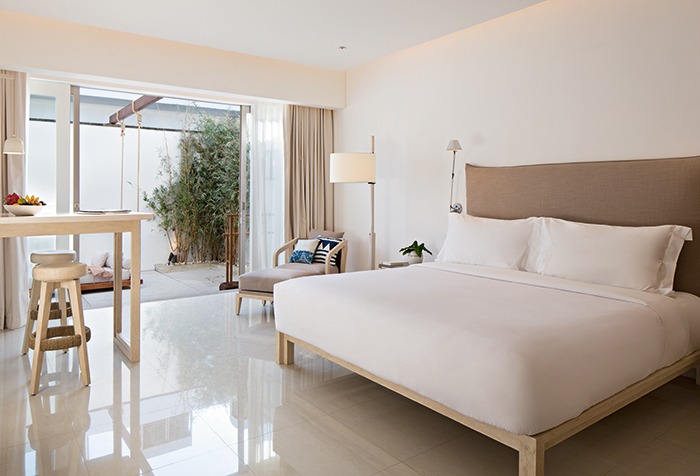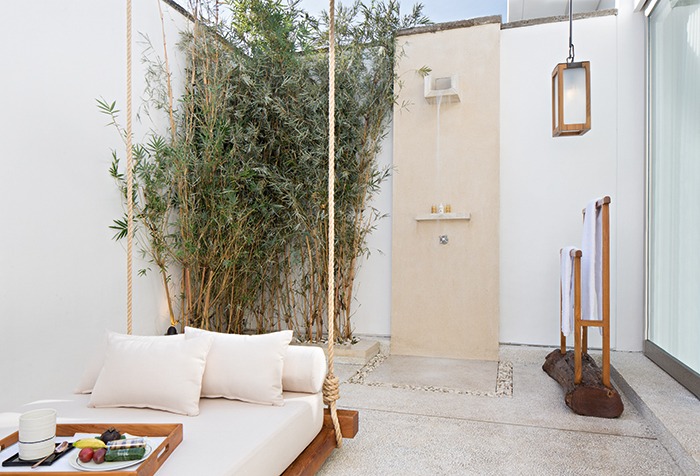 The bright white lobby forms the bridge between the hotel's state-of-the-art gym and its Como Shambhala retreat, a holistic wellness concept that has been made famous by the brand's flagship an hour's drive north in Ubud. Yet for many visitors, the fitness and wellness facilities play second fiddle to the beachside surf shack, where beginners and experienced surfers alike can learn from the resident Tropic Surf experts. Nature has even conspired in the surf school's design. On one side of batu mejan – the 'big rock' rising from the ocean in front of the hotel – the conditions are perfect for beginners; on the other, veterans can access the more exhilarating breaks.
And after a hard day on the waves, what better way to unwind than with a healthy cold-pressed juice or refreshing cocktail to the soundtrack of Como Beach Club's resident DJ and the backdrop of Navone's playful tribute to Bali. Lounging options range from poolside cocoons to swings that sway gently from industrial-style frames, while in the restaurant part of the indoor-outdoor space, each colourful table makes up a small – but vastly expanded – portion of a traditional batik painting. "In translation from small, small, small to big, big, big the whole story became more tropical," Navone smiles.
As the hotel's only restaurant, Como Beach Club serves breakfast, lunch, dinner, fresh juices and bar snacks. All the ingredients that go into creating the upmarket surf shack cuisine are fresh, regional and nutritious and every item used to serve, plate and deliver it – from the bamboo bar to the aluminium baskets used to ferry refreshing towels, poolside snacks and cutlery – has a connection to Bali.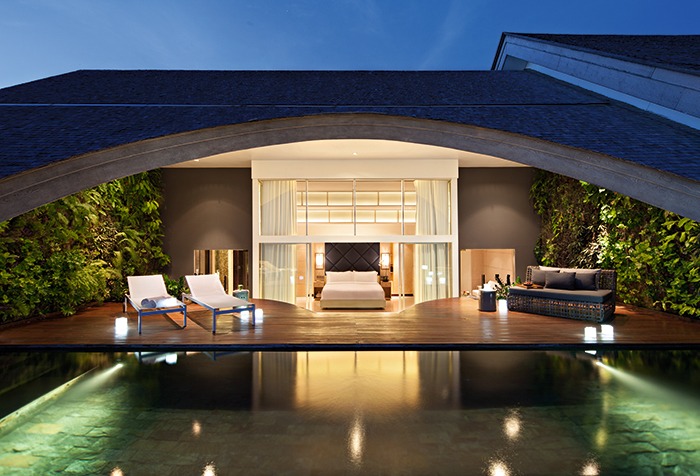 "The whole design is linked to the local culture and we've transformed all these things that everybody knows into something they have to discover again," Navone explains, adding that neighbouring 'Play by Como', where parents can leave their kids to dress up, learn batik painting or lounge on colourful miniature beanbags, was designed with the same approach as the grown-up beach club. "We wanted the children to have their own life at the hotel in the same kind of environment as their parents," she says.
Como prides itself on its three pillars of hospitality, wellness and cuisine, and when combined with the understated home-from-home philosophy of its Uma brand and the playful, laidback vibe of Como Uma Canggu's surfside location, the whole package is one that's hard to leave behind.
---
Words: Elly Earls
Photography: Courtesy of Como Hotels & Resorts (Unless otherwise stated)
This article originally ran in Sleeper 79 (July/August 2018)