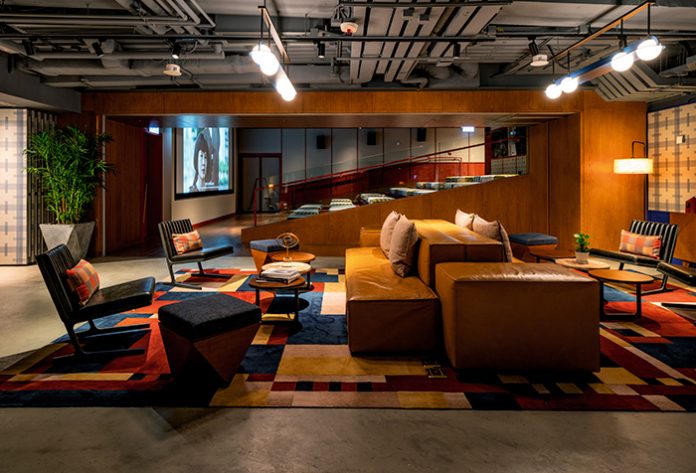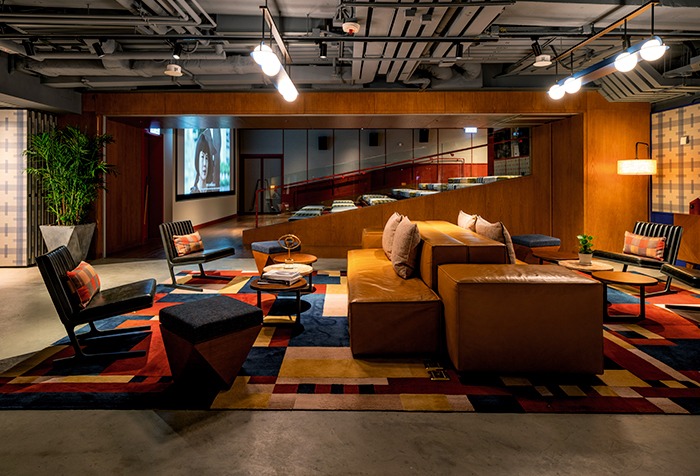 Channelling a nostalgic vision of Hong Kong through a progressive and contemporary lens, Eaton Workshop and AvroKO create a hybrid hotel that nods to the city's past, present and future.
From the late 1980s to the turn of the millennium, Hong Kong filmmaker Wong Kar Wai went about capturing the essence of his home city in a series of critically beloved films. From the frenzied kineticism of Chungking Express (1994) to the brooding melancholy of In The Mood for Love (2000), Wong's ouevre through this era saw the director pen a series of hyper-stylised love letters to the people and places of the special administrative region, watching on as it passed from British to Chinese rule. In time, their imagery and themes became touchstones for a generation of viewers both at home and abroad in terms of the city's unique history and character. 
Nearly two decades on, these films may not tap into Hong Kong's current iteration as immediately or recognisably as they once did, but nevertheless continue to resonate through the cultural landscape thanks to an overarching sense of inimitable cool and the longevity of their universal themes – community, identity, equality and love. With such a strong relationship to the setting and local audience – and a progressive outlook long before certain messages were widely accepted – these films have gradually worked their way into the city's fabric, becoming cinematic shorthand for a specific time and place. 
For a certain subset, these films continue to be supremely influential, and their legacy has subsequently spilled beyond the cinematic medium's parameters, creeping into corners of contemporary music, art and literature, as well as more unexpected forms. Namely a hotel that translates Wong's expressive visuals and idiosyncratic style into the realm of hospitality.
Eaton HK, the second property from Eaton Workshop – a hotel  outfit headed up by Katherine Lo, daughter of The Langham  founder Lo Ka Shui – wears its influence on its sleeve in this sense, proudly referencing aspects of Wong's work and interpreting the nostalgia of his films as a foundation for its wider design. Occupying a prime location within his old Kowloon stomping ground, Eaton HK sees both the distinctive aesthetics and enlightened values of these works adapted for a new audience and medium altogether.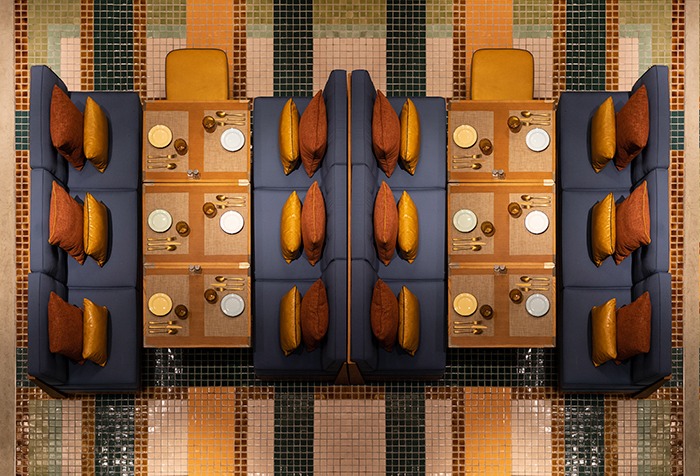 Designed by New York-based studio AvroKO in close collaboration with Lo, the resulting 465-key property brings together adrenaline-fuelled vibrancy and a collection of quieter, more contemplative moments. "Like the brand, the interiors are fresh, authentic and multifaceted," notes William Harris, Principal, AvroKO. "We took the familiar feel and design of the neighbourhood and gave it a spin. We used humble, local building materials whenever possible and echoed a lot of the layering that the neighbourhood is known for; bright neon, bold graphics and eclectic, interconnected experiences. It's very Hong Kong, but also very new at the same time." 
Set within a distinctive structure on Nathan Road – the longest thoroughfare in Hong Kong – the hotel is connected to the district's most prominent attractions and but a short distance from Chungking Mansions, an historic set of accomodations that was the bustling setting of Wong's Chungking Express, and perhaps inspiration for this project's diverse, melting-pot offer. 
Formerly Eaton Hotel Hong Kong – operated under the Langham Hospitality Group banner – the hotel has undergone a transformation that includes a wide-reaching interior overhaul and the addition of expansive co-working and F&B elements, resulting in something of a hybrid property where not one of its three prominent strands hog the limelight, instead functioning in tandem as an ensemble cast. The exterior – a collage of brutalist columns, linear modernism and industrial undertones – remains largely the same.
The renovation process also coincided with the regeneration and further emergence of Kowloon and Jordan, with the area taking on a youthful, artistic energy and comparisons to Brooklyn's positioning within New York as the place to be for the city's creative communities. This would seem the ideal guest to appreciate Eaton HK's ambitions, though it is far from the only profile the inclusive project seeks to attract, something made clear by the diverse cast of NGOs, freelancers, artists and businesses that have taken up residence in the co-working space Eaton House. 
Unfolding in the building's subterranean portion, the presence of Eaton House is something of a necessity given that workable space is currently at a premium in what is – as of 2018 – the world's most expensive city. Comprising a trail of open-plan, residential-style spaces punctuated by intimate offices and nooks for those seeking privacy, Eaton House seeks to blur lines between work, play and home by way of comfortable, modular furniture along with custom bean bags, and facilities from a recording studio and art gallery to the Flower Years bar and a 50-seat tiered screening room. A hole-in-the-wall style space, Flower Years is perhaps the most explicit reference to Wong's work, taking its name from the Chinese title of his most celebrated film – In the Mood for Love. 
Shades of navy blue, canary yellow and brick red are carried across minimalist seats, sofas and ephemera, whilst any simplicity in the scheme is offset by rug designs combining these shades into lively, De Stijl-esque frames underfoot. Turning again to cinematic influences, the team looked to the classic newsroom depicted in Peter Wier's The Year of Living Dangerously (1982) to inform both the facility's function and aesthetic, whilst artwork including a playful wall-length mural by local activist and musician Jan Curious – as well as bookcases of queer literature and sculptures by minority artists – cement the ethos at the brand's core. 
"The co-working model provides a collaborative space for members to grow and develop their ideas, but our model goes one step further than most," explains Katherine Lo, founder, Eaton Workshop. "We provide residencies and subsidise memberships for those doing work we feel is particularly meaningful. The Justice Centre, who provide support to marginalised refugee communities were among the first to set up their offices at Eaton House. Hong Kong's rental crisis is crippling young start-ups, so we are proud to provide an affordable space where the next generation can begin their journey." 
Beginning proper upstairs, around and within a triple-height atrium carved into the building's core, the most accessible element of Eaton HK takes the form of a blended lobby, food hall and all-day restaurant – The Astor – all orbiting a suspended cubic chandelier. For guests seeking the traditional hotel restaurant offer, The Astor sees a cluster of tables, seating and live cooking stations set atop a tiling design that flows through the substantial space, but the surrounding mezzanines and food hall takes the more unconventional approach of assembling a maze of hawker-style market stalls. 
From delicate sushi to congee to sustainable cocktails to noodles to the catch of the day on a bed of ice, Food Hall Eaton Hong Kong appears to be the space most overtly inspired by the energy and bustle of Wong's films, as well as Lo's own memories of visiting Jordan noodle shops as a child. As much a cultural programme as the hotel's slate of events, lectures and forums, the space speaks directly to the pre-millennium nostalgia central to Wong's most acclaimed portrayals of the city. Elsewhere, fuzzy nostalgia is chanelled throughout the design of Terrible Baby, the main bar, where a menu of sustainable cocktails is served beneath the shadow of the building's distinctive, structure-high columns.
Separate from the food hall in terms of both physical distance and tonal disparity, Eaton HK's Michelin-starred Yat Tung Heen is set within a more traditional scheme in the building's lower portion, and features traditional oriental screens, dark wood panelling and wide halo lights with mirrored centres. Headed up by chef Ka Hing Choi, and serving contemporary takes on staple Cantonese dishes, the concept again combines a nostalgia for Hong Kong past with a look towards a bright future by way of innovative menu items including marinated baby pork knuckle with secret Abalone sauce and geoduck clams and shredded chicken in Sichuan spicy dressing. 
"We approached the overall programme much like a micro city," explains Kristina O'Neal, Principal, AvroKO. "The multiple floors start to feel like little neighbourhoods. They share the same DNA, but have little touchpoints that feel distinct, so a guest can seek out areas that resonate the most with their own personality or need-states at the time. We were blessed with a lot of space, and so creating journeys of discovery, and then focal points of reward, were essential. And like any town we created a strong central square for directional grounding; this became our open atrium with its massive 4.5m-tall chandelier." 
Lining a network of meandering corridors above, guestrooms have undergone a less drastic transformation to that of the wider hotel – largely untouched save for necessary interjections to update surfaces and furnishings. However, where the redesign here was light, the spaces remain dense with allegorical detail; steel doors and cabinets reference local shop fronts, whilst shades of teal, cream and navy connect with the building's form and the palette of the floors below.  
"We were very much influenced by the spirit of the location and the architecture of the original property," adds Harris. "Nathan Road in Kowloon is an energetic tapestry of colour and pattern layered with a strong sense of industry. It's also a neighbourhood in transition; new artistic shops and agencies are beginning to spring up, but the overwhelming sensation is of old world Hong Kong – alive and strong." 
Opening its doors at a time when the progressive values espoused by businesses and brands ring increasingly hollow, there is a refreshing sense of direct action at the core of Eaton HK. And, as much as it is undoubtedly a business, the Eaton Workshop brand is seemingly more intended as a platform, and a means to perhaps change the world in its own small way. 
With the 2018 launch of Eaton Hotel Washington DC placing the brand at the heart of the matter – neither brand nor owner is afraid of taking a strong anti-Trump stance – the strategy is clear, and planned openings in left-leaning strongholds of San Francisco and Seattle only serve to clarify this.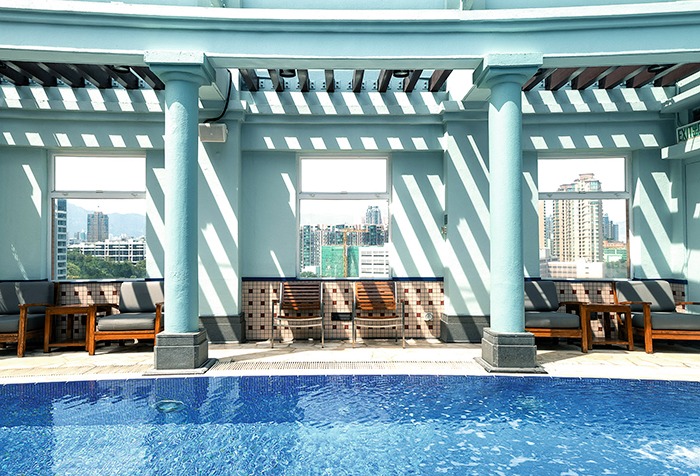 "I have been developing Eaton SF and Eaton Seattle for several years now, and am excited about how this concept of progressive hospitality will be welcome in these cities," Lo explains. "Both have a long history of progressive values and respect for social and environmental justice, and both cities are also today's headquarters for the tech movement."
Whether these will be as firmly rooted in place and context as Eaton HK remains to be seen, but working again with AvroKO on the San Francisco project and partnering with architect Kengo Kuma in Seattle will likely produce equally considered design foundations from which the Eaton Workshop message can grow. For now, Eaton HK remains the most accurate encapsulation of this process.
Whilst Wong's best films may be behind him, the values and images they orbit are as relevant as ever to Hong Kong, and it is unlikely that his visions of the city will fade away any time soon, regardless of how much regeneration the region undergoes. 
Once describing himself as 'not a director, but an audience member who stepped behind a camera', parallels can be drawn here between Wong and Lo – a seasoned guest and Hong Kong citizen who stepped behind the check-in desk – and whilst we may never see a film the likes of Fallen Angels, Happy Together and In the Mood for Love again, their spirit has taken up residence in Eaton HK.
Words: Kristofer Thomas
Photography: © Lit Ma
This piece originally ran in Sleeper 83