Occupying a private island in the Maldives, a new luxury resort by architect Yuji Yamazaki is a triumph in environmentally conscious design.
Tourism in the Maldives has been growing steadily since the 1970s, with travellers seduced by the crystal clear waters, dazzling white sands and unadulterated barefoot luxury of the resorts that call this paradise home. It's only in the past few years however that the islands have really flourished, with arrivals reaching an all time high last December, and no less than a dozen new hotels scheduled to open throughout 2018 and 2019.
As competition hots up, operators are looking for ways to stand out from the crowd. Overwater villas are becoming ever larger; restaurants, spas and suites are making waves beneath the surface; and in a noticeable deviation from the archipelago's typical aesthetic, the pipeline includes a stylish Italian hideaway, a rock-themed resort and a collection of villas that channel a distinct Miami Beach vibe. For Crown & Champa Resorts, originality has come from an altogether different source. Having considered the impact of tourism on this fragile ecosystem – the lowest lying country in the world – the Malé-based group has built the nation's first fully sustainable resort, where everything from building materials to cleaning products have been selected with the environment in mind.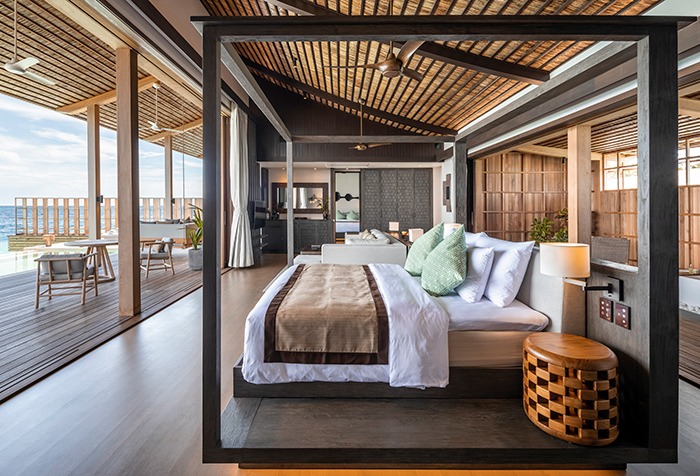 Owned and operated by a consortium of Maldivian and foreign partners, the new venture is the latest addition to a growing portfolio of resorts, each occupying its own island and boasting solid sustainability credentials through activities such as tree planting, lagoon cleaning and coral regrowth programmes. While the majority of the group's resorts fall into the four- and five-star segment, Kudadoo is undoubtedly a step up, both in terms of its commitment to the environment and in the luxury stakes. The project, located in Lhaviyani Atoll to the north of Malé, was overseen by Crown & Champa Resorts shareholder Lars Petr – a Swedish national who's been developing resorts here since the 1980s – along with his son Filip. Together they sought to bring a new level of luxury to the portfolio, building on the success of nearby Hurawalhi to create a private island with a conscience.
Having designed the sister property back in 2016, Japanese-American architect Yuji Yamazaki was enlisted to create the blueprint for the new 15-villa retreat, looking to the surroundings and climatic conditions for guidance. His journey began with the arrival experience and the small seaplanes that shuttle guests from Malé's international airport. "It is unique to this island nation that you first discover your destination from the sky, which gives visitors a stunning impression of the entirety of the architecture," he explains, adding that the aerial view is an early indicator of the resort's ecological approach. The 15 ocean residences fan out neatly from an elliptical boardwalk, but what's most striking is the main building, its roof clad in solar panel after solar panel. "Traditionally, solar panels are hidden in discreet areas in the Maldives and do not have any other function, but at Kudadoo, the photovoltaic roof is decidedly visible and becomes the icon of the resort," Yamazaki continues. "Visitors can instantly understand our aim to integrate the system into overall design concept."
There are 984 solar panels to be exact, collectively generating enough energy to power the entire resort and eliminating the need to import diesel fuel. For those with more than a passing interest, a dashboard on display in the lobby informs guests of the savings in real terms; for example, in the first month of opening, the resort saved the equivalent of 40 trees.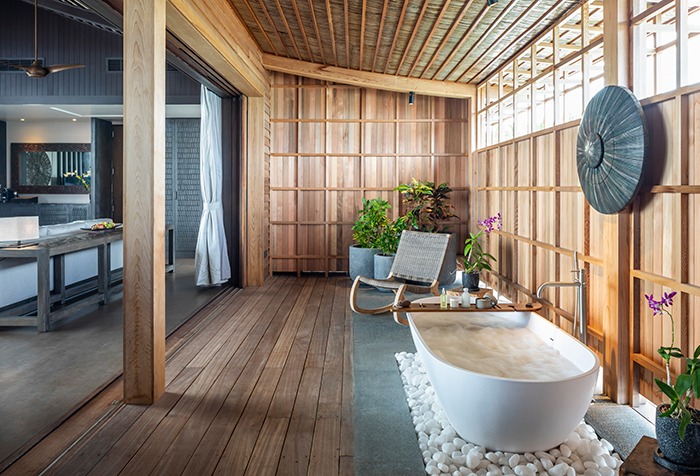 Yamazaki's environmental considerations don't stop there. "Architecturally, breeze, shade and view were the driving elements for our design," he explains, referencing the high ceilings, deep overhangs and floor-to-ceiling bi-fold doors that advocate natural air ventilation. The building materials were also crucial, with Yamazaki analysing various possibilities for every surface and finish, taking into account sustainable sourcing as well as performance with exposure to sunlight and seawater. Cedar was eventually selected as the main material for the exterior, while teak plays a central role indoors. 
With the island previously uninhabited, great care was taken to preserve the flora and fauna already here. "There is a ecosystem in place and it was part of our mission to minimise change," says Yamazaki. "We kept the native plant palette of sea lettuce, ironwood, coconut palm, beach hibiscus and screwpine; when you have a beautiful and unique site like this, you want to preserve it."
As a result, new construction on the island was kept to a minimum, with the few land-based structures reserved for waste management systems, food and water recycling facilities and a water bottling plant to reduce plastic consumption, further minimising operational impact on the island. Concealed amongst coconut groves and interior forests, their presence does little to detract from the natural beauty.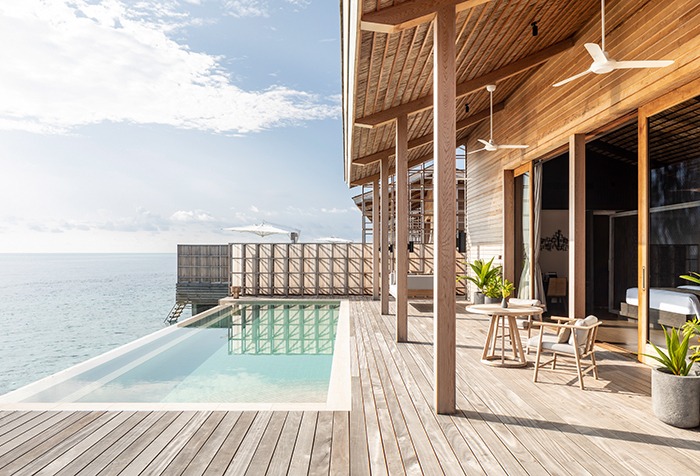 All guest facilities are constructed over water, sitting within a sand lagoon so as not to disrupt the reef and its aquatic life. The ocean residences measure in excess of 300m2 and feature super king-size beds, sumptuous bathtubs, Bang & Olufsen audio systems and some of the largest private sundecks in the Maldives. They're the epitome of luxury living, but more importantly, a triumph in environmentally conscious design. Yamazaki has masterminded an architectural scheme that makes the best of the tropical setting, utilising sunlight and the sea breeze to reduce electricity consumption. Sliding doors on both sides of the villa allow for natural ventilation and also create an open-plan living space that spans indoors and out, while the bathing area and shower room benefit from ceiling gaps that let daylight in. Tasmanian oak lines the floors while furniture is designed bespoke and handmade by Warisan. The Indonesia-based company has worked with CCR on a number of its projects, and this time invited Yamazaki to Bali to develop his scheme in-house, resulting in a complete package of casegoods and loose furniture, all manufactured using hardwoods from sustainable plantations. 
With Kudadoo catering to the well-heeled traveller, privacy is of utmost importance. Each residence has its own private infinity pool and the surrounding sundeck is flanked by Yamazaki's 'egg crate' screens, a system that affords frontal ocean views while providing a partition between adjacent villas. Guests can also snorkel direct from their deck, and with the resort being the only one on the island, a secluded spot on the beach isn't hard to find. 
For those who can tear themselves away from their own private sanctuary, the main building on the opposite side of the island – known as The Retreat – features a games room, swimming pool, gym and spa, fully equipped with a nail bar, steam room, sauna and  Himalayan salt room. Naturally, the products used in spa treatments are organic, with guests even encouraged to use the Healing Earth sunscreen provided in the villas owing to its coral-friendly ingredients.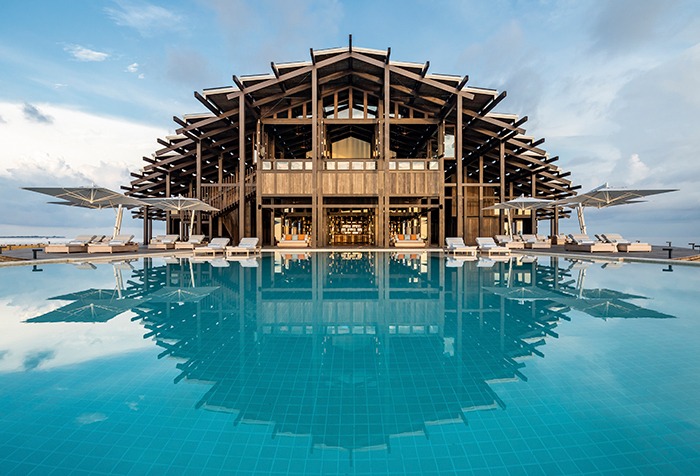 The Retreat is also home to Kudadoo's restaurant, a light, airy space once again defined by Yamasaki's Japanese aesthetic and use of sustainable materials. Open all day and with both indoor and alfresco seating, the restaurant has a changing menu of French, Japanese and Mediterranean cuisines, though guests are invited to go 'unscripted' and choose whatever they want to eat, whenever and wherever, whether it be a seafood BBQ on the terrace or a candlelight dinner on the beach. There's also a bar, its striking feature wall clad in backlit onyx, as well as a cheese room and wine cellar offering private tastings. Or guests can take the short boat ride across to Hurawalhi's 5.8 Undersea Restaurant, a feat of engineering as well as a truly outstanding dining experience. 
Holidaying at Kudadoo doesn't come cheap, with rates in the region of US$3,400 per night in high season. However, there is value in the resort's 'Anything, Anytime, Anywhere' philosophy, in which a guest's every whim is catered for without having to worry about the cost of extras. Everything is included, from gourmet meals and premium wines and champagne, to water sports, spa treatments and private excursions as well as a butler service and personal trainer – all without restriction. Plus of course, there's the added benefit of knowing that your holiday won't cost the earth.
Words: Catherine Martin
Photography: © Diego De Pol
This piece originally ran in Sleeper 83