The luxury goods brand ventures into the hospitality arena with a handcrafted hotel in its home town of Detroit.
Motown, the Big D, the Dirty D: Detroit's many monikers testify to a rich history, coloured just as much with prosperity, music and culture as, in the recent past, with economic downturn and crime. But just as the resilient American muscle cars that were once made here, Detroit rises from adversity. The city's most recent renaissance is being spearheaded by Bedrock, a Detroit-born developer that has taken the initiative to revamp some of the most historic sites on Downtown's main thoroughfare, Woodward Avenue, which once bustled as the shopping destination of the well-to-do. "We're intentional about the role we play in revitalising Detroit's downtown with small and large companies and retailers that love Detroit as much as we do," says Dan Mullan, Bedrock's president. Highlights in its roster of development sites are the defunct Hudson's department store, and the former storefronts of the Singer Sewing Machine and T.B. Rayl companies, which have now been transformed into the debut hotel from luxury goods brand Shinola.
Smart, understated and impossibly cool, the hotel was the next logical progression for Shinola, a truly American-made brand with roots in watches, that has diversified to everything from bikes and leather goods to bespoke, handcrafted electronics. "The conversation about a hotel started early in the development of the brand when we were building environments, from retail stores to offices and our factory. The feedback we always received was that our stores were beautiful and we knew this would translate perfectly in the hospitality space," says Creative Director Daniel Caudill, who prides himself on being Shinola's first employee, and acts as shepherd of the brand's persona. "Detroit was in need of a luxury hotel, and this was the driving factor behind the design. We wanted it to be comfortable and truly American – modern with a touch of nostalgia, combined with the unexpected."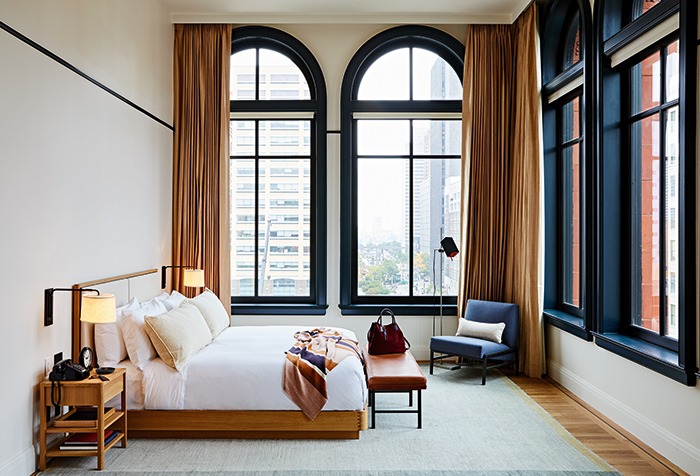 Past a handsome red cast-iron façade and a marquee that simply reads 'Hotel', guests are immediately captivated by the double-storey living room, a space that embodies Caudill's design pillars and the often-paradoxical identity of the city. Christine Gachot – co-founder of Gachot Studios and the designer behind Eaton Hotel DC – who was entrusted with crafting the hotel's interior design story, explains: "This moment is really special because our goal was to design a place where guests and residents can come together and feel collectively at home. The textures are rich – my favourite being the gorgeous custom camel-coloured mohair sofas and sectionals that layer so beautifully with the brown leather sofas. This effect is reflected by the camel drapes outlining the blackened steel windows."
Two focal points anchor the room: architecturally, the original banister and stair leading to the mezzanine space, and aesthetically, a glittering hand-appliqued art piece by American artist Nick Cave. Art is a major player in this space, with an expertly curated assemblage of modern pieces combined with black and white photography lending the 'nostalgia' and 'unexpected' ordinates of Caudill's design ethos. "Shinola is a brand that is proud to be in Detroit, so it was important to represent the city creatively and support artists by displaying their work," explains art curator Sara Nickleson of the locally-based Library Street Collective. Perhaps the most poignant of the salon-style art collection that adorns all four of the space's walls is Mario Moore's painting, which, as Nickleson explains, was commissioned by Shinola; it is a portrait of Moore's friend holding a book on feminist theory while an image of lawyer and women's rights activist Anita Hill hangs in the background.
The hotel has a vast array of food and beverage offerings, all set along an urban alleyway. Here, Shinola turned to Andrew Carmellini and NoHo Hospitality Group to create a variety of options, including the soon-to-open Penny Red's, serving up buckets of fried chicken, and American beer hall The Brakeman, featuring rotating craft beers from the Midwest.
Through a nondescript alley door, the Evening Bar is one of Gachot's favourite spaces. "The interior centres around the mahogany bar with focused lighting to highlight the eglomise mirror back bar, which we designed custom for the space. The inspiration for this piece was the historic murals of old Detroit," she explains. "The space has serious sex appeal; it is a nice foil to the rest of the hotel."
Set on a conversely grand scale, San Morello is the beating heart of Shinola Hotel's dining offer, and, coincidentally, the hardest table to book in town. Centred around a show kitchen complete with wood fired oven, the lofty space features walls adorned in intricate tile work (a riff on something one may find in Southern Italy) with decidedly Shinola materials such as American walnut, blackened metal and textural leathers. Furniture and lighting was custom-designed for the space – bespoke, just like any of the brand's products.
The experience at the hotel's 129 guestrooms is one of a carefully crafted residence. Casegoods are custom-made by Amish artisans in neighbouring Ohio, their drawers opening to reveal inscriptions like 'work hard, do good'; even the faucets – designed and developed by Waterworks – are bespoke. Shinola goodies such as handcrafted turntables, speakers and alpaca blankets (all available for purchase, of course) ensure that the hotel's branding is never forgotten. The irregular nature of a building comprised of several smaller structures, means that there are some 50 room types. "This required more than a bit of creative stamina from our team," quips Gachot. "The end result is delightful, though: you can stay at the hotel over fifty times and never have the same kind of room."
While rooms in the Singer building feature sunken living spaces (a requirement so that the floor plates of corridors line up), those in the main building are defined by soaring floor-to-ceiling windows. Reading nooks, replete with books from Caudill's own collection, are littered throughout the meandering hallways.
Much like the city in which it's set, Shinola Hotel's sum total is one of adept craftsmanship, unpretentious Midwestern hospitality and a profound story. In summarising its design, Gachot says it best: "In our increasingly digital world, it's easy to stay plugged-in and constantly move fast. Shinola's considered, rigorous sensibility reminds us that our greatest luxury is time. We carefully considered this approach in the materials and treatments throughout the hotel, working with craftspeople, artisans, and artists to bring authentic humanity to the spaces. We're always looking to tell a story rather than distract with something shiny. Our hope is that visitors feel anchored by that depth."
Words: Ayesha Khan
Photography: © Nicole Franzen
This article originally ran in Sleeper 84.