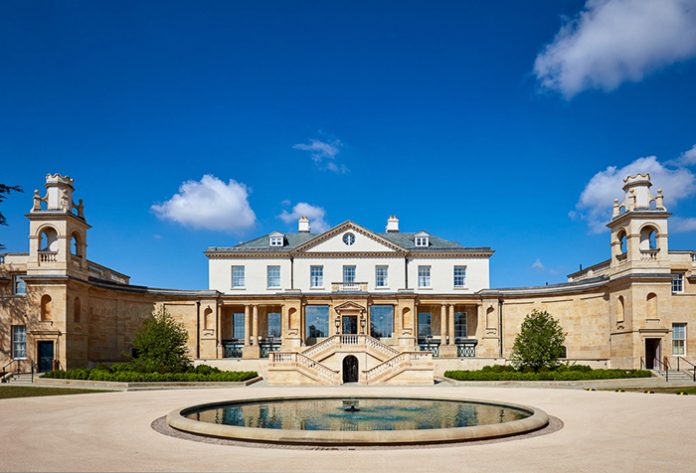 City & Country Hotels enlists Dennis Irvine Studio to restore and convert a 230-year-old hunting lodge in rural England.
So close and yet a world away; the latest addition to Marriott International's Luxury Collection is just a 40-minute drive from central London (and considerably less from Heathrow Airport and the M25), yet its location in rural Buckinghamshire feels far more remote.
Set within the grounds of Langley Park Estate dating back to the 13th century, The Langley occupies a 230-year-old hunting lodge and its adjacent buildings, having been converted by owner City & Country Hotels with all the bells and whistles of a newbuild. Part restoration, part conversion, the project undoubtedly had its complexities, taking some six years to come to fruition. "The biggest challenge we faced was to include all the modern services within a protected heritage property," explains Dennis Irvine, founder of Dennis Irvine Studio, who was appointed to design the 41 guestrooms and suites as well as the public spaces.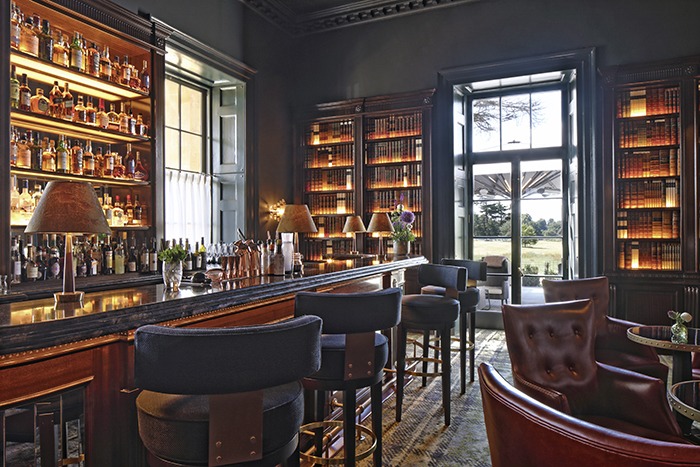 The arrival experience takes guests along a tree-lined drive with cows grazing in nearby fields, and ultimately leads to a circular fountain in front of the hotel. The main house comprises two elements; the first a blocky Georgian structure – originally owned by the Duke of Marlborough – with a restrained exterior ornamentation of painted render typical of its era; the second a 'new' façade of creamy Bath stone added in Victorian times.
Despite its Palladian simplicity, this sweeping double-winged, twin-turreted folly adds grandeur, as does the symmetrical U-shaped staircase fronting the property, installed following extensive excavations to replace the single, uninspiring flight of steps.
Adding to the experience, particularly for those arriving at dusk, lighting consultant DPA has created a scheme that highlights the architectural features, carefully tucking away sources to create focal points of interest as well as providing a functional level of light. "We wanted to balance a spectacular arrival with a perspective of the darkness of the surrounding parkland," explains DPA Partner, Nick Hoggett.
Guests can now re-enact their own BBC period-drama moment, walking up these new steps into a lobby complete with Doric columns, original mosaic flooring and a bright interior staircase vestibule topped with a glazed dome.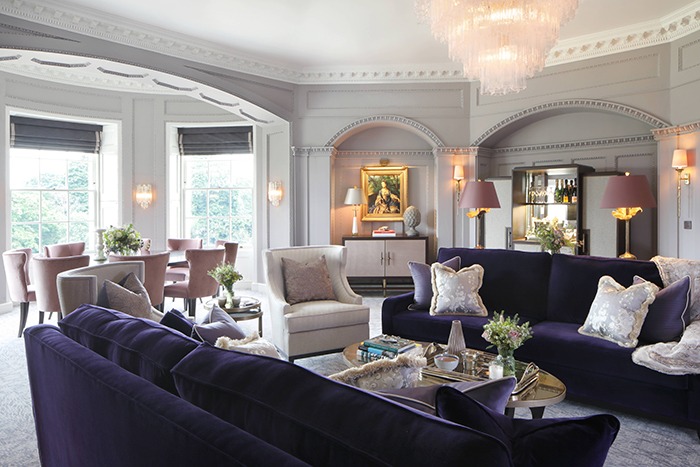 The public spaces on this high-ceilinged reception level include a restaurant, tea lounge, bar and meeting facilities. Above are guestrooms replete with covings, dado rails and skirtings – the historic detailing precisely matched – where Irvine has introduced respectful, understated and timeless contemporary elements. Much of the furniture, specified personally by the designer, is by De'Art, with technical joinery throughout the entire hotel by Mivan. Meanwhile, the bathrooms are masterpieces of bookmatched marble, some incorporating Perrin & Rowe freestanding baths for a baroque touch.
Top-floor guestrooms meanwhile, sit beneath the eaves and offer great views over the original park-scape, designed by celebrated 18th century landscape architect Capability Brown. Within the turreted wings lie a series of quirky, huge volume suites; one of which was once used to hang the hunt's kill. Elsewhere, the semi-basement holds a six-seat cinema, conceived with the nearby Pinewood Studios in mind, alongside The Boot Room entertaining venue and a wine cellar with a private dining room by the kitchens.
Across the driveway is the Brew House – characterised by its restored brewing tun and topped with a clock tower – which is home to 15 guestrooms arranged around a courtyard. With a view to the profitability of the property, Irvine proposed the discreet construction to afford a further six keys.
Much of what is visible today has been delivered both in spite and because of the restrictions surrounding the Grade II-listed building. Working closely with preservation organisation English Heritage, Irvine has transformed a dilapidated shambles into one of the more stately members of the Luxury Collection. And the robustness of the work is clear; The Langley is built to last. The render of the hunting lodge was damaged for example, so was reapplied like-for-like using specialist materials and rendering techniques that only work at certain temperatures, whilst over 100 replacement mahogany doors were constructed to join the 20 marble fireplaces preserved by Oxley Conservation.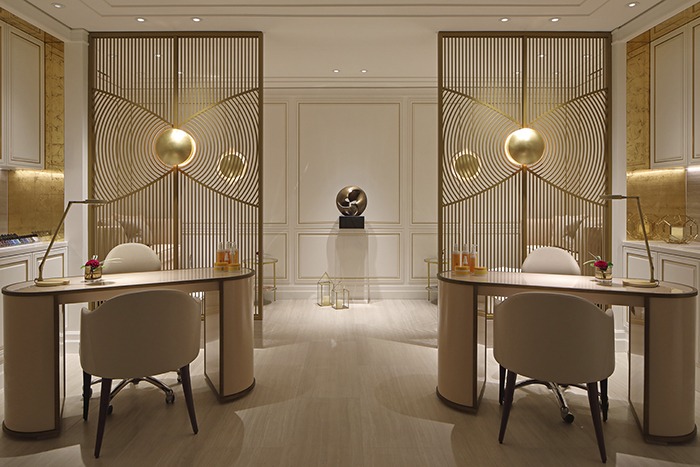 Elsewhere, the choice of fabrics and wallcoverings showcase Irvine's balance of feminine delicacy. The Cedar restaurant sets Vescom's petrol-blue Zanzibar mohair covered sofas alongside a watercolour wash on the crushed velvet of dining chairs, prompting visions of Monet's Water Lilies. Dreamy shades across the tree-scape of the Selva wallcovering by Casamance are illuminated by Hector Finch pendant lamps, and the handpainted silver touch of Fromental's Travetine silk wallpaper in the tea lounge is offset by the strung-bead chandelier from Dernier & Hamlyn, who provided a similar creation in the lobby. A thread of paintings curated by Portobello art runs throughout.
Only in the cosy Churchill Bar does a masculine brutishness counter this, where clubby leather-clad furnishings, tartan carpet, a humidor and large fireplace set the scene. To follow a convincing line of contemporary design within the historic shell, Irvine has deployed countless items, finishes and lighting pieces throughout, all bespoke, as each room has slightly different proportions. In the Brew House, the approach references the building's former use as stables with a number of stitched leather elements. As such, guests can choose between the sleek newbuild rooms and their more historically-inclined counterparts.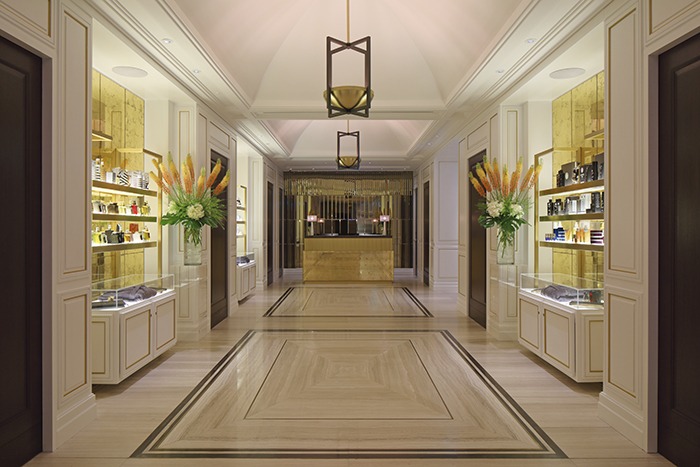 When it comes to the newer elements of the hotel, perhaps the boldest intervention is the spa. Upon acquisition, the property was conceived as a private home for the owning Affara family, for whom Irvine had worked before, completing the interiors of two of their yachts. Once the conversion to hotel use was decided, the inclusion of a spa became vital. With no suitable space to be found in the existing buildings, a 9m-deep pit was excavated and over 1,000 lorry loads of earth removed. Beneath the seemingly unremarkable black tarmac of the parking area now lies a 2,000m2 subterranean spa, created in conjunction with consultants SMC.
"We wanted to develop the sense of arrival using the narrow entrance to the spa to draw the guest in, let them breathe and relax," recounts Irvine of a transition area that reinterprets historical details like wood panelling as points of intrigue, here designed with slimline, marine-grade brass inlays. DPA also ensured a degree of brightness to enhance the welcome, bathing guests in light before they move on.
The marble is extraordinary in scale and colour, and Irvine has inserted distinctive brass batons into the wall slabs of pale silk Georgette marble, as well as darker double border flooring details for contrast – parquet-style and made from vein-cut Eramosa. Irvine also had some fun down here, most notably in the beautiful mirror wall installation – formed from a doubling sequence of bevelled edged mirrors – behind the reception. Adjacent are charming, blush pill-shaped manicure stations, separated by lacquered brass screens that mimic ripples on a pond. The deep blue and white upholstery and/or piping of the spa's lounge furniture is a mischeivious play on colour inversion.
A special hotel created with longevity and timelessness in mind, but also imbued with a sense of playful gentleness, The Langley is an exercise in both carefully researched historical detail and thoroughly modern hospitality. Escape and enjoy.
---
Words: Guy Dittrich
Photography: © Matthew Shaw (Main image) / © James Balston Photography
This review originally ran in Sleeper 86.