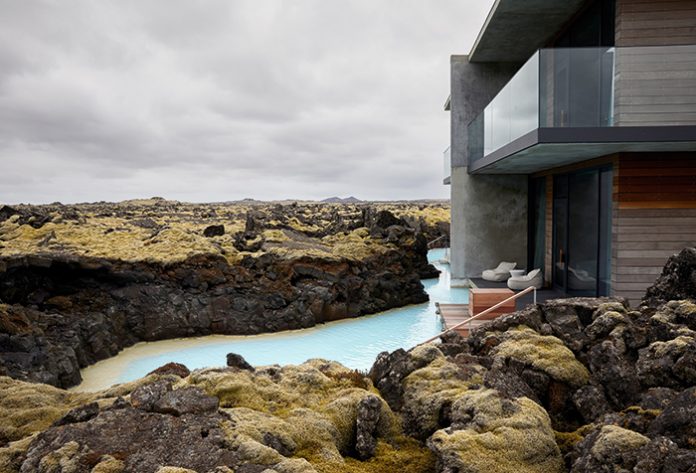 Basalt Architects and Design Group Italia overcome the challenges of Iceland's unpredictable, lava-filled landscape to create an ultra-luxe hotel in wellness hotspot the Blue Lagoon.
With its wild beauty, awe-inspiring natural wonders and otherworldly vistas, Iceland is firmly on the bucket list for many a traveller. New flight routes and a starring role in fantasy drama Game of Thrones have led to a rapid rise in tourism, and with it, a spate of new accommodation options. Ion Adventure Hotel made its debut in the southern town of Selfoss in 2013, with more recent openings including Deplar Farm in the remote Troll Peninsula, and Sandhotel in the heart of Reykjavik.
The latest addition, a twenty-minute drive from Keflavik Airport, realises the longtime vision of Grímur Sæmundsen, founder and CEO of Blue Lagoon, and benefits from its proximity to what has become Iceland's most famous tourist attraction, with guests at the 62-suite spa hotel granted exclusive access to pools piped with the same geothermal waters, minus the selfie-stick toting crowds.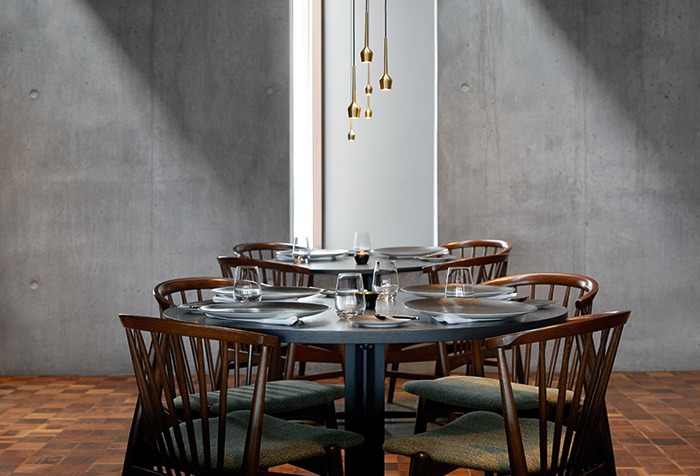 Built directly into an 800-year-old lava flow in the Reykjanes UNESCO Global Geopark, close to the main electric-blue body of the Blue Lagoon, The Retreat's low-slung, grey concrete building sits as a boxy sci-fi continuation of the area's once-molten lava ridges, bordered by a series of milky-blue geothermal pools and fields of moss-covered crags.
The design is a collaboration between Reykjavík-based Basalt Architects and Milan's Design Group Italia (DGI), who led on interiors and experiential aspects, and draws heavily on the Blue Lagoon's narrative of the connection between man-made and natural elements. Often mistaken for a natural wonder, the hyperreal-hued waters of the lagoon were an unexpected by-product of renewable energy production at the Svartsengi Geothermal Power Plant. Packed with silica, algae and mineral salts, they were found to have healing properties, and locals flocked to bathe where the waters collected close to the plant until, in the nineties, Blue Lagoon – an artificial reservoir and spa – was created.
The Retreat's smooth structure provides a pleasing contrast to the rough lichen-peppered rock it sits in, yet doesn't look alien. "The overarching idea that the lagoon wouldn't exist without humans resonated," explains Sigurdur Thorsteinsson, Chief Creative Officer and Partner at DGI. "How humans and nature can contrast, yet coexist in harmony was a key consideration for us." Colour palettes throughout the property feature charcoal, slate grey and rust red, representing earthy lava rock hues, while whites reflect silica, and warm browns and greens pay homage to the ever-present moss.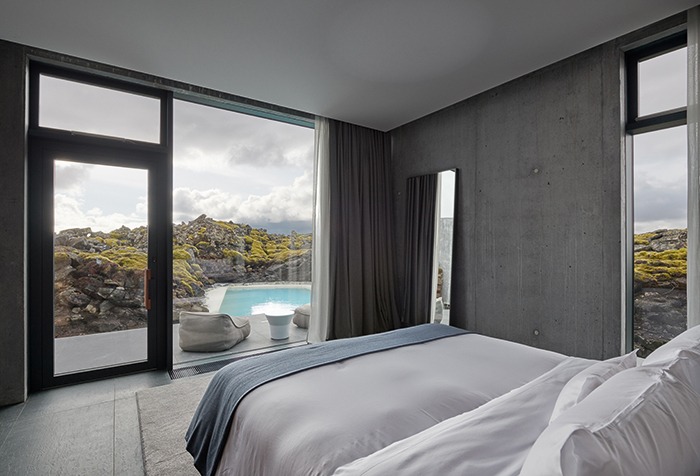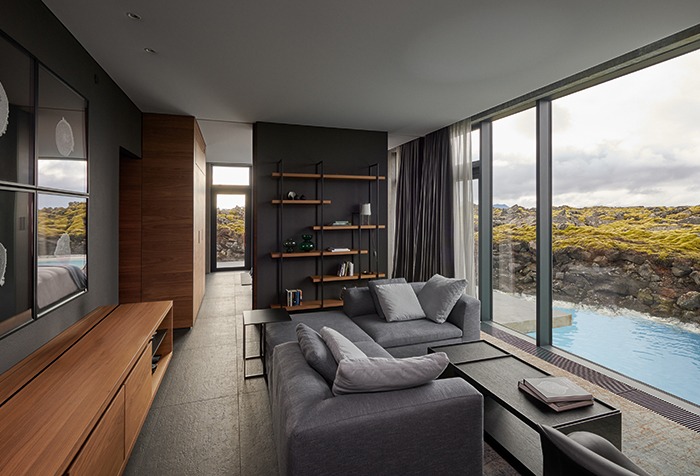 Much of The Retreat's minimal concrete structure was precast remotely to avoid site damage, and was chosen for function over aesthetics; traditional building materials don't react well to the geothermal waters, plus, the area is seismic, and often buffeted by strong winds and horizontal rain. Hardwearing and resilient concrete – treated with faceal oleo to reduce porousness – was the only viable option. Similarly, the snaking Brazilian Jatoba wood walkways that wind between the cascading outdoor pools were chosen for being hardier than oak and spruce.
While Iceland's unique landscape provides a dramatic playground for guests – outdoorsy staff lead hikes up nearby Mount Þorbjörn and helicopters swoop guests over the lunar-like countryside of the Reykjanes Peninsula – construction here was a challenging, adaptive process. Basalt Architects spent hours studying the lava's minutiae to create their proposed layout, but plans frequently shifted. "Even if you can see cracks on the surface, you can only make an educated guess at how they develop underneath," explains Hrólfur Cela, Partner at Basalt Architects. "Lava doesn't necessarily break how you draw it." This meant that some rooms ended up larger than predicted, while others incorporated interesting geological features as they gradually revealed themselves.
In the subterranean spa – a 4,000m2 space that descends three metres into the volcanic earth – a raw lava wall that erupts into one of the relaxation rooms was unplanned, but became a focal point. "It's a fascinating way to work, a dance between the will of the designers and the land," says Cela.
The spa itself is a true one-off. A jellyfish-like Bocci lamp is hung behind the desk, the organic shapes a nod to micro-organisms living in the geothermal water. Afterwards comes the spa's own restaurant, where Icelandic sushi is nibbled by guests wearing white Rivolta Carmignani robes, admiring the steamy blue through long windows. A dimly-lit concrete corridor stretches downwards from the restaurant, punctuated by a sky-like colour pops as the water winds from outside beneath an interior glass bridge. High aluminium screens punctured with uneven holes – cut by water-jet and based on scans of a lava fragments – cast shadows across concrete walls, while at the deepest cave-like room, a self-guided spa 'ritual' involving lava scrubs and algae masks made using ingredients harvested from the lagoon takes place. The atmosphere falls between down-the-rabbit-hole Alice-in-Wonderland-ish anticipation, and a touch of disorientation. Either side of the corridor's spine, various volumes house quirky spots to unwind, in one, water drips onto a glass ceiling via a series of tubes creating an aurally and visually calming experience, while another houses a row of Maffam black spherical hanging nests formed from string-like squiggles of basalt fibre, which demand to be swung in.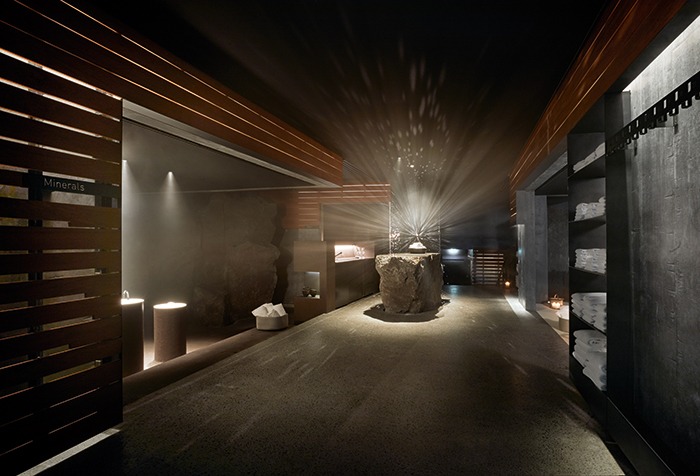 Steps lead outside into the lagoon, its staggered white concrete pool setup inspired by the travertine terraces at Turkey's best-known thermal baths, Pammukale. Most of the concrete is already covered in a thin layer of chalky-look silica as though it's becoming part of the landscape.
Other spaces reflect both a bringing-the-outside-in, and an eco-friendly ethos; the wine cellar was built into a cavern of multi-hued, frozen-in-time lava that erupted in 1226, a fireplace wall in the lobby is crafted using hardened magma bricks harvested during earthwork, while an impressive Chef's Table in fine-dining restaurant Moss was created from a number of giant pieces of lava. Here, the culinary journey leads guests through the country's seas, mountains, rivers, and farms, highlighting seasonal and regional ingredients such as scallops hand-caught by a diver from the West Fjords; reindeer sourced by a hunter from Eskifjörður; and pearl barley from Vallanes, an organic farm and one of the northernmost places on earth where grains are cultivated.
Furnishings were mostly custom-designed by DGI and produced by B&B Italia, with outdoor pieces by Paola Lenti and Kettal. The two-level lobby lounge is full of subtle curving grey tables and vibrant teal armchairs that sit beneath a statement arrangement of Jodi Vilardell's black carbon lacquered fibre and LED Slim lamps appearing to drip down like glowing stalactites, and draw the eye down to focus on the cerulean waters outside.
Guestrooms range from a standard 40m2 through to 200m2 affairs with small private lagoon pockets on terraces. All have a floor-to-ceiling windows, and juxtapose raw concrete walls with warm walnut wood cabinets. Colour accents reflect the scenery; ground-floor Lagoon Suites have blue-hued watery touches, while the greeny-yellow accents of the first-floor Moss rooms match the vistas. While the drama of the scenery outside is the focus, homeliness inside has been ramped up by cloud-like Quagliotti bedlinen, piles of Dux pillows, Axor by Hansgrohe rainshowers and a deep custom-made stone-acrylic bathtub.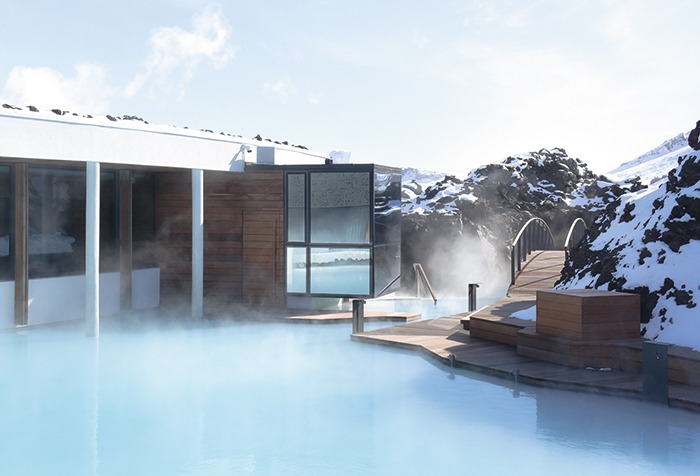 Another flashpoint is the human-centric lighting, conceptualised by Gudjón L. Sigurdsson from Icelandic brand Liska, then executed by iGuzzini. There's no visible luminaire in the ceiling; instead it's hidden under a textile layer, which makes the room's main light seem like a glowing sun-like orb floating on the ceiling, and presets, ranging from energising through to cosy, can be selected to match your mood.
The marrying of design inspired by Mother Earth, with contemporary minimalism and modern technology makes a stay at The Retreat as much of a wonder as the Blue Lagoon itself.
Words: Ianthe Butt
Photography: Courtesy of The Retreat at Blue Lagoon
This article originally ran in Sleeper 84.