Harry Handelsman's third London hotel marks the introduction of both a distinctive new building and a bold take on hospitality to the UK capital.
Harry Handelsman – CEO of Manhattan Loft Corporation – is on something of a winning streak when it comes to London hotels. It started with the renovation of the former Midland Grand in 2004, where the German-born entrepreneur oversaw the reimagining of the historic St. Pancras frontispiece, working with architects Aedas to restore the Gilbert Scott-designed icon of gothic revival to a staple of the capital's hospitality scene. Then came Chiltern Firehouse, a similarly grand reinstatement of the Grade-II listed Marylebone Fire Station in collaboration with owner André Balazs, and still the namedrop of choice for the city's A-list four years since opening. And now, following a decade-long process, the opening of his latest effort, The Stratford Hotel, rounds out a trifecta.
Set across the first seven floors of the Skidmore, Owings & Merrill-designed Manhattan Loft Gardens in the heart of an emerging Stratford district, the property may not hold the glittering historic credentials of its predecessors, but instead seeks to create its own; the structure opens as Newham's tallest tower, and perhaps its most eye-catching too – a double cantilevered, 42-storey modernist spire clad in serrated terracotta and glass.
Comprising the 145-key The Stratford Hotel and 248 residences above, the project draws prominent influence from the long-stay New York hotels of the 1950s and a 'vertical living' concept championed by Handelsman. More than simply a marketing catchphrase, the concept sees designers Signe Bindslev Henriksen and Peter Bundgaard Rützou – co-founders of Danish studio Space Copenhagen – thread a prominent social philosophy across all elements of the property's design.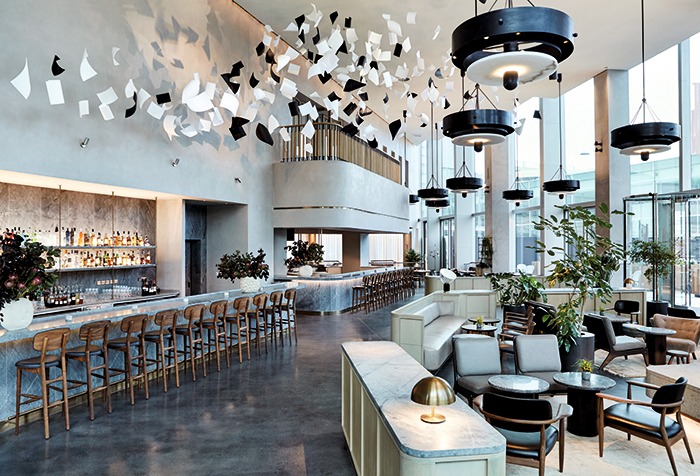 "As we worked more and more with this phrase it became a way of thinking about the design of the project," Rützou comments. "The idea of vertical living is very much connected to the tower itself; the long-lease residences are merged with hotel activity, and the transitional guest interacts with an existing group of residents – it is the beauty of a hotel, and this mixture of people has been a really effective way to create a community around the project."
Guests are introduced to the concept by way of a triple-height lobby, wherein the designers looked to city squares and historic public plazas for inspiration. Working with British manufacturer Benchmark, the studio designed a series of benches, banquettes and individual seats to populate the open-plan central space, whilst a statement fireplace anchors the room – a nod to ancient instinctual remnants of ancestors gathering around fire. Everything else – a brasserie, bar and mezzanine balcony overlooking the scene – hug the edges, allowing space for interaction and communication to unfold uninterrupted.
Hanging above is Paul Cocksedge's Murmuration – a large-scale installation formed of suspended curls of black and white resembling a migration of birds flying over – whilst reception and check-in is kept behind this space so as not to intrude, or else immediately signal the presence of a hotel.
"We thought a lot about how communities work, and about what makes people feel like they belong," Rützou adds. "That central plaza is the identity of a place, and the lobby here sort of became our notion of that – internally for the building, but with aspirations of reaching out into the wider area as well."
With much of the area surrounding the hotel still emerging from a decade of development following the 2012 Olympics, the project – situated steps from Stratford International – seeks not only to create a community within its walls, but establish itself as the social core and anchor of a rare pocket of 21st century London not yet completely transformed. However, with little around the site in terms of established visual inspiration, Space Copenhagen's signature Poetic Modernist aesthetic is given room to breathe, and the designers afforded the freedom to focus on the interplay between material, colour and shape as opposed to repeatedly calling attention to local cultural references.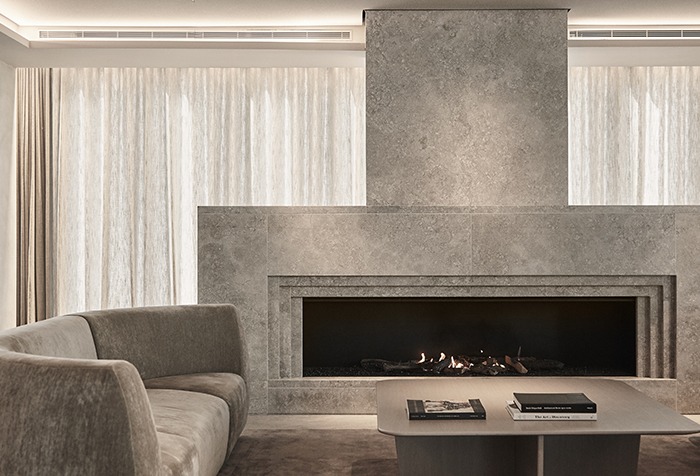 This is best demonstrated in guestrooms, where the scheme across all seven categories is stripped back to a few key items and interventions – a chair, a table or desk, a plant, a lamp – then curated to interact as a coherent whole. Understated accents of stone and marble cladding fixtures connect with shades of cool grey leather, whilst pastel red upholstery juxtaposes with the pop of green plantlife for a moment of vibrancy. The desk and chair, sourced from Stellar Works' Slow collection – designed by Space Copenhagen to infuse classic Danish visuals with Japanese values – adds a touch of bespoke precision.
Larger options are equally streamlined, laid out like apartments to stretch the minimalism across wider spaces, yet never feeling empty or bare. Marble bathrooms are clad with slabs chosen and sourced for the distinctive movement of grain across their surfaces, which spreads across the space as if in place of a swirling wallpaper pattern.
"It's a very masculine building, with a lot of sharpness to it," notes Bindslev Henriksen. "But it is a beautiful piece of architecture, and we tried to find a counterbalance and a layer of warmth and intimacy within. As a studio we have an appetite for natural materials, and whilst there is the practice for that out in Scandinavia, we're now seeing that it is becoming more and more a value package which resonates across borders to connect people, so the inside belongs to the people, whilst the building is for the skyline."
Arranged to look in on an atrium containing another impressive installation in the form of a specially commissioned six-tonne moving liquid sculpture by Petroc Sesi, or outwards to views of the city, guestrooms continue the precedent of bespoke pieces set below; the furnishings, bathroom vanities, mirrors and tables all of the studio's own design. This bespoke coherence continues throughout the F&B spaces punctuating the structure; the casual mezzanine eatery, bar and co-working space featuring a smaller-scale fireplace overlooking its lobby counterpart, and Allegra on the 7th floor incorporating an expansive custom-made bar, along with further Benchmark collaborations including dining tables with Montpellier stone tops and brass edges, and host stations in distinctively stained tambour cladding.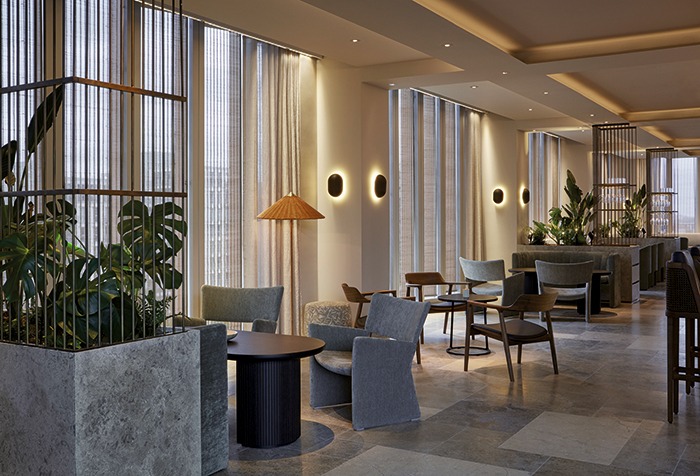 One of the few explicit links to Manhattan Loft Co's previous projects, Allegra is lead by Patrick Powell, the former head chef at Chiltern Firehouse, who will seek to establish Handelsman's vision as an F&B destination on par with the Marylebone outpost. Serving up European cuisine with an old-school twist, the space features flooring assembled from three different shades of warm stone, along with gilded bar shelves and a canopy to the plant life hinted at in guestrooms. The lengthy bar – designed with smooth indents for champagne buckets – follows the curve of the space, and links to the exterior terrace as a circuit. Stepping outside, guests will find a platform clad in timber slats reminiscent of the building's profile, countering the open-plan restaurant with smaller divisions created by planters and a rhythm of trees.
"When we began our work, the tower was mostly defined, but we had an influence on some of the components within, and the creation of spaces that would be attractive for social encounters," Rützou explains. "I think of it as an anchor point locally, but it also exists beyond, and transcends the area in a way. There are elements that belong to a locale, but also ideals of the travelling lifestyle; anyone who travels, for either fun or work, should be able to pick up on things that relate to the notion of travel, both local and global."
And so in an increasingly global London, The Stratford Hotel has placed itself as beacon, spiritually through the combination of Handelsman's vision and Space Copenhagen's design, but literally too; stepping into the skyline with angular confidence at odds with other recent major newbuild projects.
From Allegra's exterior platform, or the similarly styled Sky Terrace carved into the upper cantilever, the view is of a locale still growing. If all goes to plan, The Stratford Hotel's placing will be prescient, and when the rest catches up, it will be in prime position as point of orbit for a new community.
---
Words: Kristofer Thomas
Images: © Rich Stapleton (Unless stated otherwise)
This article originally ran in Sleeper 87