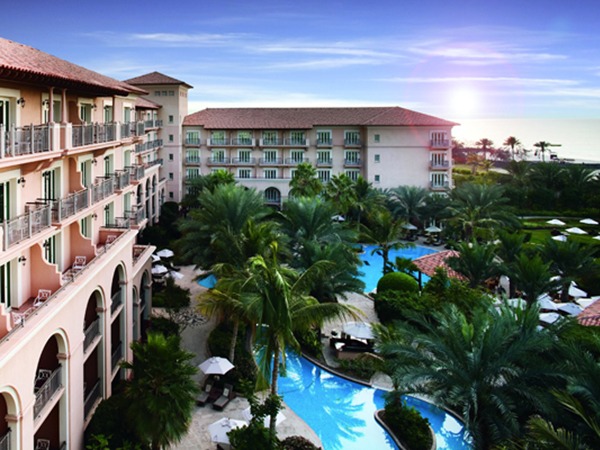 The beachfront resort currently features 138 sea view guestrooms over seven floors.  Spearheaded by Dubai-based architectural firm Rice Perry Ellis, there are plans to build an adjacent wing to house an additional 163 guestrooms, bringing the total number to 301.  Of these, 18 are designated as suites including two Royal Suites, each providing more than 180 square metres and offering a 180-degree panoramic view of the Persian Gulf.
All guest rooms will be equipped with the finest bedding experience, state-of-the-art technology including wireless and wired internet access, iPod docking stations, flat screen televisions and DVD players as standard to enable guests to both work and relax in their rooms.  Located on the third floor of the new wing is The Ritz-Carlton Club Lounge, offering six complimentary food and beverage presentations throughout the day and dedicated multi-lingual concierge service.
 "This major project is part of our goal to meet our guests' requirements in the coming years," says General Manager Andrew Nasskau.  "Since the resort's opening eleven years ago, our number of guests have increased annually, and with the development of The Walk and Dubai Marina, we are predicting even higher visitors' interest in The Ritz-Carlton at the completion of this expansion programme."
As the new wing is located away from the resort's guestrooms and recreational facilities such as the Spa and swimming pools, Mr. Nasskau believes the impact will be minimal.  "We are mindful of the effect that the expansion programme will have on our guests and we will make every effort to ensure that their comfort and enjoyment will not be compromised," he says. "All our rooms and suites will still be occupied for the next two years, and the only areas that will be closed are La Baie, the spa pool and garden in front of the new wing."
To capitalize on the requirements of corporate travellers, the resort will boast sizable meeting and function space to include an 800-square-meter/8,640-square-foot grand ballroom that is divisible by six, a boardroom and three multi-purpose function rooms.  In total, the resort will offer 1,160 square meters/12,528 square feet of meeting space, all of which will be equipped with the most advanced technology.  In addition to a world-class audio and visual set-up, the hotel's Technology Butler, floral artist services and a dedicated catering and conference team ensures a seamless experience for all meetings and events.
Culinary offerings will be enhanced by ten new private dining rooms within an enclosed solarium in the Italian speciality restaurant Splendido, and the signature restaurant La Baie will be revitalized by a new concept and a larger dining space.
The new wing will feature landscaped gardens including new outdoor swimming pools and a terrace.  A 2,020 square metre Spa and Fitness Center, with separate entries for men and women, will showcase a fully equipped gymnasium, beauty salon and 13 private treatment rooms.
Works begins in April 2010 on the project which is expected to be completed in early 2012.