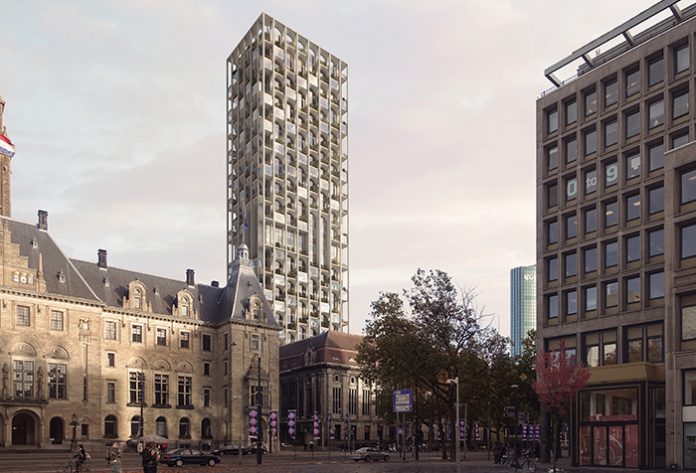 Sitting vacant for more than a decade, Rotterdam's former Central Post Office, the iconic Postkantoor, will soon bring new life back to the city's centre in the form of Post Rotterdam. Construction is set to begin in 2019, with New York-based ODA and Dutch practice Braaksma & Roos Architectenbureau transforming the 58,000m2 building into an adaptive reuse project featuring a new 150-metre-high tower.
Located in the Coolsingel district, the post office is one of the only original structures still standing after Rotterdam Blitz, the aerial bombardment that levelled nearly all of the city's historic core in 1940.
"We believe that it's time for the Post to stand not only as a memory, but also as an expression of the strength of Rotterdam today as a vibrant, connected, centre of culture, renewal and quality of life," says Eran Chen, Executive Director at ODA. "The Post tower is a reinterpretation of both urban living and the Post Office's architectural assets, extending the elegance of the main hall through to the tower."
ODA aims to maintain and enhance the post office's original construction that dates back to 1916, and includes the 22.5-metre-high vaulted Great Hall. The space will become the public heart of the residential, retail, and hospitality complex, which will be developed by Omnam Investment Group. It will be accessed by two existing street-level entrances and be lined with shops, galleries, restaurants and cafes, which spill out into the courtyard.
The upper floors, formerly dedicated to the telegraph and telephone services of the Post Office, will be revived with a five-star hotel operated by Kimpton. Accessible from every side, this monument will, once again, serve as a point of engagement in the city centre, a link between Rotterdam Centraal, all the way to the bustling Markthal.
A 43-storey tower will also be built within an internal courtyard within the former post office building. It will be elevated above the existing courtyard on a vaulted plinth, which will ensure the space is still useable. The tower will comprise a hotel, which will be connected to upper floors surrounding the Great Hall, alongside private residences. It will be characterised by columns with spacing that mirrors the facade of the existing building. Its facade will also have a variety of different sized windows and openings, designed to funnel daylight into the tower while differentiating it from the series of glass-facade towers along the new Rotterdam skyline.
To maximise its connectivity on the surrounding streets, landscaping of the project will be completed by West 8, the lead landscape architect working on the redevelopment of Coolsingel.
"The next step in the life of such an iconic heritage building is to search for an optimal balance between conservation and change," says Job Roos, founder of Braaksma & Roos Architectenbureau. "Unveiling the story of the Post Office and analysing the possibilities for adaptive reuse has led to an unexpected and unorthodox outcome."
Photography: © Forbes Massie