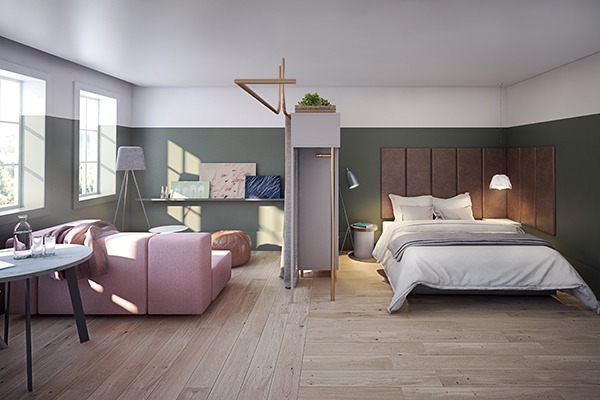 SACO, the serviced apartment company, has unveiled its new aparthotel brand Locke, signalling the company's plans to drive the serviced accommodation sector forward.
Aimed at modern business travellers, Locke will combine aspects of both boutique hotels and serviced apartments to deliver enhanced new concepts. Each Locke property will be designed to reflect the local neighbourhood's culture, taking inspiration from the area to connect guests with like-minded locals and other travellers. The properties will feature bigger living and workspaces, innovative communal areas and hotel style service.
Stephen Hanton, CEO, SACO, comments: "The serviced apartment sector is the fastest growing part of the hospitality industry and we have developed Locke to offer today's travellers the best of a design-led hotel experience with at-home independent living. SACO's mission is to reshape hospitality, and we are continuing to develop innovative concepts, using extensive research, and feedback and involvement from thousands of our customers."
The first Locke property will open on London's Leman Street in Aldgate in Q4 2016, with further properties due to be rolled out across the UK and Europe from 2017 onwards.
Consisting of 168 apartments, divided into 105 studios and 63 one bedroom suites, Leman Locke will also offer guests two sky meeting rooms, a Locke Gym, two bars, all day dining and large amounts of indoor and outdoor lounge areas, with Wi-Fi available throughout.
Eric Jafari, Managing Director for SACO Property Group who has led the development of the Locke brand, concludes: "John Locke was an enlightened thinker, before his time, who challenged the status quo. With Locke, we seek to create aparthotel-anchored communities that do the same. Locke offers a unique take on aparthotel living. We understand that travellers no longer want just a comfortable night's stay. They want an experience and to feel a part of a community – which is why each of our properties are designed to immerse guests in the local area."
SACO currently operates and manages a portfolio of over 900 apartments in cities across the UK, and offers over 35,000 apartments across 220 key destinations in 50 countries through carefully selected partners.