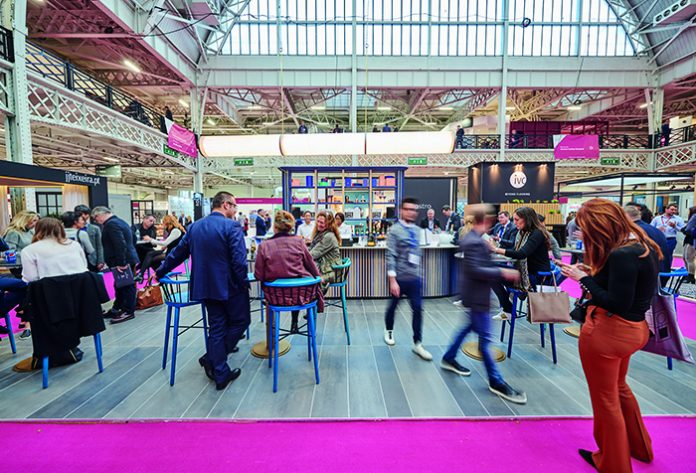 Sleep & Eat, Europe's leading design and innovation event for the hospitality sector, has revealed a theme of Social FlexAbility for its 2019 edition. Returning to Olympia London from 19-20 November, the show will explore this topic through its Sleep & Eat sets – concept guestrooms, restaurant and bar spaces informed by the theme – and conference elements, running parallel to an international exhibition of international brands and manufacturers showcasing new collections, and a range of experiential spaces tapping into art, innovation and young design talent.
"With the rise of electronic and social media, people are starting to disconnect from each other both by accident and choice," explains Mark Gordon, Brand Director, Sleep & Eat. "In the future, designers will be in the vanguard of combatting this social interactional shift by providing hospitality guests the opportunity to reconnect with others in-person and, indeed, to re-connect with themselves. The challenge for hospitality designers will be to provide flexible spaces where users can activate the social experience of their choice. This year, we will be asking our design collaborators to share their vision on how this might become reality in a hospitality setting."
In recognition of the continuing convergence between hotels, restaurants and bars, the event's previously separate conference streams are being merged into one Sleep & Eat Conference, curated by Supper Consulting Editor Heleri Rande.
"Bringing the Sleep and Eat theatres together will capitalise on the synergies between them. They should be complementary and together assist in generating greater revenue. The entire hospitality scene is on the move and we have an exciting opportunity to bring this to life on stage through our keynotes and panel discussions," Rande comments.
This year's Sleeper Bar – a place to gather, network and socialise on the exhibition floor – will be created by Michaelis Boyd, the London and New York-based architecture studio recognised for its sophisticated, design-led approach and emphasis on sustainable and environmentally conscious materials and building techniques.
"We are both really looking forward to designing the Sleeper Bar," the duo state. "On our previous visits to Sleep & Eat we have been very impressed by the strength of the designs and the themes and we are excited to be adding our own spin this year. The theme of FlexAbility means we will be designing a dynamic and social hub for all this year's visitors."
Last year's event welcomed a record number of designers and buyers from across the hospitality sector, including a 24% increase in international visitors.