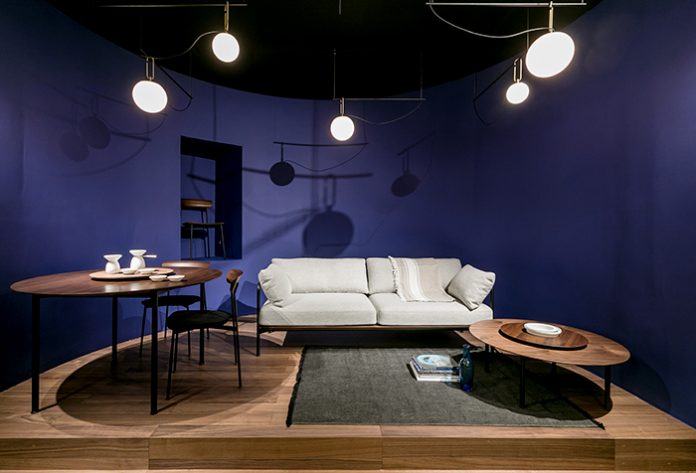 Stellar Works has launched its first ever collection with Australian designer Tom Fereday and Asia's luxury department store Lane Crawford. The Crawford collection was conceived following Lane Crawford's Creative Call Out Sydney in 2018, for which Tom Fereday was the winner, to create a new furniture range for Stellar Works. Part of the series was showcased in Milan for the Salone del Mobile, though it will have its full UK debut at Clerkenwell Design Week.
Comprising a lounge chair, bed, table range and dining chair, the series follows Stellar Works' ethos and was developed on the principle of design that celebrates Asian sensibilities but reinterprets them for an international audience.
The refined Crawford Lounge Sofa, crafted from solid timber with a low-slung design and linear steel frame, is available in both an armed and armless versions, while a second minimal solid timber chair is designed to embrace the user with a formed and shaped backrest. The chair is characterised by a stainless steel frame that supports the sculptural timber elements and allows for stacking, while its seat comes in upholstered or timber options.
The Crawford Table range meanwhile features a chamfered solid timber top set above steel frame legs. With bespoke brass fittings and a removable rotating central platter, the table encourages a social dining experience. A smaller coffee table is also available.
Completing the range is a solid timber bed with a low backrest design that mirrors the Crawford Lounge Sofa. The bed also features similar solid timber elements, and uses a linear steel frame as an integrated bed head.
"I develop products based on the principle of honest design," says Fereday, "This involves celebrating the materials and manufacturing processes behind my furniture and striving to create enduring products that are meaningful to people and our environment."
Guided by their shared values in sustainability, every piece in Fereday's collaborative collection with Stellar Works and Lane Crawford is made to last, from the selection of the natural material through to the manufacturing process and design.