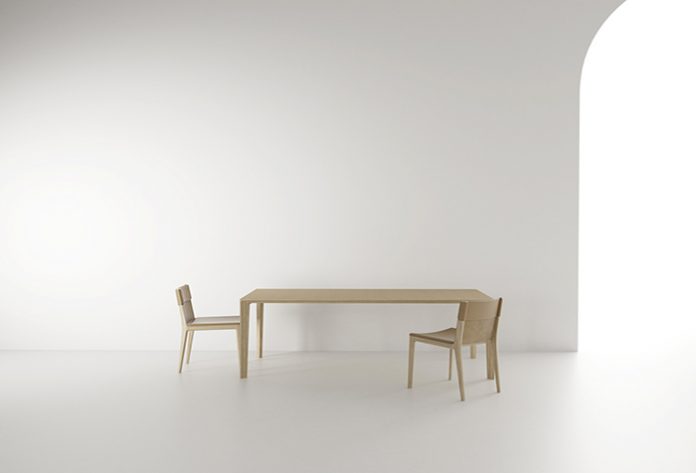 Stellar Works has revealed its Taylor collection designed by Yabu Pushelberg, featuring a range of sofas, chairs, tables and a cabinet.
The Taylor dining chair is wooden-framed with modern, chamfer details and a flushed seat surface that integrates the upholstery from seat to frame to create a striking silhouette, whilst the matching dining table is intricately designed and available in soap-finished walnut. The bar stool and counter stool in the collection also feature chamfer details and a flushed seat surface for a modern yet classic aesthetic.
The sofa is a sectional piece designed with soft curves and minimal upholstery details in the seat, back and arm rests and, echoing the lines in the sofa, the complementary lounge chair is multidimensional in shape and form. Designed as a structural form, the Taylor valet is a three-legged wooden piece that is balanced by a fixed stone tray.
For the collection, Yabu Pushelberg refined every detail to its essence, breaking down ideas to their most basic elements to meet people's needs. The collection values modesty, ensuring that each detail does not infringe on the other and instead unites to create a strong, collective character.
"We designed the collection in a similar way you tailor a bespoke suit; with precision and patience. Once you have a suit that is fitted to your measurements, it becomes an essential piece in your wardrobe," comment Glenn Pushelberg and George Yabu. "With this approach in mind, we designed Taylor – a collection of essentials that can fit well in both traditional and contemporary environments. The simple, subtle, elegant detailing allows each piece to have a sense of belonging no matter where it lives. The name itself is a clever ode to the word 'tailored', personifying the virtues of the collection while still being a contemporary, unisex name."