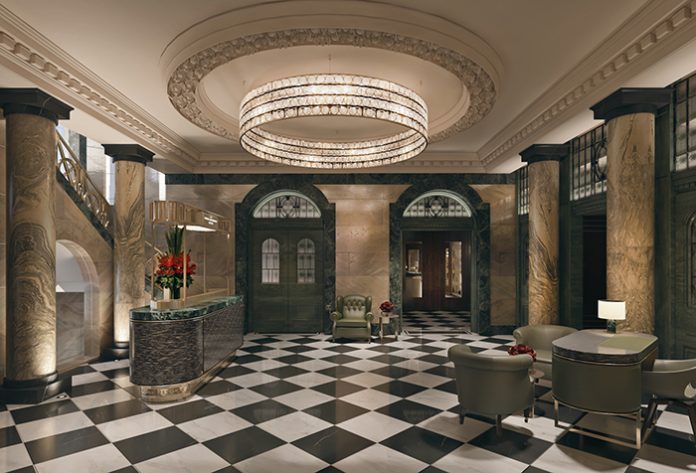 Owners Gary Neville, Ryan Giggs and Winston Zhara have set a November opening date for a new hotel within Manchester's former Stock Exchange building.
Set to join the Relais & Châteaux portfolio with management by GG Hospitality, Stock Exchange Hotel will occupy the 20th-century Edwardian structure with a collection of 40 guestrooms – including two signature suites and a 3,500ft² penthouse residence – and an F&B programme overseen by chef Tom Kerridge. Designed by Istanbul and London-based studio Autoban, the Grade II-listed building will be reimagined with a lighter palette of colours whilst incorporating original marble, brass, glass and woodwork touches.
Co-owner Gary Neville comments: "When you hear Alan, Jon and David talk and share the memories they have of the building, you realise how important it was to them and what an impact it had on people in Manchester. The stories of boom and busts, of playing cricket and football on the trading room floor, the different characters that worked there and how they all felt when it closed. When we heard these things, we became even more determined to bring the building back to life and share the stories that it has to tell."
Arranged in a way that allows guestrooms and suites to be combined into a number of configurations and interconnected spaces, whole floors can be booked out for groups to enjoy. The Bradshaw, John Gass and Arthur Hope room collections honour the architects who originally designed the Portland stone building in 1906, whilst the signature 1906 and Boardroom Suites – 1,070 and 1,700ft² respectively, and the latter located in one of the most historically significant and architecturally preserved portions in the original stock exchange boardroom – will feature marble pillars, wood panelling, stained glass an ornamental fireplace and the repurposed vault. Elsewhere, under the building's dome on the trading floor, Kerridge's restaurant will join additional private and catered spaces in The Vault and The Bank, the latter with its own wine cellar.
"Most people familiar with the building will know of the domed ceiling above the old trading room floor, but there are many other original features that will not have been seen by many, such as fireplaces, vaults and stained-glass windows," the owners note. "For us it was critical that this heritage was protected, and it now sits at the heart of what we hope will be an exciting new concept for Manchester."