Former Ace Hotel London Managing Director Chris Penn and business partner Chris King plant the first flag for their new lifestyle brand in Hertfordshire, writes Guy Dittrich.
Birch captures the zeitgeist with a refreshing authenticity that effortlessly delivers on ideals of collaboration, locale, the new luxury of imperfection and ultimately the creation of experience; a playful escape that speaks of craftsmanship, re-use and repair. 
The hotel is reached up a long drive, the sort a grand country home deserves. Amidst the trees of its closely wooded flanks, a swing hangs teasingly, indicative of the good-humour guests can expect. Birch (Handle.Silk.Comet), to use its full name, offers much. Drop-in bakery lessons anyone? Join Tom and his four-legged friend for their morning tour of the farm? Perhaps a do-it-yourself barbeque at one of the several fire pits dotted around the grounds? Birch lifts the spirit with its feel-good atmosphere – the three postscript words in the name relate to the site using the nomenclature of What3Words' location technology.
The 140-key property comprises a grand Georgian mansion, all red brick, turrets and towers overlooking a wide lawn. This is linked by The Hub, a co-working space, to a low-rise extension housing half of the guestrooms. Countless meeting rooms are joined by pottery, music and art studios, a games room and screening room. There are two standalone units – the riding stables, a quadrangle including 31 guestrooms and fine-dining restaurant, The Zebra Riding Club. And then there is the wellness space, with an open gym finished in a fetching pale pink, plus spinning and exercise studios. All of this takes up just a small portion of the 55-acre estate, which is being patiently returned back to a working farm by Tom Morphew, founder of Full Circle Farms. A lido within one of the estate's walled gardens will be ready in time for next summer.
Opened in August, Birch is the brainchild of co-founders Chris King and Chris Penn. King is a serial entrepreneur and Penn an experienced hotelier who launched one of the UK's seminal hotels, Ace London, back in 2013. As a Great Britain triathlete and cross-channel swimmer, Penn's original plan for the site was to create a sports hotel where guests would be treated as elite athletes, but the location wasn't right and so Birch was born; the property is managed by Penn and King through Birch Hospitality on a 10-year lease from owners Aprirose, who acquired it from Starwood Capital in 2018. 
The hotel is a few minutes north of London's orbital M25 motorway; an audience in the region of 10 million people are within a 75-minute drive. According to King, the aim is to offer the luxury of time as well as space, bringing together nature, wellness, art and food with crossover effect. The estate has a farm-to-table offer from chickens, pigs and sheep to vegetable and herb gardens. Foraging is an obvious activation, but it is also a venue for wellness with outdoor boot camps and woodland weights. Greenery is important within the hotel too; guestrooms have terrariums and large plants provide screening in public spaces.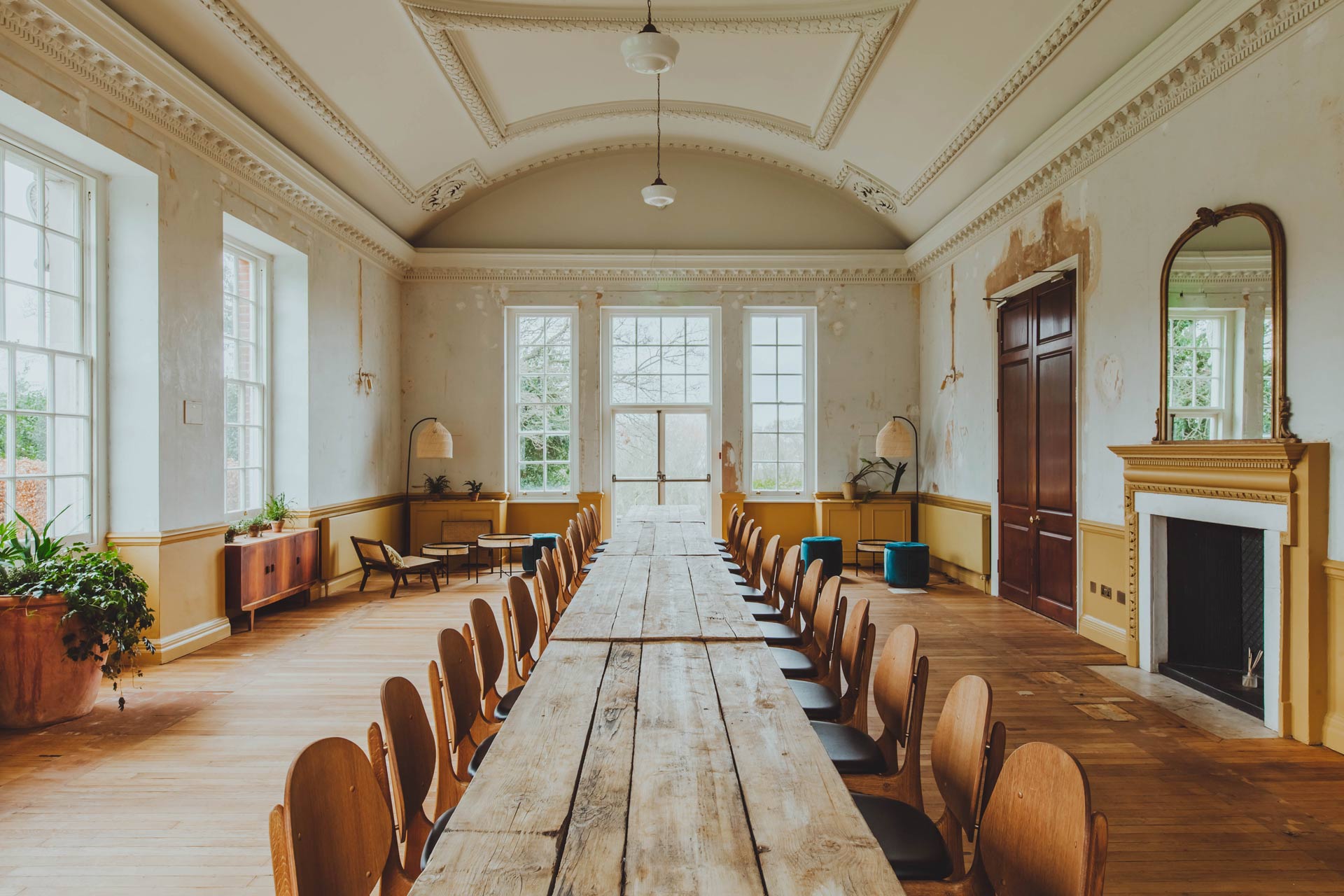 Shoreditch-based architects Red Deer were selected to lead the design process, with co-founder Ciaran O'Brien describing their approach as aiming to "touch the earth lightly". He talks of creating unique spaces through the use of original materials and skilled craftsmanship. "We like to add as little as we can with the maximum effect," says O'Brien of a style that delivers real punch. Take the circular reception station, faceted in deep jade-green mirrored glass that brightens a relatively dark room. More audacious is the mansion house staircase painted deep Yves Klein Blue, together with the showstopping orb of its glowing pendant lamp, Luna by In-es.artdesign, which leads O'Brien to nickname the space 'blue moon'.  
The strongest aspect of the interiors is the crafted, less-is-more appeal. "By engaging with craftspeople early on in the process, we were able to look at flaws more closely and see if there were stories that could be developed," explains O'Brien, adding that plenty of original materials are retained. Historic and cracked plaster has been exposed to reveal more recent electrical chasing – "the past patina of failure shows through," notes O'Brien. Similarly, after the removal of several layers of flooring, the original tessellated marble tiling at the entrance to all-day restaurant Valeries was discovered.  
In such ways, the building has been allowed to speak for itself. The approach could be viewed as merely cost-saving, but the reality is that a few coats of paint or new floor treatment would be cheaper. The budget has however been used carefully. The Japanese idea of Kintsugi, which celebrates repair has also been introduced. Damaged floorboards have been mended with decorative copper patches nailed in place at a cost of 50p each. Cracked floor tiles in Valeries are highlighted with an infill of sparkling gold resin too.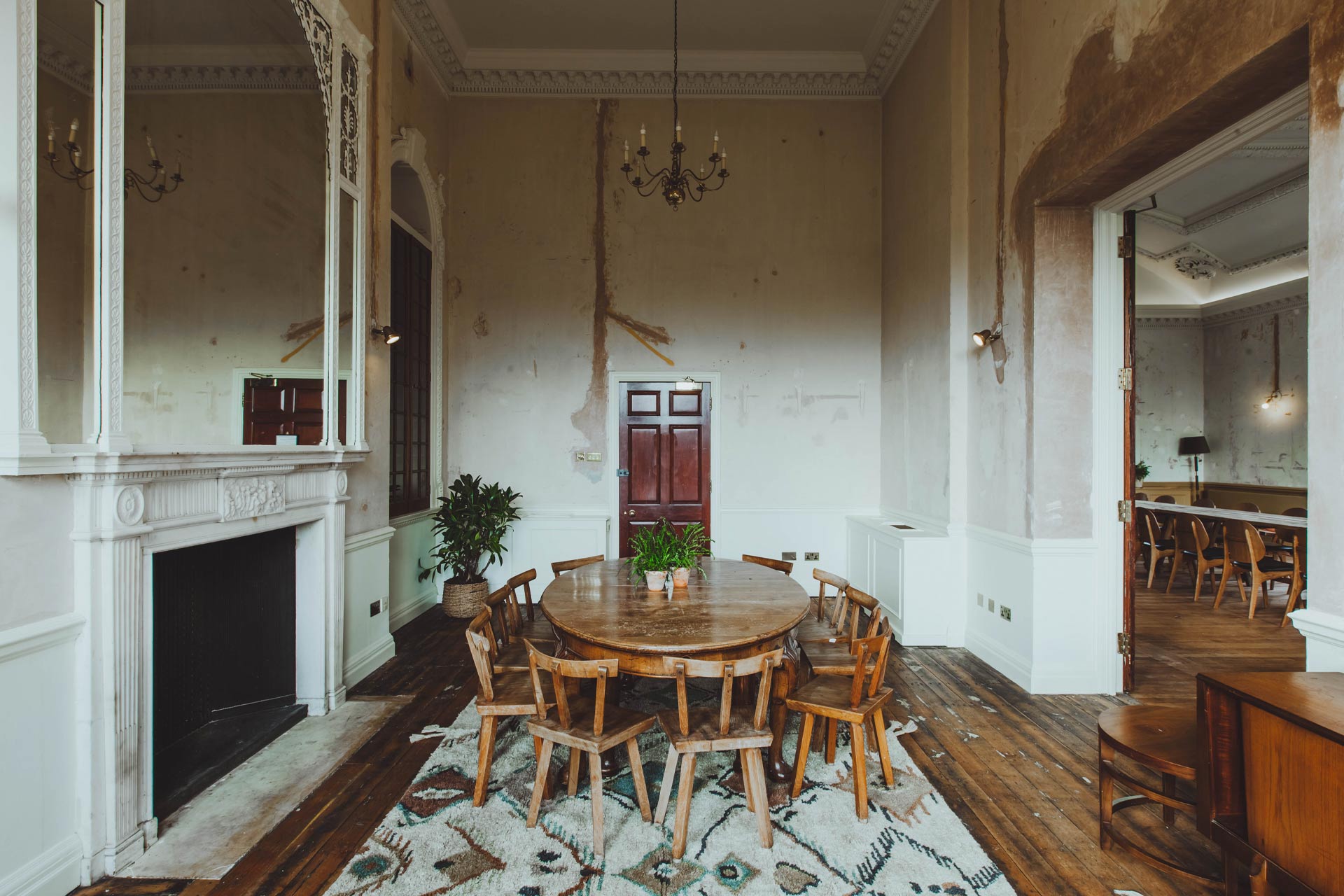 Guestrooms in the new wing are relatively small with low ceilings and have been decluttered to create a sanctuary free from TV, desk and minibar. Grey concrete floors are softened with rugs and colour blocks of pastel scattered across the walls; their shape inspired by the patterns of daylight that ensure each room is unique. Double beds with elegant walnut bases are by Curtis Furniture, while casework is demountable following O'Brien's maxim of touching the earth lightly. Wardrobes are replaced by valet stands that epitomise the collaborative design process. Built around a base of sediment-cast plastics from upcycler Charlotte Kidger is a wooden framework from carpenter Jan Hendzel, to which a ceramic vase by Louise Payne and metal bowl by Lucie Naujalis have been added. This develops the local ethos Penn oversaw at Ace. The original bathrooms were considered totally viable and items were only replaced as required, with the main intervention being to spray paint tiles in pink, green and blue colourways.  
Another cost-saving move was to retain power socket locations. Twists of fabric-covered cabling run exposed across the wall to Payne's ceramic lampshades, which glow above bedside tables of terrazzo or tree trunks from the estate. All the lighting controls are surface-mounted, porcelain toggle switches from Czech manufacturer Katy Paty. "They are so tactile that it is worth spending money on them," says O'Brien of yet another example of attention to detail that adds to the genuineness of Red Deer's design. 
FF&E is a mix of affordable new items such as the deck-chair seating in the cinema with low-light Bicoca wireless table lamps by Marset, along with soft furnishings by Concept Contract and old or found items now restored. New are the table tops at Valeries, made from timber terrazzo by Foresso, a conglomerate of wood chip waste and a bio-resin that gives a nougat-like effect. Linen drapes and bed throws are unlined and unhemmed – the grounds team trained to repair, rather than replace.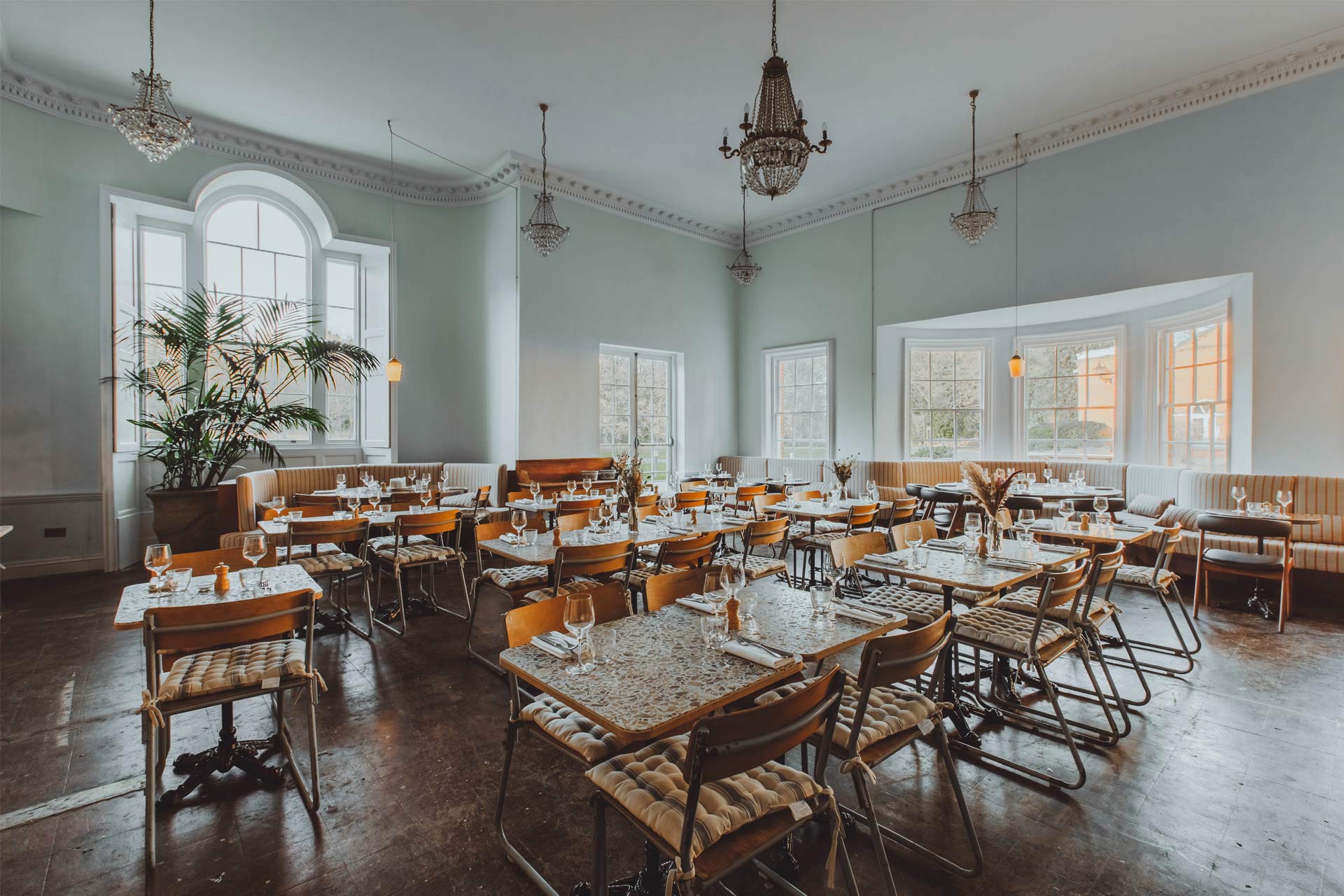 Artwork, curated in the main by Artiq, is limited to public areas, while a tiled bar front at Links Bar will be pimped with a cartoon mural by Parisian illustrator Anna Ferrier. This bar leads to The Hub, centred on the large circular co-working Compass Table. Numerous private meeting rooms also line wide, sky-lit corridors offering a variety of lounge and seating options.
A short stroll out past The Hub's coffee and retail port takes guests past the chicken coop to a growing orchard and herb garden that provides produce for The Zebra Riding Club, run by Irish chef Robin Gill. Named after the animals that drew the carriage of the eccentric Lady Valerie Meux, the last lady of the house, the barn-like structure welcomes diners with an array of seating options – lounge, banquettes and marble counters looking directly into the kitchen – while fabric pendants, brass wall lamps and dark wood floors create cosiness.
Birch is a place to escape the demands of city life, and yet offers top-quality city experiences in terms of dining options and co-working spaces. The variety of amenities appeal to all age groups and are suitable for business meetings and incentives. It is also about affiliation, with carpenter Jan Hendzel describing it as "collaboration of madness". Penn agrees: "It is a madness but that is what makes it fun." An honest and genuine playground of wonderful experiences, light years away from the stuffy English country house hotel.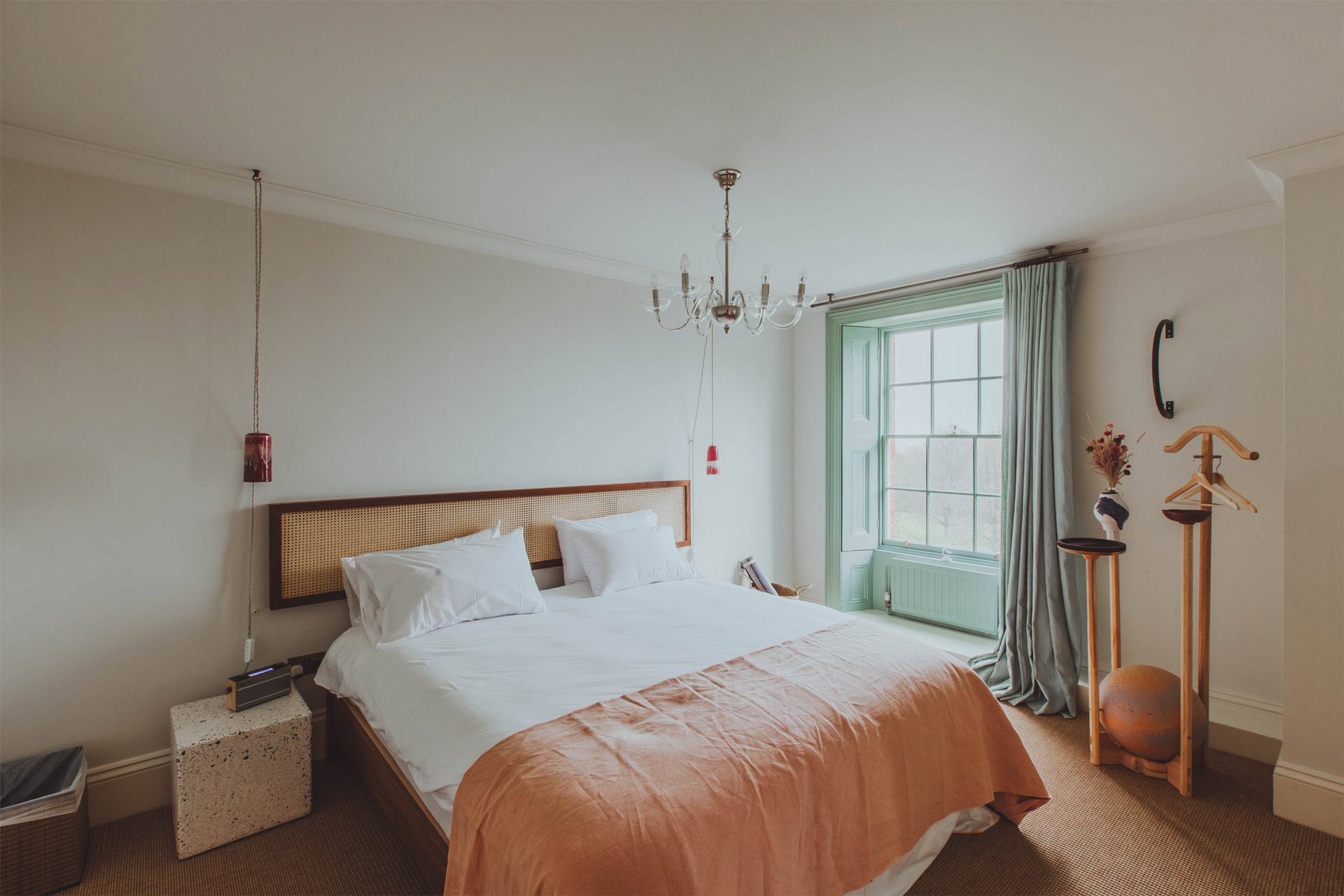 EXPRESS CHECK-OUT
Owner: Aprirose
Operator: Birch Hospitality
Interior Design: Red Deer
Art Consultant: Artiq
Pillar Consultant: LRW
Procurement: Benjamin West,
 

Pure Fitout
Contractors: Parkside, Mysons
www.birchcommunity.com
CREDITS
Words: Guy Dittrich
Photography: © Adam Firman