Lore Group breathes new life into the US capital's iconic Riggs National Bank, bringing a new boutique hotel to the thriving Penn Quarter neighbourhood.
Founded in 1836, Riggs National Bank was the premier financial institution of Washington DC's well-to-do, including a host of presidents from Abraham Lincoln to Harry Truman. The regal headquarters, built in 1891, was located conveniently close to The White House and just across from the National Portrait Gallery in the city's Penn Quarter business hub. In its heyday, the handsome edifice, designed in the a la mode Richardson Romanesque architecture style, welcomed men of influence with lofty, coffered ceilings and all the adornments befitting a cathedral of wealth. While their husbands would wheel and deal at teller counters set between splendid Corinthian columns, their better halves, dressed to impress, would visit with the town's elite to be updated on all the goings-on. 
This scene of highbrow commingling was profoundly engrained in Creative Director Jacu Strauss' mind as he set about creating a hub for the 21st century, transforming the bank into a hotel for UK-based Lore Group, the hospitality company behind Sea Containers London. "We could have stripped everything out, but we wanted to restore it and bring back its natural beauty. We never wanted to completely polish it so that it looked entirely brand new, that takes away all the character," says Strauss of his design approach. "There was a sweet but very fine line of celebrating the grandeur of the space, but also making sure that it felt comfortable and not too austere."  
The bank theme starts immediately upon entry with a reception area reminiscent of bank teller windows. On one wall, a curated collection of vintage cheques from the bank – some for enough money to buy a house, others for smaller sums – piques the interest of incoming guests, while on a perpendicular wall, an assortment of tassel-backed keys hangs in a neat arrangement like something out of a Wes Anderson film. Leading guests down a red-carpeted stair is an imposing 2.7m coin-like medallion of Juno Moneta, the goddess of wealth, and something of a muse for Strauss' design narrative – a feminine counterpoint to the decidedly masculine bones of the building.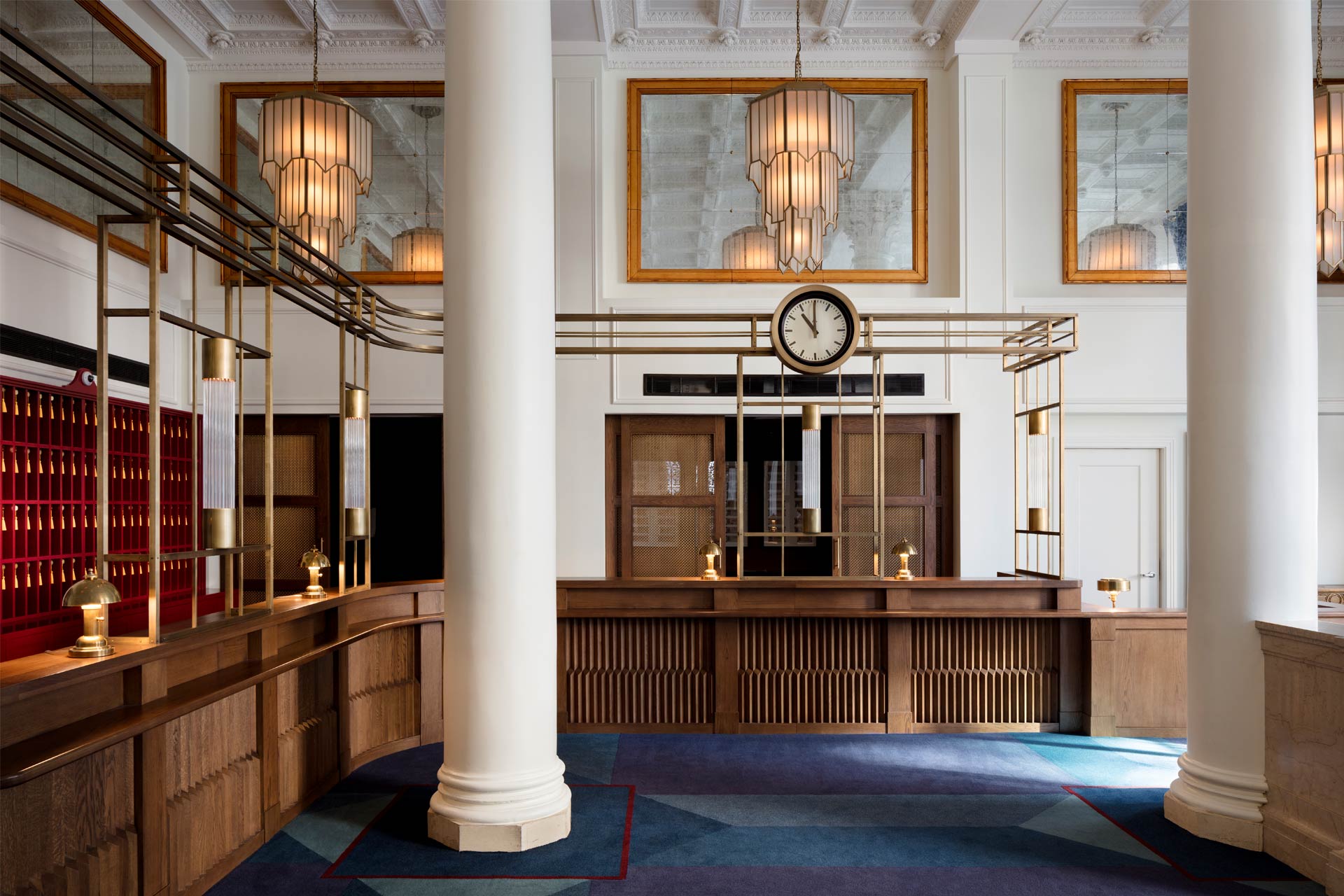 Across the way, the always-vibrant Café Riggs occupies the imposing main banking floor where handsome teller windows once stood. Strauss opted to zone off the cavernous space, presided over by 6.7m-high ceilings, into a lobby lounge, bar and a main restaurant bordered by striking yellow banquettes. "With different seating types – high dining, banquettes and low dining in the main body of the restaurant – we created a bit of diversity that really helps break up the space," says Strauss, who cleverly repurposed the balustrades of the teller windows as counter-height seating too. The centrepiece of this space – and something of an Instagram sensation – is an imposing two-storey glass case featuring a bunch of vibrant, over-scaled blooms that burst onto the scene in full-fledged springtime splendour.
"We wanted to create a centrepiece that was visible from the reception and from the outside. It needed to be playful and completely scaled up because why not?" Strauss continues. "I was inspired by Dutch still life paintings from my time in the Netherlands, but I didn't want to try and make fake flowers look real," he adds, recalling how he took a chance on Mio Gallery, a Ukrainian floral artist he happened to find on the internet. "She did a full-scale mock-up in Ukraine and sent me photos, and then she sent it to me in Washington and I installed it myself." 
Back down the red-carpeted stair sits the hotel's original vault room. It is here that World's Best Bar winner and ardent Lore Group collaborator Ryan Chetiyawardana chose to house Silver Lyan, a glamorous subterranean spot where whimsical cocktails – one even coming with a balloon that the server pops on presentation – and an elevated Chex Mix are on the menu. "We wanted something that within the grandeur was light and playful," says Chetiyawardana. "This building is over a century old, so to have something that was very modern to sit alongside it was really what we wanted."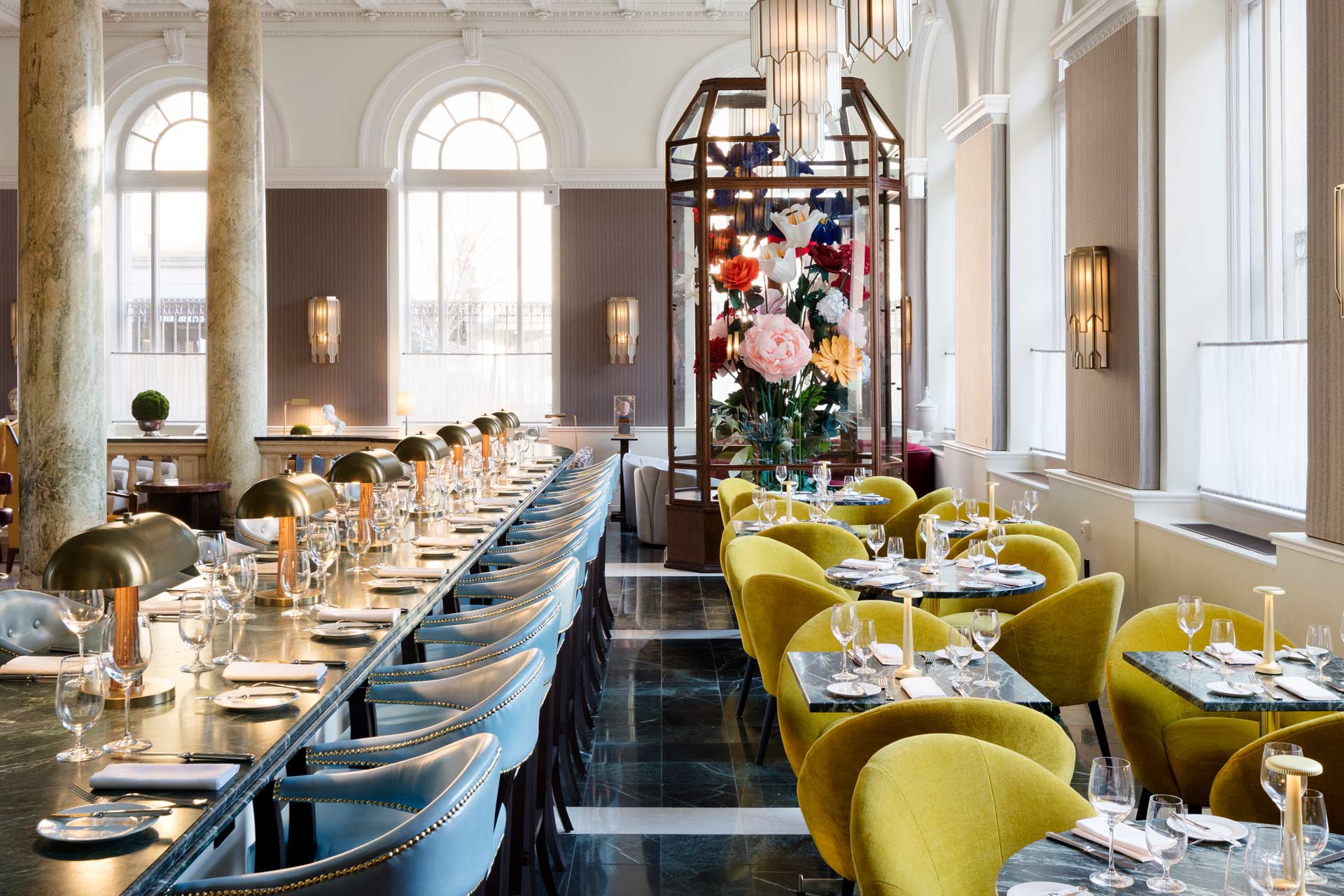 Set against a backdrop of rough-hewn concrete and Corten steel, the colour palette here is scarlet red with oak accents. The real showstopper, however, is a room lined with trophy cases featuring accolades gathered by women only. "It's completely turning the notion of a trophy wife upside down," Strauss quips. "We are not the first bank building to be converted into a hotel, so we thought with the vault we would do something different – something a little more tongue-in-cheek."
Back upstairs, the hotel's 181 guestrooms, divided into a staggering 27 configurations, continue the overriding theme of whimsy. Corridors leading up to rooms offer fun residential touches – an urn mounted on a plinth here, a framed patch of wallcovering disguised as a modern art piece there. The artful theme continues inside, where the focal point is a wallcovering inspired by a work of Baroque art created exclusively for the hotel by New York-based design studio Voutsa. A version of this deconstructed artwork also upholsters headboards. Juno Moneta, Strauss' beloved muse, shows up again in a custom, hand-carved medallion adorning a minibar cabinet designed by Rochdale Spears to look like a vintage safe, which sits alongside bespoke Chelsom lighting and floorcoverings by Ulster Carpets. Further up the building are four distinct signature suites designed in honour of American First Ladies, each of whom had an interesting quirk. Ida McKinley was fastidious about flowers and strangely averse to shaking peoples' hands – she would perpetually carry a bouquet to use as an excuse to avoid doing the unthinkable – and so the interiors of her suite are set in vibrant pinks and purples with a floral wallcovering designed by Voutsa.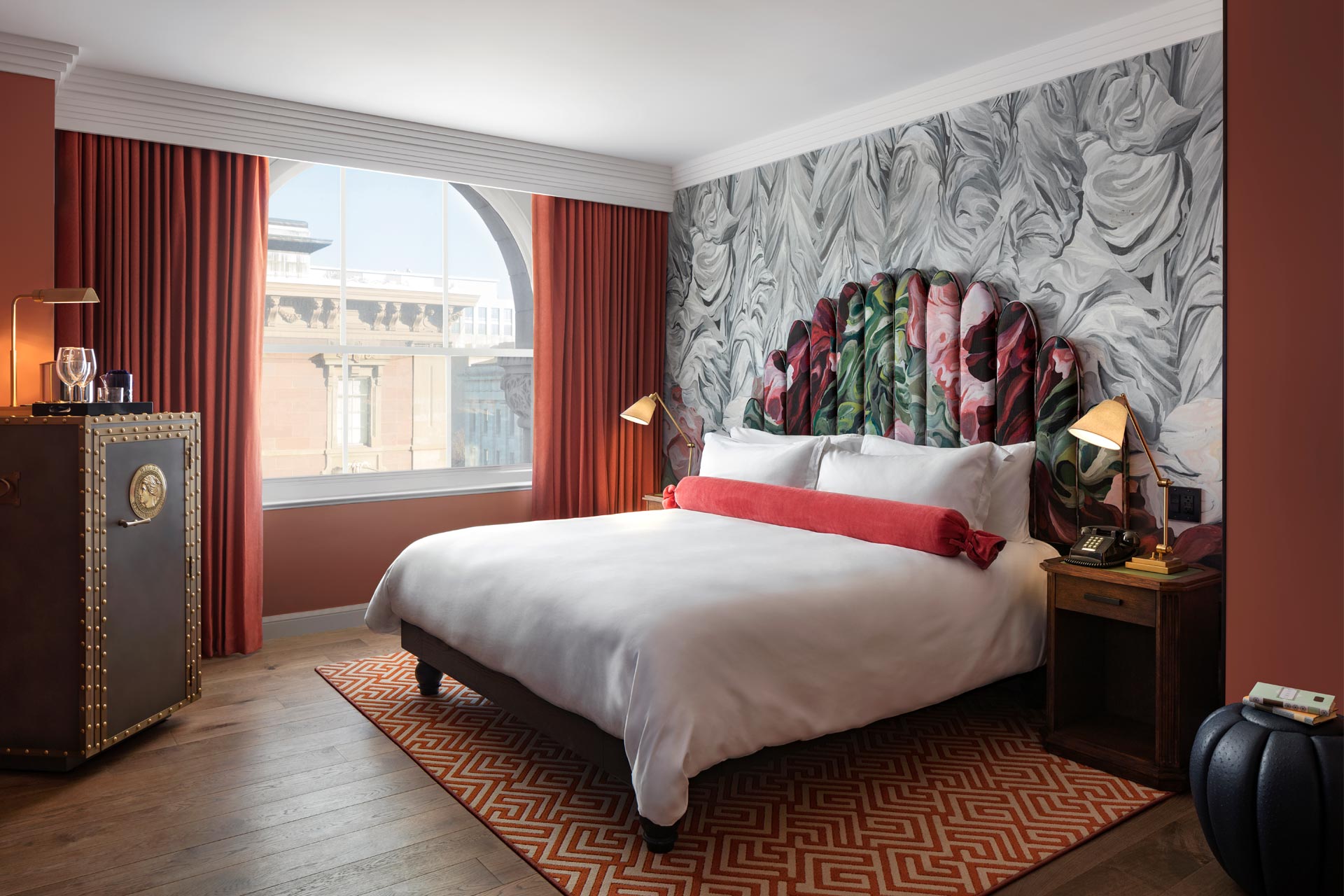 Across in the Caroline Harrison suite, Strauss was able to channel his inner antiques hoarder – he admits to having endless stockpiles of flea market finds from around DC. First Lady Harrison also introduced the tradition of custom porcelain to The White House, so Strauss adorned her blue-and-white bone china suite with antique porcelain and furniture to match. Louisa Adams, an ardent advocate of music in The White House, is honoured by way of a grand piano and other instruments playfully littered throughout her vibrant black, white and yellow suite. And finally, ornate sculptures and a rich, jewel-toned theme adorn the suite named after Angelica Van Buren, the youngest ever hostess in The White House, who took on the role of First Lady when her mother-in-law passed away. Much like the young Marie Antoinette before her, this debutante loved all things rich and opulent.  
Throughout its guestrooms and public spaces, Riggs Washington DC is infused with a cosy, residential feeling that belies the austerity of its shell. But Lore Group were not content to rest on this virtue alone. Under the astute leadership of out of-the-box thinkers like Strauss and Chetiyawardana, they were able to infuse a cerebral, sophisticated brand of humour into the hotel – something that draws guests back in to take another glance, just in case they missed the punchline the first time.
EXPRESS CHECK-OUT
Operator: Lore Group
Architecture: Perkins Eastman
Interior Design: Jacu Strauss
Procurement: The Cardy Group
Lighting Design: MCLA
Landscaping: Bell Designs
www.riggsdc.com
CREDITS
Words: Ayesha Khan
Photography: © Jennifer Hughes