South African business magnates Koos Bekker and Karen Roos convert a Georgian mansion into a country house hotel immersed in the locale.
Meandering through southwest England towards the small town of Bruton, the sight of motorway traffic eventually gives way to verdant countryside, grazing livestock and rustic farmhouses. While this vast, rolling scenery may not be for everyone, to billionaire businessman Koos Bekker and his wife Karen Roos – former Editor-in-Chief of Elle Decoration South Africa – it felt a little like home. Having first ventured into hospitality with Babylonstoren, a vineyard, stylish hotel and 3.5-acre garden in the Cape Winelands, the couple were keen to emulate their success overseas, acquiring the Grade II-listed Hadspen House and its 800-acre estate in 2013, having come across an advert in Country Life. Before long, plans were drawn up to revitalise its gardens, while proposals for a boutique hotel, spa, farm shop, cyder press and horticultural museum soon followed.
Originally built between 1687-1690 by barrister William Player, Hadspen House was extensively remodelled during the Georgian era, with Bristol-born lawyer Henry Hobhouse II purchasing the property in 1785, adding a façade of local limestone shortly after. Hobhouse's descendants – a family of activists, politicians and conservationists referenced throughout the interior scheme – went on to occupy the mansion for the next two centuries, making further modifications to the building as well as creating more naturalistic parkland.
"Restoring the house had its challenges," Roos begins, before explaining how The Newt took its name from the animal, which can be spotted in the estate's freshwater pools during the warmer months. "Discovering the newts delayed building work by about a year, but in the end, we saw them as friends. I love watching children searching for them in the ponds."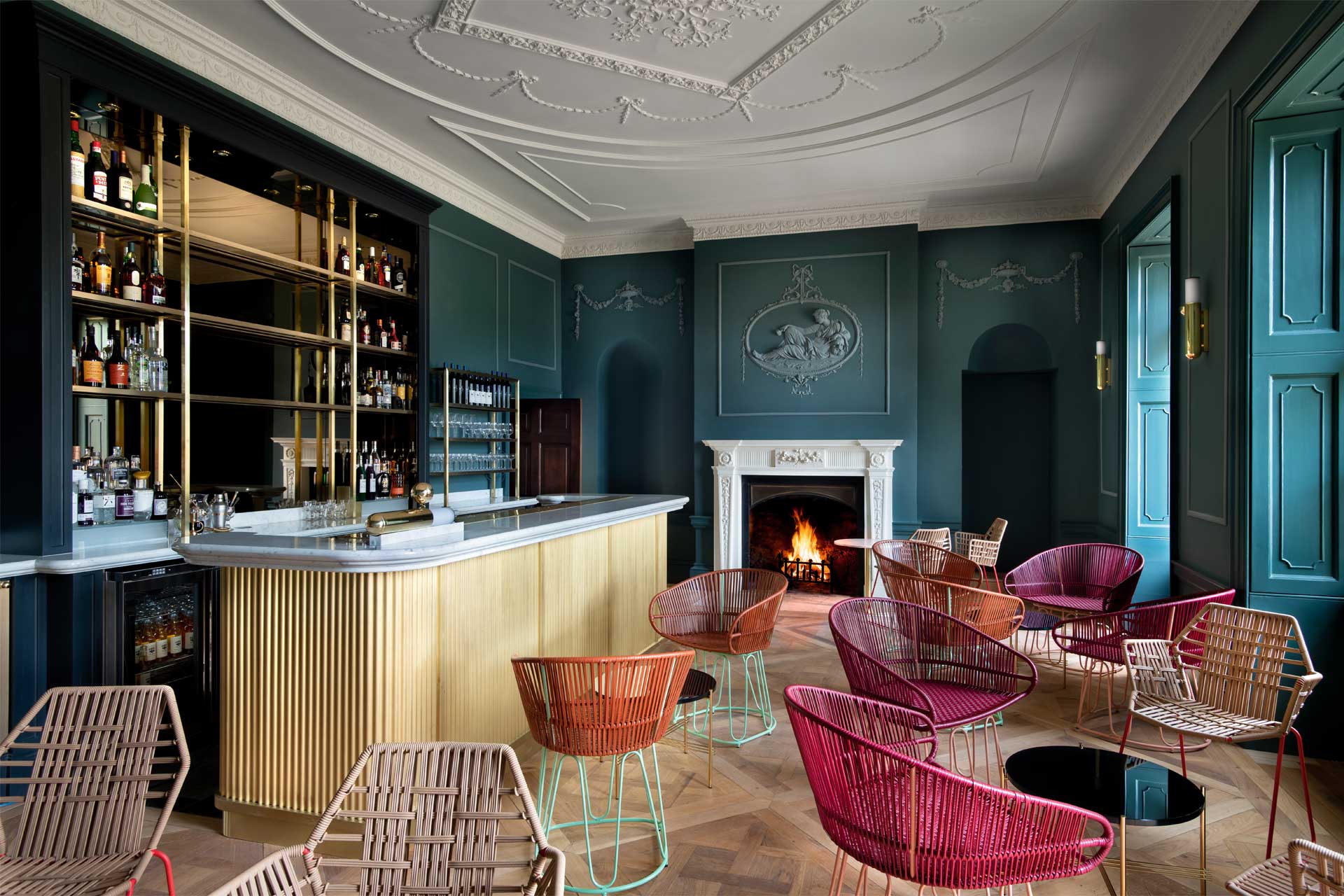 Occupying Hadspen House and its adjacent stable yard, the hotel embraces country living with a focus on the local and sustainable, encouraging guests to explore the estate and its surrounding area – a boot room provides rain macs and wellies to help combat the elements.
As a result, every aspect of the design is rooted in respect for the land, environment and creatures living on it, from the 23 guestrooms and suites, to the garden-to-table menu in the restaurant, the botanical sensibilities of the spa, and even the Georgian-inspired uniforms crafted by Lois Hill of The Uniform Studio.
Taking creative inspiration from her work on Babylonstoren, Roos reimagined the past by combining historical elements with contemporary architecture and playful details. The writer-turned-designer also chose to incorporate orange coloured Hadspen limestone and Blue Lias quarried nearby, while blacksmiths, carpenters, architects and stonemasons were brought in from the area in line with the property's ethos. 
"I've always loved England and for me, Somerset is at its heart" Roos adds. "Locality is therefore everything to us, from hiring our staff to partnering with British designers such as Tom Dixon."
This blend of old and new continues throughout the public spaces, where antiques complement bespoke pieces and modern additions. A palette of subtle greens pays further homage to the location, mirroring the lush gardens dotted around the estate, with shades of sage and emerald contrasted by bursts of vivacious colour. Elsewhere, original oak panelling in 70-cover restaurant The Botanical Rooms is lit by statement Tom Dixon fittings – which also hang over the staircase in the form of an oversized chandelier– while a vintage record player in the Croquet Room is accompanied by vibrant Moroso chairs. An adjacent library serves high tea amidst the warmth of a log fire and cosy sofas, while outside, guests can play croquet on the lawn or enjoy a game of badminton in Old Knobbly, a private grass court named after the cloud-shaped yew hedge that surrounds it.
Upstairs in the main house, individually designed guestrooms have retained many of their original Georgian features including sash windows and fireplaces. Several offer four-poster beds, toilets from Laufen's Palomba collection and freestanding baths by Catchpole & Rye, along with thermostatic showers from British manufacturer Samuel Heath. Continuing the community theme, larders stocked with homemade and local treats such as spiced apple cake, fire roasted peanuts and Westcombe Cheddar straws tip their hat to the area's agricultural heritage.
The estate's original horse yard, built from honey-coloured Hadspen stone, has also been transformed into guest accommodation that harks back to its equestrian past. The Hengroen and Llamrei rooms – taking their name from King Arthur's most famous mares – occupy the ground floor and feature hay mangers, wood-burning stoves and tie-rings, while Stable Lofts on the first floor above draw inspiration from their farriers and grooms. Likewise, an elevated Georgian granary has been converted into a cosy hideaway complete with a futon-style king size bed, exposed stone walls and a shower room concealed beneath the granary floor. Other refurbished 18th century farm buildings include the Clock House and the Hayloft and Woolsack rooms – the latter previously used to store hay and wool, forming a source of Somerset's wealth over the years. And the owners aren't finished there, with plans in place to renovate a former dairy farm on site, creating an additional 17 bedrooms that offer more of a laid back, private experience with a separate swimming pool and dining facilities.
Aside from celebrating its bucolic setting through design, the hotel also honours the estate across its F&B programme. Every plate of food served features something grown, foraged, distilled or baked on-site, with a team of gardeners and chefs working closely together to harvest fresh ingredients daily. At The Botanical Rooms – comprising the Glass Room, filled with orange trees and greenery, and the adjoining Oak Room, flanked by dried botanicals and leather banquette seating – Head Chef Ben Abercrombie's menu is shaped by the lifecycle of the grounds, with small sharing plates like freshly-picked fruit and vegetables from the garden. Meanwhile, a grill designed especially for the kitchen is fired by the estate's woodland and prepares meats from the shire county. Abercrombie is in charge of Horns & Pigtails too, a private dining space set within the original vaulted cellar of the house, which serves up an 18th century-inspired menu to 16 diners.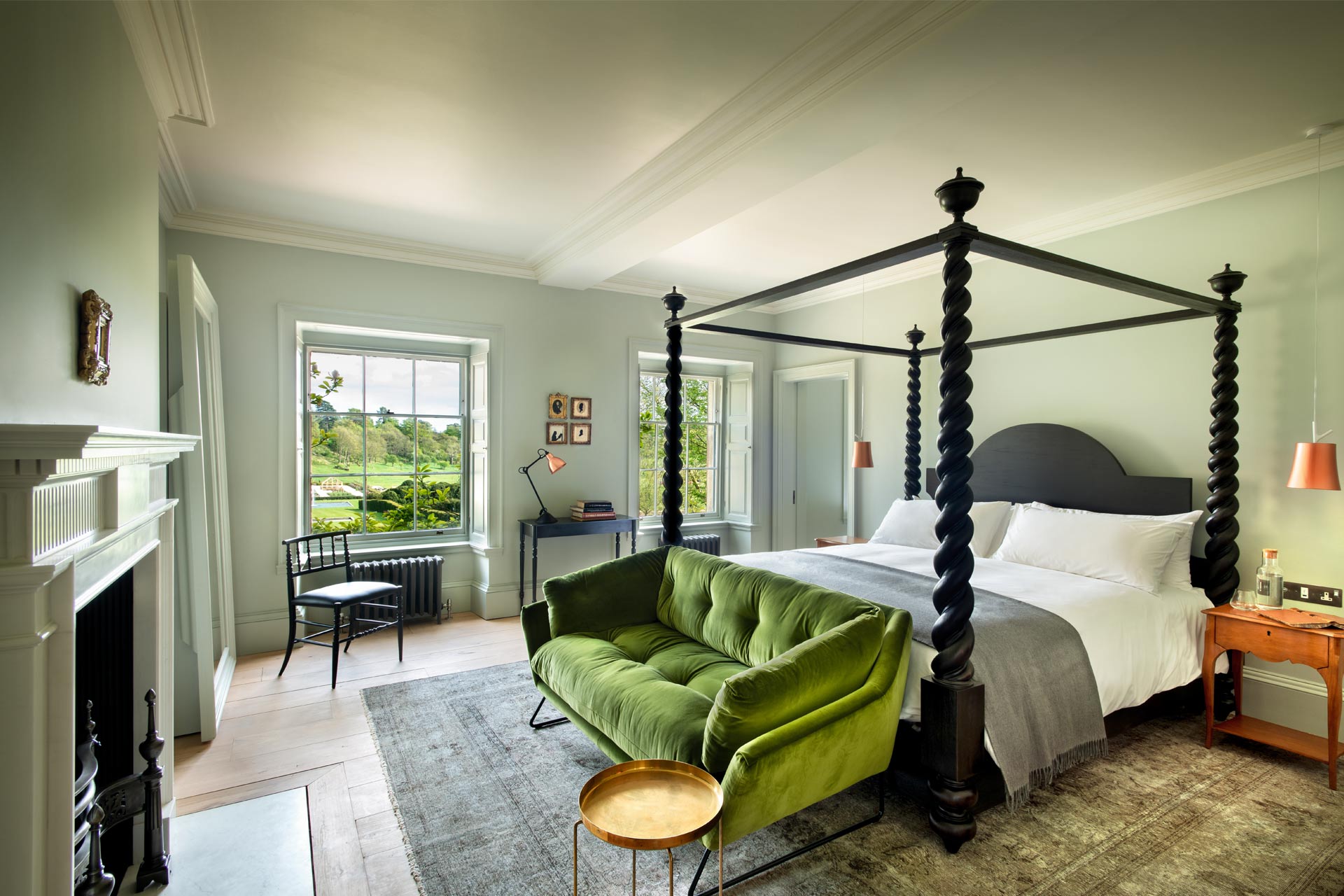 On the opposite side of the manor, a bar is similarly guided by its history, offering fine wines, artisan beers and homemade cyder alongside punches, cocktails and aperitifs popular in the 1800s, with signatures concoctions including Penelo-pea – a mix of homemade apple gin and peas from the garden. 
Painted in deep teal and furnished with a gold bar and vibrant bamboo chairs by Sebastian Herkner for Ames, the bar also plates up small dishes wrapped in curious ways – in vine leaves, kohlrabi, Scotched or en croute.
Venturing outside, The Garden Café is set against a sea of towering trees and provides a vantage point of the kitchen gardens and orchards below, from which the food is sourced. Wooden tables and bench seating go hand-in-hand with a menu led by what's in crop, from crisp green leaves to sweet root vegetables and freshly picked berries, with the team aiming to be sustainable all year round. As Roos explains: "We try to care for the land that feeds us, so are very careful about recycling, reducing plastic and ensuring that nothing much goes to waste."
Joining the café is a bakery, butchery and cheese room, as well as a cyder bar showcasing six varieties made at the estate's very own press, which can be explored along with a cellar and bottling plant on a twice-daily guided tour and tasting. There's also fresh juices, fine teas and coffees for those going teetotal, together with piping hot pies and pastries, roasted and pickled vegetables, and cakes and tarts, to fuel visitors as they wander the grounds.
After kicking off their muddy boots, guests are encouraged to visit the hotel's spa for a spot of relaxation. Housed in a row of former cow barns, the space combines Hadspen stone with forest marble, glass and natural oak, while treatments make use of locally made botanical ingredients inspired by an English country garden. Other facilities include an indoor swimming pool and hydro pool, together with a sauna, halotherapy room, hammam and a private couples' chamber, where signature treatments include a mud rasul experience. In line with The Newt's distinct philosophy, F&B offerings at the spa are designed to promote nutritional health, with kombucha and pickles for the gut, and olives and chickpeas for soothing the skin. There's also a gym located opposite, built by Invisible Studio with one giant window to offer views over the hotel's private kitchen garden.
The estate's crowning glory is undoubtedly its formal gardens, designed by Italo-French architect Patrice Taravella and cared for by an expert horticultural team. Supplying all restaurants on the estate with herbs, flowers, fruit and vegetables, the grounds have built a reputation for providing new and rare plants, with three varieties – Astrantia 'Hadspen Blood', Lobelia 'Hadspen Purple' and Anemone 'Hadspen Abundance' – created in years gone by and still thriving today. Agricultural aficionados can take a journey through time during a daily Garden Tour, which navigates through a Victorian fragrance garden, coloured plots and a 3,000m2 parabola-shaped walled garden, the latter featuring 460 apple trees of 267 varieties, arranged in a maze and trained to ensure the best possible results. Wildflower meadows, an ancient woodland and a deer park add to the discovery trail, along with a contemporary moving installation by Amsterdam's Studio Drift – on display in the Threshing Barn – and interactive nests from South-African designer Porky Hefer, which have proven popular with hotel guests and the resident chickens alike. The latest addition to the experience is The Story of Gardening, an immersive exploration of horticulture, from courtyards of the ancient world to the hanging gardens of today's cities. After crossing The Viper, a treetop canopy walkway suspended over woodland below, visitors can step through a series of rooms featuring interactive installations, games and Virtual Reality pods, each studying the evolution of gardening trends and techniques.
With so much on offer across Hadspen House and the wider estate, it's hard to single out one element as the pick of the bunch. And the owners are looking to make that choice even harder in the coming months. As spring flowers begin to blossom, Bekker and Roos have plans to reopen the cyder bar and launch a new gelateria in the Gardener's Cottage, serving seasonal tipples and sweet treats to those basking in the Somerset sun. Here's hoping the British weather can live up to the couple's ambitions.
EXPRESS CHECK-OUT
Owner: Koos Bekker, Karen Roos
Interior Design: Karen Roos
Landscaping: Patrice Taravella, The Newt in-house gardening team
Uniforms: The Uniform Studio
www.thenewtinsomerset.com
CREDITS
Words: Ben Thomas
Photography: Courtesy of The Newt
Magazine: Sleeper 89