Introducing western guests to Japan's Prince Hotels & Resorts, Marylebone's Akatoki emphasises serene minimalism and nuanced detail.
Zen is a state of mind. The word itself derives from the Japanese pronunciation of the ancient Chinese character Chán, which in turn is drawn from the Indian dhyāna – Sanskrit for meditation, or the clearing of one's mind. Inherently subjective, the practice encourages restraint, insight, and the personal expression of this insight for the betterment of others. Traditionally, Zen is a school of Buddhism, though since its emergence in the 6th century has gone on to gather devotees even amongst the non-religious, become enshrined in western mindfulness, and now finds itself increasingly used as shorthand for relaxation, peacefulness and serenity. Its translation to hotel design, then, makes sense in an era where the elements of aesthetics, hospitality and experience are considered in tandem. 
Set on Marylebone's Great Cumberland Place, a stone's throw from Marble Arch, The Prince Akatoki marks the first property beyond the borders of its native Japan for Prince Hotels & Resorts. A chain of 43 projects under the Seibu Group's ownership with significant presence in Tokyo, The Prince has been a familiar name to Japanese guests since its incorporation in 1953 thanks to both a spine of large-scale projects running the length of the country, and association with Seibu's dominance in railways, real estate and other markets, but less so to those overseas save for a trio of outposts in Hawaii. As such, for Londoners, The Prince Akatoki is something of an introduction to a Japanese institution in more ways than one. 
With Akatoki suitably translating to sunrise, the 82-key project is billed as a fusion of Eastern and Western hospitality, culture, service and design; a slice of Japanese luxury occupying a row of seven quintessentially London townhouses. Converted from The Arch by B3 Designers, both the hotel's branding and interior schemes follow this thread throughout, emphasising calming tones and an undercurrent of detailed minimalism. 
"The brief for the interiors and branding was to bring nuances of Japanese aesthetics and culture to the West," explains Mark Bithrey, founder of B3 Designers. "We explored Japanese forms, proportions and principles, and reimagined them for a London setting, following ideals of strong design, attention to detail, craftsmanship, wellbeing, and both natural and sensory elements to bring these spaces to life."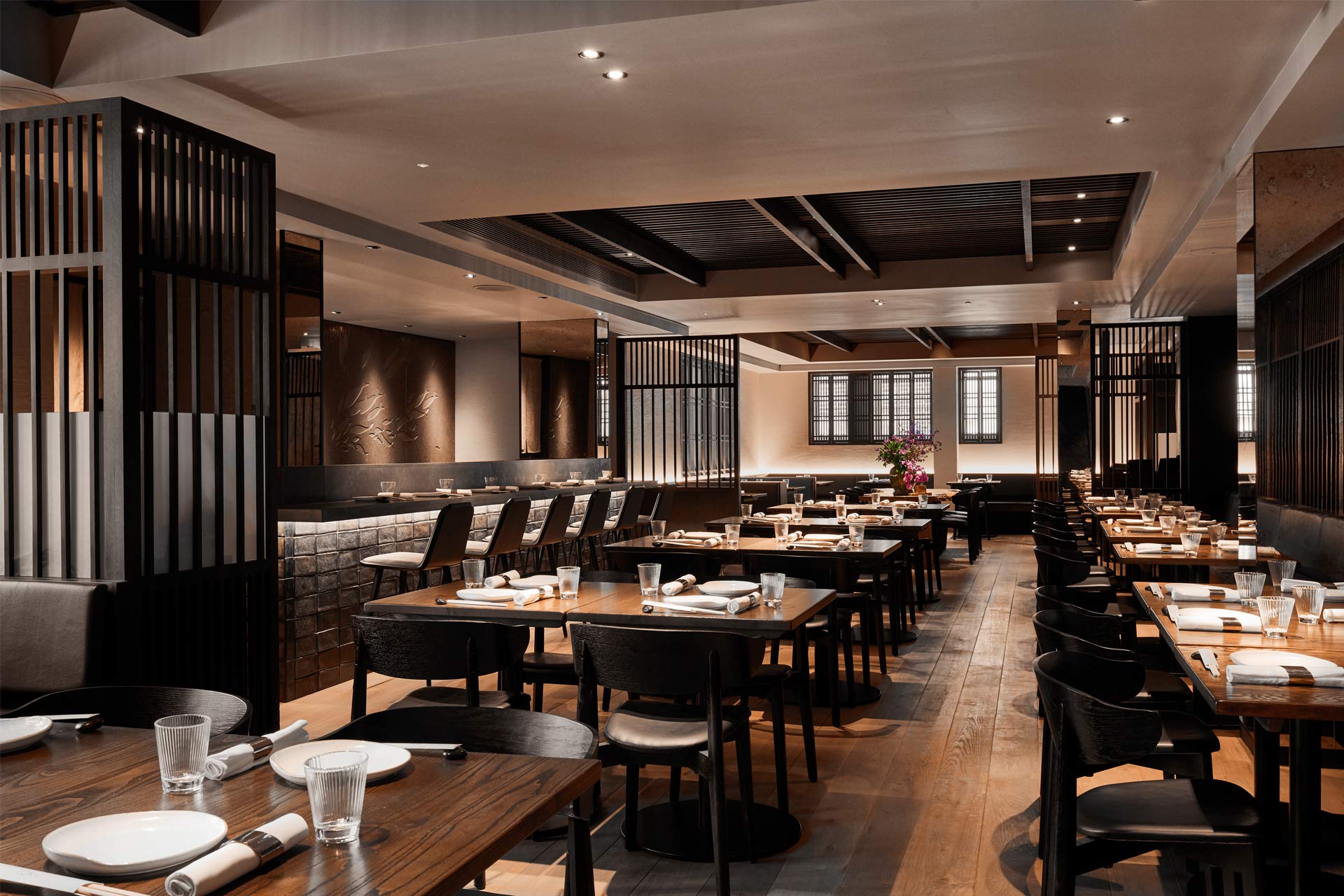 In the lobby this means a seating area refined to basic essentials; low profile chairs spread around a single table, wicker cases carrying candles, a textured carpet underfoot chequered with earthy shades of sand, beige and cream, and not a sharp edge in sight. The fireplace – carved as a linear recess in the wall – seems to float in place, and the few interventions of art and flora sedately blend in as opposed to popping with colour. Adjacent is the pleasing symmetry of a trio of check-in desks – the sole feature in the otherwise uncluttered central section – constructed in slats of pale wood afforded definition by layers of ambient light peering out below the desks and through a punctuation of panels behind. 
A communal workspace by the elevators orbits a lengthy slab of timber, with linear iron shelving behind stacked with Japanese ornaments and decorative branches for skeletal deviations from the grid. As a welcome, this trio of spaces speaks of the wider project's tranquil atmosphere as well as its streamlined functionality – the latter a necessary factor within the conversion process thanks to the twisting footprint of the seven conjoined structures.
"From the design point of view, we looked at designing the spaces to be calming, welcoming and hospitable, to complement the brand's hospitality values," Bithrey adds. "We also paid strong attention to detail, another Japanese value that influences every aspect of the hotel."
The Prince Akatoki's F&B offer unfolds behind this area, with guests guided first past TOKii, the in-house restaurant, then the Malt Lounge & Bar. In the latter, a compact layout is countered by intelligently designed fittings that allow the space to shift easily between its dual functions. A sliding backbar can retract to allow light through windows set behind during the day, or showcase an impressive selection of whiskies and spirits by night. To the side, meanwhile, a concealed cabinet built into the wall holds the hotel's rarest bottles, which guests can purchase, have a plaque beneath engraved with their claiming initials, and return to whenever they pass through.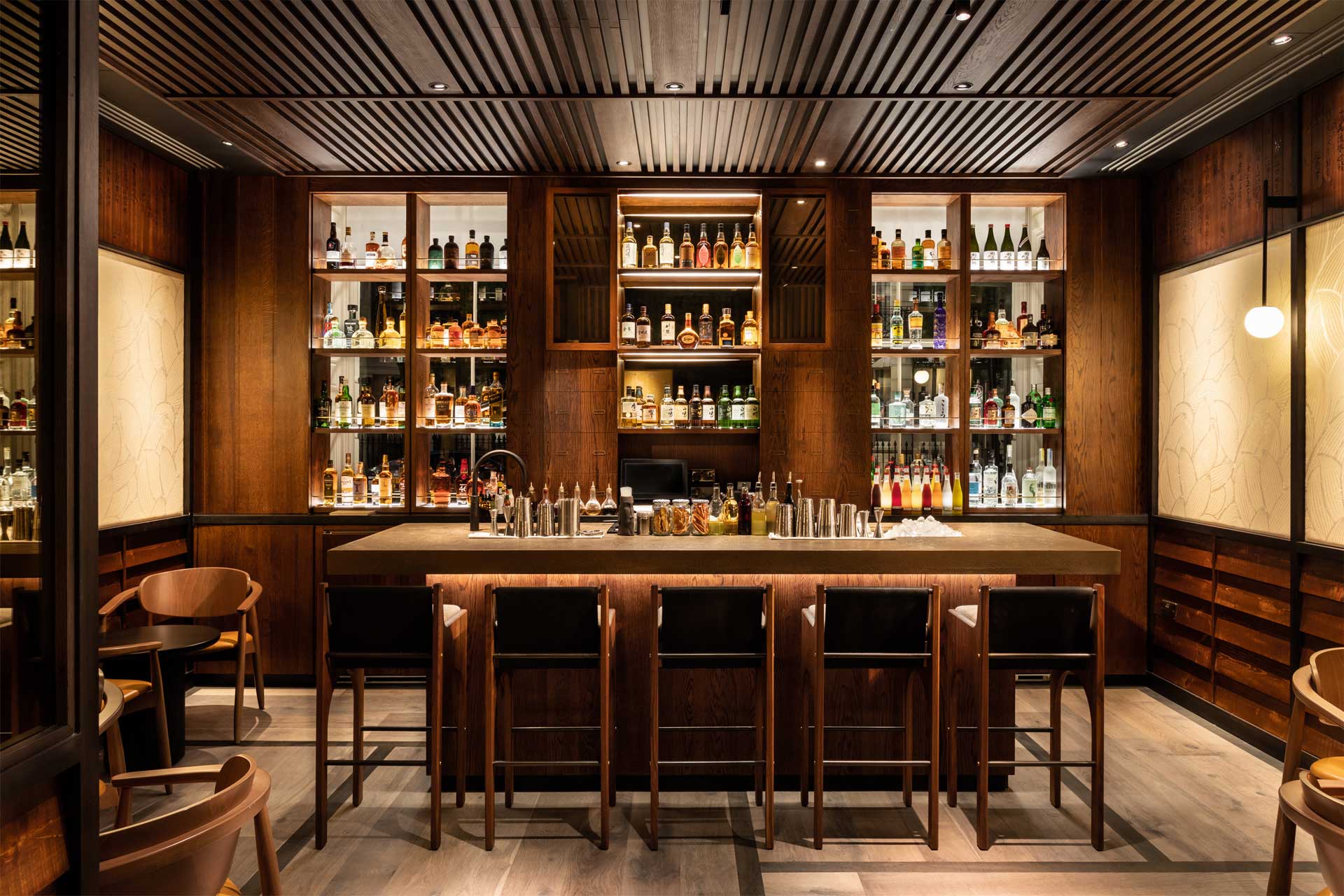 Darker furnishings and materials are introduced here as a primer for the seductive TOKii, wherein the timber drops a few shades and the softness of leather and fabric is replaced by more robust alternatives. The sushi bar is stacked atop bricks formed of volcanic rock nearly a century old, whilst a metal sheet mural spanning the wall behind has been laser-engraved with visuals of silhouetted fish.
The slatted sudare screens typical of Japanese design divide the space into banquets and booths, whilst a fusion menu serves up rising sun classics from a western angle – think Wagyu beef served with truffle fries, scallops with wasabi dressing and lobster sliders with yuzu hollandaise.
For three storeys above, The Prince Akatoki's serene guestrooms are arranged as a puzzle of varying shapes, with a custom scent built on notes of lavender lining the halls, and a bespoke carpet by Ege depicting abstracted tree branches underfoot. Ranging from 21-47m2, the rooms pick up and run with the lighter tone of the lobby. Incorporating Sleepeezee beds constructed on platforms that appear suspended in mid-air, schemes feature B&B Italia and Furniture Fusion pieces in brick red leather and pale timber – sourced in collaboration with online procurement platform Clippings – as well as expansive headboards printed with softened graphic visuals of sunrises over mountains. Interactive TVs from Nonius meanwhile, nod to the hotel's forward-thinking digital element, acting as an easy portal to services and facilities.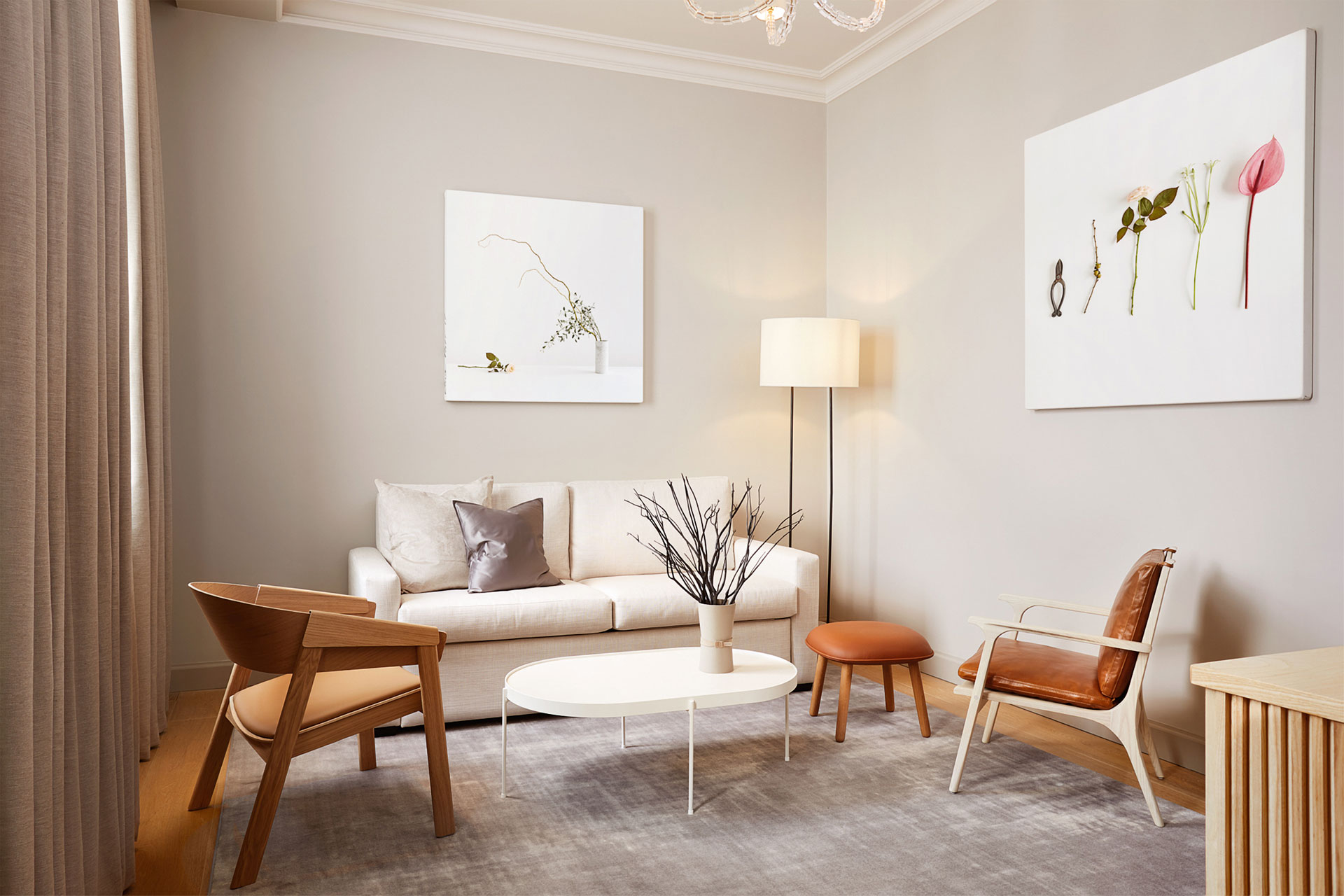 The property's Dawn Suite is perhaps the most succinct encapsulation of the overall tone, unfolding in a residential style, with a corridor seating area, kitchenette and living room flowing gently into a softly lit bedroom. "Lighting has played a significant role," Bithrey notes. "In the bedrooms we designed lighting to mimic the rising and setting of the sun, which the guests are able to customise in order to curate the feeling of warmth or freshness within their tranquil rooms." 
What affords Zen its unique emotional and experiential resonance has historically been the emphasis on personal discovery, and that, by diving into a state of peace and an empty mind, one can find endless detail within the lack of clutter. And so it is apt for The Prince Akatoki to subscribe to this philosophy too; a hotel that appears to lean towards a surface ideal of minimalism yet hides substantial depth that is revealed only when guests take the time to sit back, relax, and truly look. 
Whilst Marylebone stands as one of the quieter, less chaotic districts of Central London, the creation of what is essentially a pocket of blissful quiet amidst the restless noise is an achievement in itself.
EXPRESS CHECK-OUT
Owner / Developer:
 

Prince Hotels & Resorts
Investor: Seibu Holdings
Operator: StayWell Holdings
Interior Design: B3 Designers
Contractor: Phelan Construction
Project Manager: JLL
Lighting Design: Foundry
Graphics: Interbrand
www.theprinceakatokilondon.com
CREDITS
Words: Kristofer Thomas
Photography: © Ben Carpenter
Magazine: Sleeper 89