With the global pandemic forcing many hotels to close over the past few months, it left much to ponder; how will the industry navigate this crisis? Unsurprisingly, the circumstances have taken their toll, but one segment that appears to have weathered the storm better than others is extended-stay, which has become more advantageous to those seeking properties with the comfort of social distance and autonomous living.
As such, home-meets-hotel brand Locke – known for blending traditional aparthotel formats with the design, F&B and programming of a lifestyle hotel – recently announced plans to open sites in Munich, Dublin, Lisbon, Berlin and Copenhagen before the end of 2022, together with a development in Cambridge and a further three properties in London, where it launched Locke at Broken Wharf earlier this year.
To get an inside look into the brand's expansion across the UK and Europe, and to discuss how hospitality could pivot towards extended-stay models in the wake of Covid-19, we caught up with Eric Jafari – Chief Development Officer and Creative Director of parent group edyn – from Locke's offices in Soho.
---
How are things at Locke?
We've been fortunate in that we've been able to keep almost all our locations open throughout lockdown to house key workers and those in need of an interim home. As we were created with extended-stay front of mind, each Locke apartment is designed to be lived in. This means guests can enjoy complete autonomy and continue their everyday life while staying with us, or in current circumstances, hunker down and stay at home. Our team has also been doing a tremendous job of keeping guests safe and well, and it's been heartening to see the teamwork and positivity internally that has endured throughout.
As lockdown begins to ease, we are starting to see bookings return, which testifies to our business resilience as well as signalling a renewed awareness in the aparthotel concept as travellers look for self-contained accommodation. Equally, we anticipate that guests may travel less frequently but for longer periods of time, which makes Locke a compelling accommodation option.
What new safety measures have been put in place and will these continue at your future openings?
We've introduced additional measures such as contactless check-in and check-out, no-contact cleans, independently accredited hygiene standards and a grocery delivery service. But one of the reasons why people stay with us is because in comparison to the traditional serviced apartments model, where there is very little to no interaction with other people, we're a lot more proactive in creating community-led experiences around each stay.
From an experience standpoint, we've introduced artisan grocers to our food and beverage spaces in London and Manchester and have been hosting virtual Supper Clubs with a globally-recognised chefs. For these weekly sessions, guests can pick up a recipe box from the lobby, before heading back to their apartments to join a Zoom class on how to prepare a four-course meal from the ingredients. The reality is you can't do that in a hotel room, but because ours have kitchens, it's afforded us the ability to take the common area experience and bring it into people's private space.
In addition, we've held virtual yoga sessions and cocktail masterclasses to ensure that those staying with us felt connected. The feedback we've received since indicates that – in a post-pandemic world – the lines between what happens in one's room and the public spaces will blur even further to bring the Locke community closer together.
Will Locke's co-working spaces look different going forward?
Different people have different philosophies as to what will happen, and we've commissioned a number of studies into the matter. What we've identified is that flexibility will be critical; the ability to book a desk, private meeting room or phone booth at will. We're taking steps to prepare for this, though in the interim we're exploring biophilic barriers to encourage social distancing – Locke's social spaces are abundant with plants, so using this natural, purifying medium feels like the most seamless, organic way to do so.
Can you tell us about the concept for your latest property, Locke at Broken Wharf?
We worked with Grzywinski+Pons to try and really deep dive into the micro-locality at Broken Wharf. Some of the project's history was rooted in the fact that it was a trade route and sailor port, so we took inspiration from those elements and merged them into the fabric of the building itself. The common areas, for instance, have really low ceilings and we assumed that they would feel claustrophobic, but Matt has been able to use that to the advantage. He's really brought the outdoor in and made it feel, despite the low ceilings, that you're sitting within a quasi-indoor-outdoor setting, with the clever use of furniture creating a series of zones that cater to different parts of the day.
For the food and beverage we partnered with The Initiative to create an all-day restaurant as well as an artisan grocer as well as a cocktail bar. The concept is called Deli Cat & Sons and it's based on making the slow food movement accessible to the masses, helping people to understand that just because they're in a hurry or something is convenient and affordable, doesn't necessarily mean they shouldn't take the time to savour it. So, everything from the coffee to the olive oil to the bread has been carefully handpicked, meaning if guests want to prepare a meal in their room, they can grab some pasta, bread or eggs from downstairs and know the items will be best-in-breed.
Looking ahead to Bermonds Locke, which opens in September, what was the inspiration there?
There's a street in California called Abbot Kinney, which is probably one of my favourite streets in the States. It has one of the highest concentrations of amazing restaurants and bars, and when you go there you feel like you're in this special eco-system. In London, every time I went to Bermondsey Street, it felt like the British version of Abbot Kinney; you've got José, Pizarro, Loyal Tavern and Casse-Croûte, and then up the road there's Story, Trivet and Gunpowder, so one of the highest concentrations of culinary talent in Europe literally within that 500m radius. That's what inspired us to go out to the States and meet with Wanderlust, who designed, own and operate Butcher's Daughter right in the heart of Abbot Kinney.
We tasked Wanderlust and Holloway Li with bringing the escapism of California to Bermondsey,which is reflected in the design palette: the top floors feature a light blue palette and the lower levels are decorated in softer hues of coral to reflect sunlight to sunset. Bermondsey has always felt like a village, so for those that want to feel a little bit detached from the hustle and bustle of Soho but still want to be within immediate proximity to some of London's culinary highlights, as well as The Shard and London Bridge, it's the perfect location and we wanted a destination that reflected that.
What details can you give us on Locke's expansion into Europe? 
Our first opening outside of the UK will be Zanzibar Locke in Dublin. We've partnered with local designers ODonnell ONeill, who has transformed a former nightclub into a peaceful space that will feature a coffee shop, co-working space and a cocktail bar, together with meeting rooms, a retail unit and a destination restaurant that turns into a late-night bar.
Following soon after is Kingsland Locke located in the heart of Dalston, which is one of the first hotels designed by Red Deer. The design will take its cue from the history and culture of the surrounding area, and we're also working on some exciting collaborations with local partners to activate the space.
We then have two openings early next year in Munich: Asam Locke, which has been designed by London and Los Angeles-based firm Fettle, and WunderLocke, our second project with Holloway Li, designed in collaboration with Affect.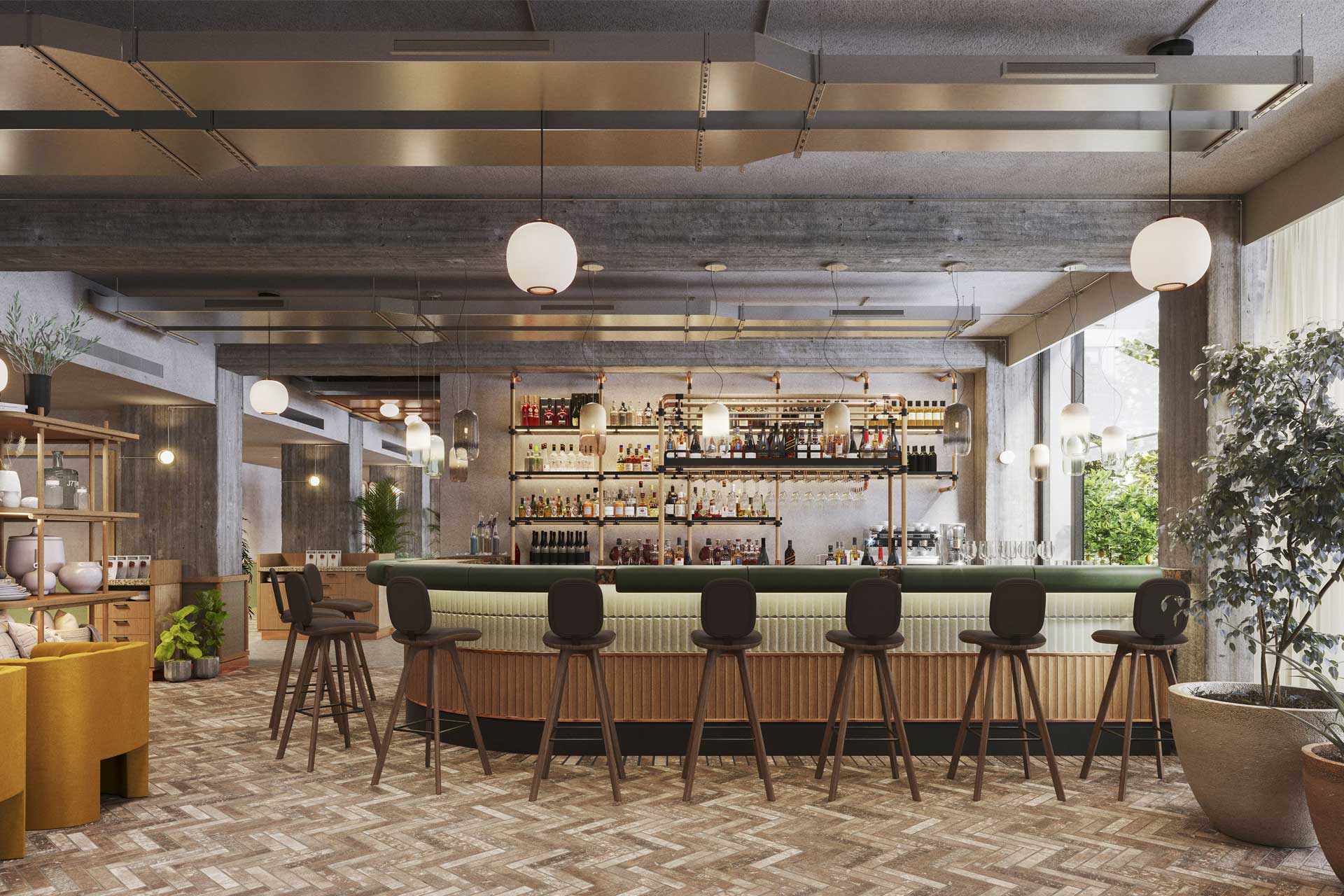 Would you say now is a good time for Locke to expand?
Yes, in short! As previously mentioned, in the wake of the pandemic we believe people will start to travel less frequently but over extended periods of time – as they realise they can work from anywhere in the world, why not enrich one's life in the process? The key to that is making sure it's affordable, as what someone is willing to pay for one month isless per night than what they'll pay for two days.
The other critical element is ensuring each Locke reflects the locale, and that when staying with us in London or Lisbon, for example, it doesn't feel like an identical experience. This means making sure that the food and beverage concept and interior design echoes that specific micro-market, so that when they leave, they can recall having experienced some degree of what that culture has to offer.
When you're staying somewhere for an extended period, the need for community-based events skyrockets. What many fail to understand about this movement of working from anywhere is that after a week or two, unless you're with a large group of friends, you're going to experience loneliness. The whole idea of Locke is that if someone decides to go to Lisbon and work away for a month or two, then they can plug into a community of like-minded individuals and yet still have the autonomy of a home within their apartment.
CREDITS
Words: Ben Thomas
Photography: Courtesy of edyn