With the development of Norway's ultra-sustainable Svart Hotel well underway at the foot of the Svartisen glacier, Sleeper checks in with Ivaylo Lefterov – Hotel Development Director at Miris – for an inside look at the groundbreaking project.
---
How is the project coming along?
We have completed the zoning planning stage, and the project has been prepared for the next phase of submittals to the local municipality, so now we're moving into finalising the DD/WD (detail design and working design) stage.
The majority of the work is done, and now we're in a holding pattern for approval. Running parallel we've been busy getting started with detailed construction documents. From a planning perspective – disruption of coronavirus removed – this phase was really about us preparing for foundation construction over the summer, and to really push on major construction from early next year. Because the design is predominantly prefabricated elements, there's now a lot of work to be done to make sure that each individual element can be allocated to production. It's much more of a logistical and planning exercise at the moment than physical work on site, and relative to the whole process, the construction phase will be smaller in proportion of the design and manufacturing. With it being prefabricated, we really have to make sure that we do our best during these stages so that during assembly we require no changes to be made after the fact.
This particular region of Norway is very sensitive when it comes to sustainability, community and impact, and we've been very careful to integrate the community specifically; they've had quite an important voice in the development. So far, we've been extremely lucky that everyone is on board and really keen. The municipality has been very forthcoming, and we've been working with them when it comes to the recycling element and the energy side of things. We've just finalised the selection of our interior designers. They will join a brilliant consortium around the Svart development.
What kind of values has Svart been developed around?
We look at Svart as having four major pillars; environment, nature, sustainability and technology innovation. Wellness and mindfulness are also a big part of it. For us, it's very important to run all of these elements together in tandem, because they have direct impact on the design itself. From my experience at least, a lot of the mistakes that come from hotel developments are that many projects don't consider all elements at the same time. It's often as an afterthought, and then they have to adjust or adopt elements to make it work. In a way this compromises the end result and doesn't allow it to reach its full potential as something unique. So, we've taken a longer time to plan, and to put things together – we wanted to make sure we looked at all the relevant parts of the operation from the perspective of the end user, and mitigated any risks.
The vision for Svart is so much bigger than the project itself; we are trying to use it as a showcase of what can be achieved in terms of sustainability and energy solutions. It's demonstrating to the user what we can do, and the extent of what can be done, to really get people thinking about it. I've been a vocal critic of the hospitality industry and hotels in general because not enough has been done in these areas.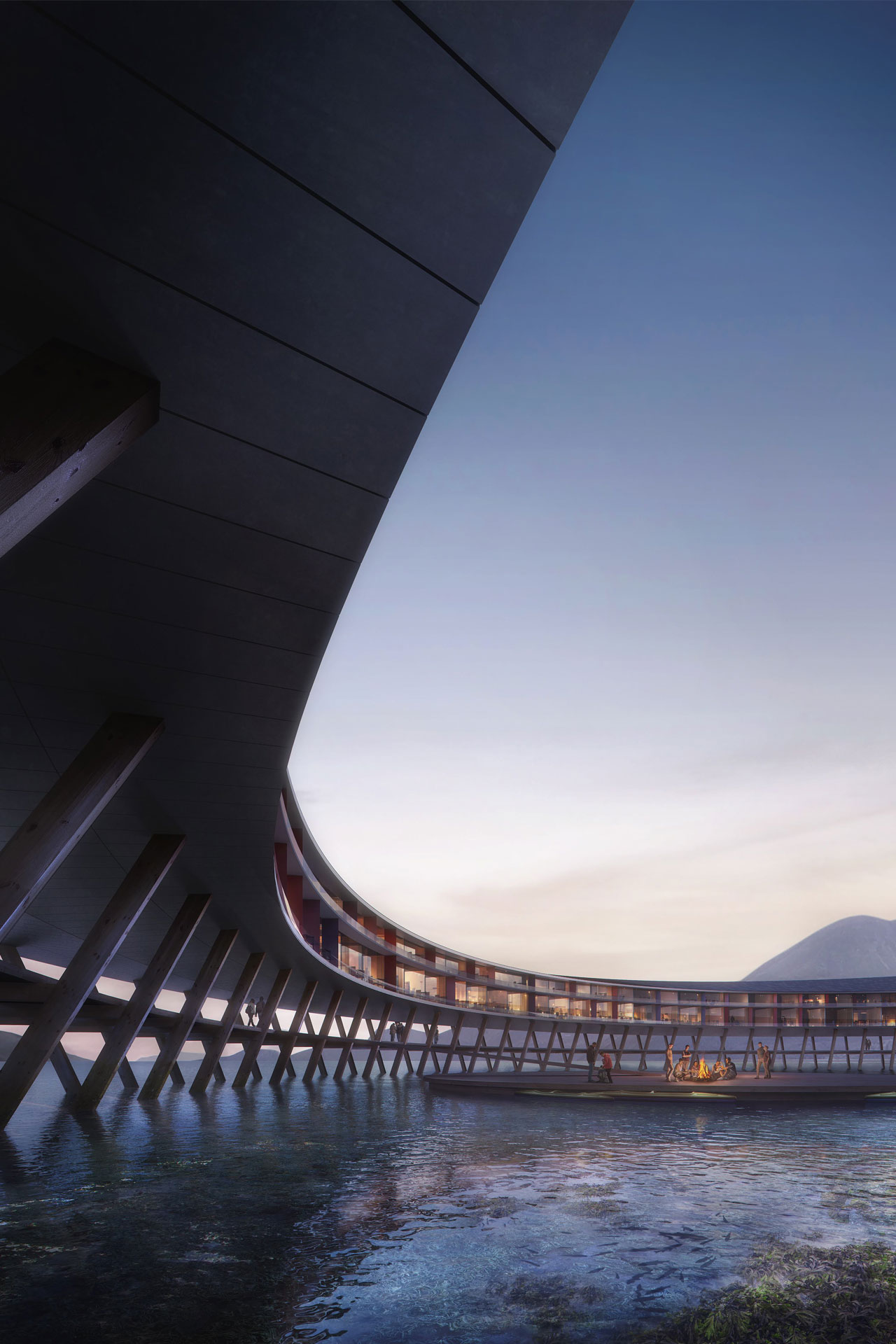 What is the Powerhouse status?
When Miris acquired the project, we had been approached by the original owner, who is a local developer, and for years had been trying to develop the site. But it has been difficult to find the right concept to satisfy local authorities – not because they didn't want it to be sustainable, but because they didn't have the know-how. So, when Miris took over we invited Snohetta for several reasons – they're an internationally recognised name for one, but also because they know the region and location well, and are a very sustainability-driven design company. It was a no-brainer for us.
The Powerhouse initiative itself is formed between several other Norwegian companies. We spent about a year developing that entire concept, but the more in-depth we got, the more we realised that we needed to go beyond that, and do much more than what Powerhouse was offering.
I'm not saying that Powerhouse is not a good initiative – what we're doing is using it as a foundation to build up to the next level. We're now refocusing not so much on moving away from these guidelines but building atop them to meet and achieve the Paris Accord guidelines, which will then enable us to become an off-grid solution within five years. This is the core ethos and mission of Miris as a company.
How will this play into the design?
Miris has a number of tools that are integrated into its real estate technology solutions to measure emissions and C02 usage to reduce waste, but also to integrate that waste energy back into the building itself so that they can become fully self-sufficient. What we are doing with Svart is really taking all these elements and putting the idea into reality.
Powerhouse was more about looking into which materials to use and how; how much embedded energy there is in each choice, and how much C02 will be emitted. That standards programme also didn't look into things like kitchen design, because it never had to before, and there was no means of calculating that. So, we are taking that as a foundation, but we are building beyond.
There were certain elements, for example, that because of the way the calculations were designed within the Powerhouse scheme, we would have not been allowed to use the entire roof for energy creation, or utilise the energy of the smart façade to make sure it actually creates energy positive to the development. With the C02 emissions, we decided to explore our options further to try and create more energy that would go back into the system.
In the kitchens, we're actually capturing some of the waste heat and then bringing it back in for heating or water supply functions. The same will go for the drainage and sewage, where we will recirculate the water. The abundance of water in the location is actually a huge deal, and we want to make sure it is absolutely clean when it goes back into nature.
At Miris, the development of every building element has a purpose and benefit to making the building self-sustainable, and that's what we want to achieve here. We're pushing the boundaries way further to become an off-grid solution. Svart is a much bigger concept than the hotel itself. As a company Miris control a lot of the land around this area, because we didn't want schemes to come in and suddenly build something bad for the environment. Some of what we have planned for these areas will be linked to the bigger concept – the sustainable farming on-site for example, where we'll be expanding our greenhouse. There's also an existing sustainable fishing farm that we'll work with.
All the electricity we'll be creating in excess to what we need to operate will go towards supporting these local businesses, and we'll work with the local community to create self-sustaining ways of working. We are also looking into the option of developing our boats to be fully electric, as the resort can only be accessed by boat. These will be charged by the hotel itself, and the local authority is interested in developing with us the sustainable infrastructure around Svart.
Was it a conscious choice to place the project in a location directly tethered to the environmental issues of the day?
The location could be seen as a double-edged sword – because of where it is, it must be an incredibly environmentally aware concept, and equally a project that puts questions on the map for future sustainable design, which is one of our main goals. The project came about by coincidence – the CEO of Miris was on holiday with his family several years ago and fell in love with the place. He met the person who owned the land and they got talking. The owner was trying to sell because he couldn't develop it, and so then came the idea to actually create something ultra-sustainable as a sort of showcase; let's really shake up the market and wake people up as to what can be done.
The idea for Svart is that it acts as a showpiece of how to really think differently about the environment and nature. We're looking to create within the hotel the Svart Design Lab, where we'll be involving the community too. Part will show our tech, and what we are doing, and how sustainability works with reference to local environment preservation, but also to educate the guests and make them think differently. We really want people to be engaged and to take it one level further.
In the spa we're introducing a health concierge, which would be part of your pre-check in element, and so as soon as you come in, you're involved and have access to a means to change your lifestyle and ways of thinking and living. It's almost an educational centre as much as it is a hotel.
I can't stress enough that the guest experience is so important in the sense of creating sustainable projects. A lot of hotels think that just by reducing plastics they will make a change, but it needs to be integrated in the guest experience. Often, they miss the education part, and forget that change comes from within. Forbidding plastic straws is not going to change behaviour, so we're taking a holistic approach – everything is connected as a circular experience.
How will the design contribute to the sustainable element?
We spent a lot of time with Snohetta trying to reduce the usage of concrete, steel and brick, which have high embedded energy that crates C02 emissions. We learnt a lot from traditional housing in Norway, and the efficiency of their fish drying houses. That's where the stilts idea came from, which minimises the on-site impact. We have very little site impact when it comes to physical presence on the ground, because everything is lifted six metres up and 70% into the water, with very limited piles designed with wood and stone – organic materials that use the least embedded energy.
The circular form also has a huge effect in that you can maximise your ability to collect energy from the roof, because the roof is sloped and angled throughout the circle, and optimised to ensure it collects radiation from the solar panels for the creation of energy. It's also been important in the privacy element as well, and the distance between rooms. Acoustics, too, and this comes back to the prefab element and how things fit together.
So, the architecture is an important element in minimising environmental impact and maximising the guest experience. The same thing goes for the glass – we tried to keep the use of concrete, steel and aluminium down to the bare minimum and focus on stone, wood and glass that can be locally sourced as much as possible, but are also easy to maintain and replace.
Have you encountered any challenges in the development process?
In Norway, right of roaming has huge importance. As a hotel this is obviously a private property, but how do we make sure the community has access and is not isolated? From the local authority's point of view, they were very careful that we did not exclude them. That's why the bottom of the design is very open, and it becomes a path for people to go around and utilise the public areas. The circular walkway under the belly we're looking at turning into a public park too.
From a design perspective, the circular corridor was also interesting. We'd like to use that as an open gallery, with artists from the local community showing their work. There's also the floating platform in the middle that we would like to use for open concerts, and along with the design lab will be a key part of involving the community.
In terms of challenges in the future, we've started to work with universities, asking students to think about hospitality innovation projects, whether that's in tech or operation, to see what the next generation thinks. What was good for our parents might not be good for our grandchildren.
CREDITS:
Words: Kristofer Thomas
Images: © Snohetta