Richard Coutts, co-founder and Director of BACA Architects – the London-based studio specialising in architecture in, on or near water – sits down with Sleeper to talk the benefits of Aquatecture and the upcoming Tyram Lakes Hotel, Spa & Resort.
---
How did you come to specialise in Aquatecture?
It goes back to when we were students, and a design competition for a mixed-use development on the river Irwell in Manchester. Straight away, we identified it was going to be a flood risk, so to differentiate ourselves from the competition we had the idea of working against the traditional response to flooding – which has always been to keep the water out – and look instead at what happens if you let the water in. It generated a really interesting scheme, and while we didn't win the competition, we did catch the eye of a number of ecological research establishments, as well as the Dutch government, who then asked us to work with them. It's been a case of slowly building our thesis, and our expertise has been developed in collaboration with our Dutch partners and some forward-thinking policy people here in the UK.
What are the main differences in approach between Aquatecture and land-based projects?
I think traditional architects and urban designers might place water quite far down the pecking order, whereas we see it as a friend, not a threat; a design primer we can utilise as an asset. This approach creates some new and very interesting topologies in terms of architecture. The main difference between them is a dynamic structure; something on water is going to move, and is going to be viewed from different positions and perform differently in terms of how it works with the water. A dock, for example, would give you relatively stable conditions, but in a river you need to understand the flow, as well as the low and high peaks, and on the coast you're going to have to deal with tides and rising sea levels. The benefit of our approach is that you can often end up with very strategic buildings that are designed to be both safe and architecturally exciting.
What kind of innovations have been central to the evolution of Aquatecture?
It's not so much technological innovation as it is policy. The thing that has restricted development most, particularly in Europe, is the ability to plan projects on the water. The planning framework typically hasn't been there, nor any regulations to support these types of development. A lot of our work is to enable design and construction in that context. As a RIBA fellow I lobby on behalf of RIBA and the British government to bring flotation and flood resilience technologies into the building codes. This will mean that banks can lend on projects, and there will be consistent performance controls. Once we see those in place, I think there'll be a major surge of waterfront, floating, and flood resilient buildings. We also work a lot to help unlock and regenerate brownfield sites, after which you have the leverage of local authorities to press the government to enable those sorts of technologies to come forward. At the other end of the scale, you've got the market, with clients and designers driving progress, as well as the consumer, who first and foremost needs protection. What we've seen over the last five years in particular is some of our policy recommendations being adopted, and there are new documents being produced by The Department for Environment, Food and Rural Affairs that will be making their way into the public realm, which are being supported by the fourth component in this process, which is the insurance sector.
What can Aquatecture bring to the table in a hotel and hospitality context?
So many hospitality projects are near or overlook a waterfront, and historically there's been a physical separation between those elements. Aquatecture means that you can bring that experiential element – of being on the water or having the ability to touch it – into the project, which is connected to a lot of the wellness presence we're seeing in hotels. If you look at the human body it is two-thirds water, and right from the start of civilisation man has always lived by water, so from a spiritual, relaxation and leisure perspective that's a very complimentary synergy. By bringing these ideas into hospitality, our work enables a much closer fusion. We've got three spas we're working on now that are all on the water, and if you can picture being in an infinity pool, swimming towards a lake surrounded by trees with a mist coming down, then that's really going to give you some mental separation from your 9-to-5.
How is Tyram Lakes Hotel, Spa & Resort coming along?
It's a project in the north of England that was originally a sand and gravel quarry that's now been remediated. The vision has been a 104-key, four-star hotel and spa, which effectively hugs the edge of the lake and adjoins it with a natural pond, as well as a swimming pool ands an indoor spa. We've also designed 150 low-carbon floating lodges, with the majority of the project being off-grid. In that sense, we're using the lake as a battery and incorporating a water exchange system. There are some luxury elements too – around 50% of the lodges have hot tubs, but we're working with a Danish company to make sure the water within those tubs is independent of the lake climate, and will need no chemicals to clean. There will be the self-catering service within the main hotel too, where there's also a rooftop bar and brasserie looking out to the wetlands and the horizon. – the whole project is within this beautiful, natural environment. The client also owns a substantial area of woodland on the opposite side of the road, so phase two will see around 200 luxury treehouses weaved into the forest. Along with this have a few other substantial hospitality projects on the boards including a floating spa and hotel in the Norfolk area, as well as an ex-landfill site in Kent we're looking at regenerating into a series of treehouses with a Michelin star restaurant.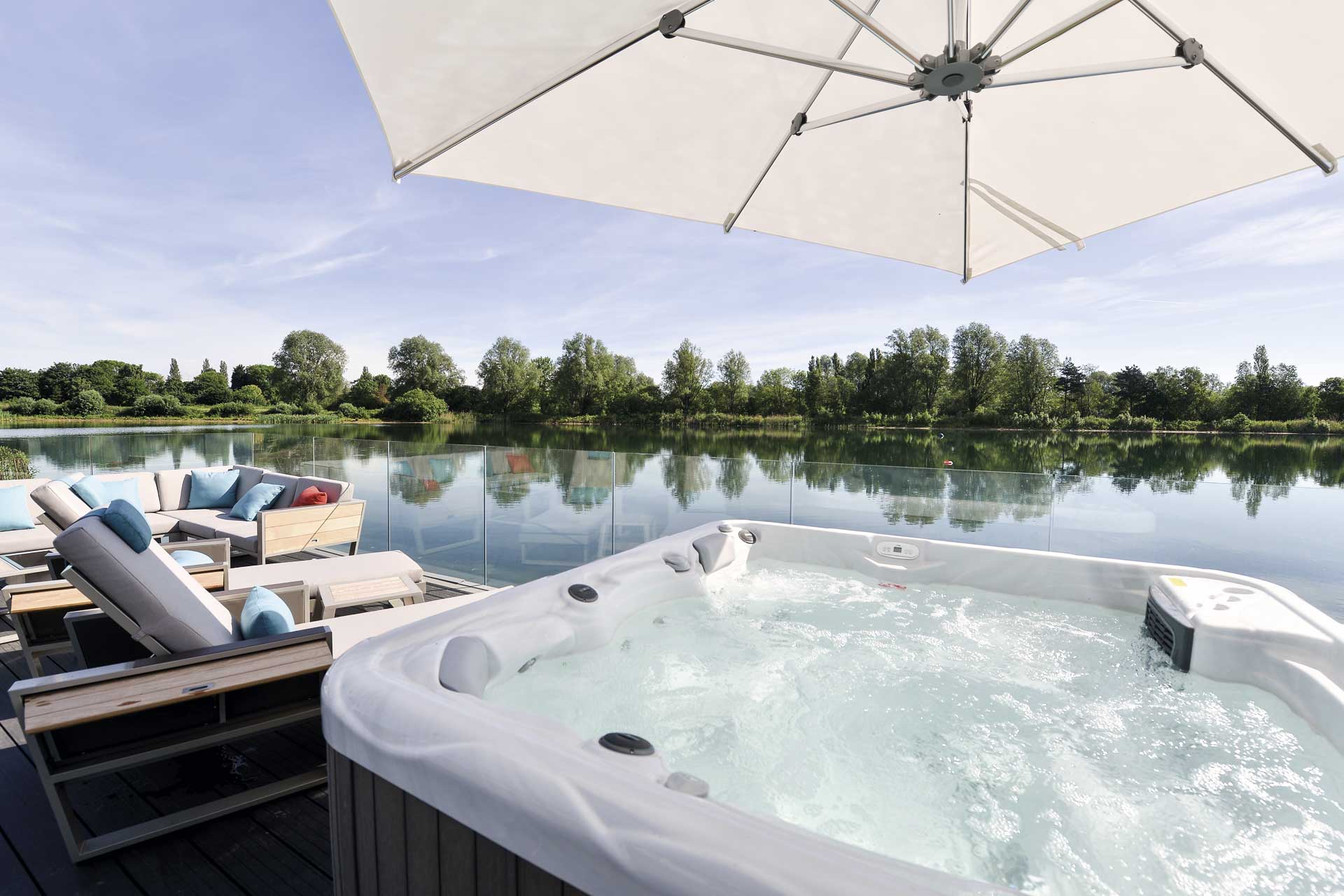 What role could Aquatecture play in the push for sustainability and environmentally-sound hotel concepts?
In order for us to take on a project, we have an agreement with the client that the development will provide a net ecological gain – anything we do should provide betterment either in terms of flood risk, or energy positive generation. To be able to do this we've worked with partners in Norway, Denmark and Switzerland, and really tried to bring the best minds together and look at it with principals first.
In terms of sustainability, one of the interesting things about floating technology – in the hospitality sector especially – is its flexibility. Consider something like the Olympic Games – we would have the ability to build a floating stadium, and then float hotels and event spaces in around it. For something like the Olympics, which tends to be very, very expensive, you could create a shell that would be owned by the IOC, which could then be used by any host city that resides by the water, and who would only need to clad it in their branding. If you designed this stadium correctly – and we see many of them already hosting multiple sports – then this could be leased out for  concerts, sports, events and more. Something like this would also significantly reduce the financial burden on the host city, in terms of what to do with it afterwards.
Land based planning can also be incredibly slow, and so when you draw a building it might take five years or so until it actually gets built. By this point, new technology has emerged or the city's physical landscape has changed. The pandemic is something nobody expected, and lots of cities are now empty. The benefit of floating architecture is that we can bring elements in and move them around as the demand changes. You can take something out if it isn't needed and replace it or repurpose it with something that is. If the conditions were right, a dynamic floating city could adapt to its workforce, build affordable homes for students, and then expand and contract as the population needs. In terms of a hotel, if you wanted a 100-key project or a 20-key boutique, you could literally just float the spares away, whereas if you wanted that on land you'd have to demolish half the building. Especially for those hotel chains with multiple offerings, this would give them a more flexible business model; if the project failed in one location, you could very easily move it somewhere else. If the market is dipping around your hotel in the Philippines, for example, but thriving somewhere else, then you could shift some of those empty guestrooms to where the demand is highest.
Beyond environmental issues, what other issues could Aquatecture potentially address?
Because of COVID-19, I think the independent holiday room is certainly a more palatable option for the consumer at the moment. From a safety perspective, yes, but also in term of peace of mind. At the same time this helps the operator in terms of managing pandemic risks, because if you wanted to move the guestrooms further apart then that would be entirely possible. If this is all managed as part of a site-wide plan, where you can effectively have the restaurant taking meals to rooms, this would be a perfect solution.