It's always a risk to try and predict the future, especially at such a unique time in our history. But once hotels around the world are finally allowed to re-open, there will be more than just short term changes when it comes to design. In reality, the pandemic will probably accelerate a number of trends that have been growing for some time. As such, Jerry Tate, Partner at London-based architecture practice Tate Harmer, explores some of these trends and what they might mean for hotel design going forward.
Freedom is luxury
We have noticed that the contemporary concept of luxury is based on choice. For example, we work with the Watergate Bay Hotel and their most popular communal space is the 'Living Space', which is essentially an informal area where you can have a drink, eat a meal, a snack, or just read a book. The ability to do what you want, when you want it, is exactly the kind of freedom that many guests now see as true luxury.
This freedom is likely to be even more in demand now in our post-Covid-19 world. In the medium term, guests are unlikely to want to sit down at the same time for a formal meal, and the ability to stagger peak periods for catering could become important for social distancing. Whilst this may have cost implications in terms of staff and servicing overheads, this will give hotels an opportunity to re-think their communal areas and how they welcome their guests. For example, you may not need one large room with full service at all, as a series of smaller spaces, with a more limited catering offer, may prove more popular now.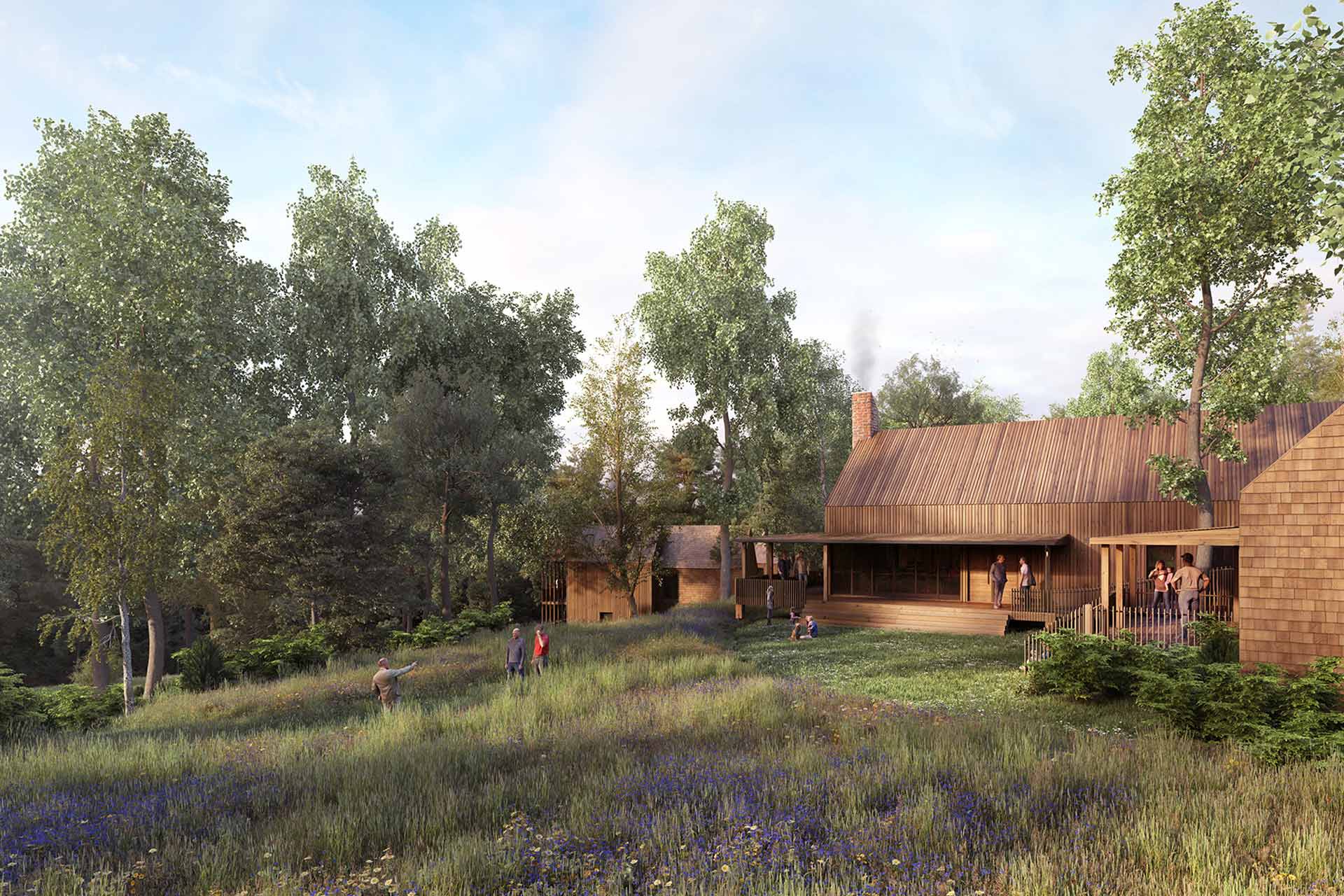 Choosing whether to 'join in' or not
This freedom to choose is something we have seen manifest itself in other ways in our hotel design work. Many hoteliers have told us that guests want the ability to join in with the business of the hotel, but also the ability to retreat to their own individual space when they feel like it. Of course, the ultimate in this regard is the aparthotel and I am sure we will see more of these starting to be built. But right now we have noticed that even with compact hotel rooms, in a refurbishment situation, we are looking at introducing more places to sit and relax, as well as limited kitchenette cooking facilities if possible.
Creating almost self-sufficient accommodation is certainly a growing trend, but there is quite a range in terms of how people approach this. For instance, we are currently building a complex of self-catering eco-lodges to replace the Upland Park Hotel in the South Downs National Park. These lodges will still have a reception and staff, and will link up with local businesses for catering and produce, but will be a completely different offer to the traditional hotel they are replacing.
We are developing these lodges with treehouse specialists Blue Forest, who we worked with at the early stages of another great example, the treehouses at the Fish Hotel on the Farncombe Estate. These treehouses are eco-lodge hotel rooms, but with additional living facilities. Although there is managed buggy transport around the estate, to whisk you to a variety of food and beverage offers if you desire, items like breakfast are delivered to your door in a hamper allowing you the glory of preparing your own spread.
The key trend here is that guests now expect to be able to do more than just make a cup of tea in their room. The more facilities you can create in a space to allow them to be reasonably self-sufficient, the more choice you can give them about whether or not they will join in with the busier areas of the hotel.
Who likes corridors?
Corridors are often the weakest part of the guest experience, and will be problematic in the short term with social distancing. There is an opportunity to build on two growing trends in this regard, designing variation into circulation spaces, and new types of separate annex spaces that can provide unique character.
There are a number of design strategies you can employ to improve corridor spaces. For example at the Eden Hotel, which we are currently designing, we have set the guestroom doors into a recess in the corridor. This recess allows us to create much more variation in the circulation spaces without impacting on the effective room sizes. Combined with a good spread of natural light and a clever interior design, this can dramatically improve the feel of a corridor, as well as providing that vital additional width to make people feel more comfortable passing each other. Clearly it is easier to implement strategies such as this in a newbuild, but even in an existing hotel making the most of little breakout spaces in corridor areas can achieve much the same effect.
There is also an increasing desire to stay in separate annex accommodation, which of course can mean no corridors. Our clients tell us that guests are now perfectly happy to walk outside to get to their room, without a full rainsafe route, when the accommodation offers a unique experience. At Hothorpe Hall in Leicestershire, for instance, we created a new annex in their grounds called The Woodlands. The historic main house at Hothorpe was unable to be extended further, but by creating 28 new guestrooms and a central function space, within their mature wooded area, they are able to offer a completely different guest experience. The ability to connect to the natural woodland has proved extremely popular and the annex now has better occupation rates than the main house.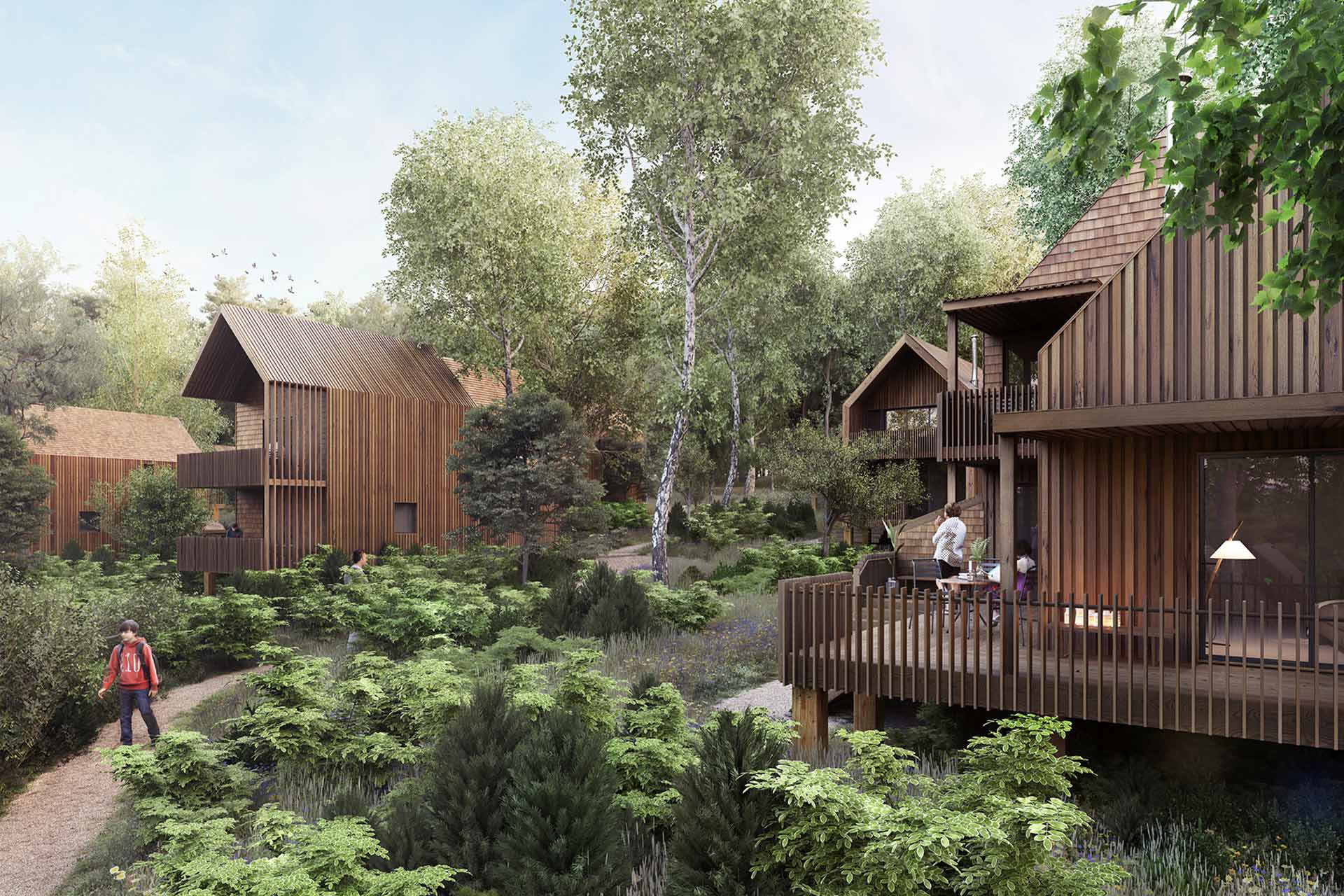 Health and wellbeing
This brings me to my last prediction, which again is a current trend that I believe this pandemic will accelerate, the desire for better health and wellbeing. Whilst I'm sure that guests will be looking for this in where they stay, it can and will take many forms ranging from exercise to spa facilities and a tailored catering offer. In design terms, I think this will mean creating spaces that are calm and relaxing, and that have a great connection to nature. Many of our clients are passionate about the positive power of nature and we are currently creating visitor accommodation for the Eden Project, the National Trust and the Habitat First Group. With these clients, giving guests direct access to nature in terms of views, space, air and light, as well as physical links, is seen as an invaluable part of the guest experience.
What can be done now?
Whilst this is a time of uncertainty for hotels and tourist visitor accommodation, I would say that there are things that operators can put into place now as we come out of lockdown to capitalise on trends that will undoubtably accelerate as we get back to normal. Although many of the strategies I have described above relate to newbuild projects, all of them can be implemented to a certain extent with some minor refurbishment. While social distancing may only be temporary, increasing guest choice and freedom, creating a wider guest experience and expanding your health and wellbeing offer are almost certainly trends that will continue to grow in the long term.