As the spread of coronavirus begins to slow and lockdowns across the globe are lifted, hospitality venues are gradually being given the go-ahead to open under new health and safety measures. With outdoor spaces generally set to be first to open to the public, hotels are upgrading their terraces and gardens to ensure they boast great aesthetics, comfort and safety.
Here is our pick of new outdoor furniture launches that combine considered design and high durability, ready for guests to enjoy when they are welcomed back.
---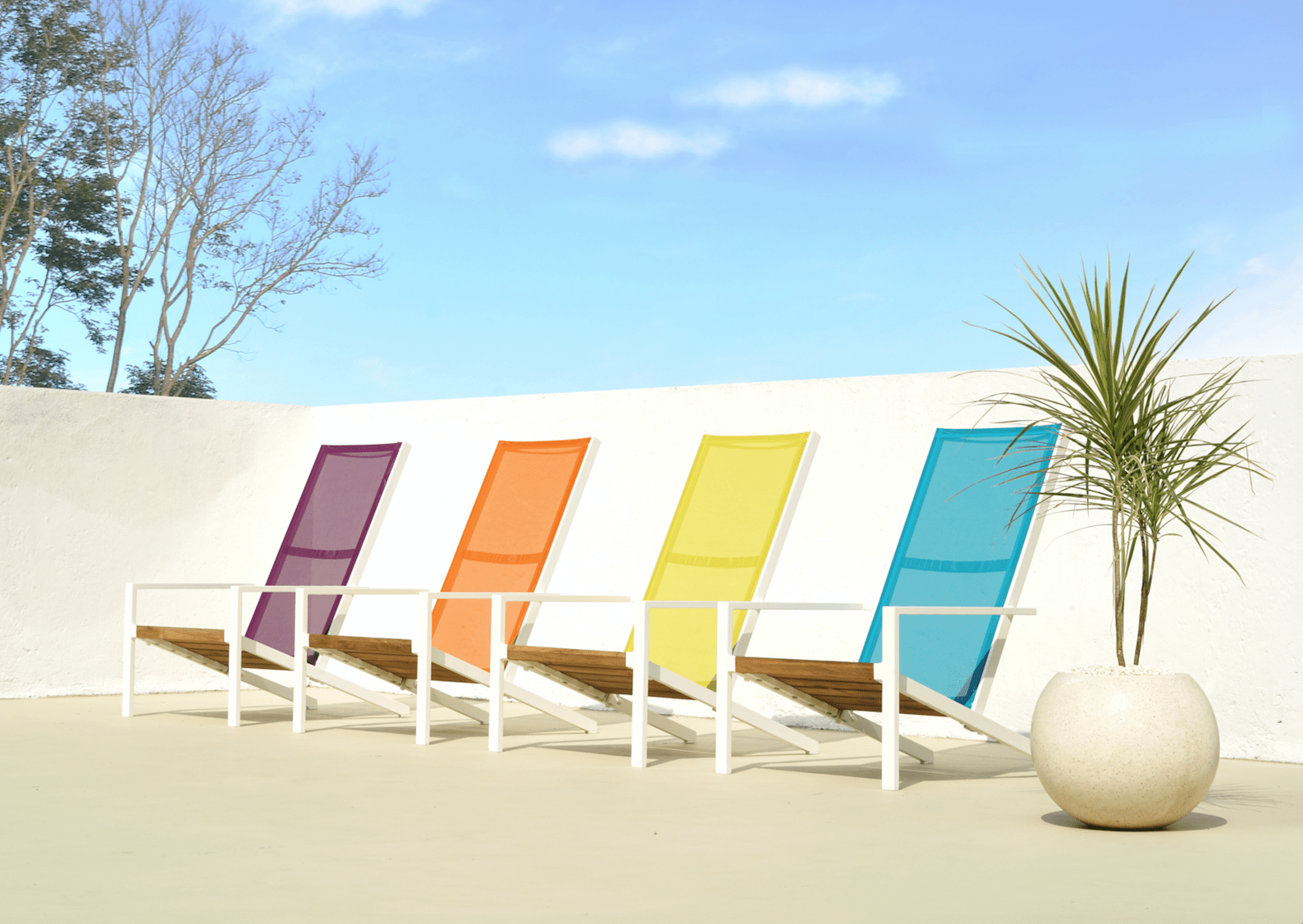 Bondi Adirondack chair
Mamagreen
A fresh and modern variation on the original model, Mamagreen's new Bondi Adirondack chair has brought the classic design up to date for the 21st century. Offering the same comfort as the original, the new product offers a modern look and practical qualities, thanks to it being stackable.
A hand-welded aluminium frame, available in a variety of durable powder coat finishes, holds a sloped seat crafted from up-cycled Indonesian teak. Designers can choose from a selection of fade-resistant Batyline sling mesh, allowing for the back to be customised with a pop of colour.
---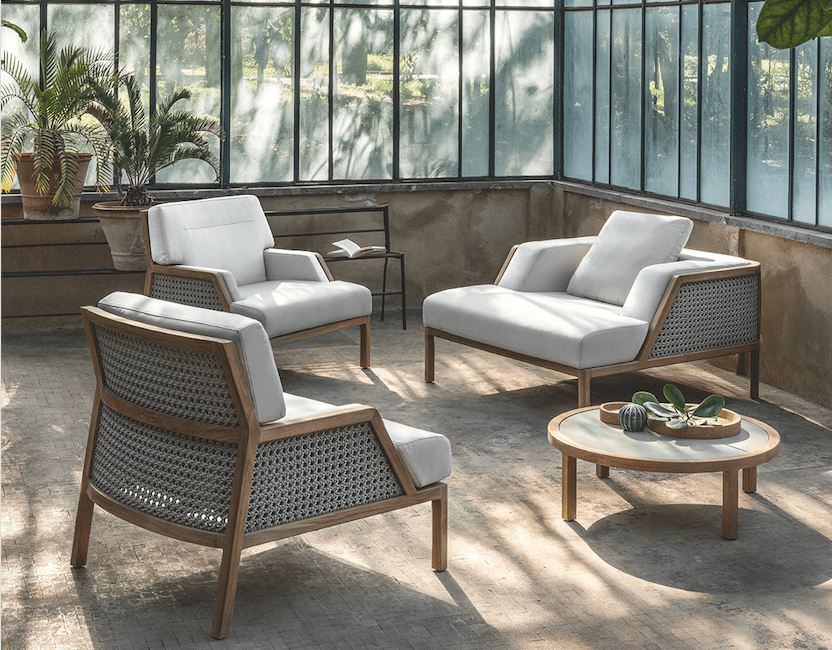 Grand Life
Ethimo
Merging artisan quality and innovation with comfort and contemporary design, Ethimo's Grand Life collection bears the brand's signature Mediterranean style. The range offers sofas and oversized lounge chairs crafted with a pure structure and meticulous, delicate details.
The body of the furniture is constructed in teak with a metal core, whilst the backrests of the various types of seating are formed through the skilful weaving of acrylic rope.
The warmth and elegance of the teak and lightweight fibre combine to create an ergonomic and comfortable product, whilst generously-sized fluffy pillows, made from soft fabrics designed specifically for outdoor use, offer maximum comfort for users.
---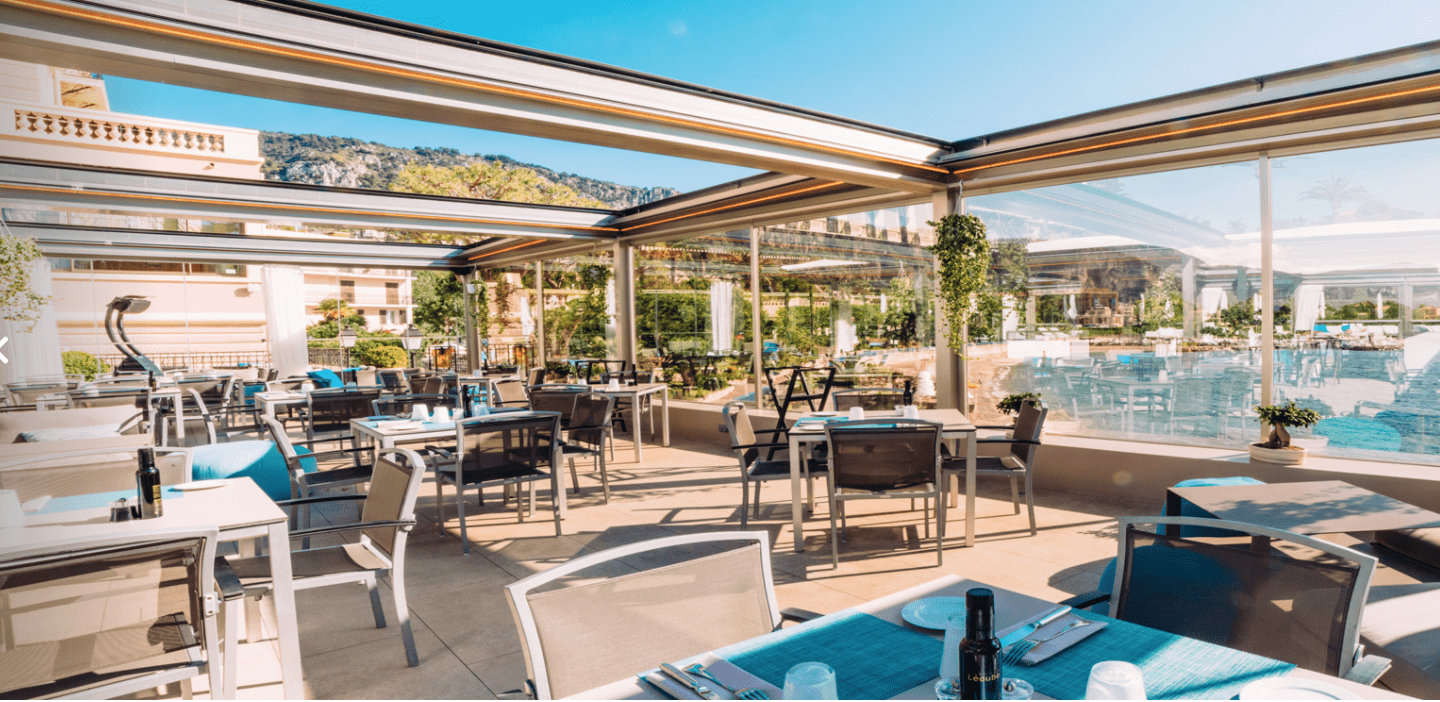 Hotel Royal Riviera
KE Outdoor Design
Having recently undergone a renovation, Hotel Royal Riviera, a luxury resort situated on the promenade of Saint-Jean-Cap-Ferrat, enlisted KE Outdoor Design to install a variety of different products for its outdoor areas.
The brand supplied seven of its Isola 2 pergola awnings, with an anodised silver structure and PVC white fabric. Under these, some Gennius Tens horizontal awnings were inserted in a micro filtering Soltis 92 fabric with shading function, to be used when the PVC fabric is opened.
Three Kedry Plus bioclimatic pergolas with adjustable louvered groovers were selected for the bar area, made in the same anodised silver colour as Isola 2. The structures are all equipped with LED lights on the perimeter, in addition to panoramic sliding glass doors on its sides, fixed sea-facing glass doors, and vertical sliding glass doors on the sides of the swimming pool.
---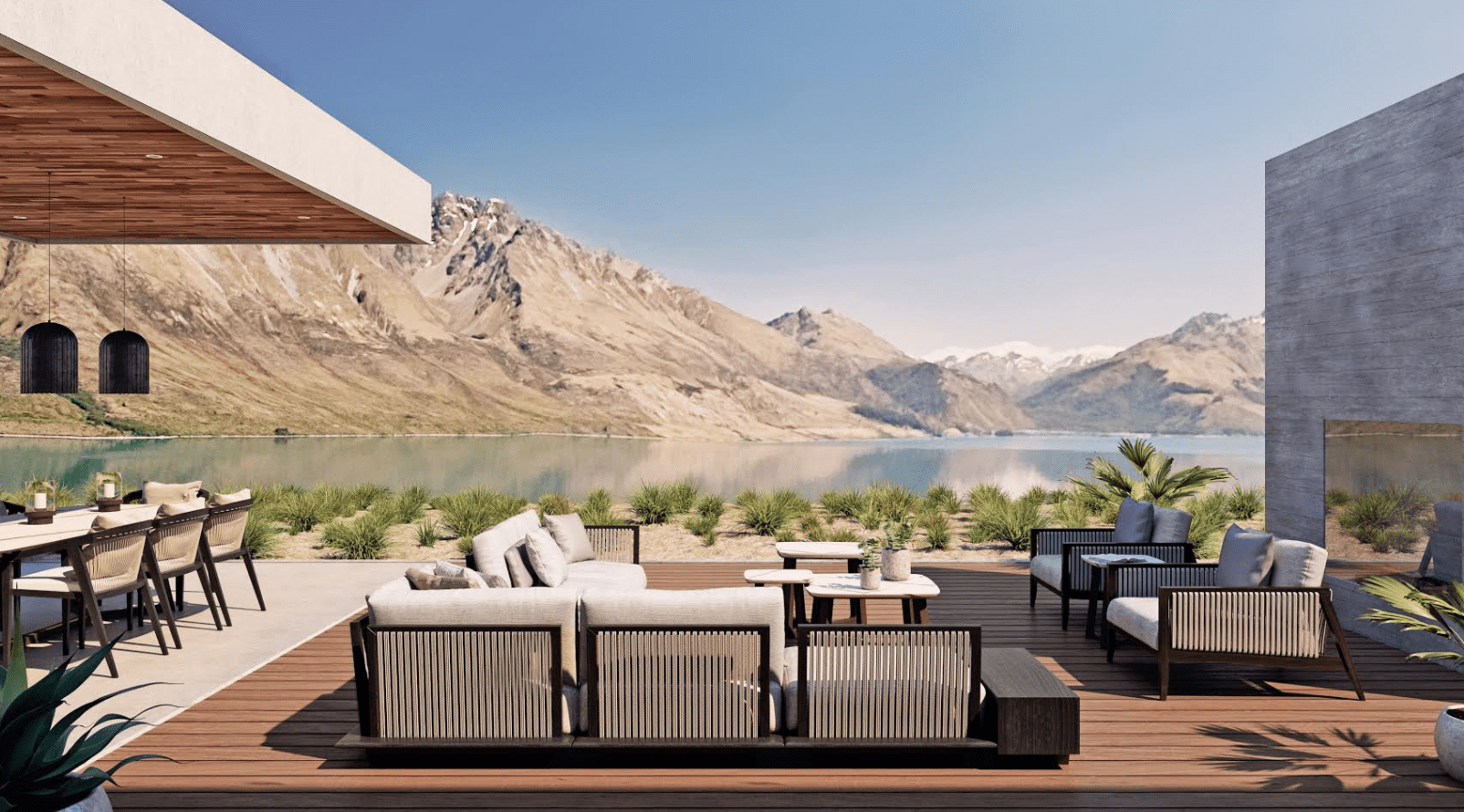 Coronet
Coco Wolf
Seeking to achieve an ideal balance between inspiration and innovation, Coco Wolf's furniture boasts timeless designs and showcases a passion for the outdoors.
Inspired by New Zealand, the brand's home country, the Coronet collection captures a blend of colours, lights and textures, to create dynamic, tactile and modern products. The range comprises the Hayes armchair, Cadrona dining chair, and the Millbrook modular sofa, each designed with handwoven rope detailing, clean-line slanted structures and sophisticated forms.
Each of the products can be customised in a selection of different coloured fabrics, as well as a choice of wood finishes.
---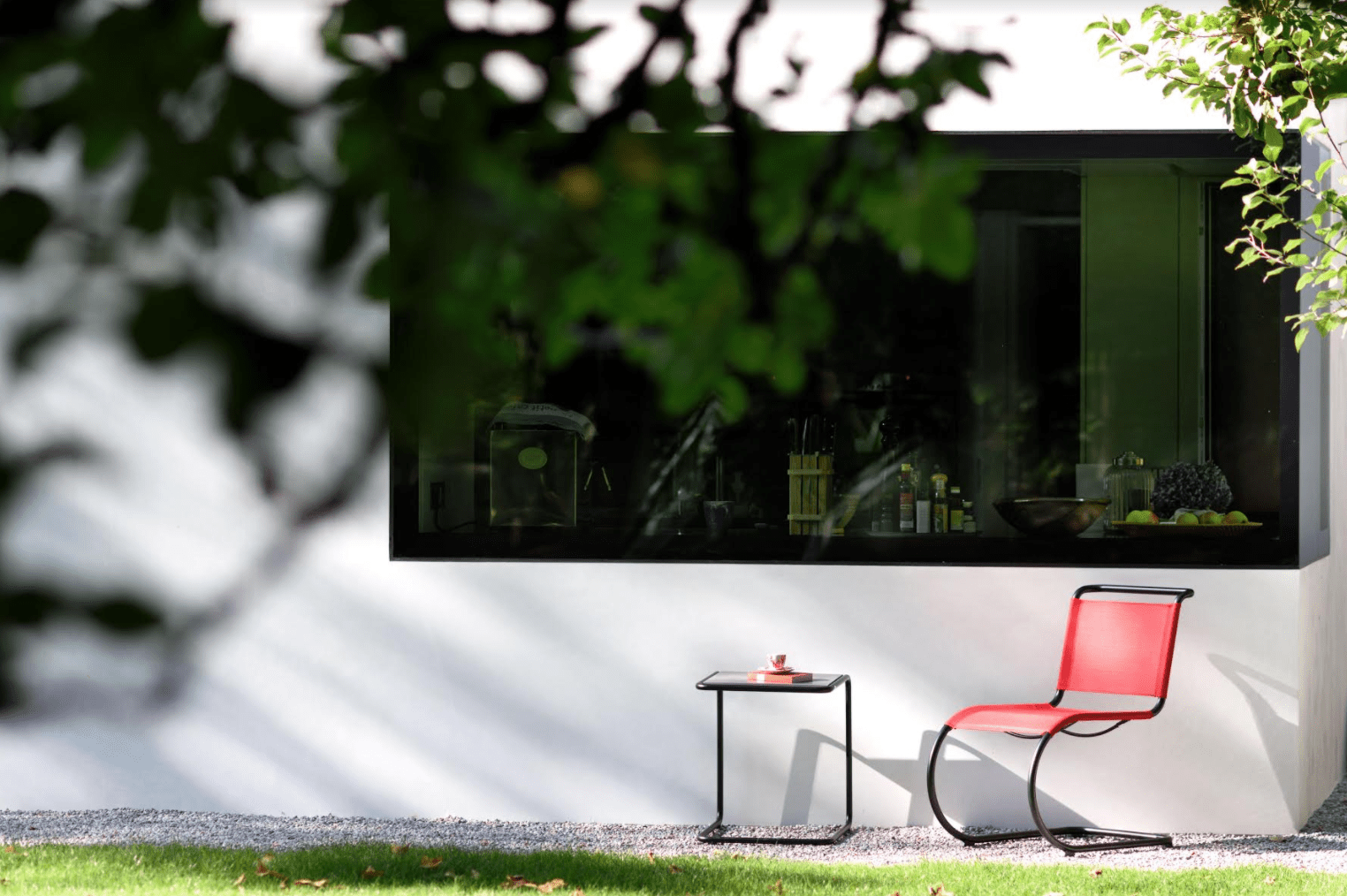 Thonet All Seasons
Thonet
Thonet All Seasons presents the brand's tubular steel classic furniture with the flexibility to be used both indoors and outdoors.
Selected products from the Bauhaus era – including the S 33 and S 34 chairs designed by Mart Stam; the B 9 side table and S 35 lounge chair by Marcel Breuer; and the S 533 by Ludwig Mies van der Rohe – have received a makeover and are now suitable for use outside.
The models can also be customised with a combination of colours for the frames and mesh. Equipped with exposed concrete or solid-core laminate tabletops, and an innovative, coloured ThonetProtect surface for the frames – which is just as UV-resistant as the mesh used for the seats and backrests – the models are highly durable, and thus perfect for hospitality settings.
---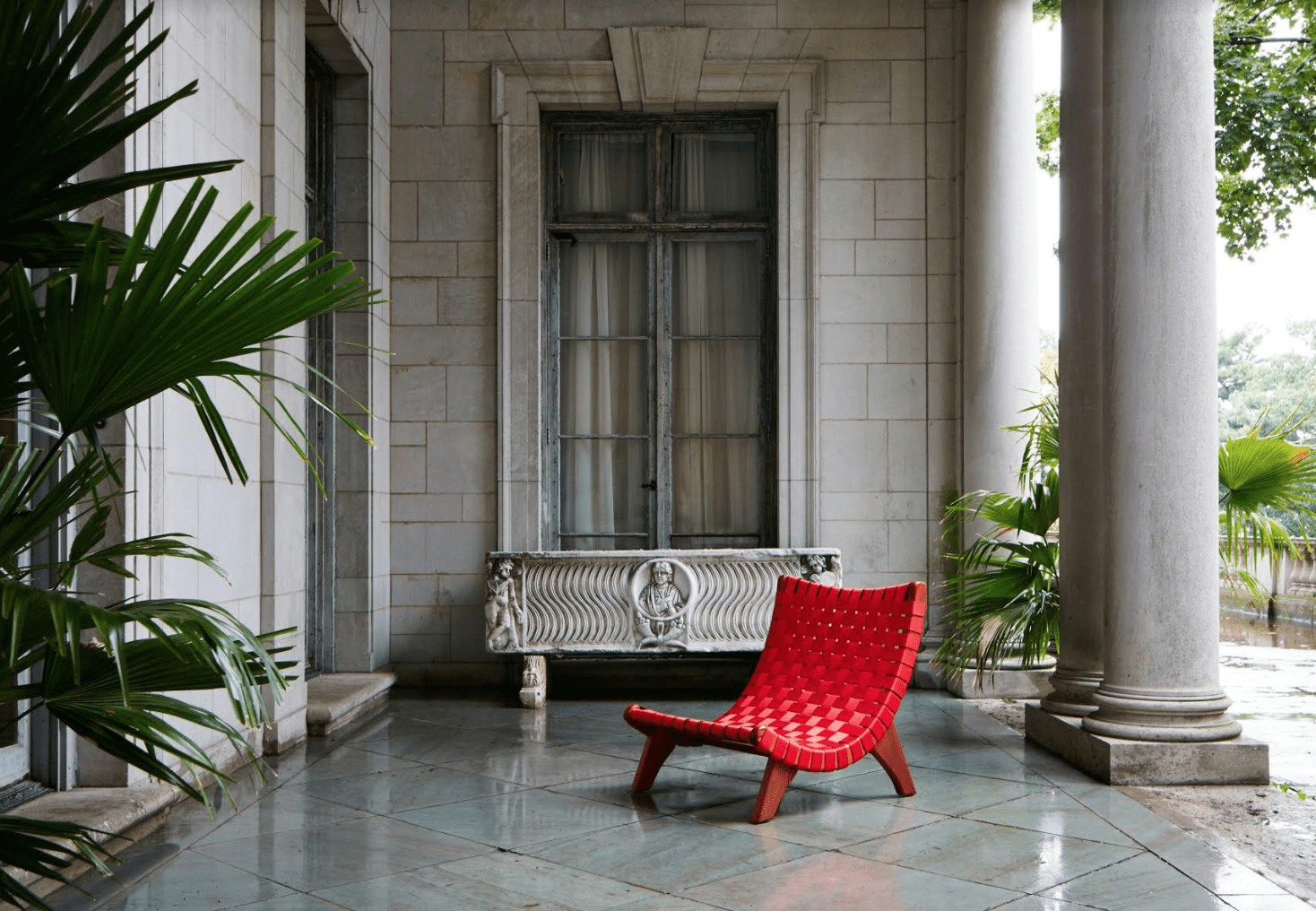 San Miguel lounge chair
Luteca
Combining a European aesthetic with a Mexican sensibility, Luteca has introduced its San Miguel lounge chair, designed by the late Bauhaus designer Michael van Beuren.
The design boasts a timeless mid-century style, taking inspiration from iconic Latin American Butaque design and reimagining it for contemporary production.
Coming in a choice of hardwoods and finishes, the chair is available in a range of strapping colours and seat heights, whilst its webbing comes in either nylon or leather, making it fully adaptable to a range of schemes.
Its use of durable and resistant materials ensure that the seat will thrive in use both indoors or outdoors.
---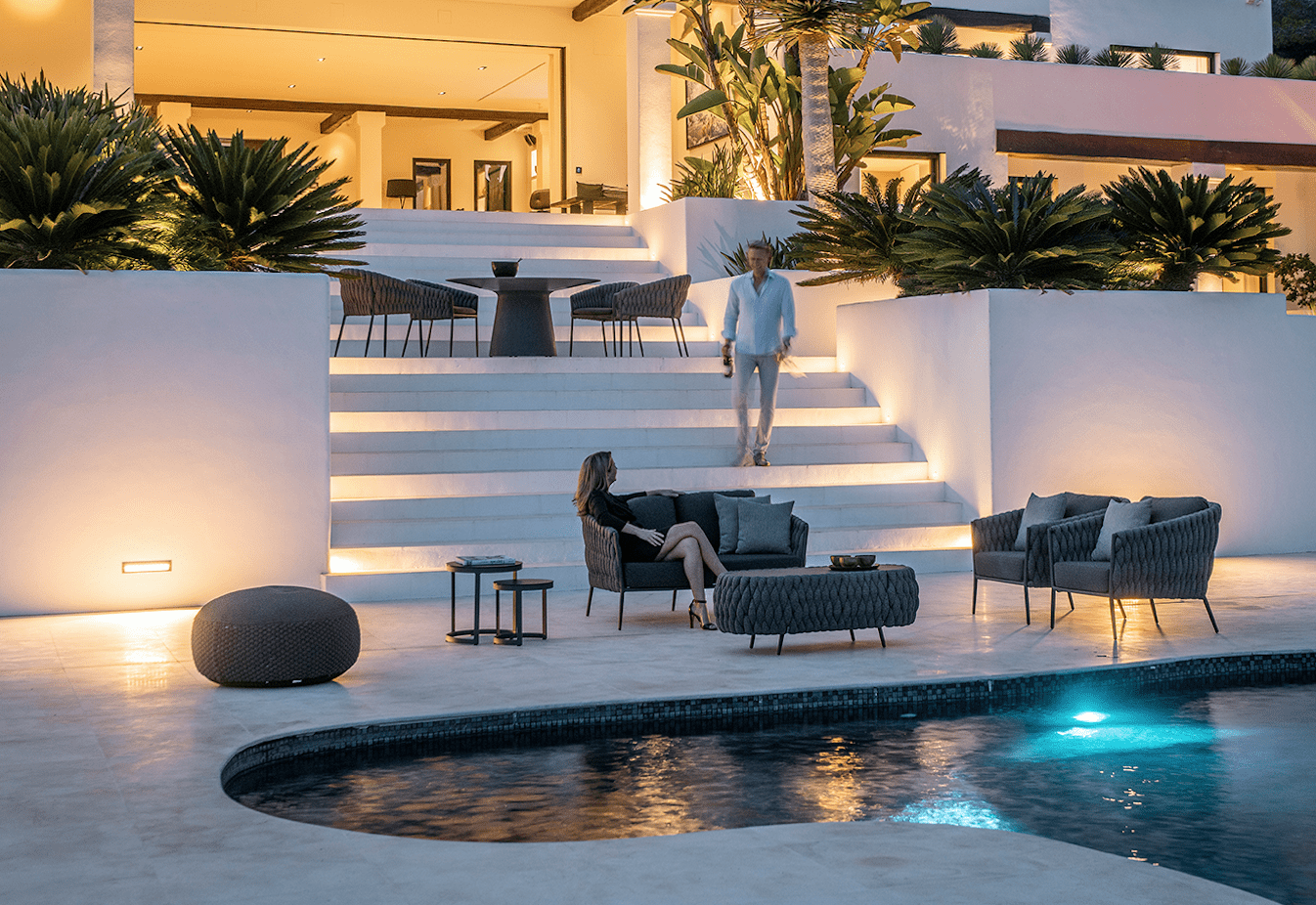 Fortuna Sock
Jati & Kebon and Sanipex Group
Sanipex Group has introduced the Fortuna Sock collection by Jati & Kebon, comprising a visually striking range of seating and a coffee table. The range is characterised by a heavy cross-weaving style which offers both an inviting aesthetic and maximum comfort.
The range utilises Ezi Dry fabric, which is a unique material that offers a practical outdoor solution; and high-resilience foam, which has a porous open-cell structure that allows water to drain rapidly and fresh air to circulate freely.
Sanipex Group's extensive range of competitive outdoor furniture includes complimentary lighting, planters and tiles, so designers can create complete outdoor areas.
---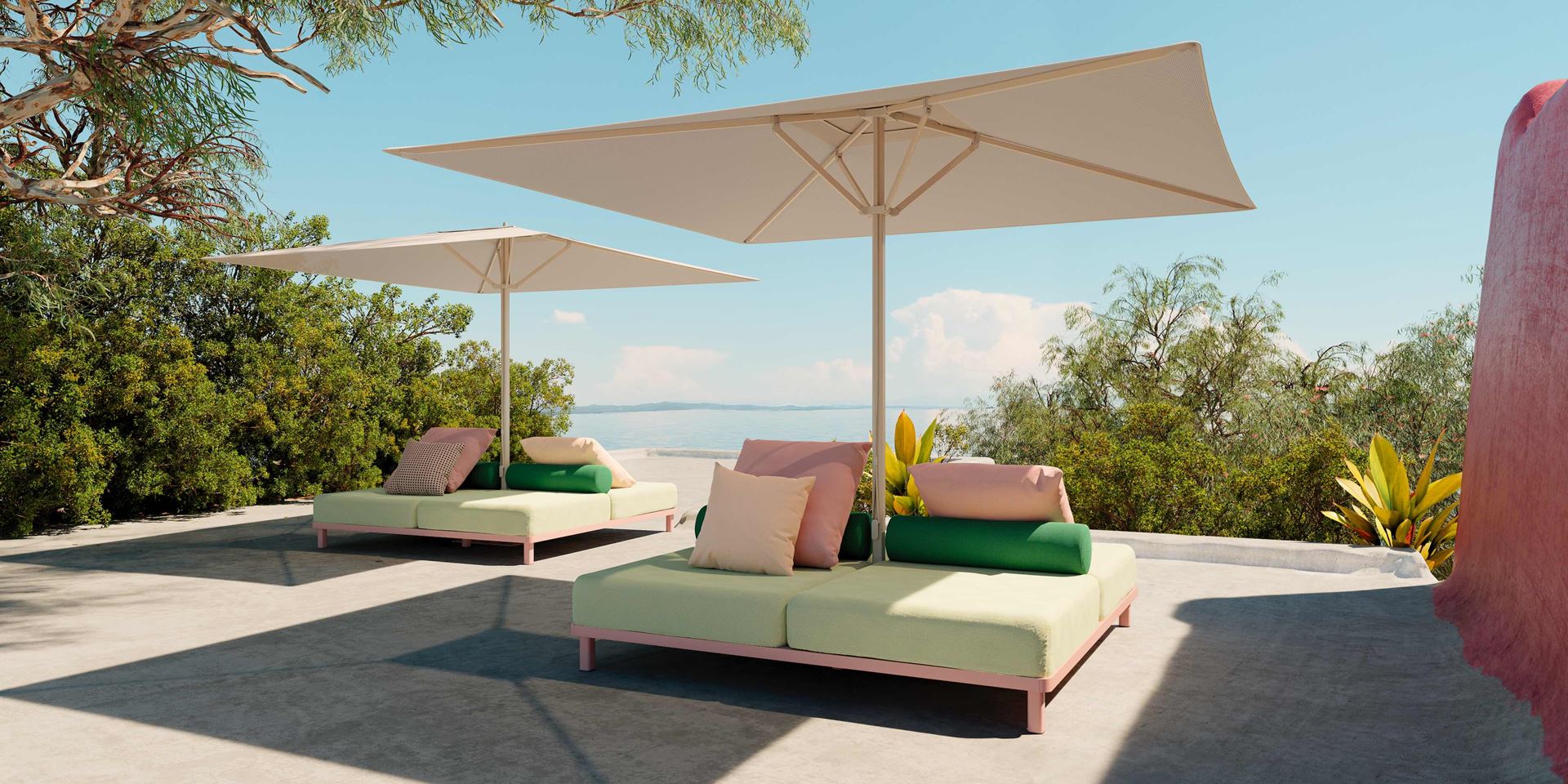 Meteo
Kettal
Designed by Konstantin Grcic, Kettal's Meteo parasol, which launched in 2018, has seen the addition of three new complementary products that work in harmony its base: a sofa/daybed, a table and a planter.
With the foot of a parasol often positioned inconveniently, Kettal has turned this obstacle into something useful. The Meteo collection, which marked the beginning of a collaboration between Kettal and Konstantin, explores the largely untapped design potential of modern parasols, particularly as protection from direct sunlight becomes an increasingly predominant health concern in people's minds.
The range is available in Kettal's staple colours, promising style and harmony with outdoor environments.