Q&A: Peter Wirz on his longstanding collaboration with Laufen
Peter Wirz and Vetica, his design and branding agency, have played an active part in Laufen's success for the last 22 years. Born at Brienz, Switzerland in 1960, Wirz is a qualified mechanical engineer who made a name for himself as a top-class athlete in his earlier years. Together with his team, he serves many renowned companies across the globe from bases in Lucerne, Taipei, Hamburg and Hong Kong.
---
How did your collaboration with Laufen begin?
Peter Wirz: In 1998, when I was a freelance designer, I took over the M&E Design agency in Zug. Both of their designers, W. Eichenberger and E. Muchenberger, were already working for Laufen back then. And it was in that same year that I first came into contact with the Laufen company through the "Moderna" project.
What were the first products you developed for Laufen?
PW: One of the first large-scale projects was the "LAUFEN PRO" series in 2005. "LAUFEN PRO" is a fully comprehensive bathroom programme that offers the optimal solution for all room situations and requirements. Thanks to our close working relationship as partners, this series became a huge success – and it has also been copied by a number of providers over the years. The programme now comprises a total of 34 washbasins and 18 WCs, as well as bidets and matching bathtubs, shower trays and the exclusive range of furniture. All the elements can be combined freely for every conceivable application area and all possible spatial conditions.
How many products have you designed for Laufen thus far, and how many have gone into production?
PW: If you count up all the products with their various sizes and sub-versions, the total certainly comes to over 250 products by now. As far as I know, every single one of them went into production and was launched on the market.
In practical terms, how does the collaboration between Vetica and Laufen work?
PW: Our working relationship is now based primarily on trust, appreciation and relevance. Over the years, this has led to a sort of community of interests that goes far beyond the design service as such. New ideas emerge from both sides, to an equal extent – both from us and from Laufen, and from different markets. As the years have gone on, we have created a shared mindset – and a bond. But at the end of the day, the main goal of our collaboration as an extended workbench is to ensure business success in the long term.
How has your collaboration with Laufen evolved during all these years, and how has it changed?
PW: When we started working together, there was still only one written briefing to develop the design for a new product. Nowadays, we talk intensively and there's a lot of discussion at different levels. We rub up against one another, and we challenge each other. We question, reject and consider until the final decision is reached on what should be made, and how it is to be done. Today, we have a thorough knowledge of Laufen's strategic orientation, markets, competitors and many other aspects. Because of that, we have grown together over the years like a big family.
Do you have equally long-lasting relationships with other clients, or is this the exception?
PW: A customer relationship that lasts as long as the one with Laufen is a nice exception to the rule. However, longstanding partnerships and mandates are very important for us so we can establish the issues of design and brand as sources of genuine entrepreneurial added value and factors in long-term economic success, by working in close liaison with our customers' companies. At present, we are providing support for companies such as ABB, Roche, Ypsomed and Stiebel Eltron as they continue their journeys to success.
You operate internationally. Laufen is a traditional Swiss company. As such, how does it differ from your international clients?
PW: Laufen also represents a highly export-oriented company nowadays, and it enjoys an international reputation. As far as our work is concerned, this means that we don't differentiate between a traditional Swiss company and an international corporation. Through our subsidiaries, we now provide the same service to Japanese, Chinese or American companies such as JTI, BenQ, 3M or Starbucks and to Swiss companies with lengthy traditions such as Victorinox and Kuhn Rikon.
As an industrial designer, you operate in various fields. What particular challenge does the design of bathroom products present?
PW: The bathroom as a space, and the daily rituals of its users, have changed dramatically in the last few years. We take a proactive approach to the changes and challenges in close collaboration with Laufen as well as other companies in the sanitary industry such as Duscholux. We always seek to achieve utility value and relevance in our work. The durability and serviceability of the design are always critical factors too, because bathrooms are only renewed once every twenty or thirty years on average.
Do you have a specific design language for Laufen products? Or is the language constantly being redeveloped?
PW: In our work as designers, our primary focus is on people – on what they want and how they feel. Then there are the influences of the worlds where they live and, most importantly, how we deal with water as an element in the room. All these influences shape our thoughts and ideas as we move towards the product itself and the physical form that it will assume.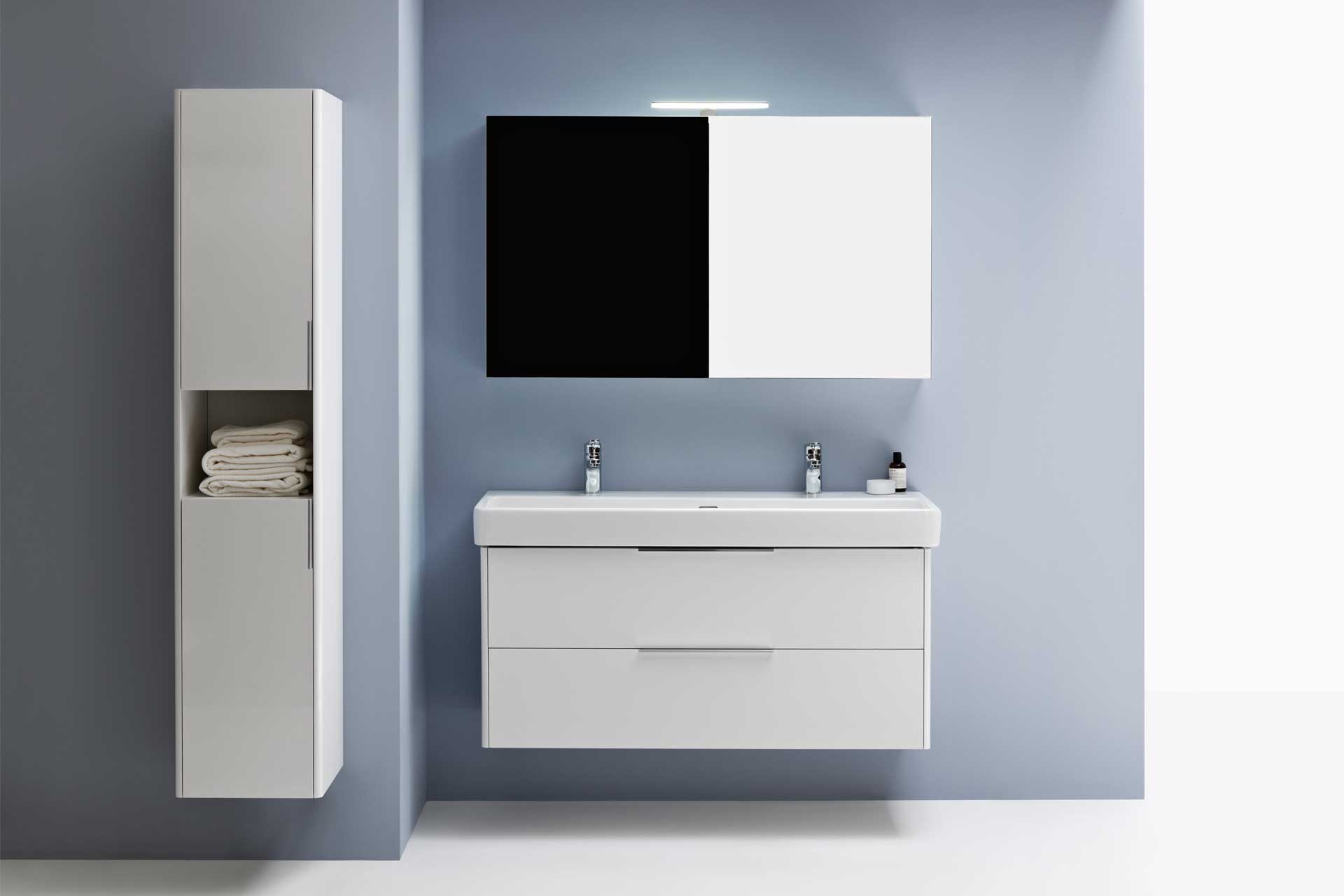 Which of the products you've designed for Laufen makes you especially proud? And why?
PW: Very many of "our" Laufen products have become best sellers, and countless thousands of them have been installed all around the planet. That fills us with a great deal of pride, as it also represents a tribute by the end customers to the Laufen brand and to our work. One thing that gives us particular pleasure is the development of the Laufen shower-WC platform, with the RIVA and NAVIA product solutions. This is mainly because we have been able to bring many of our strengths into play during this development: intuitive user guidance, innovations, technological cooperation and the formal integration of complex electronics into a precise ceramic unibody, for example.
How do you see the future of your collaboration with Laufen? How will it evolve? What new challenges will there be?
PW: As a designer of Laufen products, working for Laufen, and operating in such a competitive sector, we shall have to act with more agility, courage and foresight in the future. Just as in the past, the path we travel together will not follow a straight line in the future either – in fact, it will be influenced even more strongly by iterative cycles. But speaking personally, what puts me in a positive frame of mind about the future is our shared mindset – our goal of focusing even more on sustainability and durability as time goes on.