AB Concept unveils Four Seasons Hong Kong refurbishment
Sixteen years since it first opened its doors, Four Seasons Hong Kong has revealed a new welcome experience designed by AB Concept. As part of an extensive refurbishment, AB Concept's design spans the hotel's arrival porte cochere and driveway, the lobby, a new café Gallery, and a new destination cocktail bar ARGO.
A classic-meets-contemporary aesthetic in the iconic hotel aims to capture the vibrancy of Hong Kong's energy whilst maintaining Four Seasons' signature serenity. AB Concept has created an elegant arrival experience to match the sophistication of the hotel and its harbour-front location.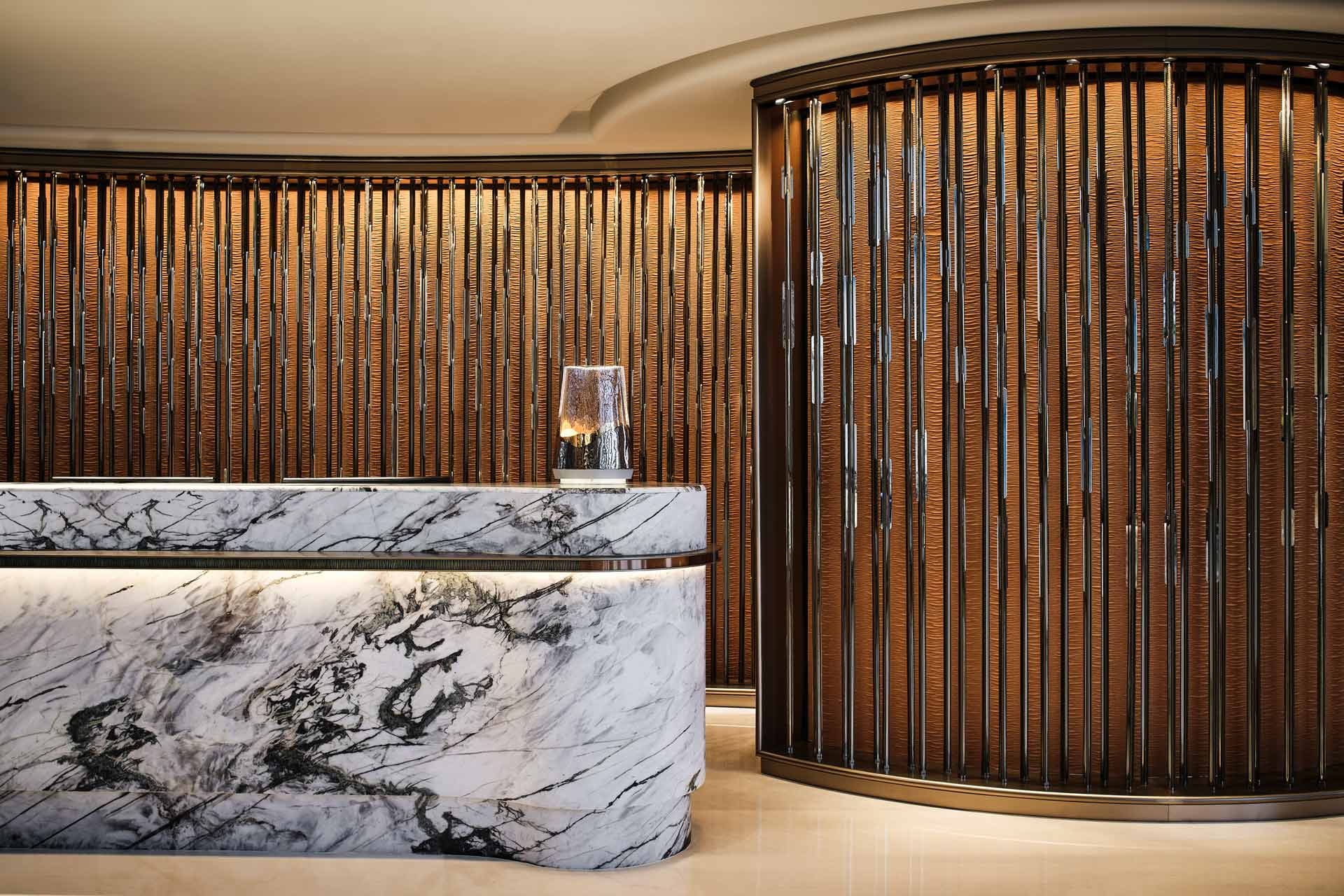 The curved glass-fronted exterior is layered to draw guests from the driveway through the entrance with warm pendant lights to illuminate the frontage. As the lobby naturally receives a high level of traffic, AB Concept wanted to enhance its warmth and introduce even more liveliness to the space, fostering interaction and connection between both people and the lobby areas. With curved mixed-media feature screens that add warmth, shape and fluidity, guests are guided to the reworked concierge and reception, breaking the tradition of a long reception counter and disbanding this barrier between staff and guests.
A raised area separated from the main reception by a set of elevated steps encompasses guest seating and Gallery, a new café centred around a large spiral staircase. A chic yet casual dining venue by day and easy drinks destination by evening, Gallery serves comforting western dishes with local flair, simple yet flavourful light snacks, afternoon treats and Four Seasons signature pastries and cakes alongside artisan coffees and teas, moving to creative alcoholic and non-alcoholic cocktails inspired by the world of tea and coffee as the day draws to a close.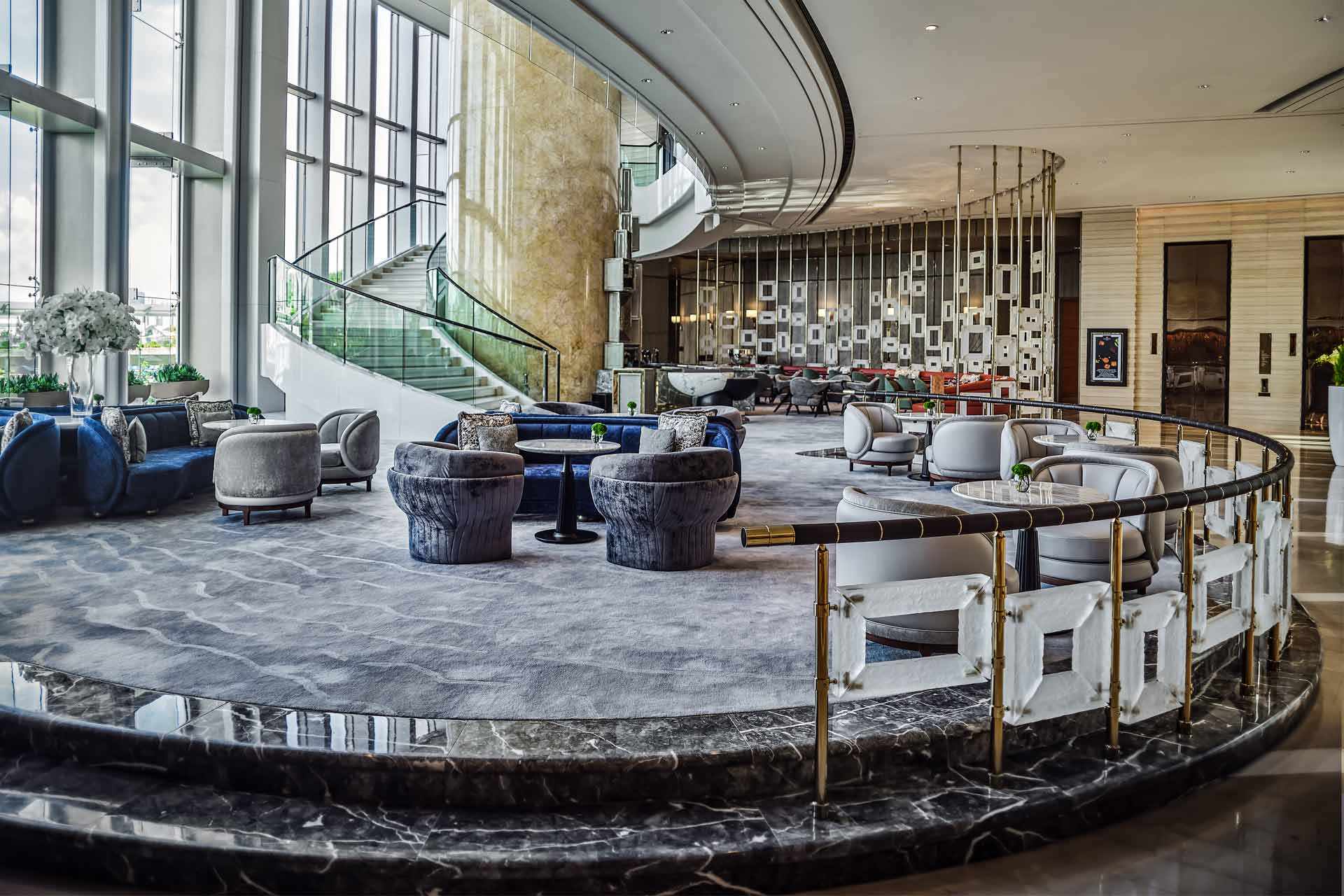 Adding a sense of privacy whilst providing a focal point to the space without obstructing the view to the rest of the lobby, AB Concept worked with Czech glassmakers Lasvit to create a bespoke floating crystal divider that surrounds the café. Lit from within, it is inspired by the sunlight and city lights sparkling on the water of Victoria Harbour.
Continuing the fluidity of the space, Gallery flows on towards the new bar, ARGO. Previously the location of the renowned Blue Bar, Argo showcases innovative and explorative cocktails, featuring a collection of the world's innovative spirits in a stylish setting that embodies the hotel's location and prestige.
"We have a long-standing relationship with Four Seasons which spans a decade of work and being Hong Kong-based, we drew an emotional connection to this project in particular," explains Ed Ng, Co-Founder, AB Concept. "This project has been a real honour for us, being able to add our design stamp to such a remarkable property in our home city."
"We are delighted to work with Ed and his talented team at AB Concept as we transform the arrival experience and introduce exciting new restaurant and bar concepts to Hong Kong," comments Bill Taylor, regional vice president and general manager, Four Seasons Hotel Hong Kong. "AB Concept and Four Seasons Hotel Hong Kong have a shared passion in bringing this transformation to life."