Astet draws on Ericeira coastline for Aethos hotel
Design-led hospitality brand Aethos will open a new hotel in Ericeira, later this summer.
Nestled on top of a 40-metre cliff, this new community-driven destination features 50 guestrooms and suites, a wooden walkway along the cliff edge, a meditation and yoga deck, and a fire pit area.
With a focus on physical and mental well-being, Aethos's experiential offerings cater to the modern luxury traveller and the surfer community alike. Besides a heated saltwater pool, sauna and hot tub, the spa area includes a hammam, treatment rooms and a gym with products by Swedish organic brand Under Your Skin.
To reimagine the historic farm building, Aethos partnered with Barcelona-based interior design studio Astet and Portuguese architect Luis Pedra Silva. Together, they captured the textures, diversity and spirit of its surroundings: the ever-changing hue of the sand combined with the intense blue of the Atlantic ocean and the earthy colours of the soaring cliff.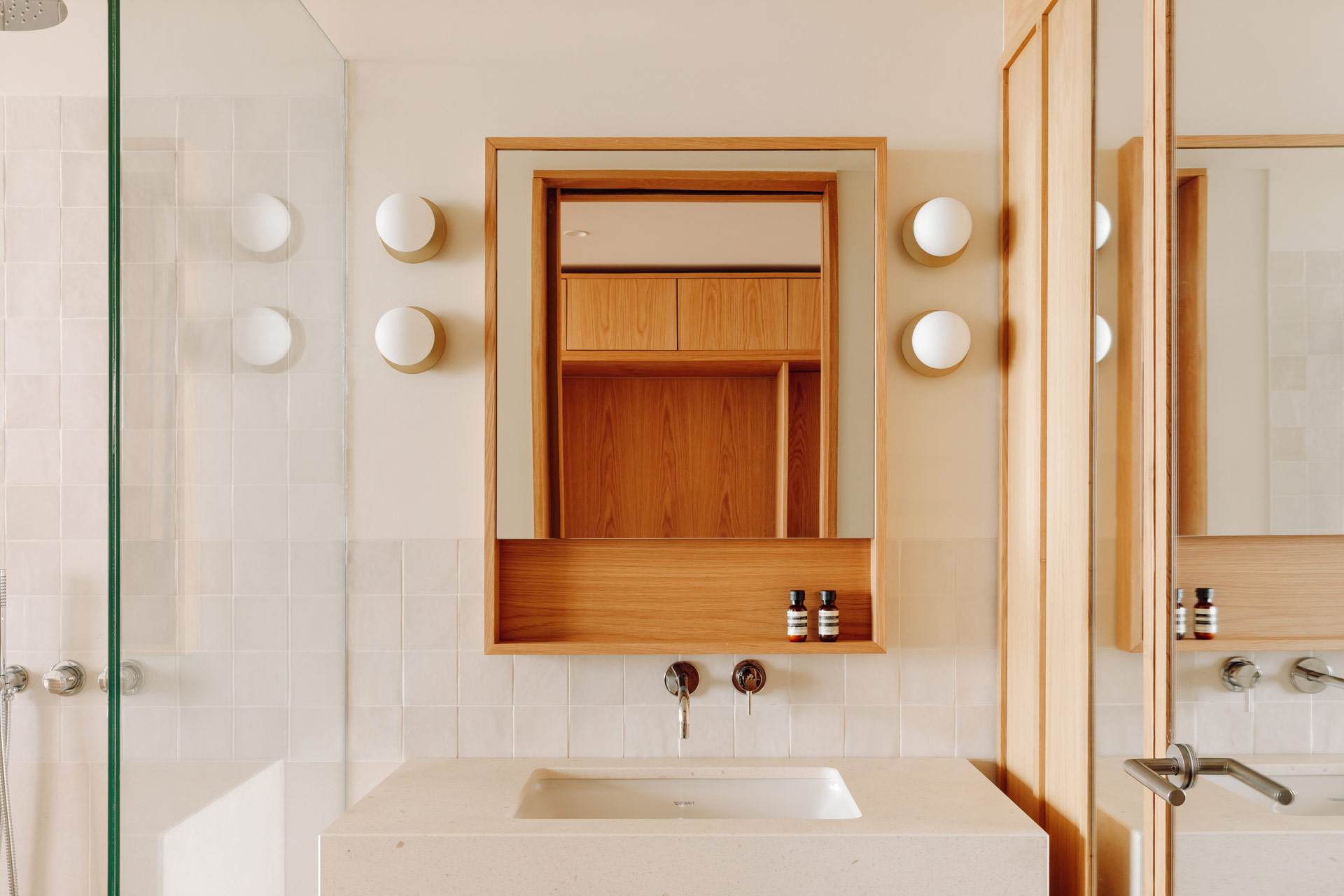 "One of the challenges was making it work for every season," explains Ala Zreigat, one of the studio's founders. "But we believe we were able to solve it by proposing a dialogue between cold and warm materials." From warm wood, leather, velvet, carpets, and other fabrics to more noble materials, like stone and marble, the interior design project feels laid back yet elevated, with "a colour palette that reminds the guests where they are."
Astet also took into consideration the fact that Aethos Ericeira is aimed at a young, striving community, including "nomads who love surfing, but also appreciate effortless luxury," according to Zreigat. "The proposal is very eclectic. You feel that it belongs to the context but is also like an international project where anyone from anywhere would feel happy and relaxed, that they belong and are not out of place"
ONDA is the property's relaxed sea-to-table restaurant, where every dish shares a story told through responsibly-sourced local ingredients with an international twist. ONDA takes inspiration from the beauty and culture of its surroundings while providing guests and visitors with exquisite flavours, specialty cocktails and enjoyable music.
"We are creating culture. We have a community of influential change-makers and entrepreneurs, and we use Aethos as a platform to drive positive change for both our guests and the overall community as a whole," says Benjamin Habbel, founder and CEO of Aethos. "We want to be an authentic reflection of the local community, so every destination is very different from the others. What is true in all of our properties is that there's always something going on; there's always something happening, and there's a reason to be there."
He adds: "I think what is exciting about Aethos for everybody is our ability to listen to the local community, to listen to our guests, and to just get on with it. And a lot of the ideas we implement come from ideas we picked up in conversations with the local community. And of course, our global community of guests. As entrepreneurs, we try to find common-sense solutions to annoyances. And this is the beauty of building a hotel from scratch. We're not traditional hoteliers. We're owner-operators who can look at a hotel as a completely white canvas, since we have no brand standards dictated by anyone, and there's no one telling us what to do — we can just do what we think is the best experience for our guests."