Aylott + Van Tromp has reimagined the interior and created a full branding refresh for Samuel Ryder Hotel in St Albans, as it changes hands to become part of Tapestry Collection by Hilton – the brand's first in the UK.
Located in the former home of golf legend Samuel Ryder, the property is steeped in local heritage. For Aylott + Van Tromp, it was important to create a new era for the hotel that fostered a deep connection with the brand for its ideal, character and story. "From our initial research we discovered there was a pent-up demand for a characterful and individually styled hotel in St Albans," explains co-founder Nathan Aylott. "We felt that the building had so much to give, but its former incarnation just wasn't living up to its full potential. The narrative was already there, we simply had to create the platform from which to tell the story."
The Grade II listed landmark building was originally built in 1911 by Ryder, donor of golf's prestigious Ryder Cup, to house the business of his successful seed company. To this day it retains many original features, including leaded light room screens, sweeping staircase and a mahogany and stained glass dome.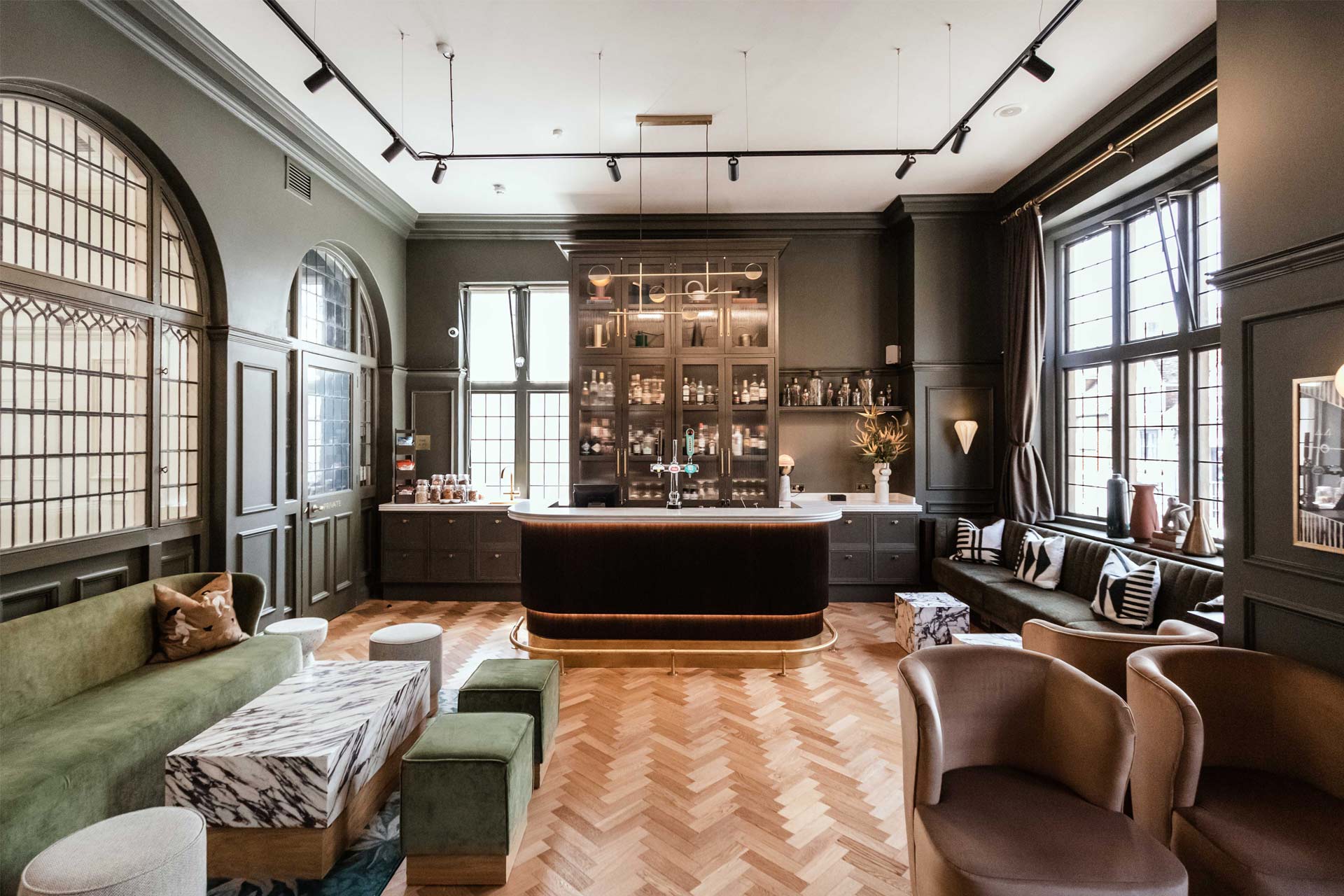 "We wanted our design to reflect the golden era of the original building, weaving subtle nods to the past with styling that is modern, creative and characterful, designed to bring joy to all that stay here," says fellow co-founder James Van Tromp. "In its heyday, Ryders' Seeds supplied millions of seeds across the British Empire, creating vegetables and blooms from St Albans to Sydney. These beautiful botanics are the driver for our scheme, as they literally blossomed from a simple beginning into something amazing – just like this hotel!"
Taking inspiration from the plants that blossomed from Ryder's seeds, the hotel colour scheme features an abundance of green tones, accentuated by bright pops of colour. "Each area of the hotel takes on its own flavour, so to speak," Aylott confirms. "We felt that helped us build up the emotive side of design."
The material palette also harks back to the joyous era of the twenties and thirties, when Ryder's seed business was at its peak. In each area of the property, a corresponding flora or botanical scent is therefore used to reflect the tones of the room, tying the building even more tightly back to its original roots.
Van Tromp adds: "The present building lent itself well to a deep and enticing scheme. With a high ceiling and large windows, we could afford to be brave and characterful. We wanted the styling to be modern, vivacious and accessible to both younger and older demographics, honouring the past in ways that don't feel staid and stuffy but instead celebrate its botanical past without being a slavish recreation of what has gone before."