Dutch hotel brand citizenM has brought 'affordable luxury' to America's capital with citizenM Washington DC Capitol, its fifth US hotel and fourth East Coast site, following two openings in New York and one in Boston.
Situated at the confluence of the city's Potomac and Anacostia rivers, the property sits directly adjacent to the world-famous National Mall and several Smithsonian museums. Also within two blocks is L'Enfant Plaza, a key mass-transit hub with convenient access to the metro, while Reagan National Airport and Dulles International Airport are only a 15 and 45 minutes' drive away respectively.
Inside the 12-storey building are 252 guestrooms, seven societyM meeting spaces and a cloudM rooftop bar with an exterior terrace – all designed by long-term partners concrete Amsterdam and furnished by Vitra.
Guestrooms offer everything guests need – from an XL king-size bed with soft linen to a powerful rain shower, superfast free Wi-Fi, ambience-controlling MoodPad and free movies – and nothing they don't.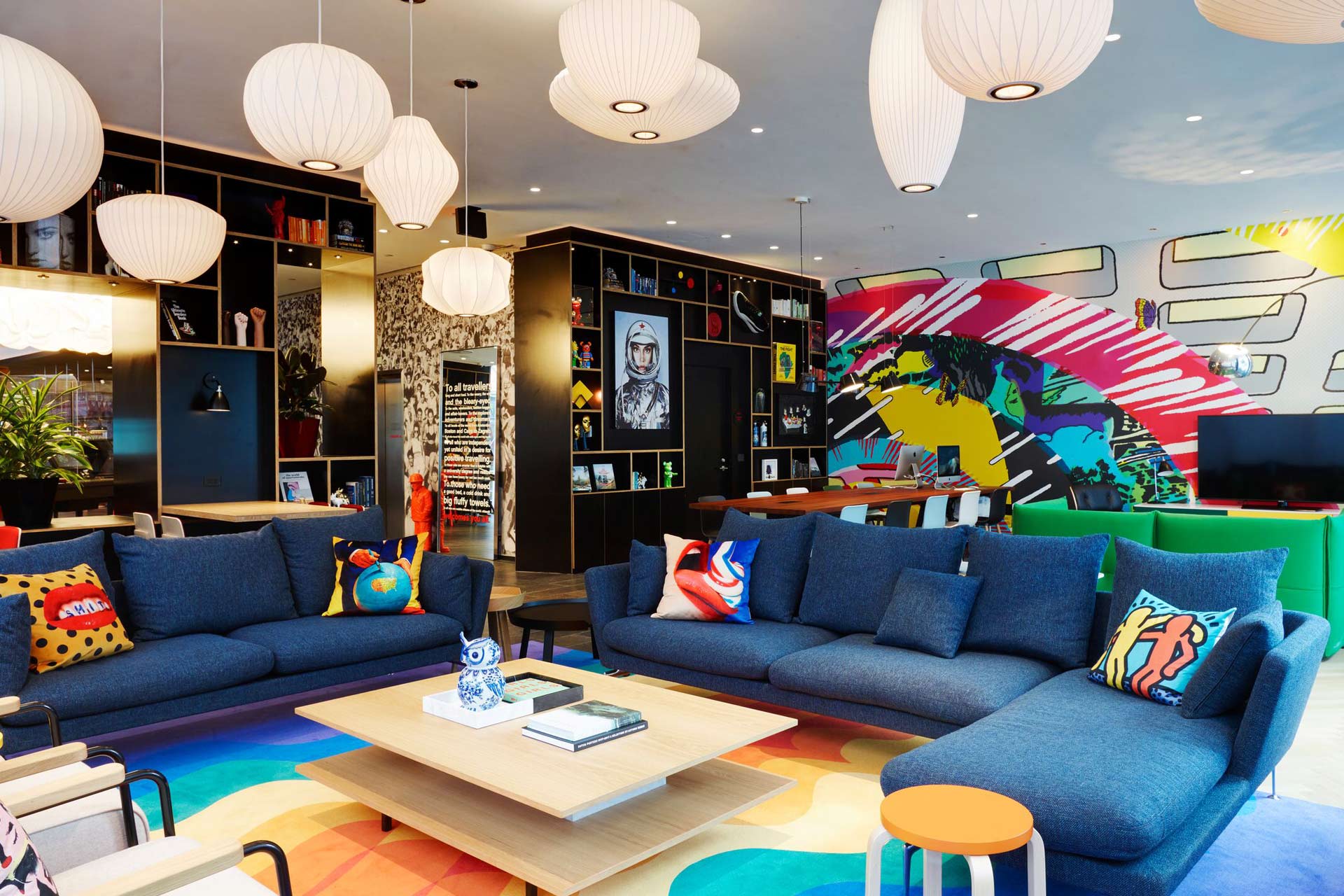 Instead of an impersonal, cold lobby, the hotel features living room is filled with locally commissioned art, hundreds of books, designated workspaces and comfortable furniture. It's full of colour for a reason, with citizenM championing the notion that "if guests are going to sit, they may as well sit in style".
Elsewhere, self check-in/out takes just one minute via citizenM's kiosks – now even faster and contactless with its new app. Once inside, guests will notice canteenM – a residential-style kitchen open 24/7 for food, snacks and drinks. Everything is sourced fresh from local women-owned business Chef Jess.
A red, spiral staircase leads to the societyM meeting rooms on the second floor, which cater for up to 18 people and are designed to fuel creativity by way of bold colours, walls to write on, complimentary internet and all the tech essentials. They are all bookable seven days a week with fresh, local catering on request.
After a day of planning, pitching or presenting, guests can elevate their experience on the 12th floor – home of cloudM rooftop bar. The venue serves up signature cocktails, snacks and views of the Capitol Building.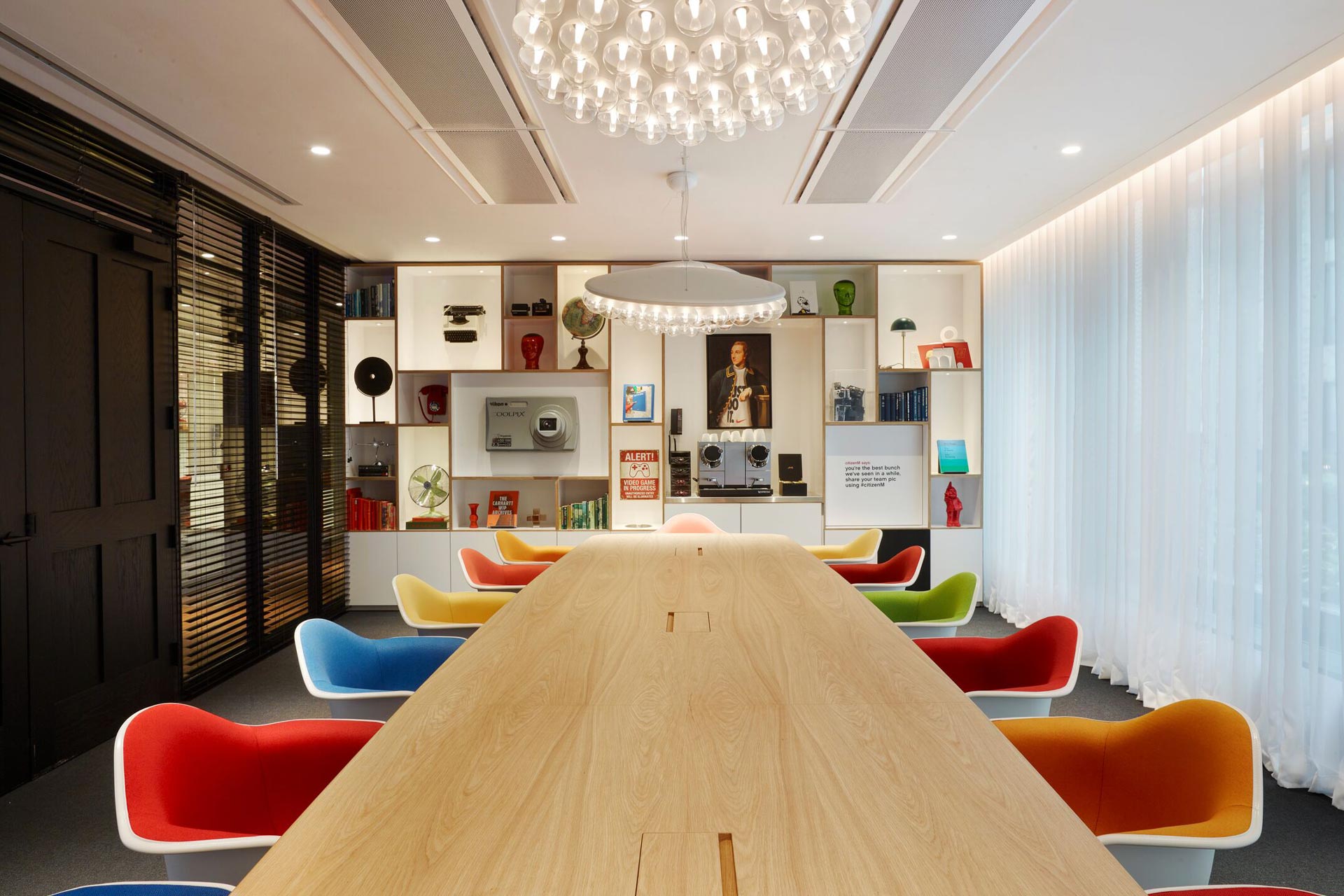 True to citizenM's 'a blank wall is a wasted opportunity' philosophy, the hotel facade is wrapped with a vast piece by Erik Parker – a New York-based artist known for his cartoonish compositions inspired by American subculture. Guests are introduced to the colourful world of citizenM from street level, while inside, local artist JD Deardourff adorns the living room walls and ceiling with his signature blazing colour-palette and apocalyptic landscapes. It's only natural for citizenM to add humour, showcasing hipster-styled illustrations of former presidents by artist Amit Shimoni; the drawings are part of his 'Hipstory' project, where 50 public figures – including President Donald Trump – are presented as modern-day hipsters.
Artworks in the guestrooms are also politically pondering, with pieces from Stable artists Damon Arhos, Matthew Mann, Andy Yoder and Melvin Nesbitt. Each one of the American-born artists has created work built on structuralism – from queer culture and social activism to consumer culture and the environmental crisis.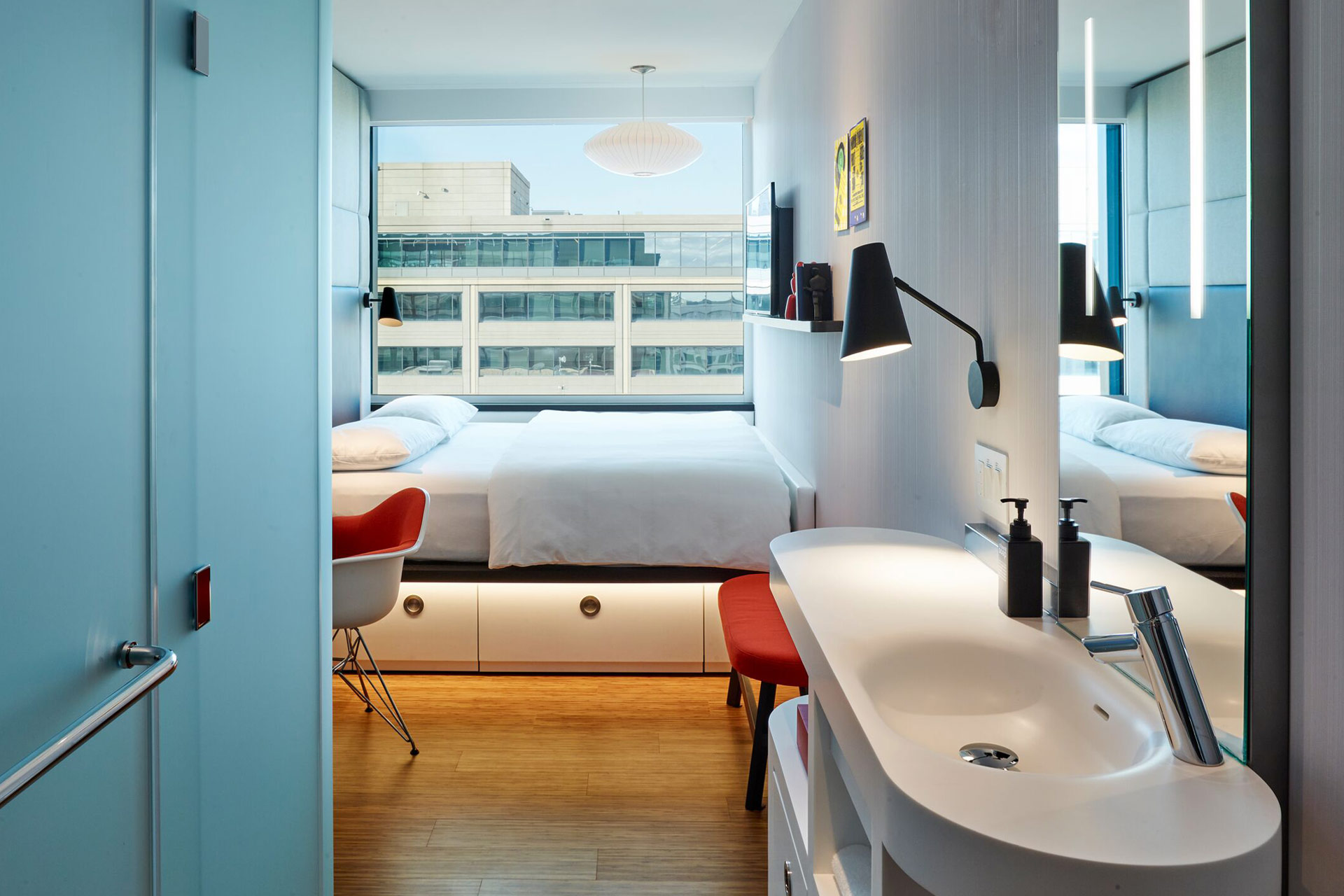 Sleeping at citizenM is safe and easy thanks to its contactless technology; guests can check-in, check-out, open doors, order food, control the room ambiance and pay for purchases while touching nothing but their own smartphone using the brand's new app, which launched in July 2020 in light of the Covid-19 pandemic.
Following the success of its contactless stays, the operator recently unveiled two more initiatives across all 21 of its hotels: global passport by citizenM and corporate subscription by citizenM. The former is a fixed-rate stay option for digital nomads who want to work, live, or travel from anywhere in the world, with the flexibility of deciding on a month-by-month basis. Letting go of an expensive apartment and moving in with citizenM is now possible at an average rate of 50 EUR / USD / GBP per night when purchasing one full month.
Meanwhile, corporate subscription by citizenM is a sleep-work-meet package for companies with remote workers who travel regularly; distributed teams who need or want to gather consistently; and local individuals who need a better alternative to working from home. For just 500 EUR / 550 GBP / 600 USD per month, one employee can work at any citizenM living room anytime they want, sleep for three nights – including a welcome drink and breakfast, use the meeting rooms, add more nights or meeting room hours at 10% discount, and entertain clients at canteenM and cloudM rooftop bars around the globe.
In the near future, citizenM is set to welcome a second Washington DC property in the city's NoMa district – citizenM Washington DC NoMa – with 292 keys. By 2025, the innovative brand will have around 40 properties globally open or in development, more than doubling its current portfolio. citizenM's North American roll-out includes future hotels in Miami, Los Angeles, San Francisco, Chicago, Boston and Seattle.