Hospitality architects and interior designers, Dexter Moren Associates has announced the following eight hotel and apartment openings for 2021:
Hampton by Hilton, Dublin
The Hampton by Hilton, Dublin is a new build hotel comprising 249 guest rooms across eight floors with one basement level and a mezzanine. DMA was appointed by M.B. McNamara Construction Ltd to take this project through RIBA stages 3 to 5 and is using an inverted type of construction where the transfer slab at level one has been built first to allow the construction of the upper levels, while archaeological excavations are undertaken below. Precast construction with precast floors and structural 'twin walls' allows faster construction.
Hotel Villa Pamphili
DMA's Interior Design team was appointed to renovate and redesign the interiors of the Hotel Villa Pamphili in Rome, a 235-key 'urban villa' which takes its name from the vibrant park and landscaped grounds of the Villa Doria Pamphili. The concept for the hotel was directed by DMA's ethos of developing a 'neighbourhood story' unique to the site. In this case, the location, the Mediterranean vibe and the existing seventies period architecture provided the inspiration for a 'Miami beach' feel. This complements the iconic Italian aesthetic; merging an urban hotel with a villa resort to create a venue for local and international guests to experience Rome's culture while enjoying all the comforts of a wellness-oriented environment.
Gatehouse Apartments, Southampton
Due to launch in March 2021, the Gatehouse Apartments in Southampton will be DMA's fourth project working with Grainger plc. Taking inspiration from the local industry, trade and transit that has always been at the heart of Southampton, the resident amenity spaces will include a large flexible co-working and lounge space, private dining room, gym and roof terrace for residents to connect and socialise. Industrial inspired materials will be present throughout and detailed within the bespoke joinery, whilst fun recycled materials will add layers of interest to the scheme.
Westin London City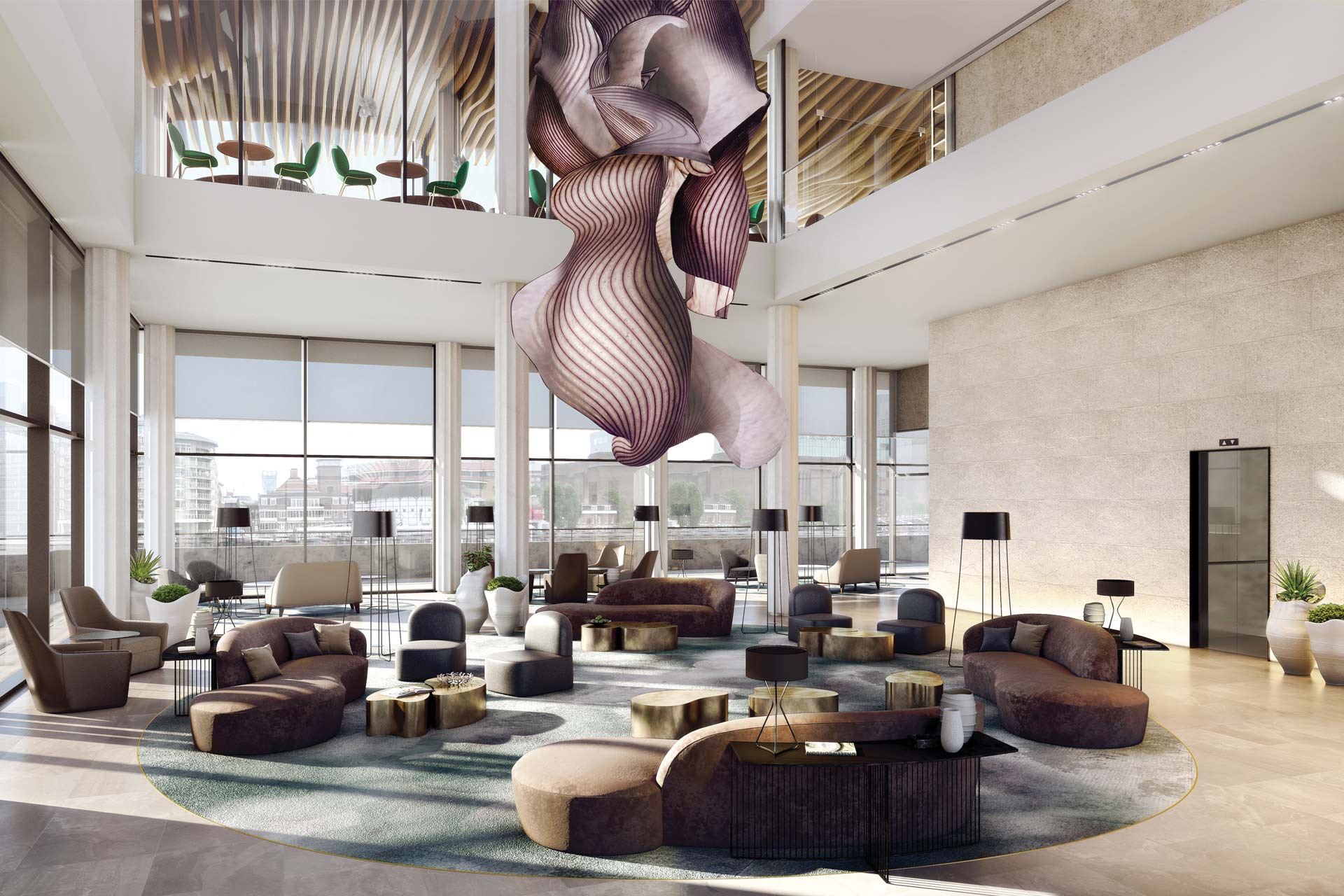 This June will see the culmination of almost ten years of DMA working for 4C Hotel Group with Vascroft Contractors on the Westin London City complex, a new-build development near St Paul's Cathedral. The five-star Westin hotel will comprise nine luxury apartments with panoramic river-facing views, 222 guest rooms including 29 suites, a spa and swimming pool, extensive conference and banqueting facilities, a riverside restaurant and bar with spectacular views over the River Thames. DMA's interior design is driven by a nature-inspired concept aiming to create a feeling of calm within the bustling city. A serene palette of natural colours is enlivened with contrasting tones, textures and materials.
The Fellows House, Curio by Hilton, Cambridge
The Fellows House, Curio by Hilton, Cambridge aims to play host to the discerning clientele of Cambridge and beyond who are seeking somewhere to eat, drink and stay in style. The property will feature boutique-style guest rooms and suites (including accessible and interconnected rooms) with modern kitchens for both short- and long-stay guests. Launching this spring/summer, guests will benefit from a gym, swimming pool, sauna and steam room, as well as a restaurant, café and bar with on-site car parking, including multiple electric-car charging ports.
Hyatt Place London City East
DMA's architecture team is working for client Resolution Property on the Hyatt Place London City East, reconfiguring an aparthotel scheme by replanning the internal layouts with the Hyatt brand at the forefront. Located on Whitechapel High Street, the existing seven-storey building will be stripped back to its concrete structure and re-clad, with an additional three storeys. This 280-key Hyatt Place hotel will be the first of its kind in Central London, featuring a ninth-floor lounge and terrace as well as a roof bar with views of the City and Canary Wharf. The lobby and restaurant area are on the lower ground floor, alongside an orangery, courtyard, gym, and a grab-and-go food market.
Four Points by Sheraton, Lagos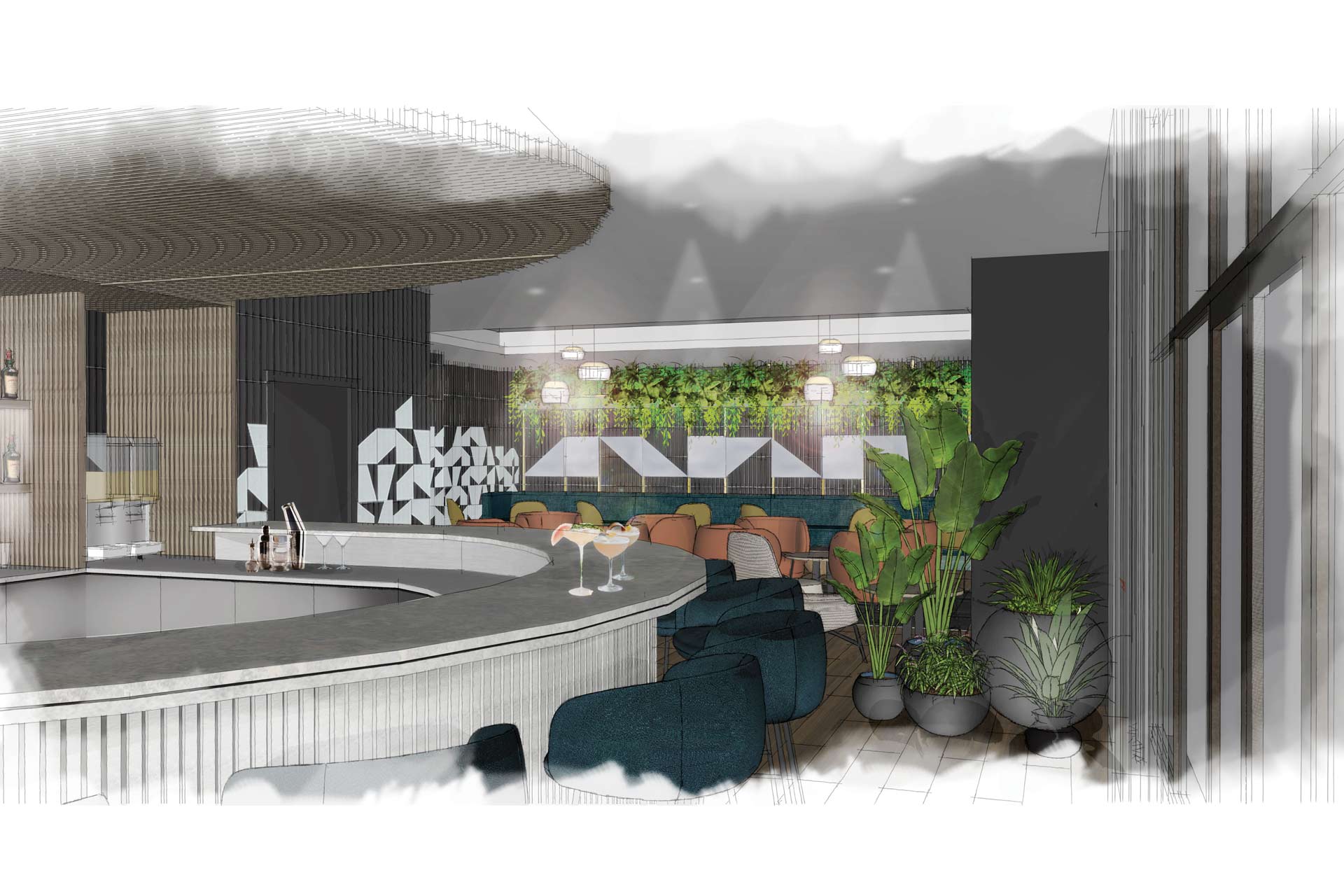 DMA's Interior Design team has been appointed to refurbish the guestrooms and public areas at the Four Points by Sheraton in Lagos, Nigeria. The popular four-star hotel comprises 231 rooms, swimming pool, conference facilities, ballroom, and gym. The scheme will involve large-scale re-organisation of the hotel's public areas, with the proposed inclusion of co-working and executive lounge spaces, as well as a completely new wing of meeting rooms and facilities. Topping off the refurbishment will be the newly designed outdoor terrace and bar, hosting music and events, as one of the top social spots in the city.
InterContinental hotel, Lusaka
The InterContinental hotel, Lusaka, has been transformed into a dual-brand 106 room InterContinental and 160 room Holiday Inn. Building on the success of its previous designs for the Holiday Inn, which opened in October 2020, DMA was asked to refurbish and update the extensive food and beverage offering at the InterContinental and create additional meeting rooms. The interior design concept is a modern, urban African twist on a natural palette inspired by minerals such as copper, in which Zambia is rich.
CREDITS
Image of Hampton by Hilton, Dublin: © Courtesy of JMK Group