TMC Hospitality has unveiled the newly renovated Drift San José del Cabo, the first property to open under the Drift Hotels brand.
Formerly an eight-key inn, new owner and operator TMC Hospitality collaborated with local firm RIMA to renovate and expand the property, drawing inspiration from the organic shapes and textures of the surrounding landscape and coastline. The new hotel now houses 29 guestrooms and suites in addition to a courtyard pool, mezcal bar and a rooftop terrace.
Drift San José del Cabo seamlessly blends its interior and exterior elements to create an integrated flow throughout the property that captures the beauty of Baja California Sur and the relaxed vibe of the city. The whitewashed hotel exterior provides a natural backdrop for native cacti and mango trees, while the L-shaped build and guestrooms frame a central courtyard, offering pool views from either patios or balconies. A refreshing swimming pool anchors the courtyard, surrounded by palm trees, while sun-drenched lounge seating and hammocks invite relaxing. Throughout the property the modern, minimal design is composed of heavy raw materials, such as wood, stone and steel, all complemented by lush greenery to create sanctuary-like environment.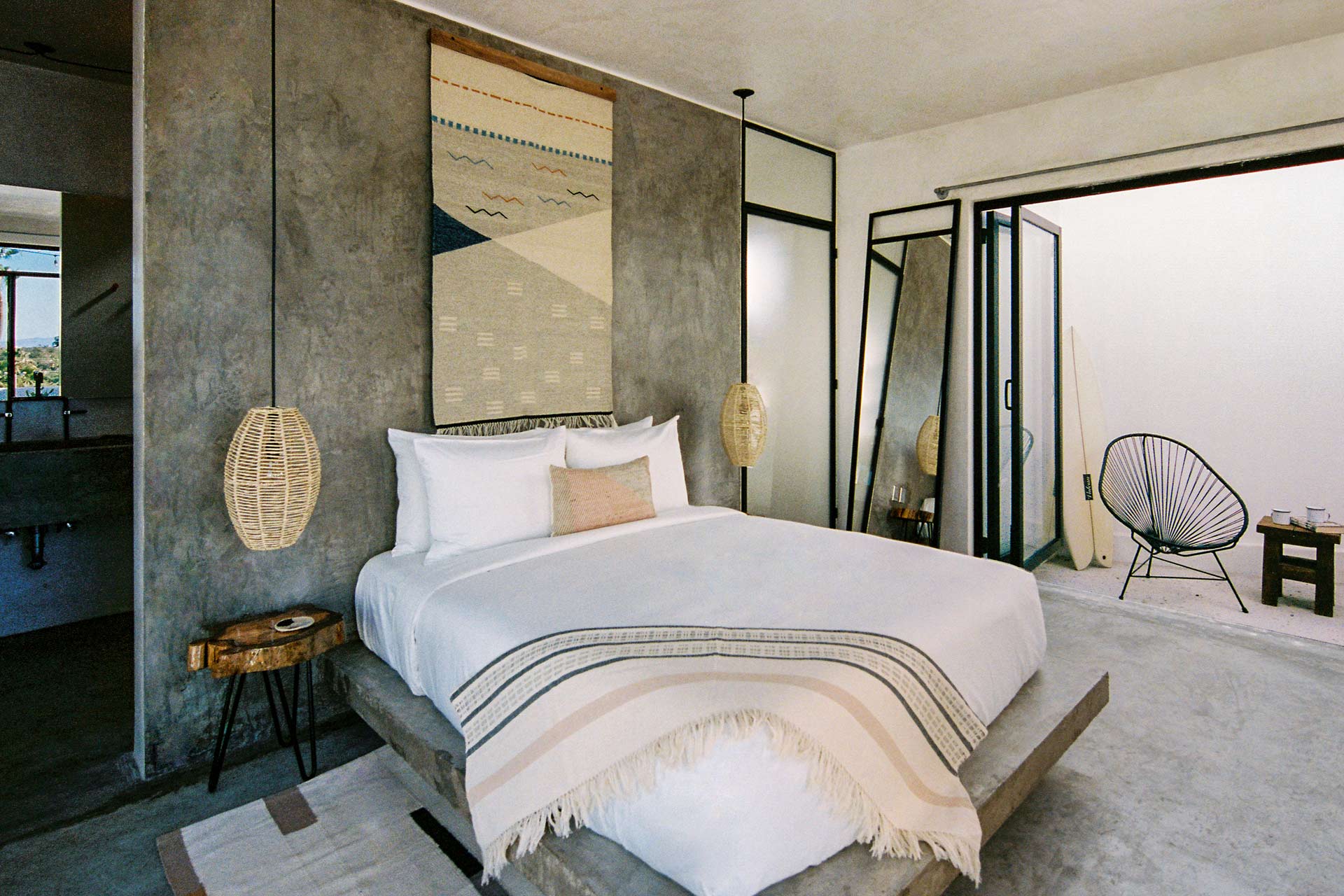 The Cabo's guestrooms feature an industrial, restrained design and range from 215 to 322ft2, with room types including the Surfer's Hideout, Baja Room, Drift King, and Paradise Cove Suite. Room amenities may include balconies, floor-to-ceiling windows and custom scented bath amenities featuring soap from neighbourhood brand, Santo Cabo. Locally sourced organic textiles and woven baskets add pops of colour to the rooms, while polished concrete floors and bright white walls keep the focus on the vibrancy of the destination.
The alfresco Mezcal Bar at Drift San José, located poolside, brings locals and travellers together over Mezcal Exiliado, produced by mezcalero Artemio García in the state of Oaxaca, using traditional methods he learned from his father, a legendary mezcal producer. Opened in partnership with Mezcal Exiliado, the bar staff is on hand to lead guests through multiple mezcal tastings, while also serving a variety of beers and mezcal cocktails.
"We're thrilled to open the first Drift Hotels property in the charming city of San José del Cabo," says Philip Bates, co-founder and CEO of TMC Hospitality. "With a prime location in the heart of town, the hotel is a welcoming retreat that reflects the vibrancy of its surroundings. We look forward to bringing this same adventuresome spirit to additional markets in 2022 as we continue to expand the Drift Hotels footprint across North America."