Lightstone, the developer behind three Moxy hotels in New York City, has announced the opening of a new Moxy property in Miami's Art Deco District. Celebrating the city's cosmopolitan culture and breezy outdoor living, the 202-room, eight-storey Moxy South Beach becomes the brand's first resort-style outpost and blends the glamour of mid-century Havana with the artistry of contemporary Mexico City.
The hotel's interiors have been designed by Rockwell Group (public spaces and guestrooms) and Saladino Design Studios (F&B), while exteriors are by Kobi Karp Architecture in collaboration with Rockwell Group. The majority of spaces are open-air and blur the boundaries between indoor and outdoor; private and semi-private enclaves include poolside cabanas, meeting studios and sequestered dining tables.
"Opening the hotel during this unprecedented time presented us with a unique challenge," says Lightstone's President, Mitchell Hochberg. "Moxy South Beach isn't a response to the pandemic, even if it feels like an antidote to it. In a way, the design anticipated the needs of the current environment, so we're able to accommodate what people are looking for right now: contactless check-in, outdoor spaces and a do-it-yourself ethos. But we always stayed true to Moxy's roots, letting guests curate their own experience while they escape reality for a few days – and the icing on the cake is that it's all at an attractive price point."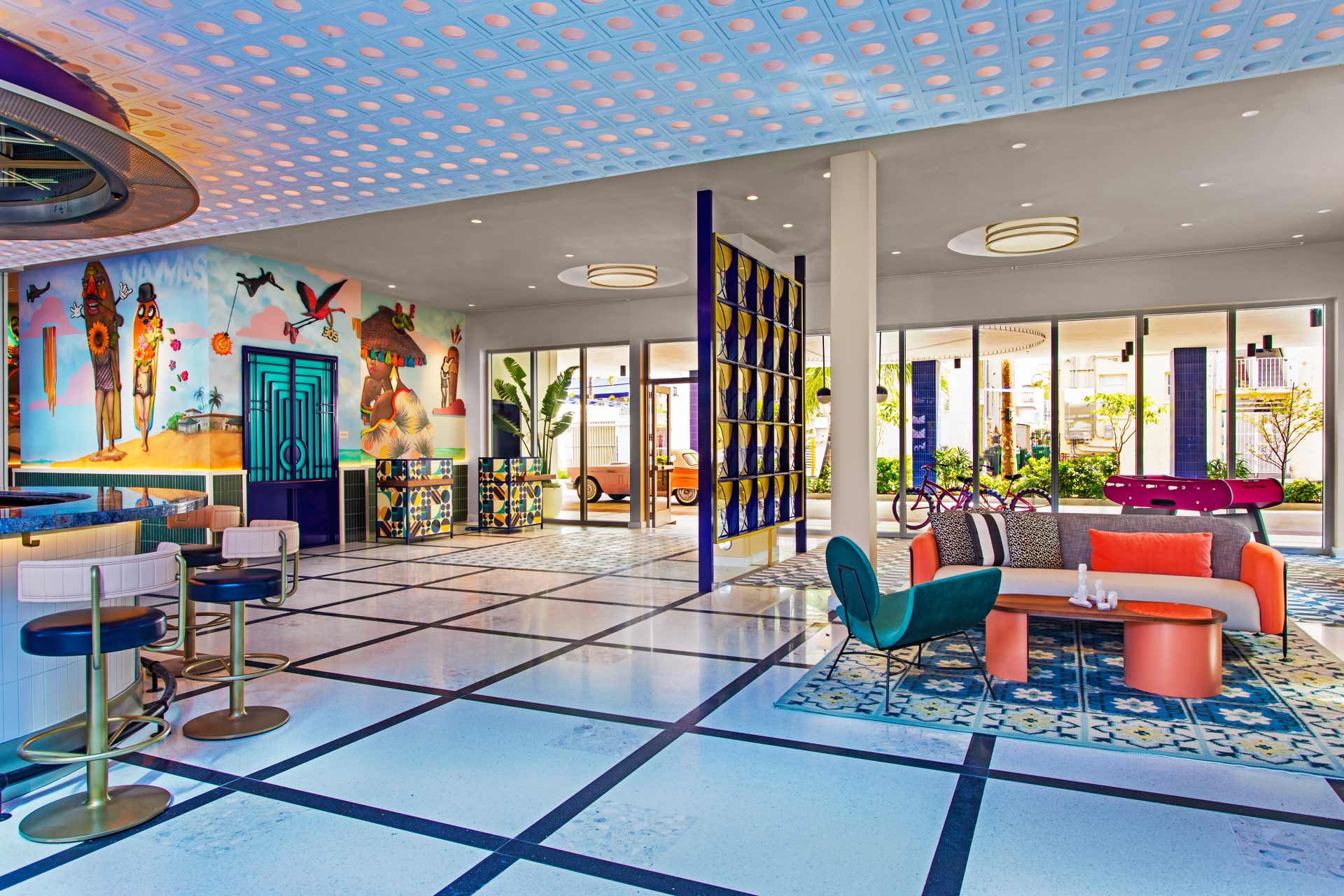 Guests can enter through a main walkway on Washington Avenue or a modern porte-cochère at the east entrance, after which a lobby features relaxed seating areas with amusements such as a foosball table – whose players are vintage pinup dolls brought into the modern era as a women's soccer team – as well as a carnivalesque, Zoltar-inspired pay phone that provides complimentary horoscope readings from resident astrologer @Bassfunkdaddy. The lobby's three flexible meeting studios and restaurant all converge around an open-air courtyard. The space is surrounded by glass walls that can open or close as the weather allows.
The indoor-outdoor spaces continue with a fitness centre inspired by nearby Muscle Beach; an outdoor movie screening room on the rooftop; and the Moxy Beach Club on South Beach. A 72-foot, cabana-lined pool on the second-floor terrace is decked with tiered lounge seating, benches in the water and private cabanas, while a circular communal shower is flanked by flamingoes peeking through a hedge. Swimmers in the pool can see directly into the lobby through an eight-foot, see-through cutout, while on the eighth-floor rooftop, a shallow lounging pool features chaises submerged in the water and daybeds shaped like lily pads.
The 202 guestrooms include King, Double Queen or Quad Bunk options, as well as residentially-styled suites. All rooms are dressed in vivid hues and bathed in sunlight thanks to floor-to-ceiling windows. Inspired in part by the Clyde Mallory Line, an overnight ferry service between Miami and Havana that operated in the 1940s and '50s, the spaces resemble ocean liner staterooms with space-maximising storage solutions. Oceanview rooms on higher floors offer unobstructed vistas of the Atlantic, while others provide views of South Beach's pastel-hued architecture. Rounding out the design are custom works by local artist Aquarela Sabol, which depict iconic painters like Frida Kahlo, Jean-Michel Basquiat, Pablo Picasso and Salvador Dalí.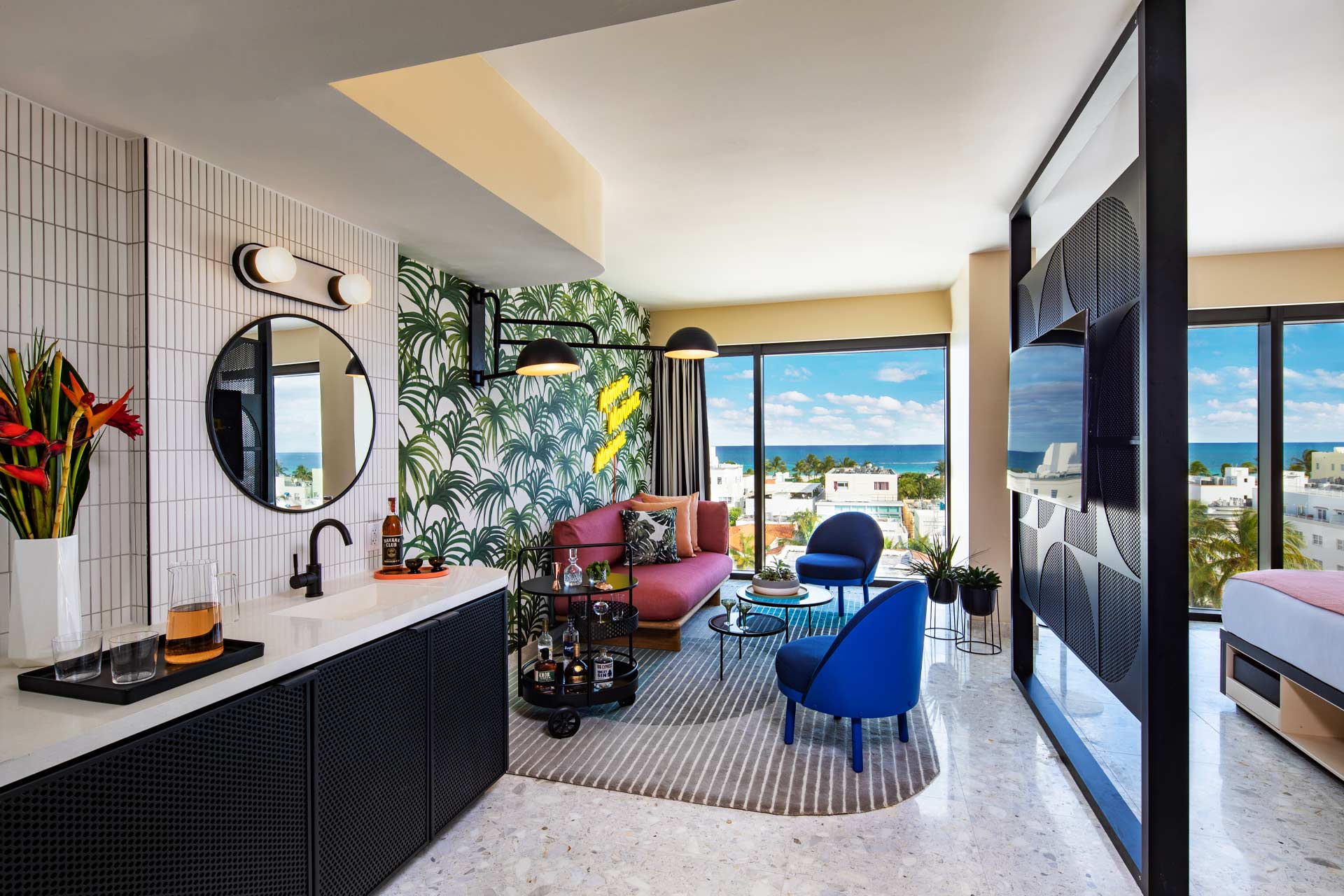 "Our design concept celebrates Miami's uniquely multicultural style, from eclectic Art Deco motifs and Miami Modernism, to Cuban and other Latin American influences," says Greg Keffer, Partner and Studio Leader at Rockwell Group. "To capture the bright, carefree sophistication of South Beach, we blurred the boundaries between indoor and outdoor amenities, and created light-filled guestrooms that have a feeling of openness."
For the hotel's dining and drinking venues, Lightstone tapped the Miami restaurateurs behind the city's Coyo Taco and 1-800-Lucky to create six new concepts that draw on Mexican, Caribbean and local flavours.
At Bar Moxy, guests can simultaneously check-in contact-free and order a handcrafted cocktail. Retro-style swivel barstools surround an oval-shaped bar, while an infinity mirror installation above contains the phone number of El Floridita – the legendary Havana watering hole – to pay tribute to Miami's Cuban heritage.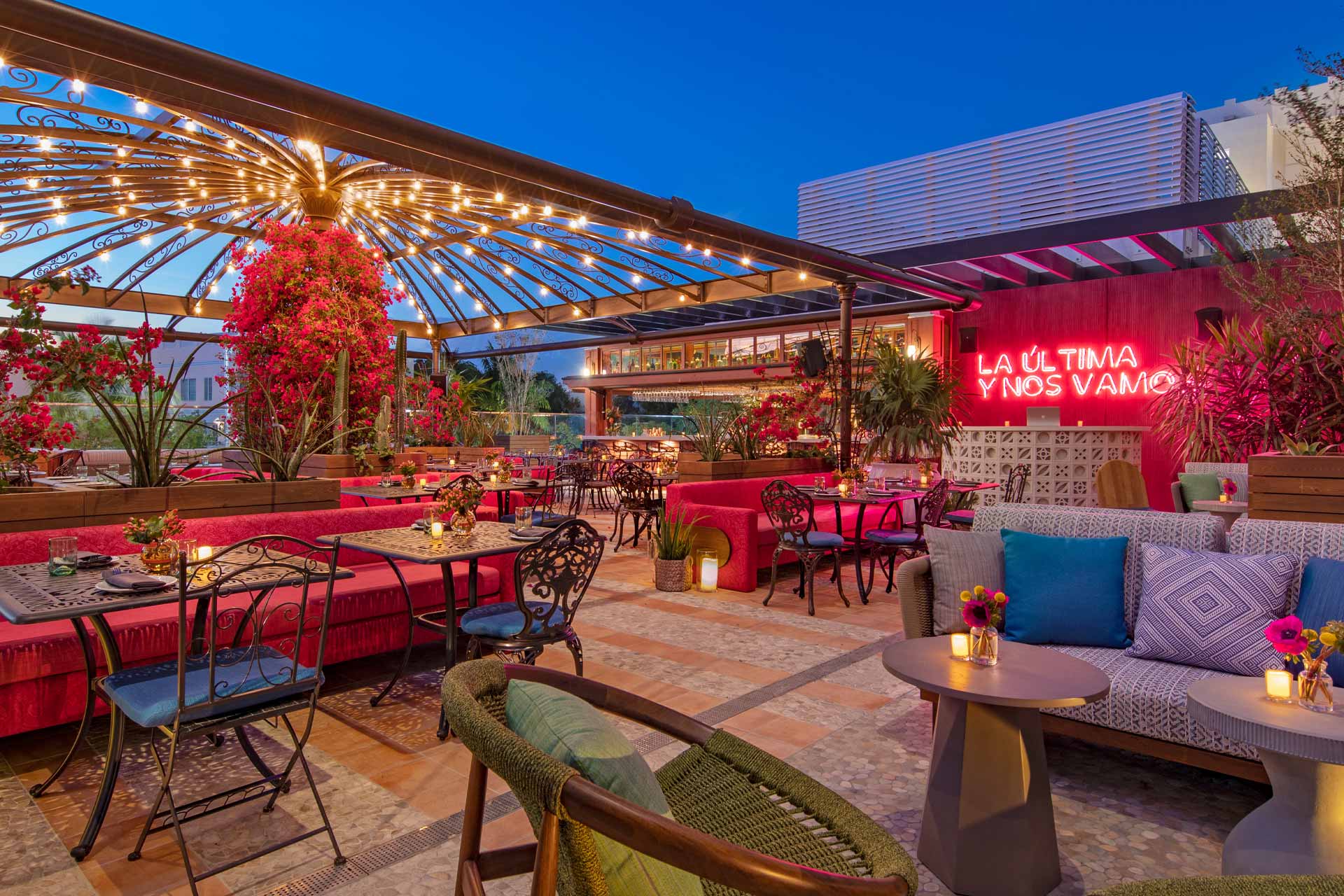 Facing Bar Moxy is Los Buenos, an all-day bodega and taco stand serving tacos on hand-pressed tortillas and burrito bowls, breakfast items and specialty coffee drinks by La Colombe, including Cuban-style cafecitos. The venue also sells clothing, accessories, magazines and classic Miami gifts sourced from local purveyors.
On the second level, open-air restaurant and bar Serena channels the same enchanting atmosphere of rooftops and patio restaurants in Oaxaca and Mexico City. The lushly planted terrace is set around lounge and table seating, plating up shareable dishes and handcrafted cocktails amidst a backdrop of live music.
Available exclusively to hotel guests and for private events, the hotel's eighth-floor rooftop bar, The Upside, brings together a shallow lounging pool, an alfresco movie screening area, several seating options and 360-degree views of the ocean and Miami Beach. A canopy provides shade during the day, while showcasing a geometric mural by New York-based artist Edward Granger when illuminated at night. The piece is a nod to the thriving street art scene in Miami's Wynwood district and acts as a colourful beacon for the property.
Opening April 2021 is Como Como, a marisqueria (seafood restaurant) and raw bar centred around a 'fuego', or a wood- and charcoal-fired grill utilising ancient Mexican techniques. The open-cooking concept allows diners to watch the culinary process firsthand, while a tequila tree sculpture theatrically dispenses the agave spirit by way of hand-blown glass spheres. The restaurant also serves diners in its outdoor courtyard, a verdant space layered with colourful tilework, hanging plants and a sign reading "Besos De Mezcal".
Also arriving this Spring is mysterious mezcal lounge, Mezcalista, accessed either from the back of Como Como or through a discreet entrance on Washington Avenue. Here, guests will have the chance to sip and savour an assortment of over 100 types of rare mezcals and tequilas in an ambient, catacomb-like lounge.
"We're creating concepts that give people a lot of choice," says Sven Vogtland, co-founder of Coyo Taco Group. "You can head up to Serena for a sunset drink and a bite, sit down for an elegant meal at Como Como, or enjoy the intimate energy of Mezcalista while the DJ spins. Or you can have all three in one night. We're providing a variety of vibes and environments, which in turn will attract a real intermingling of guests."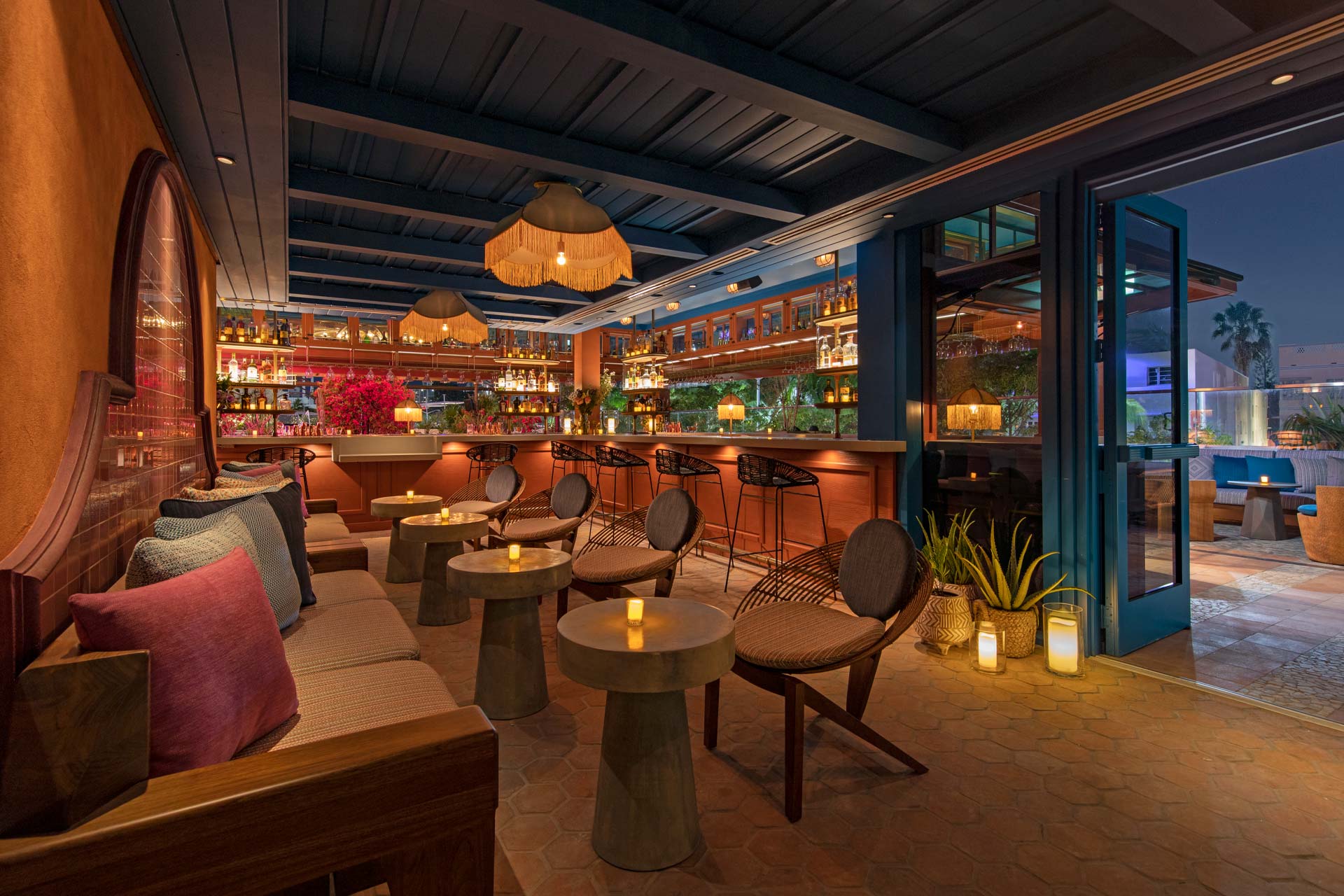 The programming at Moxy South Beach includes several partnerships too; adapting the #SWEATatMoxy programme from its sister properties in New York, the hotel hosts "Glutes Check" classes with local fitness guru Starr Hawkins, together with restorative sessions from NYC-based BeRevolutionarie, and a Surfing Bootcamp from Surfrider Foundation – an organisation dedicated to the protection of the world's ocean waves and beaches. The collaboration continues with Silent Disco beach cleanups and surf-inspired movies on the rooftop, which will also host biannual screenings in partnership with the Miami Film Festival.
On the melodic front, Prism Creative and Tigre Sounds are curating a series of weekly live music sessions with emerging artists. The hotel is also partnering with genre-bending Miami orchestra Nu Deco Ensemble to share frequent live streams of their sold-out concerts, while in-room TV channels also showcase some of the group's performances, including "Orchestra Reimagined". Guests also receive perks at cultural institutions like the Bass Museum, Rubell Museum, Superblue Miami and the Pérez Art Museum Miami (PAMM).
CREDITS
Photography: Michael Kleinberg