HBA completes Europe's first One&Only hotel
Hirsch Bedner Associates (HBA) has completed the interior design of Europe's first One&Only resort, located in the village of Portonovi on Montenegro's Adriatic coastline. Featuring architecture and initial concept design by Denniston, the property draws inspiration from its natural surroundings as well as traditional monastic architecture, while understated interiors celebrates the resort's key asset – vistas of Boka Bay.
Being HBA's first One&Only resort and HBA Singapore's first project in Montenegro, particular care was taken to adapt to regional expectations in both design and process. Helping to bring the project to fruition were HBA's design departments – Illuminate Lighting Design, Canvas Art Consultants, HBA Graphics, and Social F+B – who worked together closely to champion local culture and tradition within a modern design.
Views of Boka Bay instantly capture the gaze of guests as they enter the resort's reception, while an ambience of royalty exudes from the room with elements of monastic architectural heritage. Barrel vaulted ceilings in a platinum tone, finished with wood marquetry, encompass the space along with aged, tumbled stone walls and floors. Two oversized hearths flank the attached lobby lounge, completing the traditional castle aesthetic.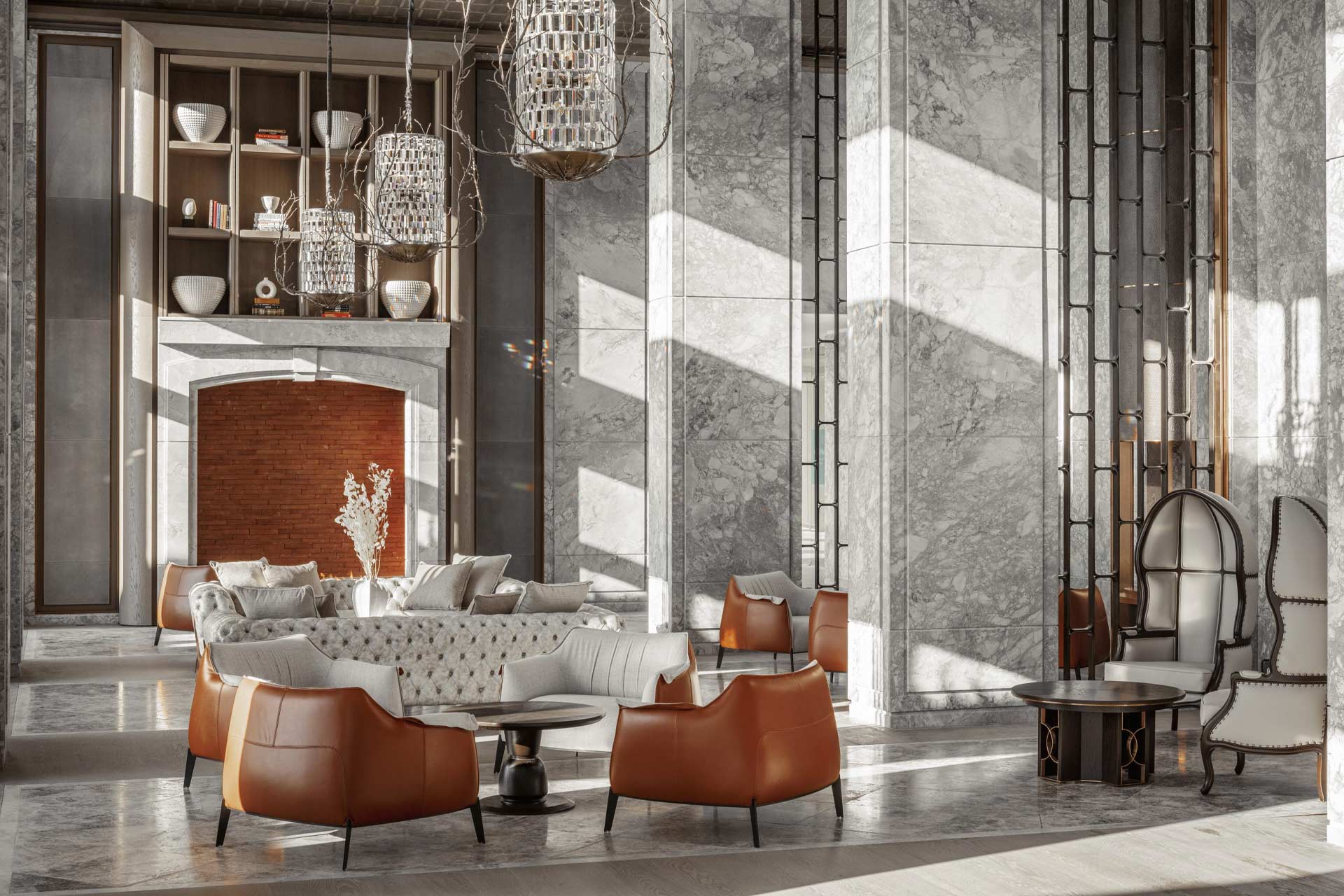 This medieval feel is woven into a tapestry with modern European decorations, detailing and contemporary artwork, adding soft touches of playfulness to offset the formality. Above the heads of guests as they enter hangs a canopy of hand-blown glass in smokey, amber tones fixed to a network of intertwining branches that form the shape of a mimosa tree, from which Montenegro's eponymous national flower sprouts. This nod to regional culture is repeated in the drapery that frames the vistas of the bay, with a mimosa-inspired floral motif and asymmetrical layering of sheers adding a sense of theatre. At the centre, beneath the canopy, sits a boulder sculpture crafted in likeness of the region's topography of jagged cliff edges and jutting rocks.
From the reception, guests can venture over to intimate bar, Caminetti, for a cocktail or two. Drinks are ordered from a burnt terracotta bar upholstered in leather furnishings and sipped in comfortable seating surrounded by natural walnut millwork and stained wood furniture. The space channels the grandeur of the lobby area, with grigio marble floors flanked by columns clad in backlit art depicting a forest scene, while warmth is diffused through a cool grey colour palette with copper tones and a grey shagreen leather in the fireplaces, together with Maya Romanoff wood marquetry wallcoverings and accents of antique brass.
Moving on from the lobby, guests continue on an artistic journey across the rugged landscape of Montenegro; while waiting in the lift lobby, they can busy themselves by admiring dramatic artwork depicting a hiker trekking through the majestic cliffs and mountain ranges that sit just a stone's throw from the resort.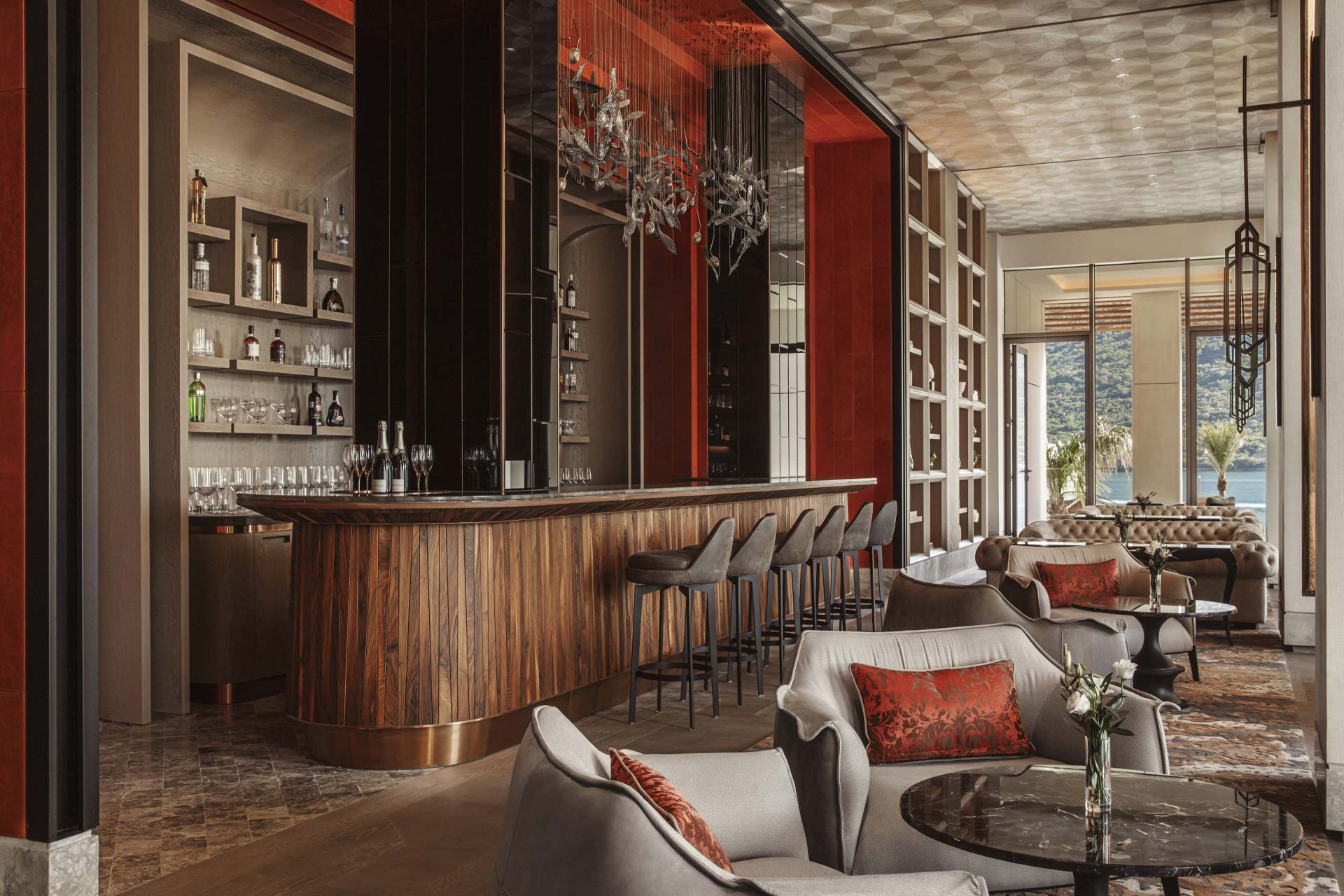 Residents at One&Only Portonovi can also wine and dine at various destination restaurants, which offer a choice in cuisine, style and experience. La Verandah serves up a menu of traditional Montenegrin dishes for both buffet and a la carte settings. To emulate the relaxed and open atmosphere of this dining concept, the design adopts a crisp, Mediterranean colour scheme, with dark indigo blue textures and lacquered panels juxtaposed with antique bronze detailing in the light fixtures. The laser-cut grey Carrara marble tiles lining the floors bring to mind the rich stone patterns seen in traditional regional architecture. Surrounding the tables, seats woven in dove-grey fabric, deep caramel and chocolate leather upholstering are arranged.
For a taste from the other side of the Adriatic Sea, guests can indulge in the refined Italian flavours offered at Sabia, a restaurant headed by Michelin-starred chef, Giorgio Locatelli. The interiors were designed by Social F+B in collaboration with Locatelli, who chose a light, fresh palette with warm sand tones to reflect the menu. The neutrals used throughout the space are accentuated with accents of seafoam blues and dove greys, while a colourful light fixture hanging above the bar features hand-blown glass containing grains of sand.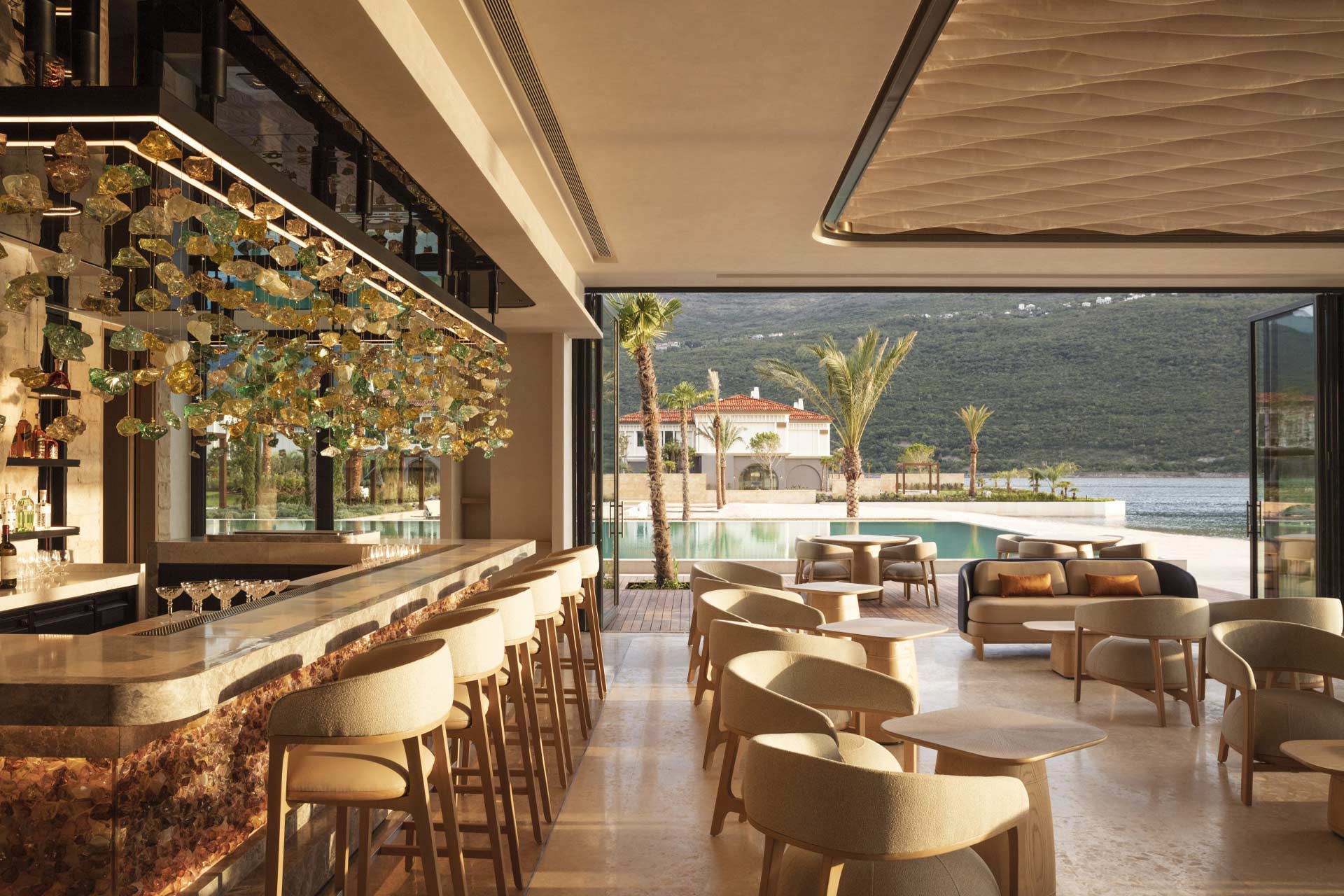 Social F+B was also tasked with designing Pan-Asian Fusion restaurant Tapasake Club. Concrete flooring is marbled with meandering metal inlay, mimicking the craquelure of 'wabi-sabi' – a traditional Japanese aesthetic that celebrates beauty in imperfection. A warm and luxurious feel is cultivated through the use of artisanal bronze and dark mahogany detailing on raked spatulata plaster ceiling and naked red brickwork in the walls. Complementing this golden, autumnal palette are neutral fabrics with olive and orange accents, as well as an ombre aqua sheer wall partitioning that separates the dining tables. Behind the live edge wood bar counter are a row of amber glass display shelves showcasing a choice of the resort's premium liquors.
One&Only Portonovi caters for events and celebrations too, from weddings and honeymoons to summits and corporate training sessions. The ballroom and pre-function area draw upon the overarching monastic theme with grigio marble floors and walls, antique brass and copper accents, and neutral fabric-upholstered walls.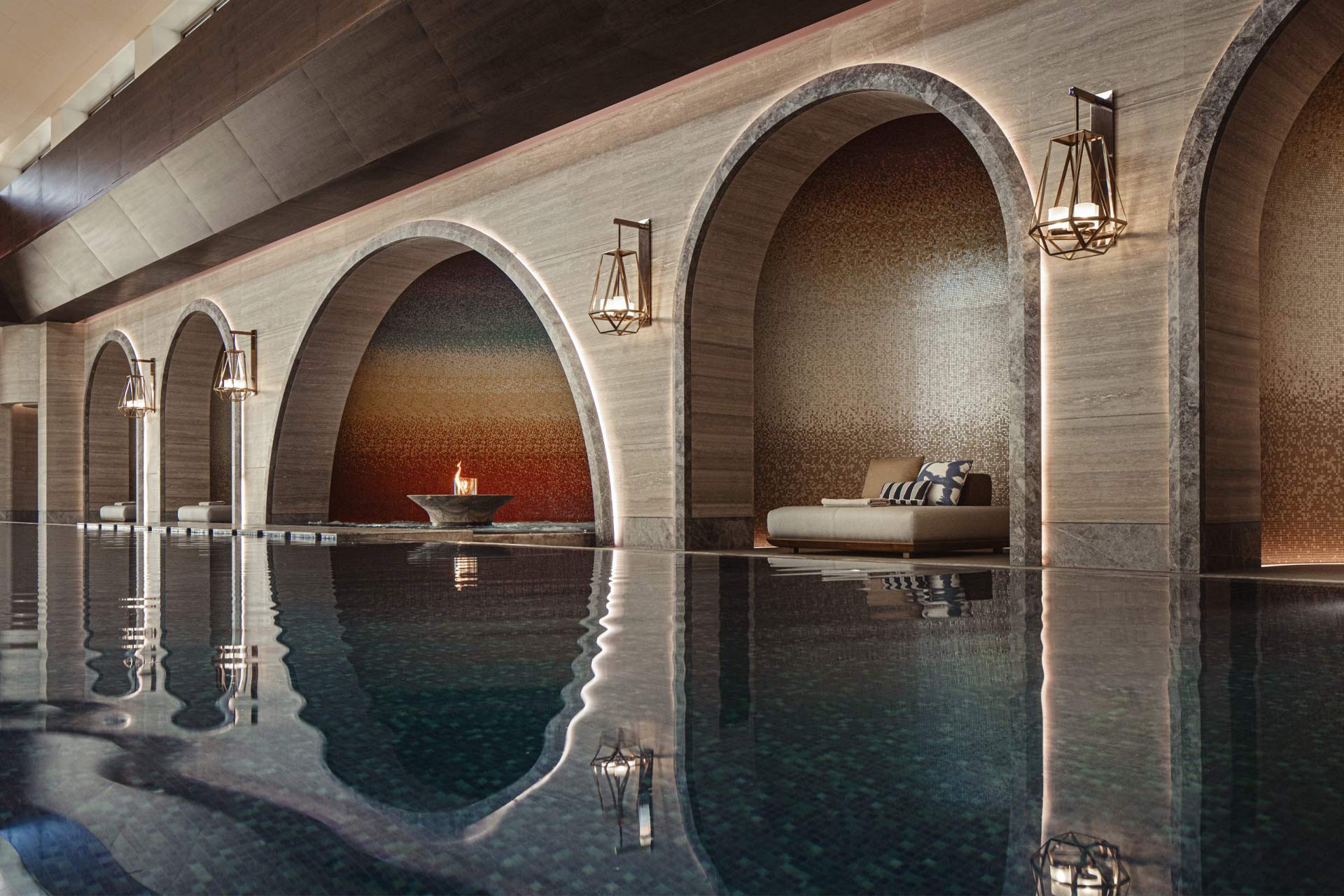 Those looking to unwind can head to Chenot Espace, the resort's health and wellness centre. The spa features silver travertine marble walls with a honed finish and washed grey oak floors, along with a burnt orange and grey fabric scheme. Guests can choose to soak in its hammam baths, tiled with a shimmering gold mosaic framed by traditional Turkish stone, or take a dip in the indoor pool, a room crafted from grigio marble walls and dark grey non-slip simulated stone tiles accented with copper and antique bronze details. A spray of sunset tones in the glass mosaic surrounding the pool casts a warm shimmering aura through the water.
Guestrooms are residential in their look and feel, offering a luxurious home-away-from-home experience. A cosy ambience is communicated through a warm colour scheme of natural wood flooring and millwork with strokes of grey and burnished bronze, while each room is also fitted with fireplace. Windows designed to maximise the views of the bay serve to unify the indoor and outdoor spaces, fostering an open feeling. In the bathroom meanwhile, an extended lounge space plays host to a comfortable window-side daybed and central chaise lounge. The true element of surprise however lies within the daybed, which, upon request, can be converted into a couples' tub, designed to face the blissful panoramas of the Adriatic waters beyond.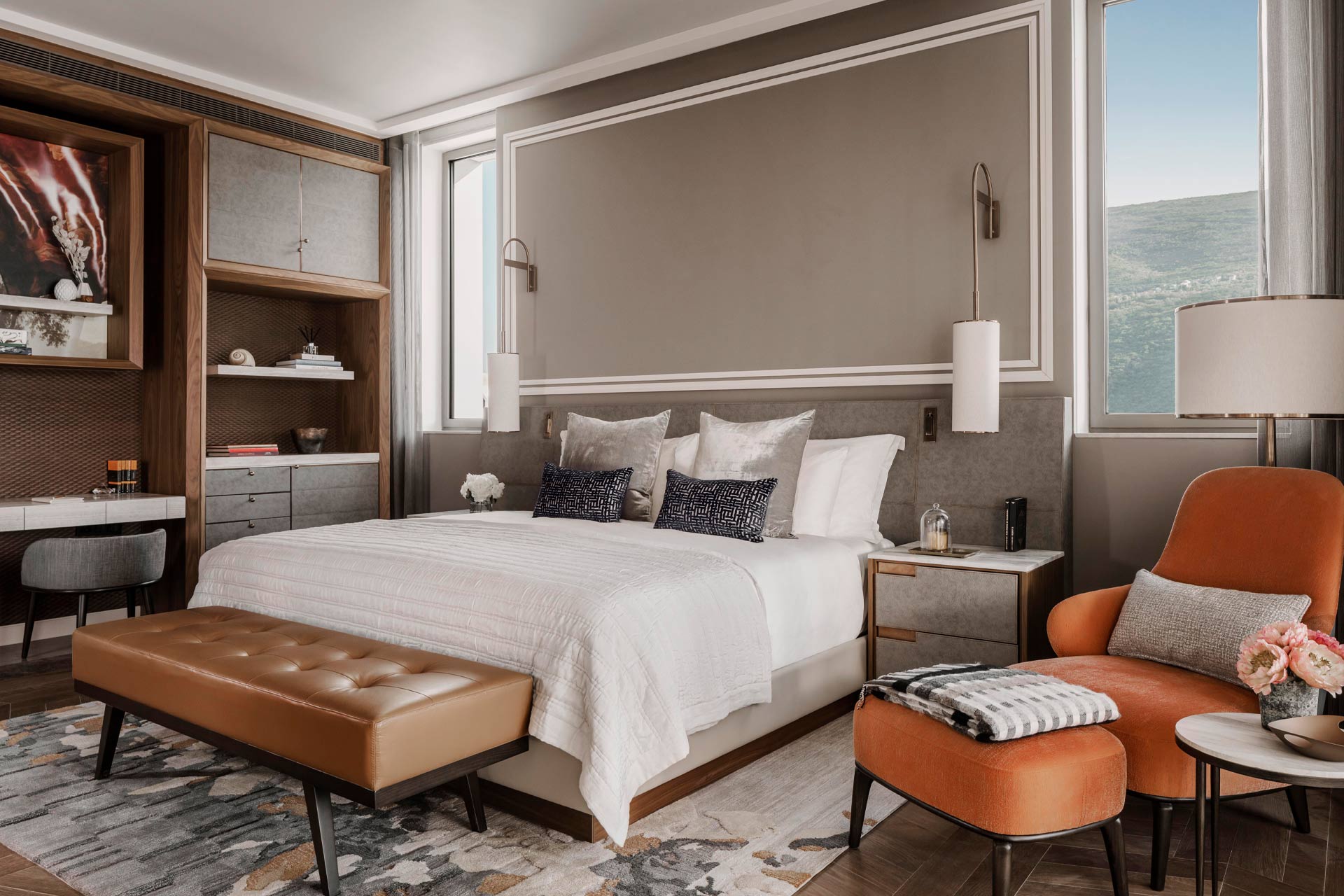 CREDITS
Photography: © @One&Only Portonovi – Rupert Peace