Highgate opens Romer Hell's Kitchen
Hotel management, investment and development firm Highgate has opened Romer Hell's Kitchen, a 295-key hotel in one of Manhattan's most storied neighbourhoods.
Preserving the historic charm of architect Morris Lapidus' 1960s building, the design incorporates custom cantilevered chandeliers, an architectural-scale custom ceiling light and Modernist silhouettes complemented by locally-sourced art.
Romer Hell's Kitchen acts as much as a social club as a hotel too. Designed by local firm Goodrich, public spaces are intended for both local residents and guests in a series of inviting rooms that transition seamlessly from daytime to night, including a living room, library, communal tables and a fireplace.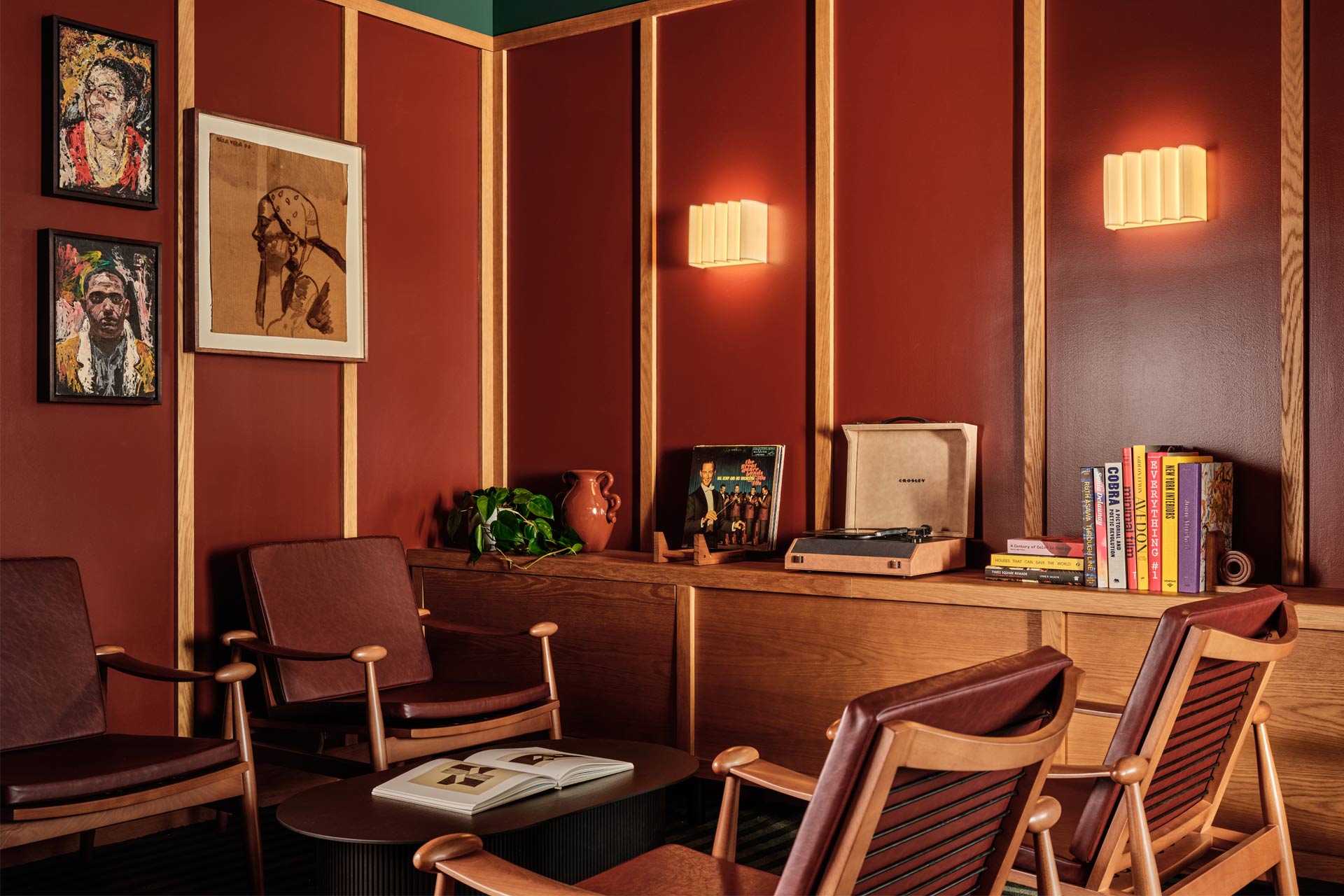 Upstairs, guestrooms are larger than many in New York at up to 600ft2. Designed by Islyn Studio, each room is inspired by the historically artistic spirit of Hell's Kitchen, reminiscent of a bohemian dream apartment. The impression is one that mirrors an old-school quintessential NYC abode – adorned with art and objects collected over a lifetime with vintage-inspired furniture as well as classic black-and-white tiled bathrooms.
"When we say that Romer is built to embrace its neighbourhood, we mean it," says Highgate CEO Arash Azarbarzin. "The inspiration for Romer came from my constant travel throughout my career. When I arrive in a new destination, whether it be for business or leisure, I want to experience that place as authentically as possible. I want to eat where the locals are eating and discover the best that the destination has to offer – rather than ending up in tourist traps. With Romer, our aim is to design, program and activate this hotel so that it not only delivers the brand promise, but serves as an extension to exploring the local neighbourhood."
Rooted in the belief that travel should be anchored in local culture, the property is also home to the Corner Store, a platform for local small business owners, artisans and entrepreneurs for installations and full-day pop-ups. It serves as a gateway to Hell's Kitchen and an interactive concierge for guests to get a feel for the neighbourhood.
Hell's Kitchen-based stores Fine and Dandy and PDL Vintage are launching a seasonal, vintage residency in The Corner Store. Guests will also have the opportunity to visit their stores, located just steps away from the hotel, to receive complimentary fashion styling consultations. Ongoing activations embrace seasonality and Romer Hell's Kitchen is committed to partnering with local artists and musicians throughout the hotel, from Berklee School of Music alumni to musicians currently playing the pit in Broadway's top performances.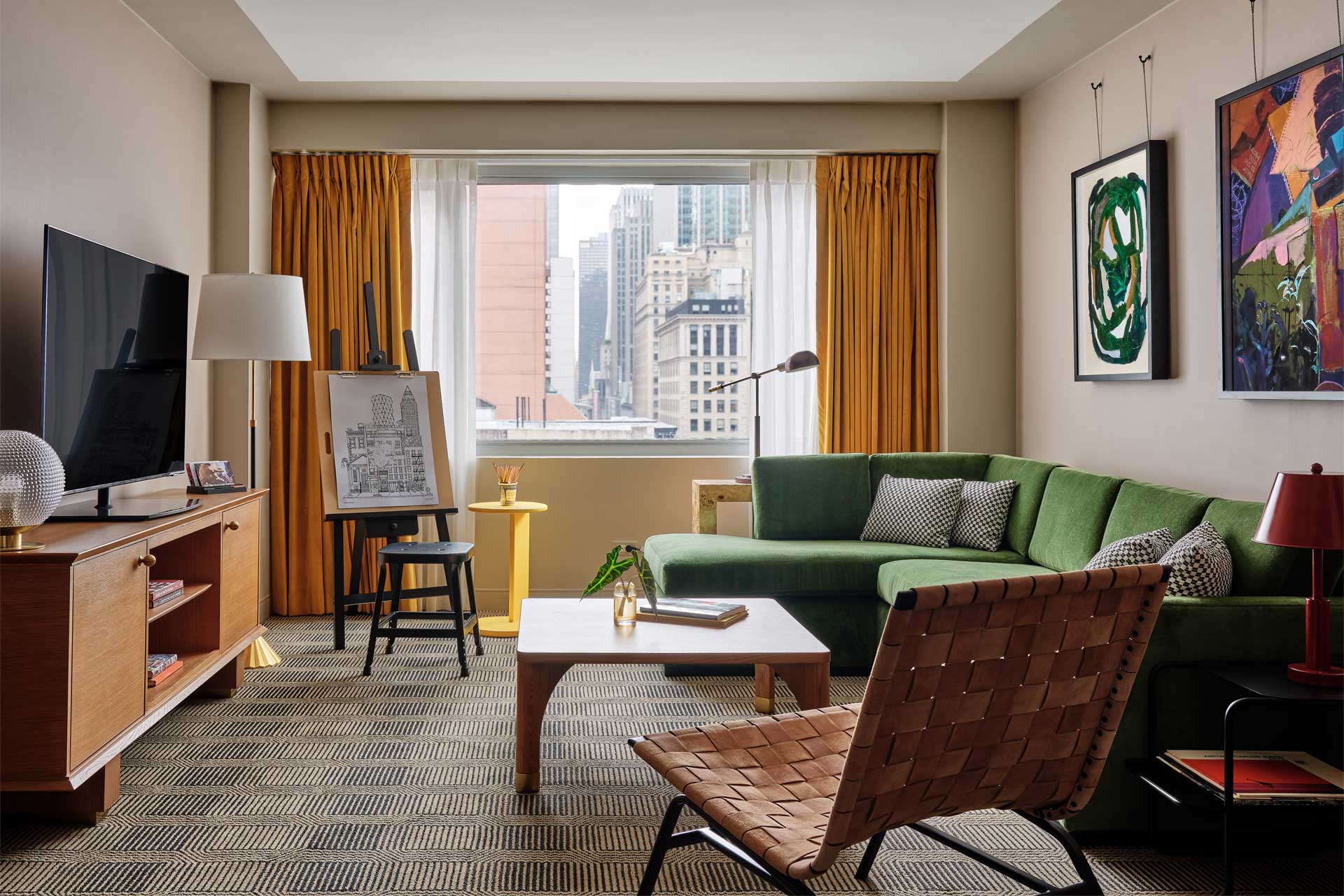 Under the stewardship of local magazine W42ST's founder and publisher, Phil O'Brien, staff members are trained to ensure that guests get the real inside scoop on what there is to see and do, like the best early-morning bakeries, side street galleries, live music and more. In addition, instead of elite photographers staging and shooting the hotel's content, Romer Hell's Kitchen gives cameras to its neighbours and local celebrities to capture and share stories about Hell's Kitchen.
Callie Peck, Creative Director of Romer Hell's Kitchen, explains: "We created Romer Hell's Kitchen internally from the ground up on a single premise – give everyone the good neighbour experience. By beginning this process before the interior design even started, we made sure that every part of the hotel had a distinctive purpose. Romer celebrates the thrill of the unexpected and encourages people to ditch their overly researched itineraries for more authentic New York experiences just around the corner."
In early 2024, Romer Hell's Kitchen will be home to a speakeasy-inspired piano bar with live performances, following the neighbourhood tradition with subdued lighting, sophistication and handcrafted classic cocktails.