Lulie Fisher Design Studio (LFDS) has unveiled its designs for a number of interior spaces at the new Vida Emirates Hills Hotel in Dubai.
Situated between Jumeirah Lake Towers and Emirates Golf Course, Vida Emirates Hills is the second Vida property to open in the UAE and follows its predecessor, Vida Downtown.
The studio was tasked with designing the main public areas for the hotel and residences encompassing the main entrance lobbies to both the Hotel and Serviced Apartments; the main lobby lounge; the coffee bar; the executive meeting suites and meeting lounge, as well as the ADD restaurant, Origins.
Emaar challenged LFDS to elevate the brand through a new design and colour palette whilst retaining the feeling of a 'home away from home' or an urban retreat engendered by a neutral, calm and comfortable environment.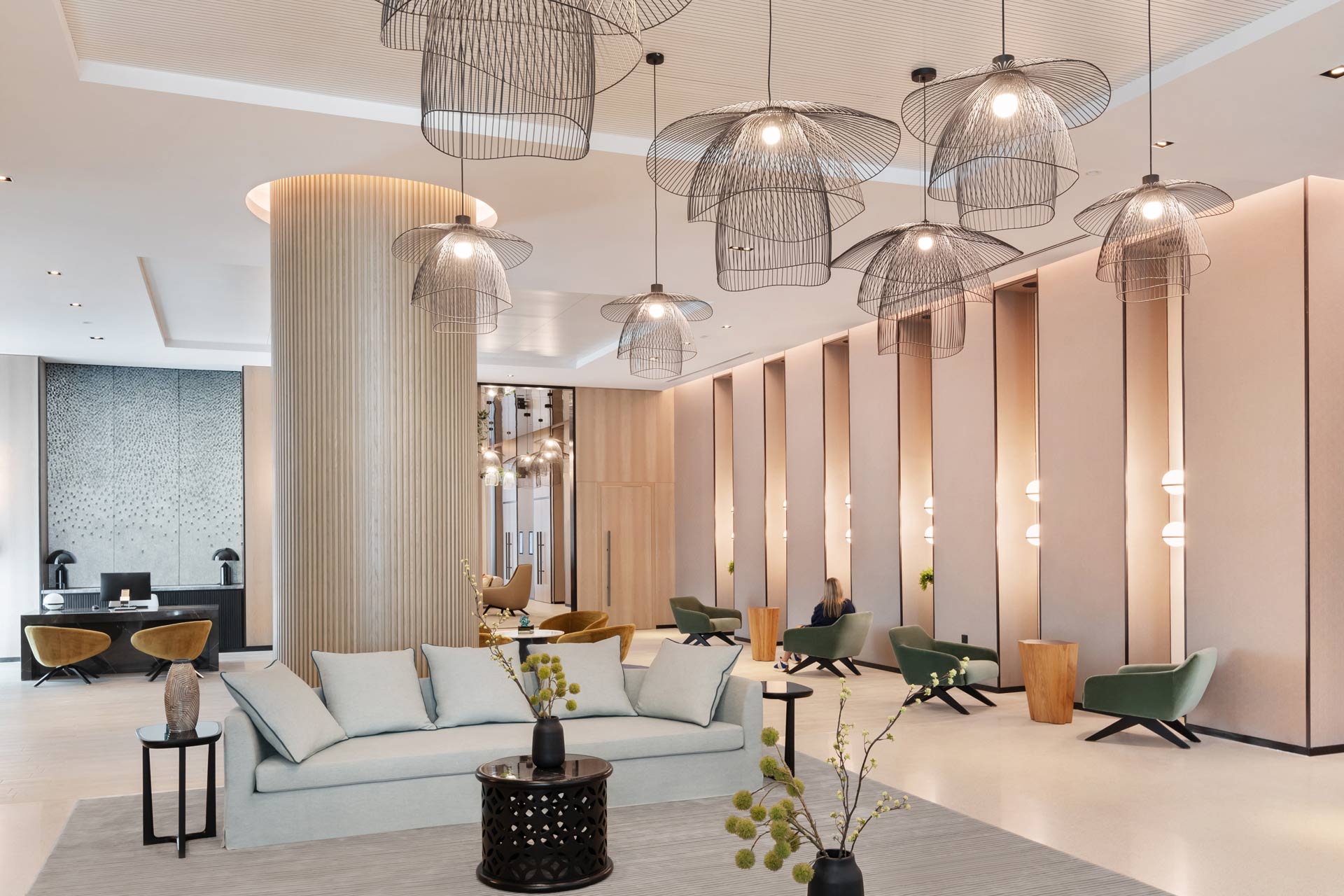 The 12m high entrance lobbies feature circular columns clad with vertically ribbed timbers, alternate vertical banding of silver and grey and pale oak veneers forming niches lined with silver grey natural woven wallcoverings housing glass pendants, all designed to emphasise the vertiginous nature of the spaces. Circular blue ombré hand-tufted rugs ground the furniture while adding a softness and a splash of colour to the predominantly neutral scheme.
Two giant folded panes of ribbed oak outlined with sharp black metal folded plates stretch up either side of the entrance lobby walls; one forming a bridge and mezzanine leading to the second-floor lobby lounge and the other reaching higher still and folding over to form the lobby ceiling.
Black linear slots are recessed into the ribbed planes to neatly house the lighting and a plethora of other necessary MEP items whilst hidden lighting behind these planes washes the adjacent white wall surfaces providing a warm glow.
The second floor houses an elegant lounge lined with timber niches containing black metal and glass lighting pendants that double as plants for draping live greenery. Various seating options are upholstered with fabrics of velvety ochres and mossy greens, elegant smoky greys and soft dusty pinks.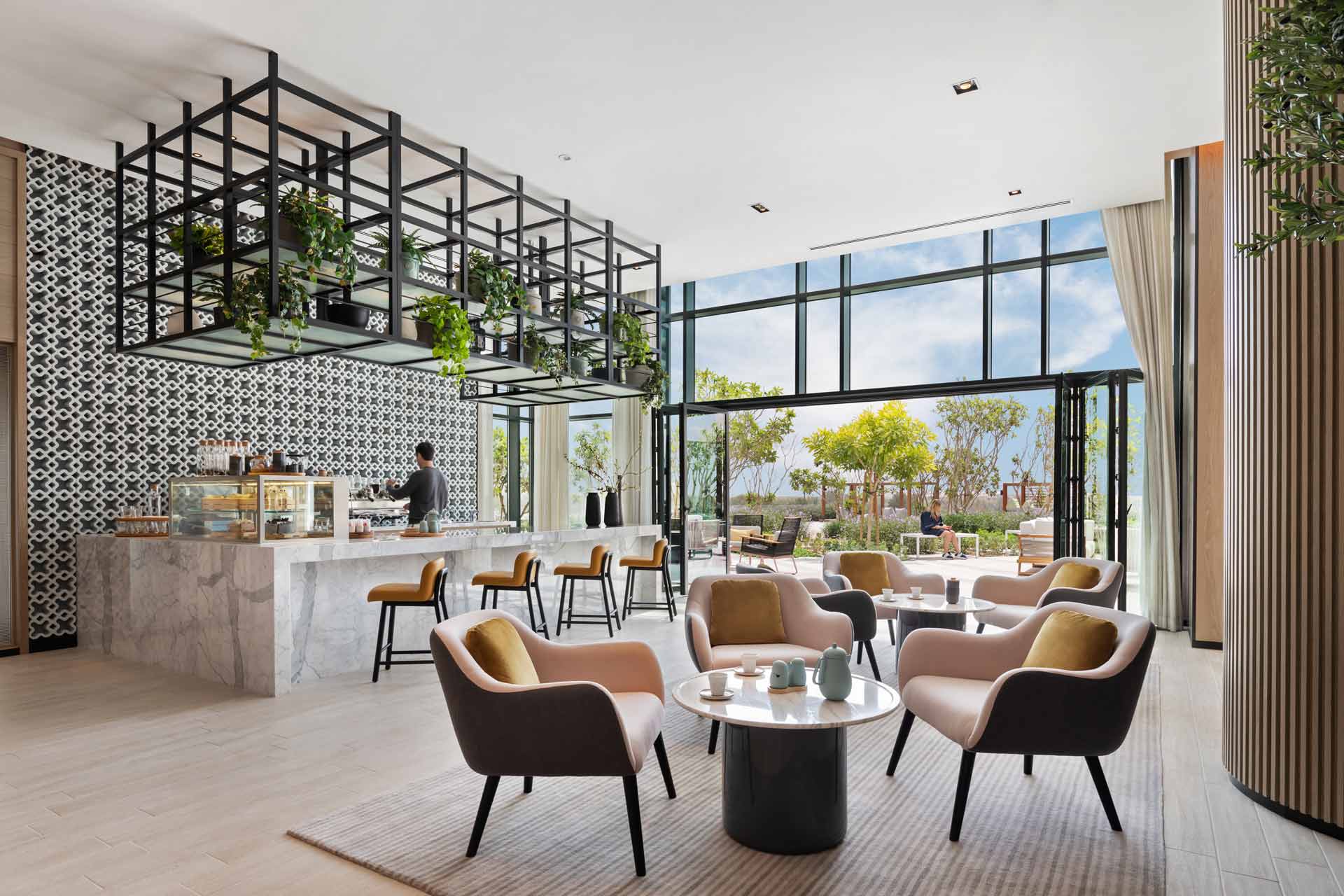 Set against a feature wall of pale duck-egg blue glazed and perforated brick tiles is the coffee bar which is served by a minimal white marble bar counter topped by suspended black metal shelving laden with pottery and draped with greenery.
Connected to the lobby lounge is the central break-out lounge servicing the adjoining executive meeting rooms. The room is lined with pale timber panels offset with flush black ribbed fronted cabinets housing marble-backed display shelving for books and artwork to add to the laidback and residential ambience.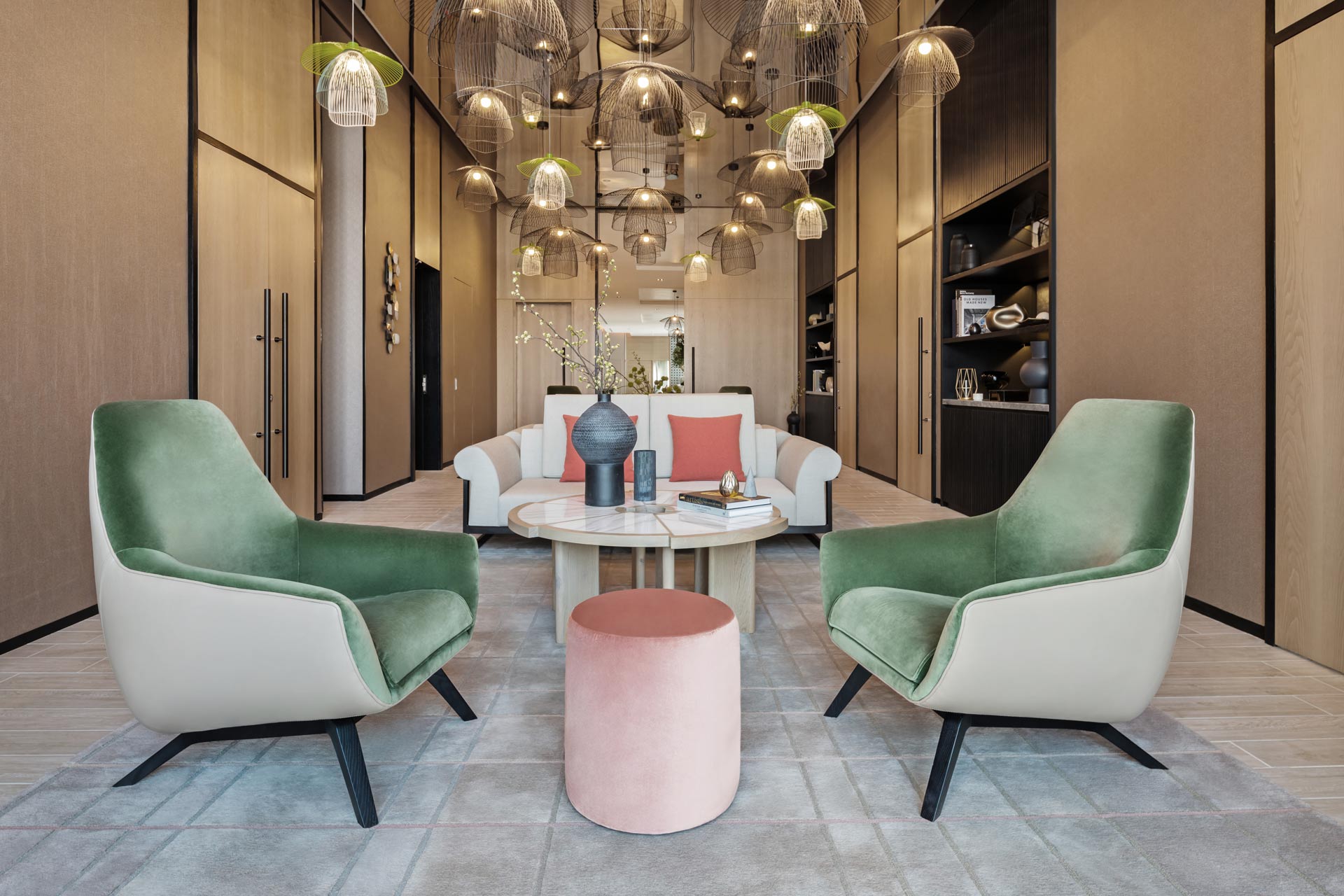 A mass of black, white and green wire pendants is suspended from a mirrored metal ceiling creating an illusion of endless volume whilst lending the space luminosity and calm. The meeting rooms are equipped with the latest AV technology neatly flushed away in black timber and marble-lined joinery.
The hotel restaurant Origins focuses on the providence of the product and the materials used in the setting. The interiors are based around natural elements forming a rich palette of textures and hues that are warm and refined.
The palette of pale oaks and white marbles is carried through to the flooring and the buffet counters respectively and is augmented by hand-glazed eucalyptus green tiles to columns and fascias, patterned olive green and warm grey porcelain tiles demarcating areas for communal tables and buffet counters. Terracotta pendants and natural cane wall scones highlight dining tables, food service areas and feature walls. Bar stools are upholstered in sunny yellow leathers and complemented by sofa cushions in shades of muted greens and mustard.