Mamula Island set for Summer 2022 debut
Set to open late summer 2022, Mamula Island – a member of Design Hotels – will bring new life to a 19th century fortress while preserving and honouring its past. The previously uninhabited islet – a short boat ride from Herceg Novi in Montenegro and the Croatian coast – and abandoned structure are being revitalised to create a luxury hotel concept and culinary offering complemented by a holistic spa and a memorial gallery.
Situated at the entrance to the Bay of Kotor in Montenegro, the location was an optimal place to build a fortress to protect the region and its waters – or at least so thought Austro-Hungarian general Lazar Mamula. In 1852, he opened the doors to a sprawling stone stronghold, and the fortress and small island have been referred to as "Mamula" in his honour ever since. Egyptian-Montenegrin billionaire Samih Sawiris is now ushering in a new era by creating Mamula Island, the first and only hotel and spa on the island.
Architecture firm MCM London is preserving the structural integrity of the existing buildings while restoring and renovating them to include functional contemporary guestrooms and suites. These will be accompanied by a glass-covered courtyard, a memorial gallery, a holistic spa, three restaurants, four bars, three outdoor pools, and the hotel's own beach. Taking inspiration from the original fort's prevalent arch motif – a symbol of strength and support but also renewal and openness – archways will appear throughout the interiors.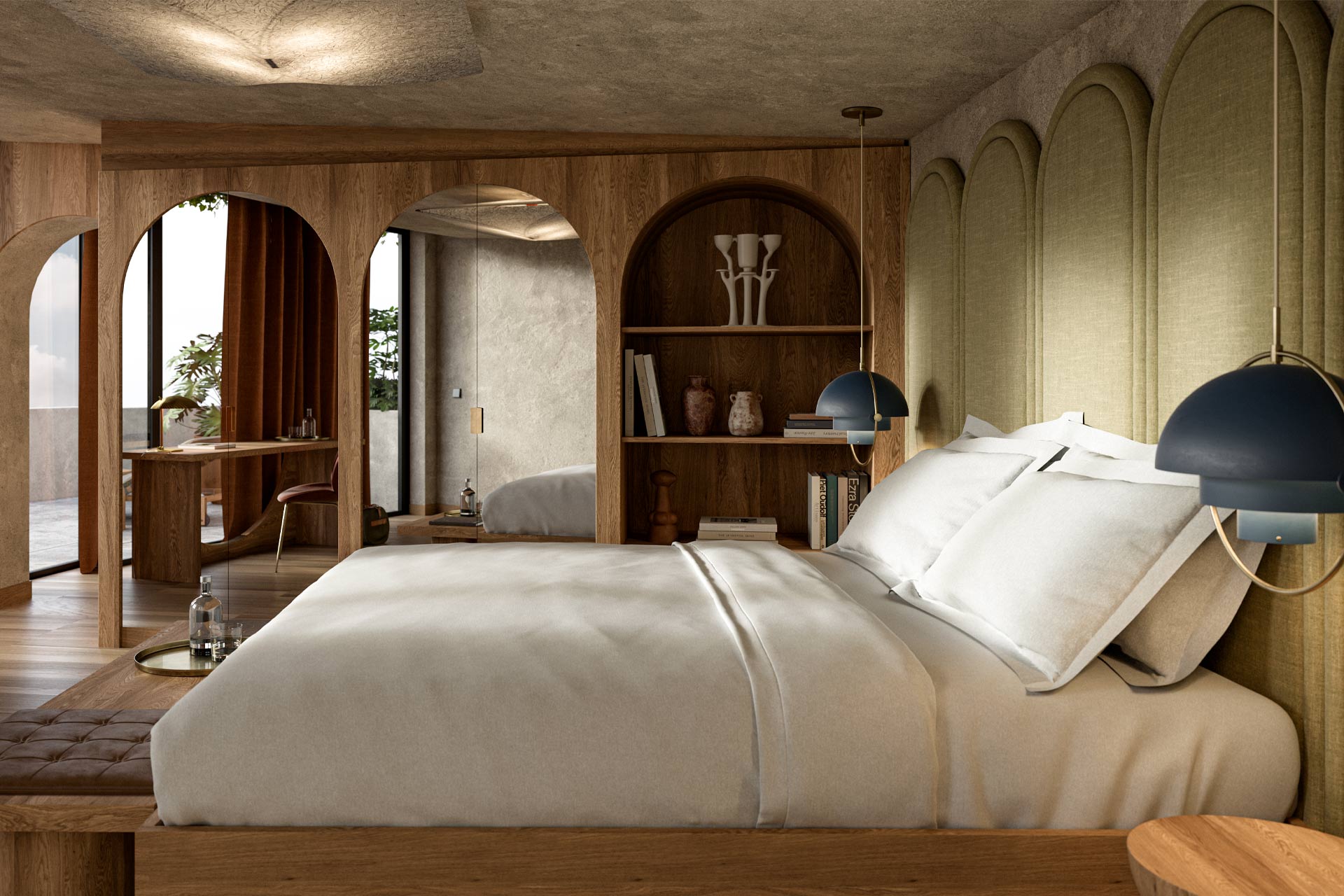 The concept of the arch will also serve as the starting point for bespoke furniture by WeStudio, whose founder Piotr Wisniewski is leading the interior design. Spaces will be infused with references to the surrounding region and cultural heritages; materials like local Cevsky stone, aged brass, solid oak, and breathable, organic textiles will draw from tradition while appearing modern and durable. In addition, specially commissioned artwork is being made by local artists with colour palettes that draw from the islet's landscape, mixing earthy tones with bright hues. A holistic spa, a wellbeing programme and the culinary vision of French-Canadian chef Erica Archambault – of Michelin-starred Parisian restaurant Septime – round out the offering.
Mamula Island's restaurants, bars and spa will be open to bookings by non-hotel guests, with boat transfers offered to both overnight and day visitors. Furthermore, the hotel's memorial gallery will be accessible to the public all year round and will elaborate on the island's history. This insight will cover everything from the fortress' initial foundation to protect the Bay of Kotor to its use as a prison throughout World War II.