Montage Big Sky debuts in Montana
BraytonHughes Design Studios has unveiled design details of Montage Big Sky, a new modern alpine retreat featuring 139 artfully designed guestrooms, suites, and residences nestled within Big Sky's Spanish Peaks enclave.
BraytonHughes is responsible for designing the resort's public spaces – including seven dining outlets, over 12,000ft2 of meeting and event space, and multiple recreational areas in addition to the accommodations.
Utilising a palette of timeless materials that evoke a sense of place, including regional wood and stones, the design team created a fresh expression of modern luxury welcoming travellers to Montana and Yellowstone National Park. Overarching themes of grandeur, authenticity, and renewal bring a visual and conceptual cohesion to the resort that elevates the guest and residential experience.
Joel Villalon, BraytonHughes Design Studios Executive Advisor and Principal, explains: "We wanted to elevate the mountain living experience to its highest standard by creating spaces that showcase a more contemporary take on the North American lodge and capture the genuine spirit of Big Sky."
Incorporating references to Big Sky's history and nature into the design, the resort melds together Montana's past and present in a mountain oasis that departs from the typical rustic feel of a park lodge.
In the public spaces, the contemporary use of local stone, timber, and metal acts as a nod to the region's history and helps ground the place in Montana. In the living room, floor-to-ceiling fireplaces bookend the room with horizontally stacked stone, a contemporary twist on the log cabin vernacular. The hardware in guestroom bathrooms has a black finish like you might see in a blacksmith shop, and the stone on the counters is variegated, with a finish that gives a raw-edge appearance, as if it were cut from a mountain. And in the lobby bar, an all-black, metal fireplace emerges from the ceiling in the centre of the room. In the artwork, authenticity appears not only in intimate portraits of cowboys, ranchers, and horses but also through handmade pieces that incorporate organic or earthen materials and celebrate local and historic craftsmanship.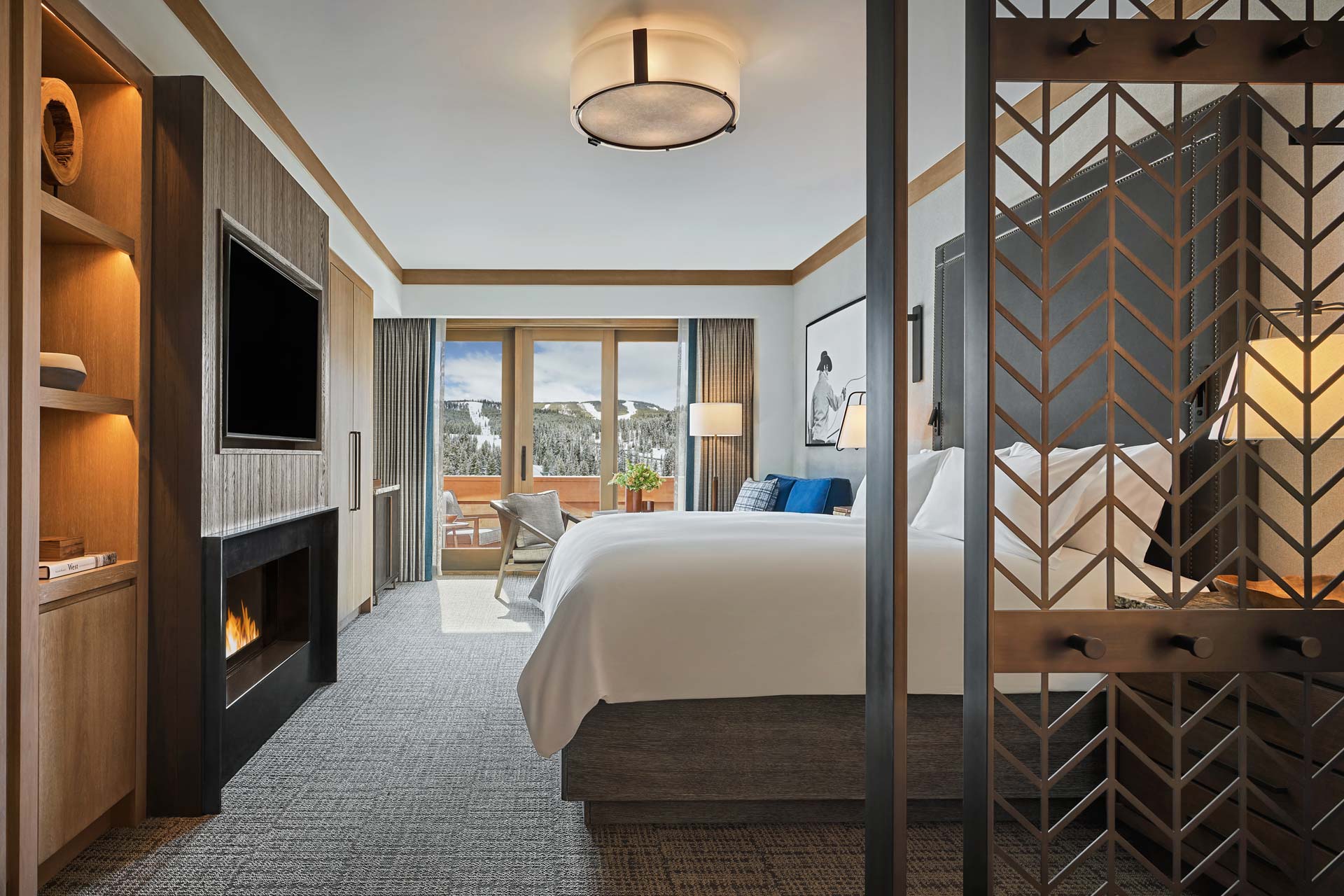 Guestrooms showcase a modern aesthetic with rustic hues and a neutral colour palette with pops of colour in small details. Textured materials, such as a smokey blue mohair sectional, contribute a sense of cosiness to the guest experience. Several artworks contain textures that convey warmth and calm, while others reference active resort activities or exploratory adventures in nature.
Acting as a luxurious yet welcoming home base from which to explore Big Sky and Yellowstone, the finely appointed residences at Montage Big Sky range from two-bedroom homes at approximately 2,300ft2, to six-bedroom homes at over 8,000 ft2. Owners can live full or part-time at Big Sky or opt into the property's rental management program.
BraytonHughes drew from the grandeur of the resort's surrounding landscape for design inspiration. Double-height spaces with soaring gables in the ballroom, living room, and lobby bar embody the iconic Spanish Peaks on the horizon line. For the spa, the design team wanted to create a geometric interpretation of walking into a grotto or cave with origami-influenced walls that are faceted, bright, and unexpected. Surfaces appear like rocks that have been abstracted and sliced from a boulder. Angled millwork and cove lighting contribute a sense of calm and reflect a unique interpretation of the organic beauty of nature that draws so many to the rivers, trails, valleys, and mountainous landscapes of Big Sky.
Certain artworks speak to the idea of grandeur by depicting the region's snow-topped mountains or its clear skies, while others suggest the vastness of nature through abstracted canvases of deep blues and lush greens.
Curated by Farmboy Fine Arts, the art collection at Montage Big Sky celebrates this region of Montana as a site of convergence, a conception of place with a multitude of meanings. Showcasing a wide array of contemporary artists, from local and regional to global as well as from emerging to established, the art collection centres on the narrative of Big Sky as a site of geographical confluence that celebrates nature's range and splendour. The narrative also points to Big Sky as a connection point that brings together multiple local indigenous populations, a rancher culture with a rich history, and visitors and travellers from around the world. From prints and photographs to mixed-media paintings and weavings, the artwork at Montage Big Sky honours the majestic landscape and encourages visitors to discover new points of conversation, engagement, and connection, from the public spaces to areas for private retreat.
In addition to offering unparalleled access to outdoor amenities, Montage Big Sky incorporates a range of on-site resort amenities in the design. Dining outlets include the signature restaurant, café, lobby bar and lounge, gastro pub, poolside bar and outdoor grill.