Independent boutique property, IZZA, will open its doors this June after eight years in the making. Quintessentially Moroccan, the property will comprise seven interconnected riads inside the medina of Marrakech.
IZZA will be home to 14 individually designed rooms, as well as three courtyards, three pools, a massage room, hammam spa and fitness centre – currently the only one in Marrakech to be equipped with Peloton bikes and a Tonal smart gym. The property will also feature a rooftop terrace, bar and restaurant, serving up Moroccan cuisine.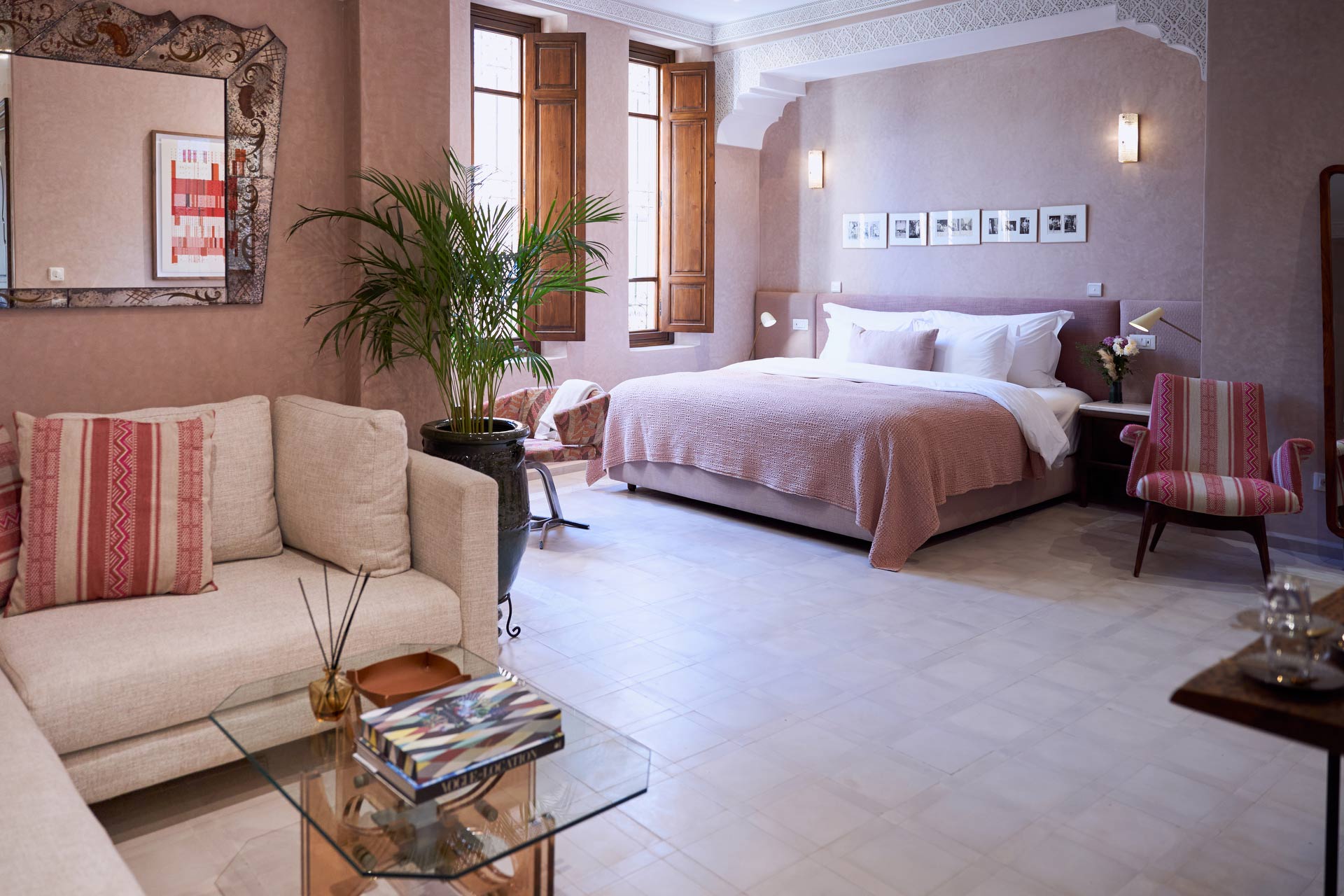 IZZA will bring together various elements of Morocco's history, drawing its main inspiration from intellectuals and creatives of the '50s, '60s and '70s. The likes of Jack Kerouac, Jimi Hendrix, Yves Saint Laurent, Grace Jones and Bill Willis – one of Marrakech's most famous architects – will be felt throughout the property, with guestrooms named after a range of iconic figures relevant to the location.
Willis, who spent four decades in Morocco and is regarded as a leading force in Moroccan-style interior design, has inspired much of the hotel's interior. The Bill Willis Bar, for instance, pays tribute to one of his leading projects, Casablanca, with a recreation of the film's Rick's bar featuring alongside artefacts and photos from Willis' life. The broader bar space will feature tadelakt walls – a traditional Moroccan wall surfacing technique – alongside zellige detailing.
"IZZA is a patchwork of homes brought together – their walls sensitively removed and energies combined," explains Mohammed Ait Belhaj, General Manager of IZZA. "Morocco can be an assault on the senses, frenetic and intense; IZZA provides an oasis of calm and tranquillity to balance this. We are ancient, yet contemporary; decadent, yet simple; eclectic, yet familiar."
Art forms a key part of IZZA's design, with the site set to house over 300 framed pieces of art, including contemporary Moroccan works and collections of digital art from around the world. The hotel's gallery collection will feature an installation of 24 framed prints from Sebastian Selgado's 'Amazonia' NFT release at Sotheby's, 10 pieces of art from AI artist Refik Anadol, as well as 11 screens with moving images from Ethiopian art collective, Yatreda.
Beyond its ties with art and culture, IZZA will be a hotel connected to its local community, supporting non-profit organisations dedicated to the empowerment of disadvantaged women, animal welfare and youth employment.