Nobu Hotel London Portman Square is set to open its doors in the heart of Marylebone this November.
Inspired by Japanese architectural disciplines and minimalist design, with a refined colour palette taking cues from heritage colour combinations, the 249-room property will feature a signature Nobu Restaurant, bar and outdoor terrace, plus a 600-person ballroom, gym, wellness facilities and five meeting spaces.
David Collins Studiohas been tasked with designing the hotel's common spaces, including the lobby, lobby lounge, Nobu Bar and Restaurant, outdoor terrace, ballroom and boardrooms. Extensive research into Japanese arts and crafts was integral to the design process, with the team exploring traditional architecture, panelling and patterns – tatami mats and Buro (patchwork) as well as the ancient art of Sumi-e (mark making) – and reinterpreting the aesthetic points of reference in contemporary fashion.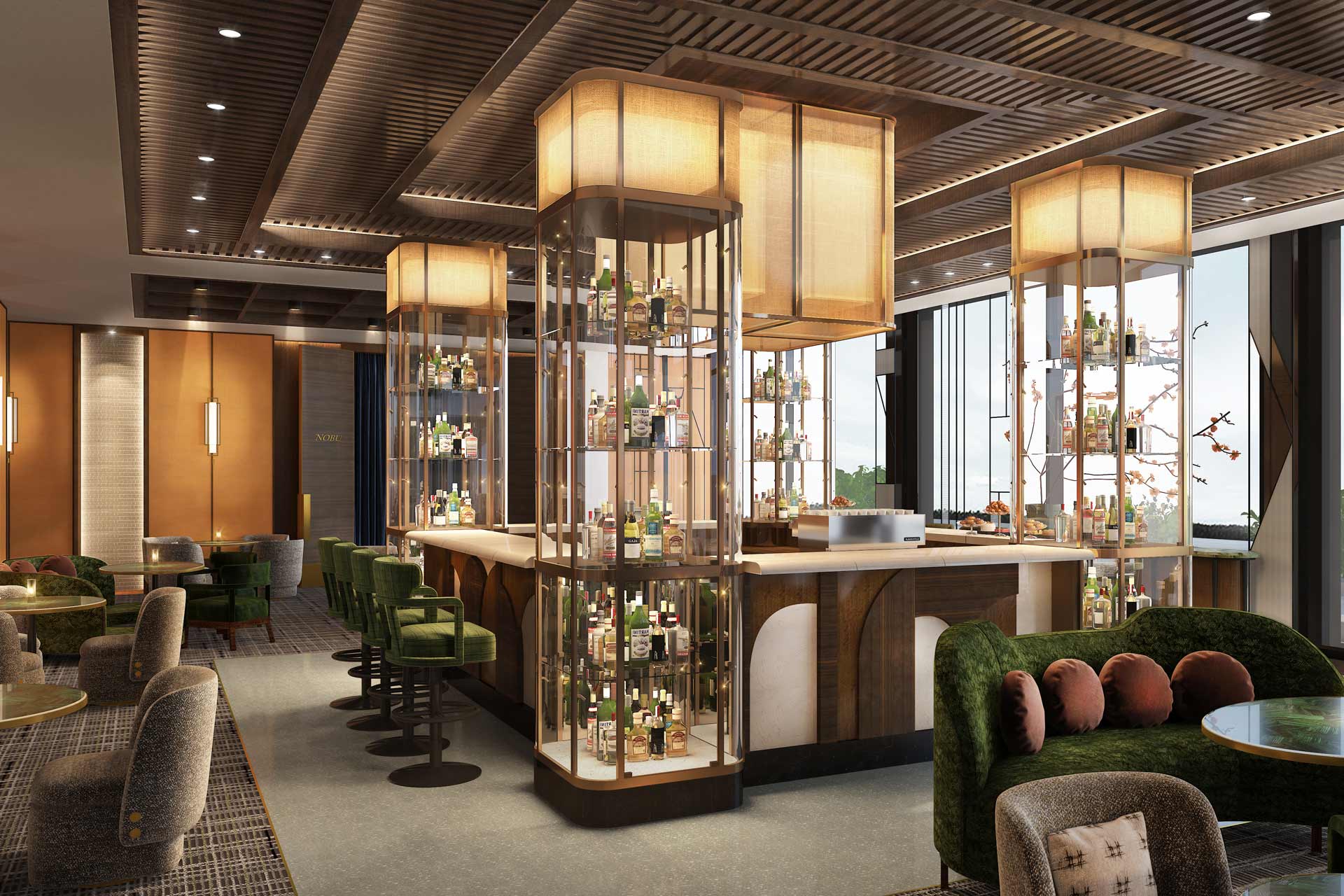 Natural materials and ordered architectural frameworks have been used to create a sense of flow, uniformity and rhythm, inviting guests to move through the space with ease. A palette mix of warm, natural tones imbues a sense of calm in the lobby, while more colourful experiences will take place in Nobu Bar, the lobby lounge and Nobu Restaurant – spaces bathed in deeper tones and touches of glamour.
Central to the aesthetic of Nobu Hotel London Portman Square is a focus on craftsmanship, from hand-blown glass chandeliers and bespoke lighting pieces to large scale sculpture and original artworks. Upon entering the lobby, guests will immediately be struck by a dramatic high ceiling, from which hangs a kinetic sculpture created by artist Ivan Black. The five-metre installation features rotating metal fins that cast a subtle effect of light and shade into the room, evoking a sense of theatre.
Suspended above the reception console, meanwhile, is a sculptural cloud statement pendant light by Jeremy Maxwell Wintrebert. Exemplifying the hotel's hand-crafted approach to design, Wintrebert's piece employs traditional glass-blowing techniques to form a bespoke lighting sculpture.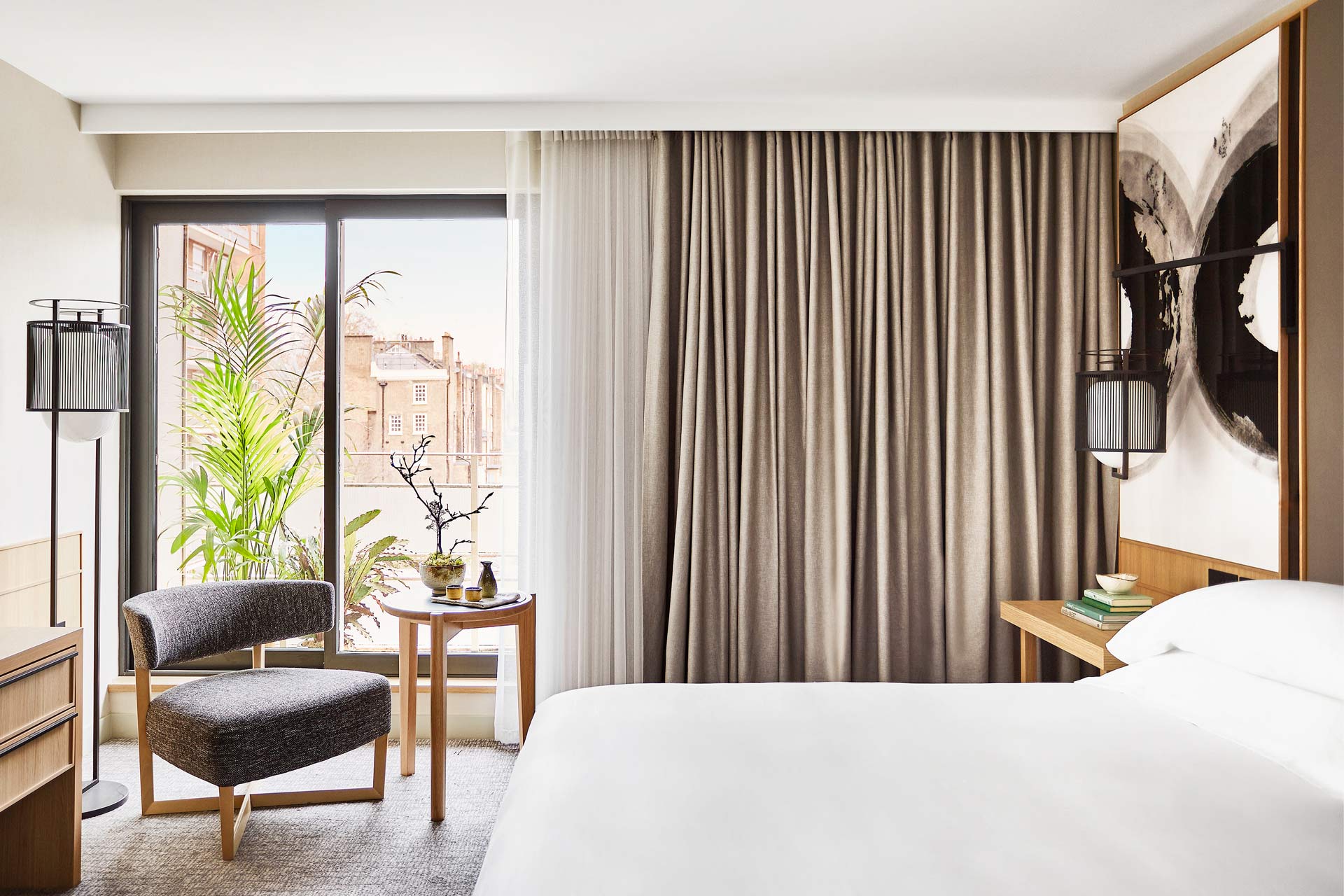 Upstairs, guestrooms and suites by Make Architects echo the distinct character seen in the rest of the hotel, primarily influenced by Japanese minimalist aesthetic and complemented by moments of bold artistic expression. Wall prints, bespoke lighting and intricate joinery take centrestage in each room, set against the backdrop of a neutral, textural colour palette. An abundance of natural light and earthy materials further channel the sense of calm.
Guests will have the choice of booking rooms from seven distinct categories – several offering terraces with views overlooking Portman Square. Those seeking something a little more indulgent can opt for the One Bedroom Suite or The Nobu Penthouse.
Nobu's flagship Berkeley Street venue will be reborn in the form of the hotel's restaurant; continuing its 15-year legacy, the space will maintain its predecessor's handcrafted approach to cuisine and service.