Roar designs spa for Kempinski Hotel Mall of the Emirates in Dubai
Dubai-based studio Roar has been appointed by Sensasia founder Salina Handa and Majid Al Futtaim Group to design the interior of Sensasia Stories – a flagship destination spa committed to total body wellness at Kempinski Hotel Mall of the Emirates. Combining Pan Asian architecture, natural materials, a muted colour palette and textured tone-on-tone, the result is a 4,000ft2, deeply tranquil space, specially curated to take guests on a unique journey through the senses of Asia.
"The design process for Sensasia Stories was an exercise in restraint for me. We have purposefully not overpowered the senses; instead this is a place of quiet, respite and reflection. The interior scheme – dark and light hues of grey, complemented by a warm wood finish and strong stone slabs – allows one to just be," says Pallavi Dean, founder and Creative Director of Roar. "We played with just three main materials and colours. Grey stone and slate, brown tones within the luxury vinyl flooring, and natural textures such as wallpaper with hessian finishes. The design revolves around the material palette – it's layered with textures. This helps with the acoustics as well as tactility: the touch and feel; it's a space designed for all senses."
The interior concept is rooted in Sensasia's Pan-Asian origins, evoking traditional architectural elements from the region and giving them a sleek, contemporary twist, as Dean explains: "We cast the net wide to understand the architecture of the region looking at countries such as Thailand, Bali and Vietnam for inspiration. Arches kept appearing in our research as key features of this architectural typology, and it soon became apparent that this shape would influence our design. We have used large, illuminated arches above the male and female lobbies and incorporated arch-like decorative elements around the reception area's shelving to compose a dramatic, theatrical effect. Another important architectural statement is the parametric form of the spa frontage. The spa is unusual in that it has two entrances: one from the hotel, the other from the mall, and this piece was designed to draw passing shoppers in."
Responding to the client's brief to maximise revenue per square foot, Roar put emphasis on space planning and created eight treatment rooms instead of the existing four. Another example of this agility and flexibility is the men's spa, which can be used as a ladies' spa if the latter is overbooked. Roar also included an express spa just off the main lobby for fast treatments such as manicures to add an extra revenue stream.
The studio also collaborated with a dedicated lighting consultant to tackle the lack of natural light. "As well as giving the space the right amount and type of illumination, we also experimented with lighting to create a dramatic effect: for example, adding the strip LED lights to the arches is a signature moment," adds Dean. "We also celebrated the ceilings; they are often neglected but in a spa, clients spend a lot of time on their backs! So we clad the ceiling with a captivating bronze mesh structure. Each room has a unique pattern creating a new experience for every visit."
Organised around a central courtyard, punctuated by contemporary interpretations of traditional Asian arch structures, Sensasia Stories comprises eight treatment rooms, one couples' suite offering total privacy, a wet treatment space 'hammam', separate male and female changing rooms and therapeutic relaxation areas, complete with heated beds. Bespoke facilities include experience showers, an ice fountain, herb saunas, steam rooms, a Jacuzzi and virtual reality headsets, which can be incorporated into treatments to offer complete, customised escapism and guided meditations, transporting clients to destinations around the world.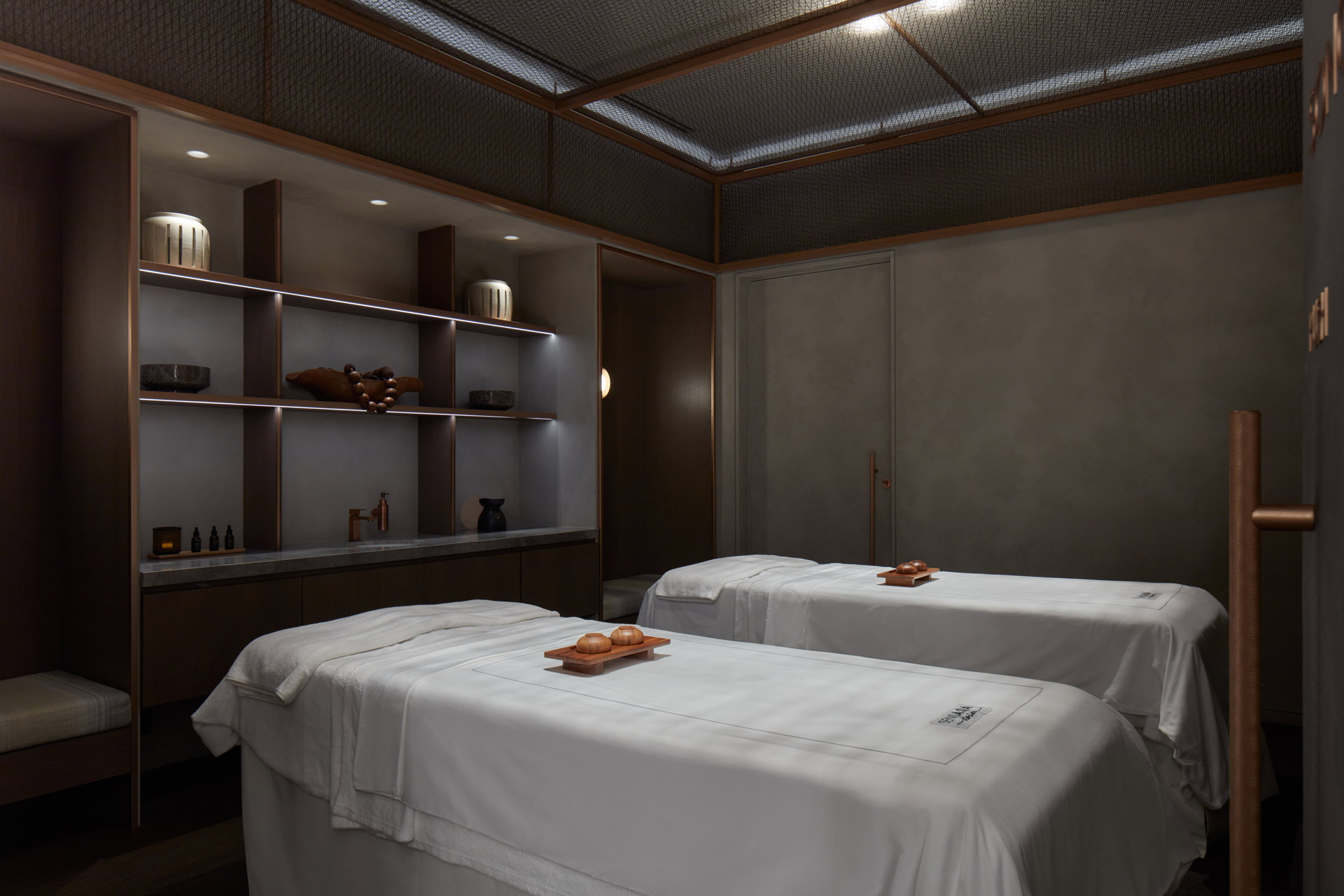 "Sensasia and Kempinski have a shared commitment to surpassing expectations and offering guests an ultra-luxurious experience," says Slim Zaiane, General Manager of Kempinski Hotel Mall of the Emirates. "We were looking for the very best of the best to manage such an extensive overhaul of the spa at Kempinski Hotel Mall of the Emirates. Sensasia's reputation for authenticity, exceptional service and client satisfaction spoke for themselves, and it has been a pleasure to watch the Sensasia Stories concept come to life."
The project was conceptualised by Sensasia's parent company and creative consultancy, The Spa People, based on the collective objective of Majid Al Futtaim and Kempinski Hotel Mall of the Emirates.
"A lot of attention was given to the development of the brief, taking on board guidance and aspiration from the operations team and owners," says Rasheed Duwaji, Director of Development at Majid Al Futtaim. "We knew we wanted a fresh new design and not an adaptation of a traditional spa. The design team addressed the brief and took risks with a new creative approach to spa design. I am very pleased with the outcome."
CREDITS
Photography: © The Oculis Project