Santo Wellness Suites to launch in April 2022
Santo Maris Oia Luxury Suites & Spa in Greece is set to launch of its new Santo Wellness Suites in April 2022.
Curated in partnership with Onolla, a plant-based health and beauty online platform founded by wellbeing and beauty journalist Suzanne Duckett, which also has a physical store in London, the suites feature private pools and have been designed to extend the wellbeing experience outdoors to embrace the powerful healing of nature. Helping guests to embrace the notion "Live Well Through Nature", the spaces invite people to reconnect, relax and recharge by combining organic amenities within the suites themselves, specialised spa treatments, outdoor activities and yoga in the resort's landscaped gardens and surrounding nature.
"By using the best products and practices, guests can cultivate a deeper connection between themselves and their environment by syncing with the rhythms of nature, mirroring their health, beauty and life choices with the season and live a happier and, hopefully, longer life," says Duckett. "The planet needs it, we humans need it. I believe strongly in the transformative power of nature on people's mental and physical wellbeing."
The inspiration for the Santo Wellness Junior Suites Private Pool brings in the Ancient Greek philosophy that established a strong connection between the body, mind, soul and the environment. The Ancient Greeks understood how good health was tied to the surrounding physical and social environments as well as to human behaviour. They defined health as a state of dynamic equilibrium between the internal and external environment and considered the physical and social determinants equally important to physical and spiritual health. They also encouraged individuals and communities to place emphasis on health and recognised the importance of supportive environments and a more naturalistic and humanistic perspective to life.
From an architectural standpoint, the suites are inspired by traditional "yposkafa" cave-style architecture and are built into the natural hillside, merging contemporary design with traditional flair. The raw aesthetics of Santorini's coastal environment are combined with a soothing and cocooning minimal interior design that fuses light, soft colours and natural design touches. Each space includes a private pool with hydromassage, a personal outdoor veranda with sun loungers and an open sitting area, as well as a king-sized bed, a large stone bathroom with a rain shower, and coffee and tea making facilities – all spread over 35 to 45m².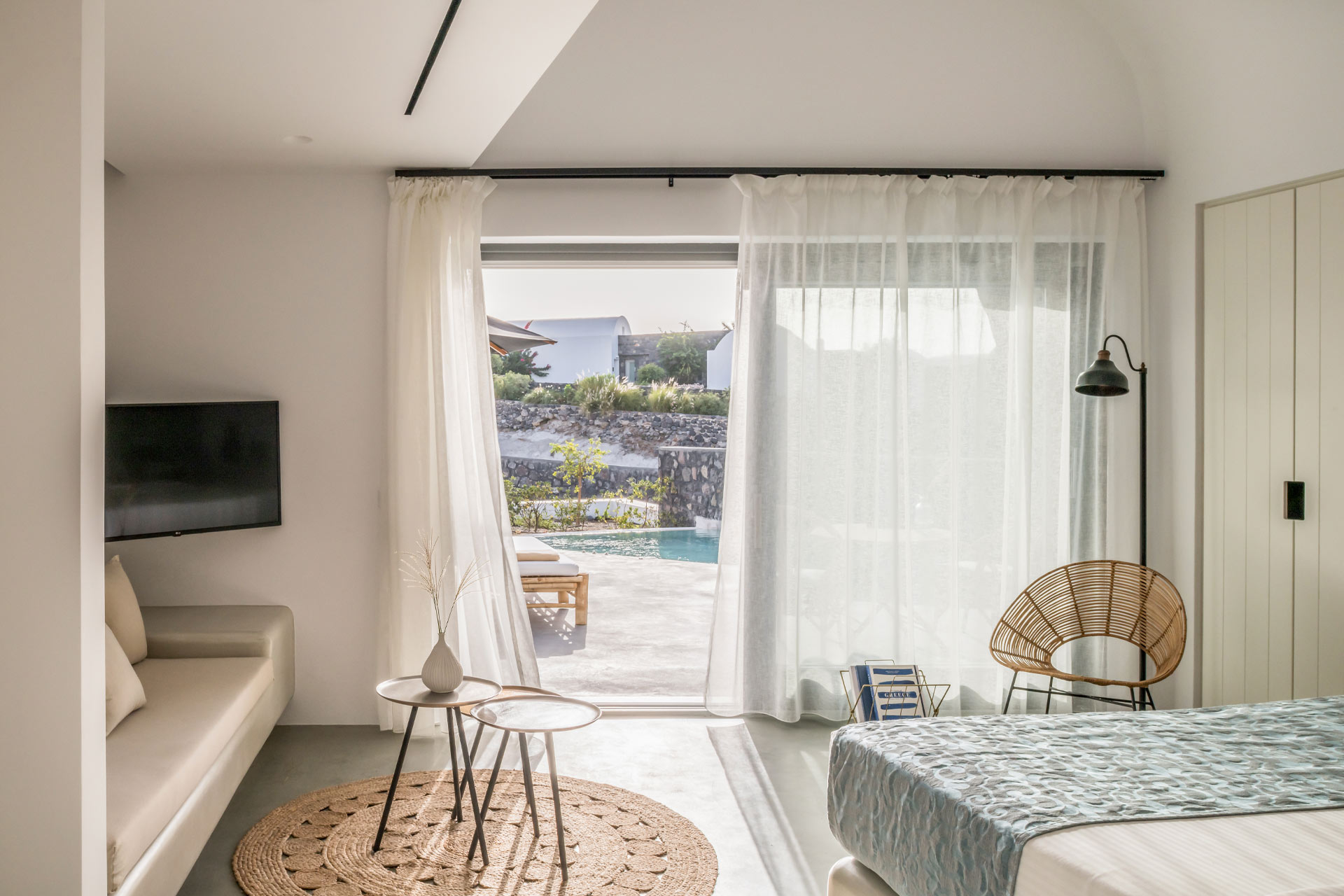 Manos Borboudakis, Group General Manager for the Santorini Division at Metaxa Hospitality Group, comments: "Health, wellbeing and meaningful experiences have never been more important in our lives. The new Santo Wellness Junior Suites will allow our guests to live well through nature via a curated wellness journey of experiences both in the suite and the great outdoors exploring the authentic side of one of the world's most beloved islands. We hope guests will enjoy the programme and variety of authentic experiences we have curated, connecting them to the natural landscape to relax and recharge from everyday life."
The highlight of the experience will be a five-hour guided bicycle tour to Thirasia, where guests can explore the villages of Potamos, Manolas, Kera, Caldera View and Kimissis Monastery (Lady of Salvation) – which known as "the balcony of the volcano". Thirasia is a smaller, unexplored neighbouring island with a population just over 150 people, whose villages are still surrounded by the "avra" of the past and used to be connected to Santorini prior to an earthquake in 1628 BCE. Along the tour, guests will experience local life with stops at bakeries and Mitato, an old winery serving local and Cretan delicacies, wine and raki.
Outside in the Santo Maris gardens, complimentary yoga combined with outdoor fitness sessions and relaxation routines will take place on an alternating daily schedule from Monday – Saturday. Titled Kundalini Yoga Sessions + Nature Fitness, it will awaken one's energy from the base of the spine and releases upwards energy to achieve self-awareness. In addition to naturally changing positions, the kundalini yoga class also includes meditation, breathing exercises and mantras. The Nature Fitness programme meanwhile includes exercises that use one's natural body weight and strengthens all the muscles of the body while improving balance and mobility. In addition, the Hatha Yoga Sessions will bring balance between the energies that flow through the body via breathing exercises and a sequence of positions, including Asanas (postures), Pranayama (controlled breathing), and meditation to develop elasticity, balance and strength of the body.
The suites themselves will also include additional amenities such as yoga mats for guests to use during their stay, a healthy mini-bar and menu options and wellness journaling notebooks, together with sleep spray made from local natural essential oils, diffusers with an essential oil menu inspired by the gardens at Santo Maris, and a spa beauty kit featuring Aegeo Spa Products such as an exfoliating body scrub with Cretan antioxidant herbs, a slimming body sculpture serum with anti-cellulite and firming properties enriched with artichoke, and an intensive face mask treatment rich in vitamins (A, B, E, F, H, E) with avocado and olive oil. Take-home ritual cards written by Duckett with her tips and information will be included in the rooms too, helping guests learn how to connect more with nature and carve out time to support their health and beauty. 
In the Anassa Spa, residents can choose from two 60-minute treatments: the Ancient Greek Massage is a traditional, deep-pressure massage using techniques that can be traced back to the massages performed during the Olympic Games by the ancient healers – or paedotribes – while the Anti-Stress Massage is more gentle, eases anxiety and restores equilibrium, with lavender to moisturise skin and relax the mind and body.
CREDITS
Photography: © Giorgos Sfakianakis