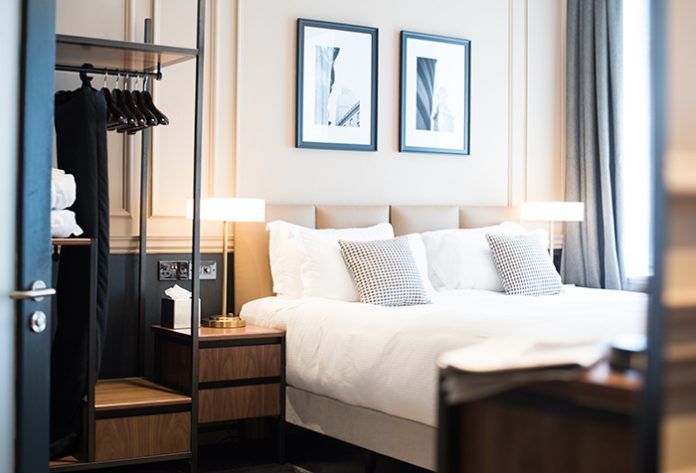 The Counting House Hotel in Cornhill, London has undergone a sustainability-focused renovation by Sibley Grove, marking the latest project in a series the interior designers have completed for British brewery company Fuller's.
Originally built in 1893, The Counting House stands on the site of the former bank of Dimsdale, Fowler and Company in London's financial district. The building was sensitively converted into The Counting House pub in 1998 by Fuller, Smith & Turner, and has retained much of its character and detail throughout the new 15-key boutique hotel.
Sibley Grove used colour-blocking and modern touches to give the hotel a classic yet contemporary feel, combining restored features such as fireplaces, moulding and cornices with residential-style details to create a range of spacious guestrooms.
"When working with a historic building, you inherit little quirks that provide unique opportunities for design. No two rooms in the new hotel are the same," says Jeremy Grove, Director of Sibley Grove.
All materials used in the project were assessed in advance on five principles: aesthetic quality, build quality, value, environmental impact and social impact, while Cradle to Cradle certified products including tiles, timber flooring, carpets and lighting were used throughout, meaning they could be reused again and again. Sibley Grove also designed the joinery for disassembly and crafted the furniture using timber and steel held together using mechanical fixings, making deconstruction quicker and easier.
"In the future, designing for landfill will become a thing of the past," adds Grove. "The hotel industry is dependent on mass-produced furniture at competitive prices. Competition of this nature leads to shortcuts in product quality, material sourcing and labour rights, so it's important to monitor this process closely. We work in partnership with the factories who supply our furniture to ensure we get products from highly skilled joiners, using ethical production methods."