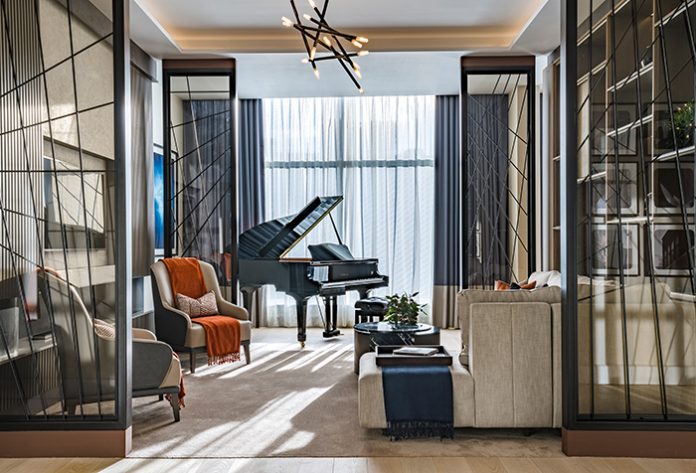 Manchester's The Lowry Hotel has revealed its newly renovated Presidential Suite, the largest currently available or planned in the city at 2,228ft².
Designed by Goddard Littlefair, renovations included a complete reconfiguration and redesign of the space and the addition of a bespoke marble bathroom.The suite also includes a kitchen, double steam shower and free-standing bath, super king size bedroom, a walk-in dressing room and lounge, plus a dining room for up to eight people. There is also an additional second bedroom and with adjoining bathroom.
Floor to ceiling windows offer views across the river Irwell and Manchester's skyline, whilst in-room statements include a mini grand piano, two bars, two smart TVs as well as access to a private chef or personal trainer.
Adrian Ellis, General Manager of The Lowry Hotel, says: "I'm thrilled to reveal the first look of our Charles Forte Presidential Suite. The refurbishment has been taking place for three months and we are looking forward to the reaction of both our regular guests and new visitors. Since the hotel opened 18 years ago, the needs and expectations of travellers have changed so we're confident our updated suite will offer modern guests what they are looking for. The renovation is the first of many for the hotel with more exciting developments to be announced throughout the year."
Drawing inspiration from Manchester's industrial history – specifically the cotton and weaving histories and heritage geometry elements – Goddard Littlefair has subtly incorporated shades from L.S. Lowry's own palette, famously comprising just five colours.
"The new design has a residential feel, with light and bright tonal colours used for the walls, curtains and carpets, offset by darker joinery, geometric-patterned fabrics used for cushions and curtain trims for added visual interest," the London-based studio explains. "Colours range from rich bronzes and burnt oranges to off-whites and textured blue-greys. Special joinery features include four sets of double screens around the living and dining areas to help zone the space and a bespoke dining table for eight with a feature veneer inset pattern.
"The bedrooms and bathrooms feature timber slatted walls, which mirror on the opposite wall, whilst the bathroom also has feature walls in luxurious, richly-veined marble. The main bedroom features a bespoke, contemporary version of a four-poster bed, in a room where the colours become softer, more muted and restful. The stunning dressing room, with a large, anthracite velvet ottoman at its centre, is dominated by a tiered feature light, made of threads and inspired by Manchester's cotton production history."
In homage to the hotel's namesake a selection of art has been chosen for the room by Artiq. Kate Terres, Head of Operations at Artiq, comments: "The collection at the Lowry presented an exciting opportunity for us, because it is rare for hotels to be named after celebrated artists. In curating the collection with Goddard Littlefair, Artiq pulled specifically on L.S. Lowry's recognisable palette of charcoals and dark reds against pale smoky backdrops. Alongside these distinctive tonal elements, the curation draws on the shapes evoked by Manchester's solid industrial architecture of the twentieth and twenty-first century – examples of which can be viewed from the Presidential Suite – as well as heavily abstracted figures that draw on Lowry's matchstick figures."