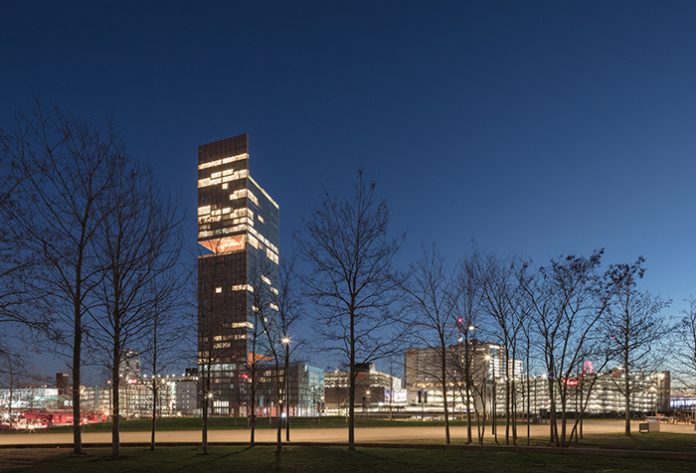 Scheduled to open in May 2019, The Stratford Hotel and Lofts will signal a new era of hotel living in the capital, uniting short-term hotel guests and long-term Londoners under one roof – the 42-storey Stratford Skyscraper in east London's Queen Elizabeth Park.
Inspired by the timeless glamour and communal spirit of 1950s New York's legendary long-stay hotels, the building is the latest project from London property pioneers, Manhattan Loft Corporation. Following the success of the St. Pancras Renaissance Hotel and Chiltern Firehouse, the group has taken a break from reviving some of London's most beautiful buildings in favour of creating one of their own.
Designed by SOM, the architects behind the Burj Khalifa and One World Trade Centre, the double-cantilevered tower features expansive living spaces, three sky gardens, two restaurants and a design hotel. It's unique architectural composition is propelled by a vision of social potency – embracing spontaneous interaction and green space to encourage a dynamic vertical community to take shape.
Occupying the first six floors is The Stratford, a 145-room luxury hotel with interiors by Space Copenhagen, the designers behind the legendary Noma and 11 Howard in New York. Natural timbers, warm metals and stone-clad bathrooms fuse cutting-edge style with old-world opulence to provide comfort throughout.
The 7th floor is given over to Allegra, a restaurant by former Chiltern Firehouse Head Chef, Patrick Powell. With inventive, seasonal dishes served amongst cedar pathways and landscaped gardens overlooking the Olympic Park, Allegra has all the ingredients to become a destination restaurant that draws crowds from across the capital and beyond.
Guests checking in for weeks, months, or even years, will head to The Stratford Lofts – a collection of 248 single and double-height loft apartments, punctuated by two sky gardens, delivering panoramic views of the London skyline. On the 25th floor, residents can relax and entertain amongst fire pits, barbecues and a bar. Head up to the 36th floor to gaze across the city skyline at a zen alpine retreat – featuring daily yoga classes. Loft residents can call on the 24-hour hotel concierge service – including everything from dog walking and grocery stocking to 24-hour room service and access to cultural events.
At ground level, the unique architectural composition is striking – serrated floor-to-ceiling windows blend with the building's natural terracotta tone to give the appearance of a structure that is somehow both transparent and opaque. Upon entering, the architectural hedonism continues – the triple-height lobby, featuring a nine-metre fireplace, provides the central social hub pierced by a glass atrium housing a series of commissioned sculptures – including 'Gust of Wind', by Paul Cocksedge. The Stratford Brasserie will bring locals and guests together over light, relaxed dishes, coffees and fresh juice – all under the creative direction of Ben Harrington, formerly of Soho House Group. Meanwhile, the mezzanine will be a destination in itself. By day, a lounge bar to work, relax, meet and entertain; by night, the curtains are drawn and the DJs play late at the after-hours club.
Located within the Queen Elizabeth Olympic Park, just minutes from Stratford International and six-minutes by train to King's Cross St Pancras, the building has front row seats to Stratford's emergence as London's largest cultural district. Already home to the Bartlett School of Architecture, innovative digital hub, Here East and the Zaha Hadid-designed London Stadium and Aquatic Centre, it will soon be joined by the likes of Sadler's Wells, the V&A, and state-of-the-art music venue, Madison Square Garden's Sphere.
Collaborations and partnerships are already in place to bring exclusive performances, installations and cultural events to the building – including live music, lifestyle and fitness events, as well as dinner parties at the Alexander Gorlin-designed Penthouse on the 41st floor. One of the first partnerships will be with fitness concept ConBody, who work with reformed characters and will create unique high intensity work-outs for guests of The Stratford.
Manhattan Loft Corporation founder and CEO, Harry Handelsman, is excited about the impact The Stratford Hotel and Lofts will have on London: "Picture the perfect 21st century hotel, what do you see? Impeccable facilities, immaculate service and a great location are all vital. But it needs that unique pulse those famous Manhattan hotels had, like the Carlyle, the Chelsea. A club, meeting place, hotel and home that never treats you like you're ordinary."