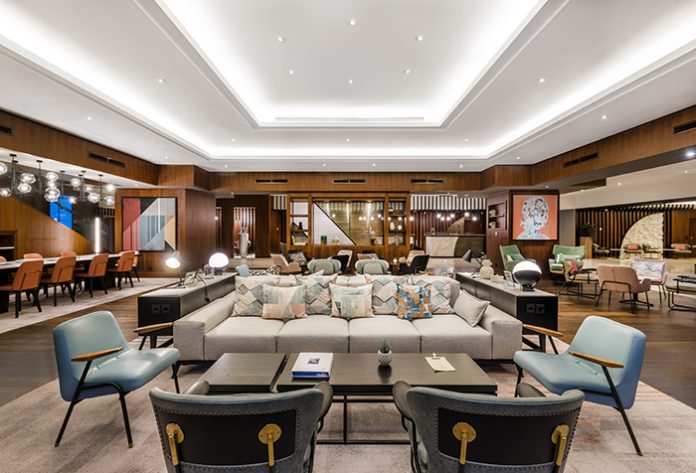 Following a two-phase refurbishment, Twenty2degrees has revealed the new design of Budapest Marriott Hotel.
The redesign follows Marriott's signature Greatroom concept, which harmonises the reception, lobby lounge, bar and restaurant into a single open space, followed by the hotel's function and meeting rooms. The result not only aligns with brand expectations but also inspires a homely feel in the city by introducing local context and artistic provenance.
Situated on the banks of the Danube river, the hotel overlooks some of the capital's most iconic landmarks including the Chain Bridge and Buda Castle. Paying homage to the 50-year old existing brutalist building, designers built a new stone sculptural relief in the lobby. Beyond this, however, the interiors are now modern and tactile with numerous residential-style details to ensure a welcoming atmosphere. The space also features Marriott's first 'disruptive bar' – a free-standing island bar in the lounge designed to evolve throughout the course of the day.
Taking inspiration from Hungary's renowned Bauhaus designer Marcel Breuer and artist Laszlo Moholy-Nagy, the Greatroom features decorative screens that also serve to zone the space without shutting off any areas. These areas include: The Individual Zone, a relaxed space; The Social Zone, centred on the Liz and Chain Bar; and The Guest Service Zone where customers check in. Zones are defined by varying colour palettes as well as by different seating, tables and lighting options. The multi-functional open plan scheme is designed to reflect our modern lifestyle which encourages working and socialising in a flexible space rather than in complete privacy.
Together with cubist shapes and Bauhaus curves, Twenty2degrees further celebrates the local through a collaboration with contemporary native artists: Janos Huszti, Petyka and Stefan Osnowski. They created a collection of pieces, traditional paintings and integrated artworks which complement the colour scheme and create an impressive gallery feel to some of the areas.
"While addressing all the Marriott Modern touchpoints, we felt it was important to also capture the rich essence of Budapest, a vibrant European city with a tremendous amount of history and a vast number of creative individuals, both past and present, from whom to draw inspiration," says Joe Stella, Creative Director of Twenty2degrees. "Whenever we begin a new project, we first look to the brief in order to form the bare bones of the design. Then we explore the locality in order to add layered design elements."