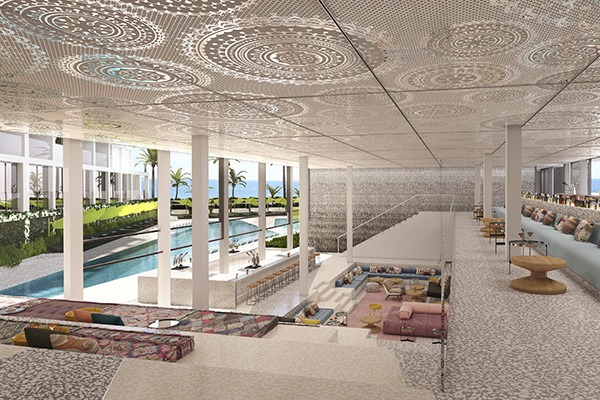 W Hotels Worldwide, part of Marriott International, has announced plans to debut its newest hotel in Spain with the opening of the 162-key W Ibiza in Summer 2019. Owned by Inversions Hoteleres Ebza, W Ibiza will be located in Santa Eulalia del Río, a centrally-located beachside neighbourhood.
"With its playful energy and bohemian spirit, Ibiza is an ideal destination and perfect match for W Hotels," explains Anthony Ingham, Global Brand Leader, W Hotels Worldwide. "We have been present in Ibiza since 2010 with a variety of W music events and partnerships, so we're thrilled to be finally opening a W Hotel on the island that we know our guests love. Following the success of W Barcelona and the forthcoming debuts of W Madrid and W Marbella, W Ibiza will remix the expected and provide a new take on the (in)famous island."
With sights on becoming Santa Eulalia's new entertainment hub, W Ibiza will bring together three distinct concepts designed for dining, drinking and relaxing, complemented by a rooftop sunset bar and adults only WET Deck, the brand's signature take on the poolside bar. A second deck will have direct access to the beachfront promenade and the sands of Santa Eulalia beach, which guests will be able to enjoy from the hotel's beach bar. Guests can also visit the 4,000ft² Away Spa with seven private treatment rooms and gym.
W Ibiza will join a portfolio of over 50 W Hotels around the world, including recently opened locations such as W Shanghai – The Bund and W Goa. Spain is on track to host four W Hotels by 2021 with the opening of W Madrid and W Ibiza in 2019, and W Marbella in 2021. Marbella will also mark the 13th W Escape, W Hotels' take on a resort experience, which includes sand, ski and entertainment destinations around the world.