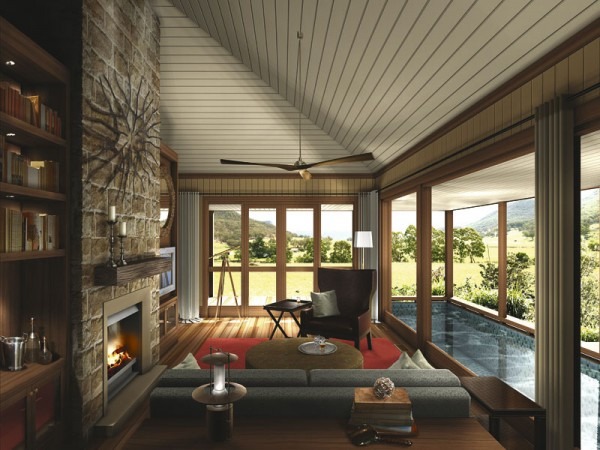 Chhada Siembieda Australia has completed a prototype villa for Emirates Hotels & Resorts' first resort in the Antipodes, the six-star Wolgan Valley Resort and Spa. The 40-key resort, due to open in 2009, occupies just two percent of a 4,000 acre site set in Australia's Great Dividing Range in New South Wales and represents a US$100 million investment by Emirates Hotels and Resorts.
Wolgan Valley will be based on a similar model to the conservation-based Al Maha Desert Resort and Spa in Dubai. It will offer a nature reserve experience to guests whilst protecting indigenous wildlife. After acquiring the site, which had been denuded by decades of farming, Emirates began a programme of flora and fauna regeneration aimed at conserving endangered species, in consultation with environmentalists and local Aboriginal leaders.
The resort is next to a World Heritage Site and is surrounded by three National Parks in a valley overlooked by towering sandstone cliffs with views of the Blue Mountains.
Guests will enjoy private decks and individual, temperature-controlled pools, a personal telescope for gazing at the night sky, and four-poster beds.
The resort has been designed in the style of traditional Australian homestead but with a contemporary edge. The two main public area pavilions and individual lodges are constructed of timber with Blackbutt and Spotted Gum floors, metal roofs, sandstone fireplaces, and extensive glazing to maximise views.
"This project has been particularly rewarding for us because of Emirates' commitment to quality and to creating a hotel which is genuinely Australian," says Juliet Ashworth, Chhada Siembieda Design Director and Partner.
"Much of our design work is in Asia and obviously we are not able to promote Australian workmanship there. At Wolgan Valley we've been able to create something really indigenous and uniquely experiential whilst raising the bar in terms of luxury."